UFC 239 Betting – Can Holly Holm Shock Amanda Nunes?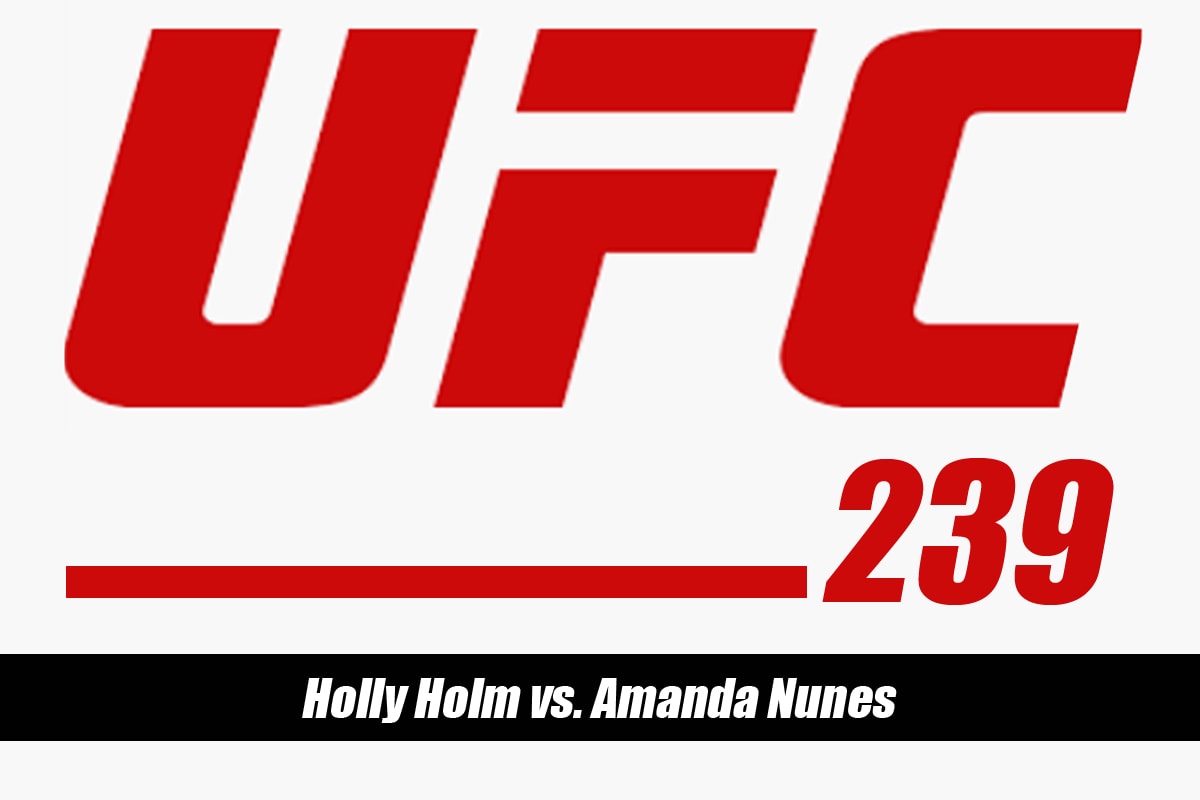 Amanda Nunes is the baddest woman on the planet.
The UFC women's bantamweight and featherweight champion inherited the title as the scariest female fighter on the planet in December… by beating the living snot out of the scariest female fighter on the planet.
Despite being the underdog in her all-Brazilian featherweight clash at UFC 232 against Cris Cyborg, Nunes made mincemeat of her opponent. The nature of the beatdown was surprising. I expected Cyborg to have too much for "The Lioness."
Nunes is a legend-killer. She has victories over legends in Cyborg, Ronda Rousey, and Miesha Tate. She has also beaten other elite female fighters in Valentina Shevchenko, Germaine de Randamie, and Raquel Pennington.
Against Holly Holm at UFC 239 on July 6, she can add yet another huge name to her list of victims.
Holm, the highly-decorated former UFC bantamweight champ — and multiple boxing and kickboxing world titlist — will have other ideas.
At 37, Holm is approaching the twilight of her career. This could be the last time that "The Preacher's Daughter" gets a title shot in the promotion, so you can put your wife and kids on her being up for this one.
But can you bet on Holm to get the win? Well, that could prove to be a little more of a risk.
If you are fond of the missus and the little ones — and are thinking of betting on Holm to win this fight — you should probably keep reading.
Latest Nunes vs. Holm Winner Odds
The odds below come courtesy of Bovada. These odds are accurate at the time of writing but subject to change.
Bovada, one of the top UFC betting sites, has Nunes as the -325 favorite.
Holm, the underdog, comes in at an interesting price of +250.
Now, Holm may be fighting the greatest female fighter that has ever lived. She is certainly the underdog in the working eyes of anyone who knows the slightest thing about MMA.
But does she have a chance here?
Nunes' resume reads like a party guest list for beaten UFC greats. While the co-main of UFC 239 is being predicted to be her night, again, she will need to work hard to beat Holm.
Think this one is going to be a stroll in the park for Nunes? Think again.
Introducing the Champion – Amanda Nunes
Has there ever been a more underestimated champion in UFC history?
Amanda Nunes once fit that profile but has since torn it up and thrown it back in the faces of those who have doubted her.
Once a raw and explosive talent, Nunes now has to be considered as the greatest female fighter in the history of MMA. Sure, she will be mostly remembered for ending Ronda Rousey's career inside a minute and destroying Cyborg in one round, but there is more to the Brazilian than meets the eye.
When it comes to Nunes, one thing I have personally been impressed with is just how much she has improved over the past few years.
Her composure and control pinpoint her high fight IQ that — when coupled with cultured and powerful striking — makes for a terrifying fighter.
Nunes' ground game is also high quality, even if she has not had the chance to show off her submission game since subbing Miesha Tate at UFC 200. That was the fight that won her the 135-pound title in the promotion.
Nunes' Pressure and Power
Amanda Nunes has 15 years of boxing experience, although not at the level that Holm has.
In fact, Nunes has never fought professionally, while her opponent on the night has a record of 33-2. Still, Nunes' MMA boxing is excellent.
Nunes can dictate range behind her strong jab and is a master of the fundamentals. Rather than going all out at close range, we have seen Nunes develop her game over the past few years, introducing nice footwork and patience in her shots.
With some solid Muay Thai skills to boot, Nunes can fire off from some interesting angles. It remains to be seen if she will use the teep and frequent leg kicks against Holm, considering the latter's striking prowess, however.
Nunes is very potent in the clinch and has an excellent top game on the ground. It is these areas where I can see her trying to take control, but against a fighter like Holm, she might find it difficult to get her hands on her.
The Threat of the Challenger – Holly Holm
There are few MMA resumes as head-scratching as the one that belongs to Holly Holm.
The former boxing and kickboxing standout turned pro in March 2011, winning ten straight fights. In that tenth fight, Holm shocked the world by KOing the previously unbeaten — and considered unbeatable — Ronda Rousey.
It appeared that Holm, the new UFC women's bantamweight champ, was on course for superstardom and a long and prosperous career in the promotion.
In her first title defense against Miesha Tate, the Albuquerque native was choked out in the fifth round. She has gone 2-3 since that loss at UFC 196 in March 2016, with losses to Valentina Shevchenko, Germaine de Randamie, and Cris Cyborg.
Disappointing, but those four names are among the greatest female fighters of all time. Coincidentally, four fighters that Nunes beat, with all of them, aside from Shevchenko, being dispatched inside a round.
This should give you an idea of the task at hand for Holm.
MMA mathematics isn't always the smartest thing to employ when predicting a fight, but you have to factor this in when placing your bets. I mean, if these guys have fought the same fighters with drastically different results, you can't ignore that.
Holm's Smart Striking
Could we see another version of Holm in this fight? I mean, will she finally let those great hands go instead of trying to walk Nunes into her head kick?
Now, I'm not knocking Holm's use of her kicking game, but it doesn't always work. Just ask Germaine de Randamie and Valentina Shevchenko.
Sure, these two might be exceptional kickers, but it was the pressure they put on Holm that prevented her from finding the space to set the kicks up.
Against Nunes, Holm will be conscious of the power that the champion has in both hands. She will also need to prepare for Nunes' strengths in the clinch and on the ground. It will be interesting to see how "The Lioness" wants to fight this one and how adaptable Holm can be.
Holm has a rock-solid chin. We know this, but can she take Nunes' power?
I would like to see her using lateral movement to circle Nunes and try to beat her to shots. If she can draw the shots out of Nunes, she can use her high-IQ counter-striking game to catch the Brazilian.
With some early success, could we see Holm trap the champion on her way to an upset victory?
Can Holly Holm Upset the Odds?
It is not against the laws of thought to suggest Holm can win this fight.
The cultured striker has arguably been too conservative in her UFC career and has paid the price for it. With this set to be her last title shot in the promotion, will she go all out and loosen up a little?
While standing there and trading with Cyborg is probably not going to work out very well for Holm, she can use movement, feints, and clever counters to try and wear her down.
So, rather than adopting Cyborg's tactics, Holm would be better off trying to emulate Valentina Shevchenko's approach in the second fight between the two.
I have a feeling that we will see Holm causing Nunes some difficulty in the early stages of this fight. If she can remain on her toes and make it hard for the champ to close the distance, Holm can potentially outwork her and outpoint her.
There is talk among some that Holm's best chance of winning the fight involves her landing that much-revered head kick. Doing so against a fighter as smart as Nunes might be a stretch, but it is certainly not impossible.
If Holm is to win this bout, I see it coming by way of the judges' scorecards.
It's a big if…
Betting on Nunes or Holm?
Look, it's not going to be as much of a one-sided walk in the park as some suggest.
At least, I don't think it will be.
Holm is a tough cookie and can be a tricky customer to deal with. She has the potential to beat anyone on her day, but she has been very inconsistent at times. I don't see her bringing enough to the table against Nunes, but who knows what she has planned?
Holm's team over at Jackson Wink is arguably the best in the business.
Her plan will be comprehensive and her conditioning top notch. She will have all the support in the world in her preparations, but it will ultimately be up to her — and her alone — to get the job done inside the cage.
Still. Nunes is the female G.O.A.T.
"The Lioness" won't have it easy, but she will win this fight.
Sorry, Holm fans.
Final Thoughts
Holly Holm is an excellent fighter who has just fallen short at times.
Despite having extensive experience in boxing and kickboxing, she has never really been able to boss the stock in the UFC.
At 37, this is perhaps the final chance she has at getting her hands on another title in the promotion. The only problem is that the current champion is Amanda Nunes.
Nunes is the greatest fighter women's MMA has ever seen. Against Holm on July 6, she will show the world, once more, what she is made of.
Betting on Nunes vs. Holm will certainly come down to who you fancy most. It is, after all, your decision.
So, what about the main event of the evening?
If Nunes vs. Holm doesn't cut the mustard, why not read this Jon Jones vs. Thiago Santos betting preview instead?
Enjoy the fights!