Hide Bonus Offers
| | | | | |
| --- | --- | --- | --- | --- |
| #1 | Bovada Sports | 50% Up To $250 | Visit Site | Bovada Sports |
| #2 | BetUS | 125% Up To $2,500 | Visit Site | BetUS |
| #3 | MyBookie | 100% Up To $1,000 | Visit Site | MyBookie |
| #4 | Everygame | 100% Up To $500 | Visit Site | Everygame |
| #5 | BetOnline Sports | 60% Up To $1,000 | Visit Site | BetOnline Sports |
UFC 237 – Conor McGregor vs. Nate Diaz and Anderson Silva vs. Nick Diaz in Brazil?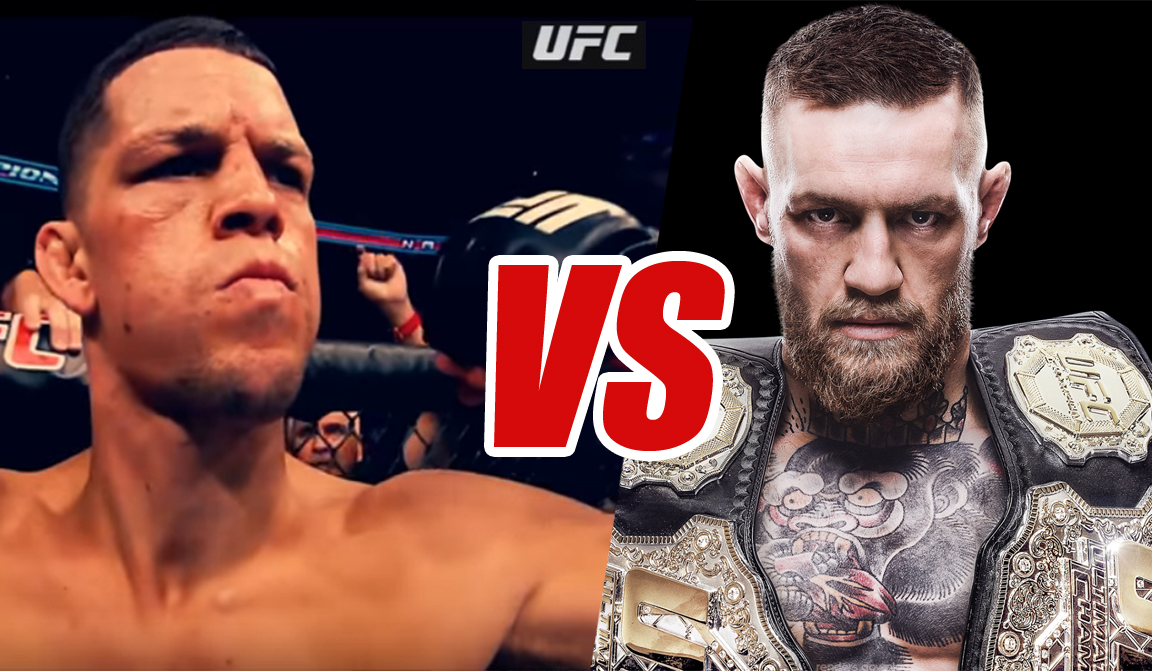 Recently, at UFC 234, the promotion's former dominant middleweight champion, Anderson Silva, showed a glimmer of his old self.
Although now a veteran at 42, you cannot help but wonder just how much gas is left in the tank of the MMA legend.
However, his performance in the main event of the card against New Zealand's rising star Israel Adesanya certainly attracted the attention of fans.
Yes, he dropped a unanimous decision on the night against the 29-year-old striking phenom, but he is far from ready to walk away from the cage.
Following the bout — which was assigned to the main slot of UFC 234 following the cancellation of the initial headliner — "The Spider" called out his former foe, Nick Diaz.
This is what Silva told those assembled at the UFC 234 post-fight press conference.
"Maybe I think it makes sense to fight Diaz in Curitiba. I'm just waiting for (UFC President) Dana (White) because it's not time to make the decisions. Hopefully, I'll fight in Curitiba."
At UFC 183 in January 2015, Nick Diaz was beaten by Silva in what would be his last appearance inside the Octagon.
Silva had fought to a decision victory, but the bout was overturned to a no contest following positive drug tests for both men.
Diaz, who tested positive for marijuana metabolites, was shockingly suspended for five years. Following a successful appeal by the Stockton native, the suspension was reduced to 18 months.
So, could we see the return of Diaz at UFC 237 in Curitiba, Brazil, on May 11?
A bout against Silva would certainly be fitting, given he would be pretty much returning to action from where he left off. UFC betting sites would certainly go into overdrive if this one was announced soon.
Oh, and then there is the small fact of a trilogy fight between Diaz's younger brother, Nate, and UFC superstar, Conor McGregor.
Before you say, "Take my money, please," let's first look at how likely it is for all of this to come to fruition. And for a little bit of fun, we'll break down how both fights might pan out.
Silva's Enthusiasm vs. Diaz's Apathy
While Silva's claims of Diaz being interested in this fight are intriguing, the Californian recently dispelled rumors surrounding his return to MMA.
"(Expletive) all this — I don't want to hurt nobody. I just want to party."
Just days before Diaz's comments, his long-time friend and training partner, Gilbert Melendez, offered some hope.
"I don't think there's anything holding him back, except just his decision whether he wants to come back or not. He's in shape. He's in dang shape.… I think he's always running and staying ready. He's a ninja. He's always ready."
Diaz will undoubtedly need to shake off some serious ring rust in order to be anywhere near a competitive level. That being said, Georges St-Pierre returned to the UFC after a four-year absence to claim the middleweight title at UFC 217 in November 2017.
At 35, Diaz still has years on Silva. A fitness fanatic, the Stockton bad boy is always in great shape and will certainly be prepared if the fight happens. As Melendez claimed, it all comes down to his friend's desire to compete.
Of course, motivation is something that fighters will draw from different sources.
While some fight for money (this is prizefighting, after all), others are geared by legacy. Diaz has never been a UFC champion, although he did claim the inaugural Strikeforce welterweight title in 2010.
Is the ambition to win a title under the UFC banner something that could drive him to compete again? It's unlikely.
Having seen younger brother Nate Diaz go from $20,000 to show and $20,000 to win all the way up to an estimated $13 million (purse, bonus, and pay-per-view share) for his part in the UFC 202 rematch with McGregor, surely he would want a payday in the millions, too.
The question is, can the UFC afford Nick Diaz now?
Would the PPV Sell?
Nick Diaz is a legend of MMA.
Aside from his two stints in the UFC, Diaz is well known for appearances in Strikeforce, Dream, and PRIDE. He is a cult hero and huge fan favorite, despite having been absent from the sport since 2015.
That alone tells me that this card would shift major pay-per-view numbers. Given that his opponent would be Anderson Silva, the interest ahead of this (albeit, hypothetical) contest would be massive.
In addition to having Diaz's name in lights again, it would almost feel like taking "Doc" Brown's time-traveling DeLorean all the way back to 2015. After all, nostalgia sells cakes in combat sports.
We have seen Chael Sonnen, Tito Ortiz, Chuck Liddell, and Fedor Emelianenko profit from the sentimentality of MMA enthusiasts. And while not to put the 35-year-old among some of these guys, for now, as a fighter, he is a thing of the past.
Dana White and the UFC would certainly be up for accommodating Diaz if he does decide that his days are not up in the promotion. Money, after all, shouts louder than anything in the promotion.
Taken over by WME-IMG in 2016 for the cool price of $4 billion, things have dramatically changed in the UFC since Diaz was active. Fighters now exclusively wear Reebok uniforms — meaning that traditional sponsorship deals and advertising on their attire are a thing of the past — while they are also expected to promote their own fights with (sometimes) banal trash talk and publicity stunts.
Is this the type of arena that the straight-talking, take-no-crap Diaz would be happy to enter?
Most would say that Conor McGregor, his younger brother's two-time opponent and trash talker nonpareil, is to thank for that.
Conor McGregor vs. Nate Diaz III?
"The Notorious" changed the landscape of the Ultimate Fighting Championship less than a few fights into his career.
The Dublin native quickly drew attention on account of his sharp dress sense and even sharper tongue. Having made light work of most of his opponents, McGregor earned himself a shot at dominant featherweight champion Jose Aldo and ended a ten-year winning streak inside 13 seconds.
Although McGregor's path to the title was almost cut short in his interim featherweight bout against an undercooked Chad Mendes, the Irishman shocked the world with his stunning knockout of Aldo.
Subsequent to that bout at UFC 194 in December 2015, things skyrocketed for the Irishman.
However, with a fight against lightweight champion Rafael dos Anjos canceled due to an injury sustained by the Brazilian in training, Nate Diaz — the man who publicly called out McGregor just a couple of months prior — got the stand-in gig.
With just weeks to prepare for the bout, it was decided that the contest would be fought at welterweight rather than lightweight.
Diaz submitted McGregor by rear-naked choke in the second round, shocking many in the process. As a result, McGregor postponed his hunt of the lightweight title in order to avenge that defeat. At UFC 202, "The Notorious" was awarded a majority decision victory in one of the closest bouts seen in MMA for some time.
The Trilogy Fight That Never Was
McGregor and Diaz set the record for the highest UFC pay-per-view in history at UFC 196, with 1.3 million buys.
Then, at UFC 202, this record was broken by the same two fighters, with the card clocking 1.6 million pay-per-views. This record stood until October 2018, when Khabib Nurmagomedov subjected the Dubliner to his second defeat in the UFC, with an impressive 2.4 million paying for the event.
While McGregor would go on to capture the coveted lightweight title against Eddie Alvarez in November 2016, he almost immediately announced that he would be taking a sabbatical to concentrate on family life.
Then, in August 2017, the first man to hold two UFC titles in separate weight classes, simultaneously, fought Floyd Mayweather Jr. in a glorified exhibition bout in Las Vegas.
For the ten rounds McGregor lasted against "Money," he walked away with over $100 million. Unsurprisingly to some, the Irishman would not be heard of again until that bout against Khabib.
Meanwhile, from the conclusion of UFC 202 until now, Nate Diaz has shown no interest in fighting anyone apart from McGregor.
Is McGregor Serious About This Fight?
Let's argue that he is.
After all, McGregor has frequently alluded to a trilogy fight against Diaz. There is a lot of unfinished business to be dealt with, although, for both men to agree to a fight, the money would surely have to be right.
As it stands, McGregor seems to believe that UFC 237 is the place for what could very well be the highest-selling PPV in the history of the sport. With Anderson Silva and Nick Diaz co-headlining, you could safely wager that the numbers would be off the chart.
On account of their last meeting, which was, objectively, one of the most thrilling dogfights ever witnessed in the UFC, interest in the bout will be huge.
As previously mentioned, following Silva's loss to Adesanya at UFC 232, news spread of "The Spider" chasing a bout with Nick Diaz at UFC 234. Fans were surprised to see Conor McGregor taking to Twitter to claim that he would fight Nate Diaz on the same card.
For others, it is an inevitability.
The question is, when does it happen? If the UFC can put this one together and get both Diaz brothers on the same card as MMA's greatest star (McGregor) and one of the greatest of all time in Silva, this one is going to be immense.
With McGregor's loss to Khabib in October and the promotion rumored to be introducing a new 165-pound class, "The Notorious" and Stockton's richest mixed martial artist (Nate Diaz) could be fighting for a title in front of a Brazilian crowd.
Anderson Silva vs. Nick Diaz II Prediction
Okay, so the fight has yet to be confirmed. There is nothing to say that it will happen, but let's just imagine that the UFC manages to get this one together.
In one corner, you have the former dominant middleweight champion, Anderson Silva. At 42, and with a record of 1-3-0-1 (no contest) in his last five, it's clear to everyone with eyes that the glory days of one of MMA's true greats are far behind him.
Although Silva has never looked the same since his two losses to Chris Weidman (the second coming as a result of a horrific leg break), he did initially win the first contest after these losses. The man he beat (before the decision win was overturned) was Nick Diaz, at UFC 183.
Although that fight promised so much (but delivered so little), there are plenty of things to take from how both men squared up that night.
Silva had to embark on the huge skid he has suffered over the past few years. Although he was popped for having drostanolone and androsterone in his blood, at the time, he appeared to have Diaz's number.
Would a second fight go the same way? Especially since we are more than four years apart from now and their first meeting in January 2015?
Diaz Would Win This Bout
Although Diaz has been out of action for over four years, he has kept himself in tremendous shape.
Diaz is widely known for his dedication to staying fit and has partaken in numerous triathlons over the years. Hell, he has even swum to Alcatraz and back, although the "shark-infested waters" bit of the story that UFC color commentator Joe Rogan likes to bring up is unverified.
I digress.
Diaz has seven years on Silva. He is the younger man and has not sustained the type of damage that the Brazilian has.
"The Spider" has lost the venom that made him such a potent knockout artist in his prime.
Diaz is as tough as they come and never relied on power throughout his career. Although a Cesar Gracie BJJ black belt, he is widely known as having a swarming, pressure-heavy fighting style that is enabled by his incredible engine and chin. He can take a shot and just keep coming forward.
Silva's Age
Silva, while being in great shape for his age — as demonstrated against Adesanya at UFC 234 — was touched by the Kiwi on a couple of occasions. More than this, he didn't look very comfortable on the back foot, something that he would have to get past in order to defeat Diaz.
I believe that Nick Diaz would take the fight to Anderson Silva and would not allow him an inch with which to catch his breath. If Diaz can absorb the leg kicks and teeps Silva would use to prevent him getting too close, the American would have his hand raised at the end of the bout.
Unfortunately, there are no odds doing the rounds just yet for this fight. If that changes, be sure to check back with us.
Conor McGregor vs. Nate Diaz III Prediction
The build-up to Diaz vs. McGregor at UFC 202 was huge.
Luckily for fans, the fight delivered. It was a scrap for the ages and one that could have easily gone in the favor of the American.
However, that was not to be, and McGregor was awarded a majority decision following a brutal and bloody encounter that saw both men dropped.
If a third meeting between the two is even remotely as dogged, then fans will be in for a treat. These two warriors will forever be linked by their rivalry. It currently stands at one win each in their two bouts, so naturally, a third fight just has to happen.
And it will.
When both men step inside the Octagon, they will take with them the knowledge that they picked up in their previous encounters. I believe that this will certainly favor Diaz more than it does McGregor, as the Irishman pretty much learned two things.
Never underestimate Nate Diaz
The man has a heart the size of the hull of a cruise liner
For McGregor, stepping into the cage with Diaz once again — who has incredible cardio and durability — could be a big mistake. The Crumlin-born fighter has, conversely, arguably the worst cardio of any top-class contender in the mid to lower divisions.
Yes, McGregor can take a punch, but lasting through five rounds of pure, raw brutality against a Terminator-like fighter could see him in deep trouble.
Okay, he did survive to go the whole way against Diaz at UFC 202, but that was prior to him taking a break from MMA. Against Nurmagomedov at UFC 229, he looked worryingly jaded, undercooked, and out of his depth. If Diaz chooses to take him down, this could be a fight that ends earlier than some might think.
Conor's Big Weaknesses
When McGregor first started making waves in the promotion, he was fighting against smaller guys (with the exception of a young Max Holloway).
The height and reach advantages that he had on most of his opponents helped him to snipe and pick them apart from the outside. Interestingly, of the seven fights McGregor had at 145 pounds, only one — against Holloway on the undercard of Sonnen vs. Shogun — went the distance.
In his UFC 189 interim-title win, Chad Mendes exposed McGregor's difficulty of finding a way to beat a solid wrestler. Of course, in Khabib, this was further magnified, but then again, he is one of the greatest grapplers to have ever graced the sport.
Diaz, a Cesar Gracie black belt, is not known for his takedowns. At UFC 196, with McGregor panicking, he did, however, show how shooting for a takedown against him is a silly idea altogether.
McGregor's biggest weaknesses, therefore, are his cardio and his ground game. These two things happen to be among Diaz's key strengths. As such, Diaz can truly use these attributes to his advantage to beat McGregor.
I believe McGregor is approaching the end of his career in MMA. Against Khabib, he looked a shadow of the fighter that he was in his UFC 205 lightweight championship victory over Eddie Alvarez.
As such, I wouldn't be confident in backing him against Diaz, regardless of how long the Stockton brawler has been out of the game.
So, a Knockout Victory for Diaz?
I don't believe so.
While Diaz has good hands, he does rely on a solid 1-2 rather than a catalog of combinations, set-ups, and cultured shots.
Diaz has the engine to go all night with McGregor. He will be aware that by taking the fight to "The Notorious" and putting pressure on him, he can grind his opponent down inside a couple of rounds.
If he can clinch the Dubliner up, force him up against the fence, and even try to take him down to drain his energy, this one might not even last two minutes.
What we have seen from McGregor is that he tends to panic when the fight is taken to the ground. Diaz could test him with a few single leg takedowns and might just get lucky. If he can bring the fight to the ground, there is only going to be one winner.
McGregor fought his heart out at UFC 202 and pushed himself all the way to the scorecards. That was, I believe, not something that a fighter with poor cardio can do time and time again. In other words, it was a one-off.
This leaves the UFC superstar with limited ways in which to win the fight. He can go for a stoppage victory or try to tactically outclass Diaz by targeting his heavy lead leg with low kicks (as he did in their last encounter).
Diaz has only ever been stopped once in his career, so Plan A looks unlikely.
In order to beat him to a decision, he would need a full gas tank. He was at the height of his physical sharpness at UFC 202 and just about managed to stay in the fight.
If the rumors of his love of partying are true — and he isn't in at least the same shape as he was in the rematch — unfortunately, Diaz will take this fight.
I have seen odds (that are perhaps outdated a little) for McGregor as high as -300 to win this bout. The highest odds I have seen for Diaz are +210.
If and when this fight is announced, I would be surprised to see odds around these figures. However, if they are, a bet on Diaz would carry incredible value.
The Biggest UFC Card in Years?
There is no question that these two fights, on the same card, would be one of the greatest events the UFC has showcased in years.
Factor in the venue — Arena da Baixada in Curitiba, Brazil — and things get even more exciting. To see the return of the Diaz brothers in front of a deafening Brazilian crowd would be incredible. With McGregor and Silva present, it becomes unthinkable that any single MMA card could come close to it for downright lunacy.
In order to get this one signed off, Dana White and the UFC will have to open the purse strings and give all four fighters what they want.
I believe the signatures of Silva, McGregor, and Nate Diaz will be fairly easy to get, providing the price is right. Coaxing Nick Diaz back just might prove to be a whole different ball game.
The only thing us fight fans can hope for is that everyone gets on board with this one. Whether the UFC would be willing to feature two fights of this magnitude on one card remains to be seen. It's also not certain if they would be happy to allow McGregor to fight outside of Las Vegas or New York.
But make no mistake, boys and girls, if this event is signed off, it's going to be wild.