UFC 232 Betting – Odds, Predictions, and Picks for Jones vs. Gustafsson and the Full Card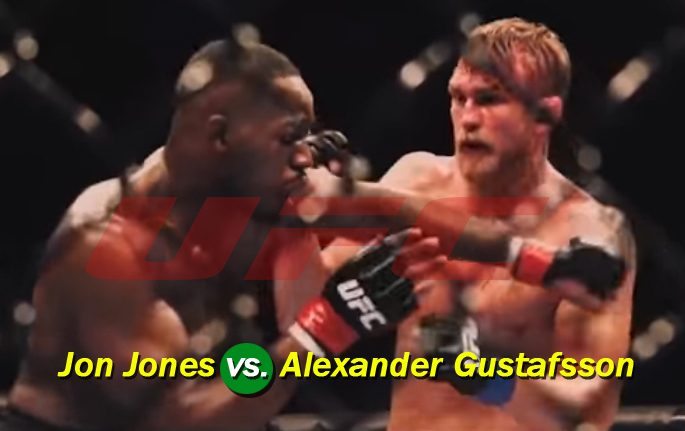 Love him or hate him, Jon "Bones" Jones is one of the iconic UFC fighters of his generation. Despite two USADA suspensions, a hit-and-run accident, and a number of other controversies, many believe he is the greatest MMA fighter of all time.
While the GOAT status is debatable, to say the least, no one can deny that Jones is one of the most talented athletes in the history of the sport. He is a true martial artist that combines various techniques from all kinds of disciplines.
Bones has won every single fight in his career and convincingly so, with only one exception. Alexander Gustafsson took him the distance in one of the most epic fights the world has ever seen. Their UFC 165 clash was a war that ended in a controversial unanimous decision in favor of Jones.
Many believed the Swede should've gotten the victory, and the MMA community has been desperate to see a rematch. Well, it seems we will finally get it!
Jon Jones is about to return from his suspension at UFC 232, which will take place on December 29th. His fight with Gustafsson will headline a fight card that could potentially become one of the greatest in the history of the sport.
That might seem like an understatement, but simply take a look at the main card so far.
Main Event: Jon Jones vs. Alexander Gustafsson (Light Heavyweight)
Co-Main Event: Cris Cyborg vs. Amanda Nunes (Featherweight)
Carlos Condit vs. Michael Chiesa (Welterweight)
Ilir Latifi vs. Corey Anderson (Light Heavyweight)
Chad Mendes vs. Alexander Volkanovski (Featherweight)
There are plenty of great fights, titles on the line, and so much excitement. I can't help but take a look at the UFC 232 odds offered by the top UFC betting sites and share my early prediction and analysis.
The event is still about two weeks away, but I think it is time to see what we can expect to happen in Las Vegas on the 29th.
UPDATE
The situation around UFC 232 has gone crazy last week, as the event was moved because Jon Jones wasn't licensed to fight in Vegas.
On top of that, the odds for all bouts have been launched since the initial release of this post, so it's time to share my final opinion.
Take a look under each fight below to see my UFC 232 betting pick.
Jon Jones vs. Alexander Gustafsson Betting Odds and Prediction
The only logical place to start is the UFC 232 main event between Jon Jones and Alexander Gustafsson. Here are the odds offered by BetOnline.
Alexander Gustafsson to Win
+225
I don't see how Jon Jones won't be the favorite here, as the man has never lost so far. Technically, his last bout with Daniel Cormier was turned into a no contest, and he was disqualified once, but that's not like getting beaten in the Octagon.
Bones is one of the finest martial artists the world has ever seen. He has an arsenal of awkward punches and kicks that could break the defense of any given fighter out there. On top of that, he has an exceptional defense, movement, and stamina.
Some people probably would question his sharpness, as he hasn't fought since July 2017, but that's actually more recently than Gustafsson. Even if he is not at his absolute best, Jones is still in his prime in terms of age and damage taken so far.
He looked like an absolute monster in his second fight against DC. Sure, he popped PEDs, but the USADA's short suspension means that it was really a tainted supplement, or at least this is what the commission thinks.
It doesn't really matter what we think, though, as Bones was granted permission to fight by the California State Athletic Commission, so he is cleared to fight again.
He will face Alexander Gustafsson, and I believe this rematch is long overdue. The Swedish athlete is the only man who got close to beating Jon Jones and pushed the American all the way in their first bout in 2013.
Both men were quite young back then, and it's important to see how they've developed since. I feel for Gustafsson, to be honest, as the man is extremely talented but is fighting in one of the most competitive periods of the light heavyweight division.
Besides Jon Jones, he had to face the sublime Daniel Cormier, who has a legit claim to the GOAT status himself. This is another bout that Gustafsson lost, this time after a split decision. Once again, many believed that he might have won the fight.
I feel that the Swedish fighter still has the chance to build a strong legacy, and his fight with Jon Jones is his ticket to immortality.
Gustafsson has a bunch of skills both on his feet and on the ground. We've seen him KO people, we've seen him submit people, and we've seen him take a lot of damage and survive.
He has the abilities, the chin, and the heart to push Jon Jones in a way no man has done so far. And yet, the American still remains the favorite, and the bookies agree with that. His freakish reach pretty much eliminates Gustafsson's size advantage.
As it stands, I wouldn't recommend placing a bet on this match. The straight winner market doesn't offer much value, in my opinion, so I intend to wait and see what the prop bets will offer.
My early Jones vs. Gustafsson 2 prediction is that the fight won't be quick, and it might go to a decision once again. This is why I'm eager to see what the over/under rounds line will be.
I'll update this post when they're released. For now, let's take a look at the other fights from the card.
Final betting pick
I feel that Jon Jones is still the favorite, but he surely must have lost part of his focus with the circus surrounding the fight. This is the reason I believe the odds for Gustafsson actually make sense. I wouldn't go for a too big of a bet, but I would back the underdog here:
Cris "Cyborg" Justino vs. Amanda Nunes Betting Odds and Prediction
Fans love champion versus champion bouts, and this is exactly what Cyborg and Amanda Nunes are. Both women are vicious fighters with exceptional skills.
You don't often see Brazilian fighters challenge fellow countrymen, but this is exactly what happened here. Amanda Nunes decided that she has what it takes to take the absolute beast Cyborg down, and Justino gladly accepted the fight.
Here are the odds on this one.
As you can see, Cyborg is the overwhelming favorite in this one, and this is quite natural. She has basically destroyed every fighter she's met during her career. Her only loss came in her debut back in 2005, so it's hard to take that into account.
Cris Justino won her other 20 bouts comprehensively, with 17 knockouts and three unanimous decisions. In fact, she had finished every opponent in the past ten years until Holly Holm somehow survived all five rounds at the end of 2017.
I believe the reason that happened is because Cyborg knew what Holm was capable of on the counter. The Preacher's Daughter is great on her feet and can hurt you if you are careless. This is why the Brazilian didn't push as hard as she usually does.
Still, it was a convincing win, as Cyborg dominated the fight and barely took any damage. Nunes will be a different challenge, though. The contender is not used to facing opponents that have Justino's size, but she is a complex fighter with plenty of skill.
The Lioness is strong on her feet and has a black belt in BJJ. Despite her good striking skills, I don't think she's on the same level as Cyborg. The welterweight champ is just too strong and has unparalleled power.
I think she should be able to beat Nunes, and the only path to victory for the contender would be if Justino underestimates her. I don't think that will happen, so the price of -260 is solid enough for me.
My prediction is that Cyborg will once again prove she is invincible at this point. The best Nunes could do would be to take the fight to a decision.
Final betting pick
There is a rather big change in the prices here, as Cyborg is now available at -230. I'm not 100% sure what's the reason, but I feel the odds are too good to miss. Justino is stronger and in her natural weight class, so I'm going for her.
Carlos Condit vs. Michael Chiesa
Next on the main card is the fight between Carlos Condit and Michael Chiesa in the welterweight division. The odds for this one are not up yet, and I'm not 100% sure what to expect.
This bout seems like one of the last chances for both fighters to save their careers.
Condit is a complex striker who has a kickboxing background and a brown belt in BJJ, but he has lost four fights in a row. The man has taken a lot of damage during his career, and there are question marks if he even belongs in the UFC at this point.
He will have the chance to answer those when he faces Chiesa, who is moving a weight class up. He has been fighting in the lightweight division since 2011, but the welterweight seems a more natural fit.
Chiesa usually relies on his ground game, but he has been submitted in his last two bouts. There are some doubts about his UFC future as well. To an extent, both men will be fighting for their future.
Under such circumstances, it could be one hell of a bout. In my opinion, Condit should have the advantage, as he can do a lot of damage on his feet. The big question is if he is the same after being on the end of so many defeats recently.
Final betting pick
The odds for Condit to win are +145, so I will have to follow my hunch and back him. I would say the fight is much closer than this price suggests. The damage he had taken is a problem, but I feel he is a better fighter than Chiesa.
Ilir Latifi vs. Corey Anderson
The prices for this one will be released later as well. In the meantime, let's take a look at both fighters and make a prediction about what might happen.
Both athletes have won their past two bouts and will be hoping to climb the rankings of the light heavyweight division.
Latifi has more experience and seems like the more complex fighter. He has more ways to win and should be the favorite in his fight. Furthermore, the Swiss competitor is currently ranked fifth in the division.
Another win here could open the door for a potential title fight in the future. While I feel it might be a little too late for him to become a champ, he will certainly be eager to get a chance. This is why I can see him push hard to prepare for this fight.
It won't be an easy bout, though, because Corey Anderson has looked solid in his past two fights. The problem is, the man hasn't been able to finish anyone since 2016. I think Latifi has a solid chin, so the American will struggle to end the fight once again.
I will have to wait for the odds to see if there is any value there, but Latifi looks the more likely winner.
Final betting pick
The bookies obviously agree with my opinion, as Latifi is priced -143 to win, while Anderson is available at +123 I would say that the odds are fair, so there is no value here. If you insist on placing a bet, I still believe Latifi is the better option.
Chad Mendes vs. Alexander Volkanovski
The last fight from the main card is extremely exciting as well, at least for me. The seasoned pro Chad Mendes will face prospect Alexander Volkanovski.
The rising Australian has won 18 of his 19 fights, 13 of them with a finish. His record since joining the UFC is flawless, as he won all of his five fights. However, Volkanovski has hardly faced an opponent that even comes close to the skill level of Chad Mendes.
On top of that, he wasn't able to finish three of the five fights, so he is struggling against UFC-quality fighters.
This is the reason why Chad Mendes should be the overwhelming favorite in this one. The man is a sublime wrestler with solid skills in the other aspects of his game. He has only a couple of losses, but they came against fighters like Conor McGregor, Frankie Edgar, and Jose Aldo during his prime. There's hardly any shame in getting beaten by those guys.
Chad is still ranked fifth in the featherweight division, and a win here would see his stocks rise even further.
I feel that Mendes has too much skill and will beat Volkanovski comprehensively. He probably won't be able to finish the Australian, but a unanimous decision in his favor is the most likely outcome.
Final betting pick
I see that the price for Chad Mendes to win is -148. I could be missing something, but I believe this is a great bet. He should control the fight and don't let Volkanovski find any opportunities to finish him. A decision for Mendes is my prediction and the odds are good enough to follow it.
Final Words
These are my early UFC 232 predictions, but I intend to update this post, adding the odds and important news in the future.
I will also share my thoughts on the preliminary cards at some point, as there might be some potential there, too.
Stay tuned!