UFC 213 Preview: Alistair Overeem vs. Fabricio Werdum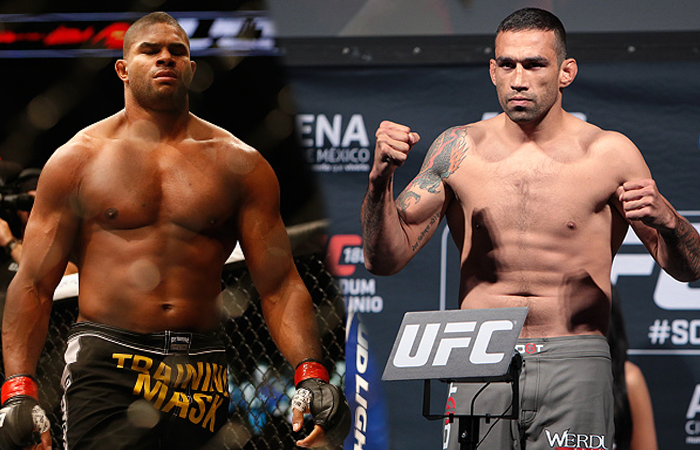 The world leader in MMA is running back one of two challengers for the UFC heavyweight (265-pound) championship currently held by Stipe Miocic: former champion Fabricio Werdum and former title challenger Alistair Overeem. The bout will also serve as the third leg of a trilogy between the two that goes back to the days of the memorable Pride Fighting Championships organization in 2006.
The Odds: The UFC 213 pay-per-view event takes place on July 8 during the promotion's annual International Fight Week but the early odds are already available now on Bovada.com. At the time of this writing (May 19,) The Dutch Overeem is the -155 favorite with Brazil's Werdum coming in at +125 underdog.
This might be explained by the fact that Overeem got the victory in the pair's second bout by way of a unanimous decision in their Strikeforce pay-per-view main event on June 18, 2011 and went around twice as long as Werdum did in his title fight (although neither man made it outside of the first five minutes against Cleveland's Miocic.)
Stats: Evaluating the Trilogy
Thanks to the fact that the UFC's parent company (now WME-IMG) owns everything related to Pride FC and Strikeforce, which are both now defunct, the performance figures for both of the first two fights are available per FightMetric, LLC.
Fight 1: Pride FC- Alistair "The Reem" Overeem Analysis
In the first fight back at Pride: Total Elimination Absolute, Overeem lost the contest despite out performing "Vai Cavallo" in almost every offensive category over the partial two rounds that it lasted. He landed 64 of 101 total strikes, about 61 percent (26 of 59 significant strikes, 44 percent.) "The Reem" then controlled most of the action on the ground by landing four of his six takedown attempts (66 percent.)
Fight 1: Pride FC- Fabricio "Vai Cavalo" Werdum Analysis
By comparison, Werdum connected with 65 of 107 overall strikes, 63 percent, and 12 of 48 significant strikes (25 percent.) The other area in these numbers that reads 25 percent is in his takedown success rate as he went 1 for 4. The most major difference is that Werdum had one submission attempt (a kimura lock) to his credit and he made the attempt count and got the victory.
Fight 2: Strikeforce- Alistair "The Reem" Overeem Analysis
For those fans that feel that Overeem simply got caught in the wrong position at the wrong time, they (and he) got revenge around five years later under the banner of what was once the UFC's chief competitor. The second time around, Overeem may have taken the win but did under perform as far as numbers are concerned.
Overeem landed just 46 of 72 total strikes, about 64 percent, and only 32 of 56 significant strikes (57 percent.) He was completely shut out in the takedown department and found no submission opportunities during the contest.
Fight 2: Strikeforce- Fabricio "Vai Cavalo" Werdum Analysis
Werdum obviously didn't do much better, landing 62 of 123 total blows, around 50 percent, and 43 of 104 significant strikes (41 percent.) The bout did not stay on the canvas as Werdum went 1 for 12 on takedowns (an eight percent success rate and 0 for 1 with submission attempts.)
Fight 3: UFC- Current Overall Figures Ahead of UFC 213
Following their losses, Werdum and Overeem both basically got right back on the proverbial horse with wins around four and six months respectively. Werdum scored a unanimous decision victory over Travis "Happa" Browne at UFC 203 and Overeen got his hand raised after a first-round KO win against famous walk-off knockout artist, Australia's Mark "The Super Samoan" Hunt at UFC 209.
Striking Overeem's Wheelhouse
With Werdum once again in Overeem's sights, FightMetric shows that the difference in career numbers shown on the sight is relatively narrow. Overeem scores an average 3.82 significant strikes per minute to Werdum's to 3.44. He is ten percent more accurate when he engages in fisticuffs (61 to 51 percent) and only absorbs 1.79 strikes to his opponent's 2.24 for defense rates of 62 and 58 percent respectively.
Grappling: Beating Werdum at His Own Game
Werdum averages just 1.6 takedowns per every 15 minutes but is also down to Overeem in this category beyond that stat. Overeem leads in overall takedown accuracy and takedown defense by a landslide (64 percent to 31 percent in accuracy and 76 percent to 38 percent in defense.) The submission averages come out to 1.3 and 1.0 with Werdum ahead.
Career Win-Loss Records: Advantage Overeem
Both combatants are 4-1 in their last five fights with the 42-15-0, (1 No-Contest) Overeem getting three KO/TKO stoppages (with 19 KO/TKOs and submission wins each, Overeem has a career finishing rate of 90 PERCENT!) Only four of his wins came scorecards. He leads Werdum with a shorter average fight time (but that also includes defeats) of 6:29 compared to ten minutes even.
The 21-6-1 Werdum has a career finishing rate of 77 percent with ten wins by tap-out making up 48 percent of those wins. Just a handful of his wins are after full-length bouts. The game plan for each fighter is so obvious in this instance that it has to have occurred to them as well.
Summary and Prediction: The Choice is Clear
Although Overeem does have the one drug test failure on his record from some time ago, he has tested clean ever since and before that as far as most people know.
The point here is that if they don't spend the entire fight pawing at each other, waiting for their opponent to be the first man to make a mistake, this bout won't be heading to the scorecards and you will want to be glued to your television set for this one! What is also apparent is that Alistair Overeem should be the one with his hand raised—most likely after ending the fight in devastating fashion.
Pick: Alistair Overeem def. Fabricio Werdum by way of a 2nd or 3rd-round KO/TKO.
Will Overeem one day see his ultimate goal (pardon the pun) realized by capturing a UFC heavyweight championship belt for the very first time? Tune in on July as begins his road to glory-again.