UFC 212 Preview Jose Aldo vs Max Holloway Odds and Predictions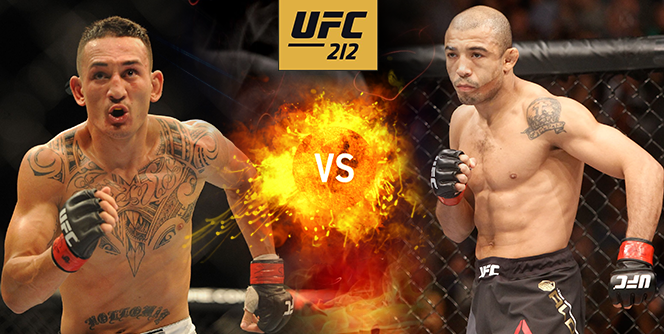 Who said the UFC can't survive without a dominant Ronda Rousey or an active Conor McGregor? Dana White is proving just the opposite, as the UFC has several appealing events in the coming months and arguably announced their biggest one, schedule to arrive early in the summer.
UFC 212 was made official late on Sunday, with a tantalizing fight between Jose Aldo and Max Holloway headlining what should be a jam-packed event in Rio de Janeiro, Brazil:
The bout isn't just a highly anticipated showdown, but it also unifies the featherweight title belts, as Jose Aldo (26-2) currently holds the featherweight title belt and Holloway (17-3) is the interim featherweight champion. There can only be one, ultimately, and it looks like we're slated to find out who in Rio on June 3rd.
A lot can happen between then and now, of course. There isn't even an official venue yet, after all, while the rest of the card remains a complete mystery. There is hope floating around that a second huge title fight will be added to the card, but it's also arguable that taking any attention away from an already massive title fight might be unnecessary.
Early Jose Aldo vs. Max Holloway Odds
This fight is so fresh that most of the top UFC betting websites don't even have odds out for it yet. What we do know, however, is this fight is going to be graded very closely leading into UFC 212 and Aldo and Holloway currently sit #1 and #2 in the latest featherweight MMA rankings.
Aldo is basically a living legend, the current featherweight champ and has lost once (to Conor McGregor) in the past 11 years. It's fair to say he'll enter as the easy favorite. We will want to keep a look out for the latest UFC 212 odds, but for now we'll tentatively support Aldo with these odds:
Jose Aldo to Win (-190)
Max Holloway to Win (+140)
Suffice to say, it's looking to be an intense showdown and there isn't a whole lot of wiggle room here. This is probably close to what you can expect to see at top betting sites like Bovada, BetOnline and others, as well.
Odds aside, of course, who actually wins this thing? Let's dive into the specifics.
Jose Aldo vs. Max Holloway Breakdown
We've got ourselves quite the fight here. Not only is this a mega fight with two huge names and a title on the line, but this is a fight with two highly skilled and successful fighters. Sure, we're lacking the mystique of a Rousey or the draw of The Notorious, but this fight has true substance and two truly elite MMA talents.
Needless to say, it's going to be tough to call.
It will have been almost an entire year since we last saw Jose Aldo enter the Octagon, but he made out just fine with a nice Decision win over the ever feisty Frankie Edgar at UFC 200 last July. The long lay off could promote rust – and that could be trouble against someone as dangerous as Holloway – but a veteran like Aldo should be ready.
Remember, this is one of MMA's most highly skilled fighters and he's lost just once in the last 11 years. Aldo's knockout loss to Conor McGregor back in 2015 at UFC 194 was iconic, but it was also in a very big way a fluke. Many feel that Aldo was a bit too aggressive and McGregor benefited from a lucky jab and then an illegal follow-up blow to the head.
Whatever the case, Aldo did lose that fight and he has to see it as a huge blemish to his record. Everything he does from this point on – at least in his mind – probably has the endgame being winning titles that lead to a rematch with McGregor.
Sticking with this fight, though, Aldo can't for a second overlook Holloway. There is no denying Aldo's strengths, experience or dominance. He's lost two fights in his entire professional MMA career, proving to have the toughness and endurance to outlast opponents (10 Decision wins) as well as the elite striking, quickness, power and defense to punish them early (14 career Ko wins).
Aldo is not a guy who sits there and lets you win by beating him to a pulp. It's the other way around and he is masterful at avoiding takedowns or being forced to tap out when in sticky situations. Such a case has happened just once (2015) and his only KO loss of his career was borderline bad luck.
Aldo does have a sneak floor game that he can lean on in a pinch, but judging by his skill-set and long history, we know he's an elite striker that is either going to hand out a beating or try to end this thing early.
Insert Holloway, who has proven he's one of the UFC's best young fighters (still just 25) with a red hot 10-fight winning streak. He's not just on any old roll, either, as the battle tested Holloway just took down Anthony Pettis and owns impressive wins over the likes of Ricardo Lamas, Jeremy Stephens and Cub Swanson during his torrid run.
Prior to starting that hot roll, Holloway originally proved his worth by going the distance with The Notorious. It ended in a loss, but perhaps more than any other fight, that showed Holloway isn't an easy out.
Holloway's lone weakness in his impressive career to this point has been the submission game. Dustin Poirier snuck a Triangle Armbar on him for Holloway's first MMA loss back in 2012, while we've only seen Holloway flex his own submission game muscle on two occasions – both times using the Guillotine Choke.
The point? Holloway is beyond a worthy foe to Aldo and he's pretty much the same fighter. Holloway has proven he has the toughness, timing and power to go toe-to-toe with the most dangerous of strikers, and if he's not outlasting them (8 Decision wins), he's taking them out early with his elite striking (7 KO wins).
So, two similar, elite strikers go head to head for a title belt. Who wins?
UFC 212: Aldo vs. Holloway Prediction
The reality here is there aren't many flaws that could prove to be detrimental on either side. Neither fighter prefers to take the fight to the ground, but if Holloway did try to get cute with some floor time, Aldo's experience and superior takedown defense could give him an edge.
Aldo seems to win out across the board, too. He has shown over time he has impeccable timing, explosive KO ability, a more powerful punch and alternatively far better positioning and overall defense.
Of course, Holloway is close to matching Aldo in just about every measured skill. If Aldo has a clean sweep in the attribute department, it's truly only by a hair. Holloway is a very dangerous striker, he picks his spots wisely, he doesn't get knocked out and he isn't afraid to go the distance in a fight.
In addition, Holloway does have some mild edges, as he's slightly taller with a better reach, he's younger and quicker and if he goes for it, he does have a slight upper hand when it comes to the floor game.
But the fight isn't going there. For one, Aldo's elite takedown defense makes it a silly direction for this fight, and both of these fighters prefer to stand up and battle. They both have iron jaws and love to set up combo punches and will simply need to pick their timing.
Ultimately, it is hard to envision a KO here. Both fighters are extremely disciplined and in such a huge fight, it'd be relatively shocking to see either make a huge mistake. We have seen Aldo do that in the past, but Holloway doesn't have quite the knockout upside of a McGregor and Aldo generally is going to be the one delivering the beating, or at least absorbing one during a nice back-and-forth battle.
That's what we're headed for here in a fight that really has the look of a Decision. Aldo is the champ has bigger fish to fry, so while we love Holloway's heart, skill and toughness, we think a tight one leads toward an Aldo win. And if a KO does go down here, it's more likely Aldo delivers it.