Hide Bonus Offers
| | | | | |
| --- | --- | --- | --- | --- |
| #1 | Bovada Sports | 50% Up To $250 | Visit Site | Bovada Sports |
| #2 | BetUS | 125% Up To $2,500 | Visit Site | BetUS |
| #3 | MyBookie | 100% Up To $1,000 | Visit Site | MyBookie |
| #4 | Everygame | 100% Up To $500 | Visit Site | Everygame |
| #5 | BetOnline Sports | 60% Up To $1,000 | Visit Site | BetOnline Sports |
UFC 211: Miocic vs. Dos Santos 2: Odds and Predictions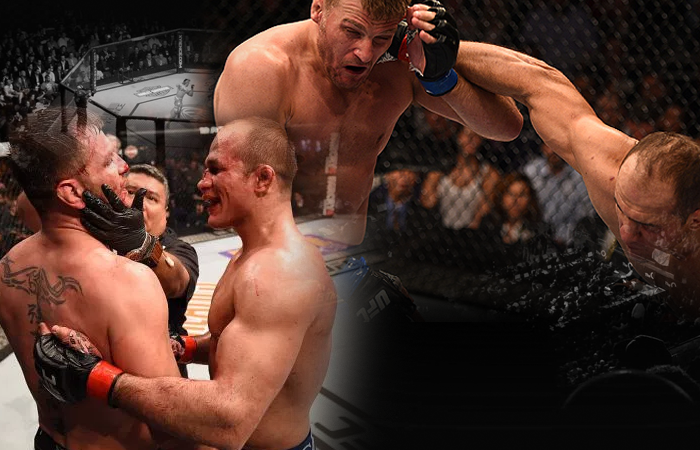 UFC 211 on Saturday, May 13, 2017, in Dallas Texas is a star-studded card that we're beginning to expect every time from the UFC. With so many great fighters joining the ranks, a lame card should never happen. The main event of this card is a heavyweight rematch and title fight between Stipe Miocic and Junior Dos Santos.
The first fight between these two took place back in 2014 in Phoenix where Dos Santos pulled off the victory by unanimous decision. We'll get into how controversial this decision was in a minute, though.
The rest of the card is stacked with a ton of scrappy fighters who not only know how to win but know how to do it in an entertaining fashion. With the exception of the first fight on the card, no other fight is over + or – 162 according to the odds at Sportsbetting.ag at the time we wrote this (about a week and a half before the fights).
This means that we're in store for a lot of close battles and most likely some all out wars. Fight cards like this can be brutal on bettors as the deciding factors for victory can be small. That being said, we're going to do our best to give you our thoughts on how we think the action is going to go down in Dallas.
Stipe Miocic vs. Junior Dos Santos
Dos Santos +107
Miocic -127
As a sports bettor, it's always great when you have the ability to look at prior matchups between two fighters. This gives you a bit of an insight into how the fighters are going to game plan for each other and how they match up.
Now, you have to be careful, though, because the more time that passes between the two fights, the more each fighter has time to grow, adapt, and rework their game plan. The first fight between these two saw a victory for Dos Santos to retain his title, but if you remember the crowd's reaction, they weren't happy about it.
While I personally don't think it was that bad of a decision, I can definitely see the frustration and don't think it should be immediately swaying you towards wagering on Dos Santos.
Something that stood out to me in the last fight was that both fighters started to gas going into the later rounds. I was originally going to write that this would probably take much more of a toll on the older Dos Santos, but then I looked up their ages and Miocic is actually a year older. That shows you who I think is going to be affected by the cardio question a lot more. Personally, I'm expecting another exciting fight that most likely goes the distance.
While Junior has some great hands, I anticipate that Miocic may look to ground and pound and take to the takedowns a lot earlier in this fight.
><
Prediction: Miocic wins by unanimous decision
Joanna Jedrzejczyk vs. Jessica Andrade
Jedrzejczyk -162
Andrade +142
This is going to be a fun one. Way more fun that trying to spell or pronounce the fighter's last name who I think is going to win. Frankly, I think is an easy bet on Jedrzejczyk. She's just too good, and she looks unstoppable in most of her fights.
I'm not trying to say that Andrade isn't a great fighter, but the caliber of fighters she's fought versus Jedrzejczyk is just not the same. With a significant technical and reach advantage, I expect Jedrzejczyk to pick Andrade apart systematically. Look for a clinic in how to break a fighter down.
The only question I spent some time trying to decide here was if Andrade would be able to get the fight to the ground and work. With an 80%+ takedown defense, I like Jedrzejczyk's chances to keep it on the feet. She will have to be selective in some of her strikes, specifically her kicks, but she's technically sound enough to know that.
I think Andrade is too tough to get finished and with 2/3 of Jedrzejczyk's fights going to decision, I think this one does too.
><
Prediction: Jedrzejczyk wins by unanimous decision
Demian Maia vs. Jorge Masvidal
I should probably disclaimer before getting into this fight that the reviewer and predictor has a hard-on for Jiu Jitsu fighters, and Demian Maia is one of the best in the world. With half of his wins coming by submission, you can see how much of a rock star he is. Masvidal is a tough opponent with great striking and even touts himself as the enforcer brought in by the UFC to get rid of the people they don't like.
I expect Masvidal's fear of the fight going to the ground disrupting his stand up quite a bit. With around an 80% takedown defense, I do expect Maia to have to bang on his feet some before trying to get the fight to the canvas. Most predictions by experts are split on both fighters, but surprisingly a lot of them all have this going to decision.
I'm going to ride my Jiu Jitsu dreams here and say Maia pulls off something fancy and gets the job done. By fancy, I mean something outside of a basic submission but maybe a slick set up into a leg lock/submission or a fancy armbar set up.
Yes, I know we aren't required to make our predictions this specific, but it's a lot of fun, and I get to feel cool if I'm right.
><
Prediction: Maia wins by submission (something cool)
Frankie Edgar vs. Yair Rodriguez
Edgar -140
Rodriguez +120
Frankly, this is a nightmare fight to pick. I'm personally staying away from this one because I can make awesome cases each direction on who will pull this one off. For Rodriguez, he's a fighter on fire on an eight fight win streak and also the winner of TUF Latin America.
At the ripe young age of 24, he's definitely got that youthful spirit, and he did fight BJ Penn in his last fight, so the fear of his first big name is out of the way. Frankie, on the other hand, is a 35-year-old veteran that knows how to get the job done.
Here's what I expect to happen. I expect a lot of high-energy/fast-paced/running around between the two fighters. My guess is both fighters will come out aggressive and look like two mice trying to find a morsel of cheese before a cat gets them. I'm sure there are better analogies out there, but that's the best I could come up with.
I feel as though this may get Yair to break from his game plan and allow Frankie to edge him apart slowly. I say "edge" him apart instead of pick him apart because it probably won't be as dominating of a performance as I think one like Jedrzejczyk's will be in the later fight. It will still be systematic, just not impressive.
What's interesting to note is I'm really not sure what game plan each fighter is going to take here. This is probably the reason I personally won't be placing any sort of bet on this fight. If you can get a sexy price on Rodriguez, I recommend taking that but otherwise I might just enjoy this one as a fan or find a silly prop bet to keep you busy.
Maybe this would be a fun fight to take a shot on that crazy draw prop bet?
This is probably one of those fights that the announcers will be talking about experience over youth when the final bell rings.
><
Prediction: Edgar wins by unanimous decision
Henry Cejudo vs. Sergio Pettis
The odds really tell the story here, but I think there may be a decent bet to put in and it's NOT on who I think is going to win the fight. Remember, betting is all about value. Personally, I think Cejudo's wrestling is just too good, and his ability to adapt it to MMA is too strong.
The interesting thing though is that Cejudo is coming off of two straight losses to Joseph Benavidez and Demetrious Johnson, while the most recent loss to Benavidez was a split decision.
Personally, I think Cejudo is going to control the fight and hand a loss to Pettis and a loss to the fans in a bit of a boring wrestle-hump type match.
That being said, Pettis is the kind of guy that can catch Cejudo. Pettis knows the game plan Cejudo will be employing, and he may be gearing himself up to try and catch Cejudo with a knee or a kick when he shoots for a takedown.The next level is, of course, that Cejudo knows this and will be on the lookout and we could go in this circle all day.
The point is this. Cejudo is most likely going to win this fight, but at this price for Pettis, I think it could be worth a small bet for a big payday.
><
Prediction: Cejudo by unanimous decision (BUT a bet on Pettis could be wise because of the price)