Hide Bonus Offers
| | | | | |
| --- | --- | --- | --- | --- |
| #1 | Bovada Sports | 50% Up To $250 | Visit Site | Bovada Sports |
| #2 | BetUS | 125% Up To $2,500 | Visit Site | BetUS |
| #3 | MyBookie | 100% Up To $1,000 | Visit Site | MyBookie |
| #4 | Everygame | 100% Up To $500 | Visit Site | Everygame |
| #5 | BetOnline Sports | 60% Up To $1,000 | Visit Site | BetOnline Sports |
UFC 209 Predictions: Tyron Woodley vs. Stephen Thompson Pick and More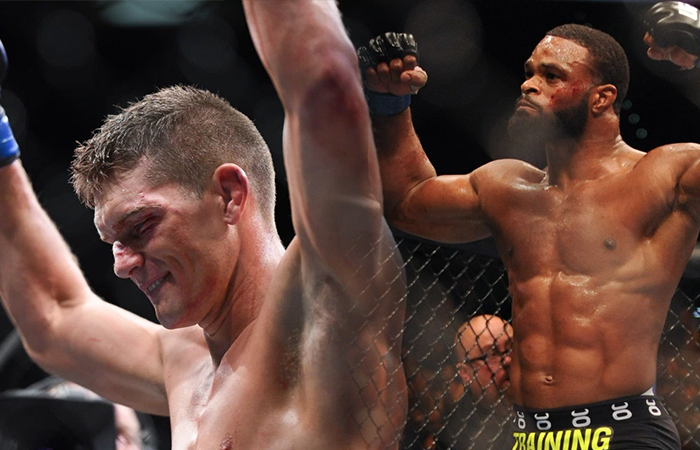 Few would expect the UFC to be excelling without Ronda Rousey or Conor McGregor active right now, but the upcoming UFC 208 and UFC 209 events prove that's truly the case.
In fact, UFC 209 is so loaded, that it demands our attention over a month ahead of schedule and requires our focus even before UFC 208 arrives. From top to bottom, this UFC event is completely stacked with huge fights that are either going to further unleash the fury of some very impressive fighters, or at the very worst give way to even crazier UFC storylines.
Precisely where UFC 209 takes us remains up in the air, but few MMA fans will deny that the anticipation is only building.
Let's see just how intense the March 4th event will be by taking a look at the main card and gauging how things could potentially shake out:
Lando Vannata vs. David Teymur
The first fight on the main card is a solid one, as Vannata (9-1) and Teymur (5-1) both have just one loss to their name and will be eyeing an opportunity to rise the ranks on March 4th.
It's a cross-skill battle, as Vannata will look to get this fight to the ground and the explosive Teymur will hope to stay standing up. Teymur has proven lethal as a striker through his first six pro bouts, as he's scored 4 KOs and his lone loss came via Decision.
Vannata may specialize in the submission game, but it's hard to ignore his advantage as a fighter who can beat you with punches and his canvas work. Vannata has arguably been the more impressive (and more experienced) fighter to this point and he's fresh off of an impressive win over John Makdessi. With his only loss coming to Tony Ferguson via submission, Vannata seems to be a little more battle tested and versatile enough to hand Teymur his second pro loss.
Pick: Vannata via Submission
Igor Pokrajac vs. Ed Herman
Some heavy experience hits UFC 209 in the second fight on the main card, when Igor Pokrajac (25-13) goes head to head with Ed Herman (24-12). Both of these guys are tough, hard-nosed fighters, but much like the last fight, they'll be seeking out different results.
Igor has some ground game to him, but he's a masher to his core and will undoubtedly seek a knockout when he faces off with Herman, who has proven to be a real problem on the ground with 13 career submissions. Herman strolls into this fight in erratic form, as he's gone just 3-4 over his last seven matches and hasn't registered a submission win in eight consecutive matches.
That could lead us to believe Herman is due, or it could play into Pokrajac's hands. Pokrajac is a fine floor fighter in his own right (9 career submission wins), but with raw power and 15 career knockouts to his name, we know he'll want to take Herman out the old fashioned way.
That could be where we're trending here, as Pokrajac has been solid lately, securing wins in three of his last four bouts (two being KOs). Both men are past their prime at this point, but Pokrajac has a nastier punch and has been hotter lately. We'll take Igor in a close one.
Pick: Pokrajac via Decision
Todd Duffee vs. Mark Godbeer
Is there a better last name than Godbeer? No, we didn't think so, either. While Mark Godbeer (11-3) clearly wins best name for all of time, he has lost three pro MMA bouts and could be in danger of giving up a fourth when he battles Todd Duffee (9-3) on Saturday, March 4th at UFC 209.
This actually could be one of the tougher UFC 209 predictions to make, as both of these are strikers by trade and very good at it. Duffee has been a monster striker through 12 bouts, notching 8 career KOs in nine wins. He's had the bad end of that KO power, too, but with two of his losses coming to heavy-hitters like Frank Mir and Alistair Overeem, it's hard to knock him too hard.
Duffee's striking will need to be in top form when he battles Godbeer, who comes in relatively hot with three wins in his last four fights. He's been on a knockout tour, as well, with KO wins in each of his last five victories.
Needless to say, both of these guys crave the knockout and odds are one will be standing over the other when this bout is through. Duffee has a little less miles on his body and has been a bit more impressive against some bigger names, so we'll give him a mild edge in what could be a really fun (and underrated) fight.
Darren Elkins vs. Mirsad Bektic
The Featherweight rankings could experience a mild shift on March 4th, as Darren Elkins (22-5) and Mirsad Bektic (11-0) face off in an effort to climb the ladder. Elkins is far more experienced and presents a serious challenge due to his extremely versatile skill-set. Of course, Bektic (13th among Featherweights) has to this point only been ascending thanks to his equally eclectic MMA game and unblemished record.
That first loss tends to come eventually, but it's difficult to go against Bektic, who has been diverse in the way he's landed wins. Bektic also hasn't lost yet as a pro or amateur, so there is a rising mysticism surrounding him as a fighter.
Elkins is a little easier to pick as the loser here. He has won three straight fights, but he's lost some power on his knockout punch and has gotten into the habit of letting some fights get away from him. His toughness has still been proven with 11 Decision wins, but he's lost the last two fights when he's faced special strikers (Chad Mendes and Jeremy Stephens).
With Elkins losing a little steam and playing it safer with each passing fight, we could see this going to a Decision. However, Elkins has proven to be able to win in a variety of ways and the younger and more explosive fighter will likely look to end things early.
Alistair Overeem vs. Mark Hunt
The first of three epic UFC 209 fights goes down between Overeem (41-15) and Mark Hunt (12-10). Overeem is a titan of the MMA industry, as he's still rocking at age 36 and sits as the #3 fighter in the Heavyweight division. Overeem has taken his licks lately with losses to Stipe Miocic, Travis Browne, Ben Rothwell and Antonio Silva, but he's still served well enough to post a solid a winning 5-4 record over his last nine fights.
It's impossible to deny Overeem is slowing down slightly with age, but he's still 4-1 over his last five fights and seems to be building up momentum towards one last shot at the title belt. Hunt is a tough fighter who can give anyone a tough time, but he lost to Overeem the first time he faced him back in 2008 and the veteran fighters have really gone in opposite directions ever since.
Overeem has unfinished business ahead of him and dispatching Hunt is part of the process. A Decision might be the safe pick here, but we wouldn't be shocked if Overeem's raw power is on full display in this one.
Khabib Nurmagomedov vs. Tony Ferguson
This showdown between Nurmagomedov (24-0) and Ferguson (23-3) could easily be the top fight to watch at UFC 209. The undefeated Nurmagomedov has big things in his sights and taking down Ferguson to win the Interim Lightweight Title is just step one of his long mission.
Part of that mission might include Khabib breaking Ferguson's arm:
Taking down Ferguson won't be easy, as Ferguson is highly skilled and incredibly experienced. He's lost just three fights in his entire career, with the last one coming to Michael Johnson back in 2012. That was a Decision loss and with zero knockout losses in his career, the iron tough Ferguson remains one of the toughest outs in the UFC.
More importantly, Ferguson's confidence and game are both at an all-time high, as his winning streak spans four years and nine consecutive bouts. He'll even roll into this UFC 209 battle fresh off of a massive over Rafael dos Anjos.
As fantastic as Tony Ferguson has been, we need to face two realities: someone is going to see their winning streak end at UFC 209 and Nurmagomedov has faced (and beaten) two of Ferguson's nemesis's – Michael Johnson and Rafael dos Anjos. It's entirely possible that Nurmagomedov's terrific start to his MMA career finally endures a loss to a great fighter, but he also seems destined for this belt and then some. A future bout with Conor McGregor could be one piece to the puzzle and it just seems like counting Khabib out right now would be a mistake.
Pick: Nurmagomedov via Decision
Tyron Woodley vs. Stephen Thompson
While there are some other very intriguing fights to look at heading into UFC 209, the top bout still has to be the headlining act between Woodley (16-3-1) and Thompson (13-1-1). UFC 209 features the highly anticipated rematch between Woodley and Thompson, who closed in a draw the last time they faced back at UFC 205.
That draw was the only tie in either fighter's careers, while together they share just four losses across 35 bouts. Most of those stem from Woodley, who has lost three times and suffered one knockout loss in his career. Woodley hit a few bumps in the road after an impressive 10-0 start to his MMA career, but since his three losses he's gone 3-0-1.
Thompson comes in as the top Welterweight title contender and after the first go around produced no actual result, he'll get a second crack at dethroning Woodley. Both fighters bring solid experience and exceptional striking to the table, but it could be time for Thompson to finally break this wall down. Unlike Woodley, Thompson has never been knocked out in his pro MMA career and his lone loss came against the violent Matt Brown (Decision) back in 2012.
That has Thompson on a four-year, no-loss streak coming into his title rematch with Woodley. Another draw is highly possible, but Thompson held serve in the first meeting and now should know Woodley well enough to find enough cracks to squeak out a win. It's entirely possible Woodley continues to dominate his division, but Thompson has worked hard to get to this point and seems destined to take the belt.
Pick: Thompson via Decision