UFC 209 Odds: Full Fight Card Preview and Predictions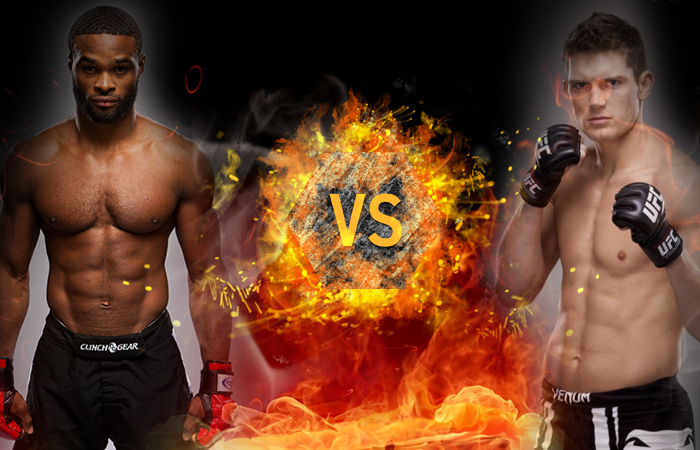 The rematch the UFC community has been waiting for is almost here, as the much-hyped UFC 209 event featuring Tyron Woodley vs. Stephen Thompson 2 arrives on Saturday, March 4th. The action gets started with two different Prelim installations, and wraps up with the fight of the night to decide the welterweight championship.
Early odds favored Woodley in defending his title, while some didn't think Thompson did enough to work his way to a draw in the initial meeting in the first place. Like it or not, the UFC has made this an interesting duel and Thompson's elite striking and solid history make him a solid threat to dethrone Woodley in their second go-around. In fact, Vegas even now supports Thompson at some MMA betting sites.
UFC 209 is far more than just one title fight, however, as MMA fans get a second title bout between Khabib Nurmagomedov and Tony Ferguson, an arguably higher profile match that will decide the interim lightweight champion. The winner will move on to face Conor McGregor down the road for the lightweight title belt, as well.
Even more is on the line this weekend, as Alistair Overeem and Mark Hunt both state their case for a shot at the heavyweight title belt, while undefeated gems like Luke Sanders, Daniel Spitz, Mirsad Bektic, Tyson Pedro and Paul Craig all put their unblemished records on the line to push their way up the ranks.
It's a fully loaded affair and promises to be a good time, but with the right picks, it can also be profitable. If you're thinking of conducting any UFC betting, join us as we run through every single fight and the latest UFC 209 odds to pick our winners:
Please Note:
All UFC 209 odds come from Bovada.
Early Prelims
Albert Morales (-140) vs. Andre Soukhamthath (+110)
Morales (6-1-1) enters as a mild favorite at UFC 209, where he'll put his versatile skill-set up against the more experienced Soukhamthath (11-3). Morales backs into this fight with an 0-1-1 record in his last two bouts, while The Asian Sensation is riding a hot streak with three straight victories.
Soukhamthath has been far more impressive to this point and is equally dangerous as a striker and floor guru. All three of his career losses have gone the distance, too, which highlights his awareness and defense. Morales is dangerous, but he's not trending in the right direction and Soukhamthath isn't getting much respect here.
Pick: Soukhamthath via KO
Amanda Cooper (-115) vs. Cynthia Calvillo (-115)
The only fight from the female side of things at UFC 209 features a battle between inexperienced women trying to work their way up the strawweight ranks. Cooper hasn't displayed much striking ability en route to a sluggish 2-2 record, while she's given way to submission losses in both of her defeats.
The undefeated Calvillo is a hot prospect and comes into this one undefeated (3-0) with some very nice striking ability. It's looking like a classic wrestler vs. striker battle and we'll take the upside of Calvillo in what Vegas sees as a pick'em.
Tyson Pedro (-115) vs. Paul Craig (-115)
The last fight of the first stage of UFC 209 should be a good one, as Tyson Pedro (5-0) and Paul Craig (9-0) give us a fun battle of unbeatens in the light heavyweight class. Vegas is calling this one as a dead heat for two highly skilled fighters that have displayed some striking ability but will almost certainly settle this one on the ground (both fighters have scored over 80% of their wins by submission).
The question is which fighter has the edge. To this point, it figures to be Craig. Not only has he had more experience and taken down some bigger names, but he also hasn't let any fight go the distance yet. That shows off his defense, awareness and killer instinct in the Octagon. Pedro has a solid punch and can certainly match wits on the ground, but we like Craig to finish this one up quickly.
Pick: Craig via Submission
Prelims
Mark Godbeer (-145) vs. Daniel Spitz (+115)
The second stage of UFC 209 gets going with Godbeer (11-3) showing off his elite striking power against Spitz (5-0), who will hope to shock and stay undefeated. Vegas clearly gives the more experienced and dangerous Godbeer the nod here, as he had been on a punishing tear with three straight KO wins before being submitted by Justin Ledet at UFC Fight Night 99.
Godbeer is not to be messed with, but he also isn't invincible. He got tripped up in his last fight and as strong as his chin is, he has been taken out via punches twice in his career. That probably wouldn't be the route Spitz will try to take, of course, as this submission expert will prefer to take Godbeer to the mat.
Spitz has a distinct size advantage here, but his path to a win here is going to be over-powering Godbeer and winning in the ground. That looks like a tall order due to both Godbeer's strength and punching power. Seeing as Spitz took this fight on short notice, we don't think it ends well for him.
Iuri Alcantara (-115) vs. Luke Sanders (-115)
The undefeated Sanders (11-0) hopes to keep a clean record at the Prelims at UFC 209, but that could prove to be difficult against the extremely experienced and versatile Alcantara (33-7). Sanders is a potential nightmare, as he has vicious striking power, exceptional athleticism and a very dangerous ground game.
Ditto for the more seasoned Alcantara, of course, who has always displayed raw knockout power (13 career KOs) and can do serious damage (13 career submissions) on the ground. He's lost his footing lately with just a 2-2 run over his last four fights, but did submit Brad Pickett in his last fight back in October.
Sanders is very much on the rise, but the concern here is how savvy Alcantara is and the numerous ways he can trip Sanders up. Sanders will be fresh after not fighting in over a year, but he also could be a little rusty. That could be bad news against such a highly skilled and motivated fighter. We fear Sanders' first loss arrives at UFC 209.
Pick: Alcantara via Submission
Mirsad Bektic (-650) vs. Darren Elkins (+425)
Another undefeated run is on the line this weekend, as Mirsad Bektic (11-0) will try to live up to a massive Vegas backing when he battles the versatile and experienced Darren Elkins (21-5). Elkins certainly isn't getting much respect in the betting world here, even though he is a strong grappler with the ability to end fights standing up or on the ground.
More than his versatility, perhaps, is Elkins' toughness and ability to go the distance. A whopping 11 career Decision wins are a testament to that, plus he's coming in hot after ripping off wins in each of his last three fights.
Elkins shouldn't be ignored here, but Bektic is probably the better striker and packs a little more power and quickness at this point in his career. Considering he can arguably match Elkins on the ground, this one could come down to who can land the more vicious blows. We can see Elkins carving out a Decision one way or the other, but the undefeated Bektic has to send a message here.
Marcin Tybura (-155) vs. Luis Henrique (+125)
The last fight of the Prelims goes down between Tybura (14-2) and Henrique (10-2), as two heavyweight with raw knockout power and solid ground games go head to head. As balanced as these fighters are, it feels like a wrestler vs. striker showdown, as Tybura brings superior striking to the table due to his raw power and positioning, while Henrique will surely look to get this thing to the ground.
Tybura's ability to this point to evade any submissions might give him a leg up here, while he's been fantastic in general at enforcing his will (6 wins each via KO and submission). Henrique can't be overlooked, of course, as his size and brute strength make him a nightmare when he can get the fight to the ground. His weakness to this point so far has been a soft chin with both career losses coming via KO. We think Tybura might continue that trend if there is an opening this weekend.
Main Card
Lando Vannata (-400) vs. David Teymur (+300)
We get a really fun set of fights on the main card, which is pretty crazy considering all of the awesome fights we just ran through. One we all will want to see is this lightweight battle between Vannata (9-1) and Teymur (5-1). Both of these fighters are highly skilled and have looked great recently.
Vannata is a huge favorite at Bovada, largely because he really held his own against Tony Ferguson early on and got a huge win over the dangerous John Makdessi in his second UFC fight. He hasn't made a lasting impact yet, but he's looked dangerous through his first two runs and could be a big problem for Teymur, who is slightly less experienced.
Teymur is no slouch, of course, as his only career loss was a debatable Decision defeat in his first pro match and he's been on a knockout spree ever since Four of his five wins have ended with a KO and he's proven to be very deadly as a striker. Unfortunately, Vannata might be a little more skilled and also has strong defense. Unless Teymur can end this thing on the ground, this one may have the looks of a marathon match.
Pick: Vannata via Decision
Rashad Evans (-225) vs. Daniel Kelly (+175)
Another huge fight goes down between Evans (19-5) and Daniel Kelly (12-1). Formerly a beast (an champion) in the light heavyweight division, a regressing Evans steps down to middleweight to provide a roadblock for the surging Kelly. Evans brings raw knockout power and when he was at his best he was slapping around heavy-hitters like Tito Ortiz, Quinton Jackson, Thiago Alves, Chuck Liddell, Michael Bisping and Forrest Griffin, among others.
Evans was a total monster and beyond his elite striking (7 career KO wins), he proved to be tough as nails, pounding his way to 10 Decision wins and lasting through three tough Decision losses. Evans has certainly lost a step at age 37, and his recent KO defeat to Glover Teixeira doesn't help matters, but there is a strong argument that he's a bad matchup for Kelly.
Kelly isn't a slouch, of course, as he's proven to be highly versatile and is a threat standing up or on the ground. Evans' regression is something to consider here, but this guy was so dominant and he still packs such a heavy punch that it's tough to bet against him in this one. Kelly is dangerous, but he probably hasn't faced a striker like this yet. He could be set to brace for his second KO loss.
Alistair Overeem (-145) vs. Mark Hunt (+115)
We get a great one in the heavyweight class, as two legends go at it when Alistair Overeem (41-15) and Mark Hunt (12-10-1) step into the Octagon. This is actually a rematch of a fight we saw back in 2008, when Overeem submitted Hunt. That was the third win in what ended up being an awesome 11-fight winning streak for Overeem, but he's since regressed with four losses in his last nine bouts.
Overeem is still as nasty of a striker as ever, and his only glaring weakness is he is extremely vulnerable to knockouts. That's not great news against a guy like Hunt, who is about as battle tested as they come and still carries a heavy punch.
Hunt is still a threat at even 42 years old, but he's not as quick or powerful as Overeem and Overeem has a vastly superior submission game. Overeem's ability to take this fight wherever he needs to gives him a distinct edge, while he needs this win to guarantee he gets another crack at the heavyweight title. He took Hunt down on the ground last time, but this time Overeem will finish the fight standing up.
Interim Lightweight Title – Khabib Nurmagomedov (-185) vs. Tony Ferguson (+150)
Arguably the fight of the night, the unbeaten Nurmagomedov (24-0) finally has a truly elite challenger to potentially add to his resume in the versatile and battle tested Ferguson (22-3). Khabib has remained undefeated due to an insanely versatile skill-set, as he rarely has seemed overmatched and excels with takedowns and aggressive pursuit.
The question, of course, is how effective Nurmagomedov's aggressiveness will be against a guy in Ferguson who has faced every kind of fighter and never panics. Ferguson has elite defense, exceptional awareness and a skill-set that is just as well-rounded as Nurmagomedov's. Adding to this list of attributes is one career submission loss (back in 2009) and zero knockout defeats.
Ferguson has been especially impressive as of late, as he's riding a white hot 9-fight winning streak at the moment. Someone's huge streak has to come to a screeching halt in this one, and Vegas seems to favor the undefeated Nurmagomedov. That makes sense, but Ferguson is too talented and too tough to let this thing end early. Look for it to go the distance and Khabib to remain undefeated by a hair.
Pick: Nurmagomedov via Decision
Welterweight Title – Tyron Woodley (+135) vs. Stephen Thompson (-165)
The final fight of the night is a rematch between welterweight champ Tyron Woodley (16-3-1) and top contender Stephen Thompson (13-1-1). Thompson survived the first meeting just enough to earn a draw, but most would agree Woodley won the fight, straight up.
That being said, here we are with a rematch and Thompson is the tentative favorite due to elite striking ability and the fact that it's not easy to beat the same guy twice. Thompson should have lost via Decision, but he did hang tight with Woodley, showing he can land some blows and also absorb a lot of punishment and stay standing.
This is a tough fight to call, simply because Thompson is such a strong striker and has never been knocked out in his career. There is a very real chance he can again hang around for as long as it takes and then possibly find a slim window to fit in a KO punch. That's certainly tough to pull off against Woodley, who is also tough as nails and hasn't been knocked out since his only career KO back in 2012.
Thompson is a fun sleeper upset play, but Woodley is the better fighter. As much as Thompson would love to get the KO or simply win in his second crack at Woodley, the welterweight champ has to be a little miffed that the first meeting was a draw in the first place. It's quite possible he uses that motivation to end this fight early to prove he was the better fighter, all along.