Hide Bonus Offers
| | | | | |
| --- | --- | --- | --- | --- |
| #1 | Bovada Sports | 50% Up To $250 | Visit Site | Bovada Sports |
| #2 | BetUS | 125% Up To $2,500 | Visit Site | BetUS |
| #3 | MyBookie | 100% Up To $1,000 | Visit Site | MyBookie |
| #4 | Everygame | 100% Up To $500 | Visit Site | Everygame |
| #5 | BetOnline Sports | 60% Up To $1,000 | Visit Site | BetOnline Sports |
UFC 207 Picks and Predictions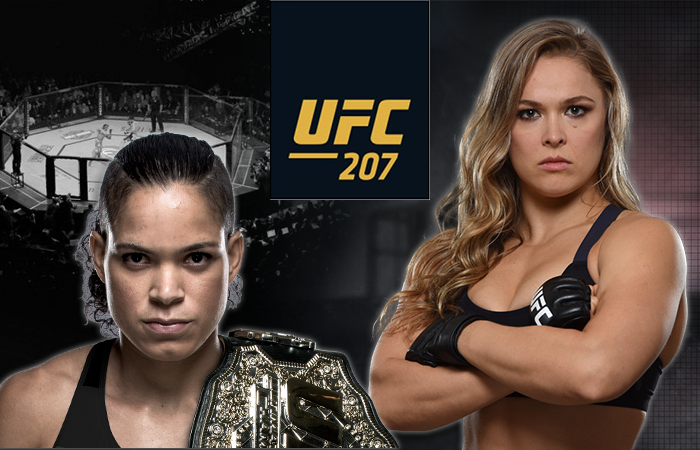 Ronda Rousey will make her highly anticipated return to the pay-per-view stage as the headliner of UFC 207. The event will go down at T-Mobile Arena right off the strip in Las Vegas on December 30th,
It will be the first appearance for Rousey on the UFC stage since her shocking defeat at the hands of Holly Holm in UFC 193 in November of 2015.
In UFC 207 she will be taking on current UFC bantamweight champion Amanda Nunes. Nunes took home the crown back in July when she defeated Miesha Tate by way of rear-naked choke in the first round of the UFC Women's Bantamweight Championships.
That event will certainly draw the most eyeballs, but there are plenty of matchups on the undercard to get excited for, as well. Below is the entire fight card along with odds and predictions for each bout.
UFC 207 Preliminary Card Odds and Picks
Brandon Thatch -155 vs. Niko Price +125 (Updated 12/30)
Thatch (11-3-0) will come into this one as the heavy favorite over undefeated Niko Price (8-0-0). "Rukus" was initially scheduled to take on Sabah Homasi here, but Homasi was forced to withdraw due to undisclosed reasons.
This is a huge bout for Thatch's future considering he has been beaten in each of his last three outings via submission against Gunnar Nelson, Benson Henderson and Siyar Bahadurazada.
Price is a relative unknown out of the Florida area, though, and this will be his first taste of the big stage. Considering Thatch's UFC future may depend on this result, it's safe to say he'll come out guns blazing in this one.
Price is an interesting name to keep an eye on in the future, but the more experienced Thatch will do away with him here.
Tim Means +115 vs. Alex Oliveira -145 (Updated 12/30)
Means (26-7-1) has won each of his last two fights over John Howard last December and Sabah Homasi back in August. He knocked out Howard and picked up a TKO against Homasi, who was forced to fill-in at the last minute.
Oliveira (16-3-1) will come into this bout in strong form, as he, too, has won two consecutive fights. "Cowboy" was beaten by Donald Cerrone in February, but picked up consecutive wins over James Moontasri and Will Brooks.
The two fighters come into this one incredibly evenly-matched, and it is essentially a pick'em. Oliveira was the subject of controversy after failing to make weight prior to his defeat of Brooks, which led to Means taunting him via Twitter.
Oliveira will have something to prove in this one, and I think he'll shut Means up here.
Pick: Oliveira via submission
Alex Garcia -185 vs. Mike Pyle +150 (Updated 12/30)
Garcia (13-3-0) will be looking to rebound after suffering a TKO at the hands of Sean Strickland in his last fight.
Pyle (27-12-1), the 41 year old elder statesman of the circuit, has also had his fair share of trouble of late. Pyle is only 2-4 over the course of his last six fights in a stretch that includes a trio of knockouts. The most recent came against Alberto Mina back in July.
Pyle is a heavy underdog in this one, and with good reason. He certainly has the edge as far as experience goes, but his recent form does little to inspire much confidence in this spot.
I'm afraid Pyle may have to strongly consider his fighting future after another knockout here.
Pick: Garcia via knockout
Antonio Carlos Junior -130 vs. Marvin Vettori Even (Updated 12/30)
This middleweight bout will pit Brazilian Antonio Carlos Junior (5-1-0) against Italian Marvin Vettori (11-2-0).
Carlos Junior has been rather inconsistent during his UFC tenure. Two of his recent defeats came via decision against Patrick Cummins in his light heavyweight debut fight and via TKO against Dan Kelly back in March. Back in 2014 he was named champion of "Ultimate Fighter: Brazil" season three after taking down Vitor Miranda in the title bout.
Vettori is a relative newcomer to the UFC circuit. He inked a deal to join UFC earlier this year after a successful run in the Italian Venator circuit previously. He debuted at UFC 202 in August and beat Alberto Uda with a guillotine choke in the first round of their fight.
Vettori is listed as an underdog, but that can likely be chalked up to his status as a relative unknown here in the States. His track record is impressive, though, and he should be able to handle the inconsistent Carlos Junior.
Pick: Vettori via submission
Dong Hyun Kim -150 vs. Tarec Saffiedine +120 (Updated 12/30)
Dong Hyun Kim is on this card as the replacement for Matt Brown, who was rescheduled in order to fight Donald Cerrone in UFC 206 in Toronto instead.
Kim (21-3-1) boasts an impressive overall record and comes into this fight having claimed victory in six of his last seven events overall. Currently ranked No. 10 in the division, Kim has yet to fight in 2016 with his last win coming via TKO over Dominic Waters last November.
Saffiedine (16-4-0) is the 13th-ranked fighter in the welterweight division and is only 2-2 since returning to the circuit back in '14. He last entered the octagon at UFC Fight Night 88 and lost a unanimous decision to Rick Story.
Kim figures to come into this one fresh, and I think Saffiedine will give him very little trouble here. It could be over early.
Johny Hendricks +155 vs. Neil Magny -190 (Updated 12/30)
Here we have another fight that could go either way.
Hendricks (17-5-0) is in need of a resurgence after a recent string of subpar performances. He has dropped three of his four fights since beating Robbie Lawler to claim the welterweight belt in UFC 171. Lawler got his revenge on Hendricks at UFC 181, and Johny has lost his last two fights via TKO against Stephen Thompson and with a unanimous decision vs. Kelvin Gastelum.
He has endured some health concerns recently, as well, and had to have a fight at UFC 192 scrapped due to kidney stones and intestinal blockage.
Magny (18-5-0) was enjoying a hot streak before that came crashing to an end his last time out. Magny was easily beaten in a first round TKO against Lorenz Larkin at UFC 202, but had prevailed in 10 of his last 11 bouts before that defeat.
Both will be looking to get back on the winning side, but Hendricks figures to be the more desperate of the two to prove he isn't washed up quite yet. Magny may be the more popular pick, but a gut feeling tells me this fight will go Johny's way.
Pick: Hendricks via decision
Main Card
Ray Borg -130 vs. Louis Smolka Even (Updated 12/30)
The opener on the main card was supposed to feature Jessica Andrade, but the promotion was unable to find a replacement for Maryna Moroz, who was forced to withdraw due to injury.
Instead, we'll get Ray Borg (9-2-0) taking on Louis Smolka (11-2-0), which had originally been scheduled on the undercard.
Borg, 23, has a good amount of UFC experience despite his young age. He has already been featured in five events, but had his three-match streak of victories come to an end in his most recent fight against Justin Scoggins at UFC Fight Night 82.
Borg had to pull out of consecutive events in July and September due to injury and illness, and this will be his first action since the aforementioned defeat in February.
Smolka also had a good run of form snapped recently when he was shockingly defeated via first round submission by Brandon Moreno at UFC Fight Night 96 in October. Sergio Pettis was originally scheduled to take on Smolka that night before being replaced by Moreno.
Smolka had built an impressive 11-1 record prior to that surprising loss, and this bout with Borg gives him a good chance to get back on the right path. Borg will make it tough, but Smolka is primed to remind us why he's one of the most promising young athletes on the circuit.
Pick: Smolka via decision
TJ Dillashaw -200 vs. John Lineker +160 (Updated 12/30)
Dillashaw (13-3-0) had been hoping for a rematch with Dominick Cruz here, but he'll have to settle for a fight with Lineker (29-7-0).
Cruz defeated Dillashaw for the bantamweight crown back in January. Dillashaw wasn't down for long, though, as he bounced back with a unanimous decision victory over Raphael Assuncao back in July at UFC 200.
Dillashaw is best known for his shocking upset victory over Renan Barao at UFC 173 back in 2014. He won the fight via TKO in the fifth round in what has been described as one of the most unexpected and surprising results in the history of the sport.
He'll come into this one as a heavy favorite over Lineker, who has racked up a 4-0 record in the bantamweight division of UFC. He has won six straight fights overall after a split decision vs. John Dodson in October.
Dillashaw is quite familiar with upsets, but you have to think he goes out there and gets the job done against Lineker in this spot.
Pick: Dillashaw via submission
Cain Velasquez -225 vs. Fabricio Werdum +175 (Fight Cancelled)
**Update: Due to injuries, Cain Velasquez has been pulled from UFC 207 and will not be fighting.**
In this one we'll get a highly anticipated rematch between Velasquez and Werdum, who went toe-to-toe back at UFC 188.
Werdum (21-6-1) took the first fight between these two with a submission in the third round to take home the UFC belt. He subsequently ceded his title to Stipe Miocic at UFC 198, but will come into this one on the heels of a unanimous decision win over Travis Browne at UFC 203.
Browne rebounded from his disappointing loss to Werdum by crushing Browne in his last bout. He knocked Browne out with three seconds left in the opening round of their clash at UFC 200.
Velasquez will be out for revenge here, and, based on what he did to Browne, he's rather bloodthirsty. I don't think he'll be able to get Werdum down as quickly as he did Browne, but he'll prevail in the end.
Pick: Velasquez via decision
Dominick Cruz -210 vs. Cody Garbrandt +170 (Updated 12/30)
There is plenty of history between these two. Cruz and Garbrandt have been going back-and-forth talking about each other relentlessly in the media leading up to this one. Cruz has been talking about Garbrandt's concussion problems, but Garbrandt has responded by saying he thinks Cruz is just shy about his own insecurities.
Cruz (22-1-0) is certainly a veteran of the circuit and will come into this one riding a ridiculous 13-match winning streak. His last and only defeat came at the hands of Urijah Faber back at WEC 26 way back in 2007.
He most recently got his revenge for a second time with a unanimous decision victory over Faber at UFC 199 this past July.
Garbrandt, 25, has never faced a fighter of Cruz's caliber at the UFC level but does come into this one undefeated at 10-0-0. He has picked up knockout wins in two of his three fights in 2016 and most recently earned a TKO win over Takeya Mizugaki at UFC 202.
Garbrandt will certainly come into this one motivated to show the world that he's the real deal, but it's hard to bet against the veteran Cruz on a stage like this. This will be a fascinating watch, but Cruz will run his win streak to 14.
Amanda Nunes +145 vs. Ronda Rousey -175 (Updated 12/30)
Finally, we've reached the main event. Ronda Rousey (12-1-0) makes her first appearance in the octagon since the aforementioned defeat to Holly Holm, and she'll be eager to show that he's still the best fighter on the planet.
In her way stands Nunes (13-4-0), who will defend the belt she won by beating Miesha Tate. She has also beaten big names like Sara McMann and Valentina Shevchenko in the past, so Rousey will have her work cut out for her if she has any hopes of reclaiming the crown.
It's not fair to say that Rousey's legacy hinges on this fight considering she has already earned her status as one of the most decorated fighters in the history of the sport.
A win here would cement her place at the top, though, and it's hard to imagine her losing consecutive fights considering she has only lost once before at the UFC level.
Nunes won't make things easy, but Rousey is the greatest ever for a reason.
We're definitely looking to place bets on some of these fights and we always do it at Bovada. They are the top rated US sportsbook and if you're looking to place some bets on UFC 207, we recommend visiting Bovada.