Hide Bonus Offers
| | | | | |
| --- | --- | --- | --- | --- |
| #1 | Bovada Sports | 50% Up To $250 | Visit Site | Bovada Sports |
| #2 | BetUS | 125% Up To $2,500 | Visit Site | BetUS |
| #3 | MyBookie | 100% Up To $1,000 | Visit Site | MyBookie |
| #4 | Everygame | 100% Up To $500 | Visit Site | Everygame |
| #5 | BetOnline Sports | 60% Up To $1,000 | Visit Site | BetOnline Sports |
How to Turn a Profit Betting on Baseball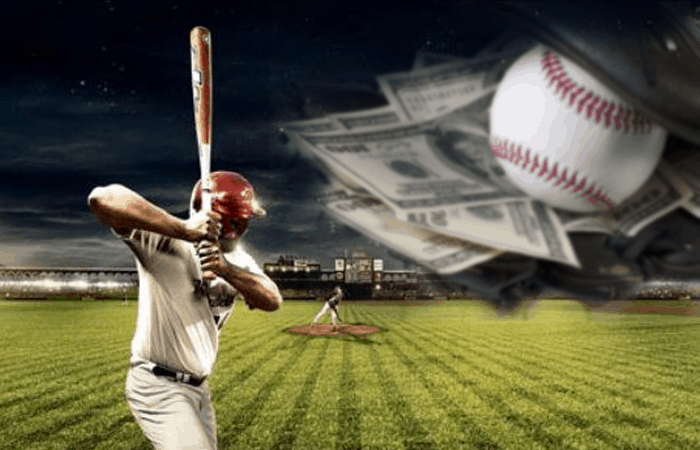 Despite the growing criticisms that strikeouts are up, balls in play are down and games are taking too long to complete, there's still no debate that baseball is America's pastime.
Summer is supposed to be when we all slow things down a bit and enjoy the glorious outdoors. What better way to do that than by going out to the ballpark and watching the best players in the world play a child's game in beautiful stadiums, whether it's under the glare of the hot sun or in the cool breeze of a warm summer's evening under the lights. A couple of cold beers and a foot-long hot dog, and you've got yourself the perfect summer outing.
Baseball doesn't just have to be pure recreational enjoyment, however. There is money to be made betting on America's pastime. Serious money, in fact.
In this article, we'll explore just what you have to do in order to consistently turn a profit betting on baseball. I'm not just talking about winning enough money to offset your losses, or even reduce your need to keep topping up your betting accounts with deposit after deposit. I'm talking about winning at a sustainable enough rate to view baseball betting as a way to supplement your income, if not do it professionally.
Find Value
Finding value in the betting lines is critical in any sport you bet on, but there may be no sport in which there are more places (or opportunity) to find that value than in baseball.
Traditionally, hitters' abilities were always measured in batting average, home runs and runs batted in, while pitchers were graded by their win/loss record, earned run average, strikeouts and WHIP (walks plus hits per inning pitched). But with the recent emergence of sabermetrics and other advanced analytics, there are now many much more reliable ways to statistically measure past performance in baseball as well as predict future performance.
These advanced stats are a fantastic way to find value, since you can determine players who may be overrated or underrated based on their surface numbers that aren't sustainable when you look at the analytics. For example, if a pitcher's batting average on balls in play against (BABIP) is around .200, it indicates that he's been really lucky to have ground balls, line drives or fly balls hit directly at fielders instead of finding the holes. BABIP is typically in the .300 range, so those numbers will soon normalize and his ERA right now is due to go up as well.
There are simpler ways to find value as well. Look to bet against popular (public) teams or pitchers who aren't playing well enough to justify the big prices they're laying. Look past the starting pitching matchups to see which team has the advantage in the bullpens. Make sure you're aware of teams' statistics against righthanded or lefthanded pitching to see if there are edges that aren't reflected in the betting line.
Most people won't go to this extra work when putting down a baseball bet. If you do, you can find value that others aren't, and you can gain an edge.
Use Several Sportsbooks To Get The Best Odds
The easiest way to bet is by just having 1 go-to sportsbook account where you place all your wagers. As soon as you know who or what you want to bet on, you simply log into that sportsbook, input your bets and move on with your day.
If you're serious about making money at baseball betting, however, you need to take a few extra minutes to shop around for the best lines. The most popular bet in baseball is the moneyline bet, and moneylines vary by sportsbook more than point spreads vary in football or basketball.
Getting -110 odds on your MLB moneyline bet instead of -120 probably doesn't seem like a huge deal. But look at it this way: If you take -120 odds instead of the -110 you can find at another sportsbook, you're increasing the percentage of times you need to win that bet simply to break even. You can turn a healthy profit picking winners at 55% at an average of -110 odds, but if you're laying -120, you're barely breaking even.
Having accounts at several different sportsbooks gives you that opportunity to "line shop" for the best odds on every baseball bet you make. Even having money at just 3 – 4 different sportsbooks can enable you to win an extra 5 -10% per wager, which really makes a difference in the long run.
Of course, make sure that any sportsbook you use is safe, reputable and offers you the betting selection and odds that you need. There's no sense winning more money at a different sportsbook if you don't know for sure that you'll actually get paid out, or if they don't post odds for the types of bets you like to place.
Bovada, BetOnline and 5Dimes are 3 sportsbooks I'm personally comfortable recommending because they check off all of these boxes, and it's valuable having accounts at each of them because they all have features that appeal to serious baseball bettors. 5Dimes generally offers the best odds, BetOnline is usually among the first to post betting lines on a game (allowing you to bet into soft lines), and Bovada features a nice range of props that you can't find at a lot of other books.
Track Your Bets To Find Your Niche
Every bettor has their strengths and weaknesses, and it's absolutely critical to know what yours are.
For example, betting Over/Unders can be a lot of fun, so maybe you like to bet a lot of them. But if you're not very strong at handicapping baseball totals, you're cutting into the profits you're making betting on moneylines, run lines and other baseball wagers.
Tracking your bets over the course of a few months is the only way to really determine where your strengths really are. By analyzing the results of several hundred wagers, you should be able to notice a pattern of certain bet types in which you are more successful and certain bets that you lose more than you win.
There have been several different programs produced over the years designed to track your bet types, but you don't really need anything more advanced than a simple spread sheet. Just inputting the type of bet you placed, the outcome and your amount won/lost on each wager can be enough to give you a sense of which bets you should look to bet more and which ones you should avoid.
If you want to take things a step further, jot down notes on why a bet won or lost, or whether you were lucky or unlucky to win or lose a particular wager. Luck is always a big part of sports betting success, and you don't want a run of bad luck to trick you into thinking you're not good at handicapping a certain type of wager, or for some good luck to fool you into thinking you're great at it.
Minimize Your Risk
The best bargains on the baseball betting odds are often found in the big underdogs that nobody else wants to bet on. Oddsmakers often have to inflate the odds on teams facing Clayton Kershaw or Chris Sale until eventually bettors simply can't resist the huge payout opportunity.
It's good to take shots once in a while with these big underdogs, but don't get carried away with regularly betting on the Padres because of the "great value". It won't take much to lose 10 bets in a row if you're always rolling the dice on +300 underdogs, and that can quickly put a big dent in your bankroll.
It's also a great reminder that you should never risk a significant amount of your bankroll on any particular game. Anything can happen in baseball, where the best teams win just 60% of their games and the worst still win 40% of them. Professionals rarely stake more than 5% of their betting bankroll on 1 game, and most of them keep their risk to 1-2% of what they can afford to lose.
There are 162 games in the Major League Baseball season, with up to 16 games per day for 6 months. There will be tons of money-making opportunities over the course of the campaign, so make sure you manage your risk appropriately.
Don't Tilt
You can handicap and try to predict results of games as much as you want but, as I said earlier, luck is still a pretty big part of the outcome.
Over time, the good luck and bad luck should even out, but there are going to be stretches when it feels like absolutely nothing is going your way. Especially in baseball, when teams can load the bases with several quality at-bats, only to get nothing when their cleanup hitter lines into a double play. Or when an ace pitcher dominates for 7 innings, but a couple of walks by the bullpen and a bloop hit or an error costs his team the game.
This is when you absolutely need to "trust the process", as they say in Philadelphia 76ers Land, and remember the big picture. Don't get frustrated by a few tough beats and increase your bet size in order to win it all back. It's a gambler's fallacy to believe that "you're due" to win after losing several consecutive bets. Even professionals will lose 10 bets in a row or more at some point. It happens.
You can't win money if you don't have any to bet with. Protect your bankroll when things aren't going your way so that when things turn around (and they will), you can capitalize.