Hide Bonus Offers
| | | | | |
| --- | --- | --- | --- | --- |
| #1 | Bovada Sports | 50% Up To $250 | Visit Site | Bovada Sports |
| #2 | BetUS | 125% Up To $2,500 | Visit Site | BetUS |
| #3 | MyBookie | 100% Up To $1,000 | Visit Site | MyBookie |
| #4 | Everygame | 100% Up To $500 | Visit Site | Everygame |
| #5 | BetOnline Sports | 60% Up To $1,000 | Visit Site | BetOnline Sports |
Trey Lance Draft Odds and Prediction – When Will He Be Picked?

The 2021 NFL Draft conversation has been dominated by the quarterback position this year. That isn't too surprising, as a good chunk of NFL franchises still need viable passers under center.
That, and this year's crop of signal-callers is one of the better groups in recent memory.
Trevor Lawrence is the massive favorite to be the first overall pick, but things get a bit hazy from there. It's still up in the air as to who will be the second pick in the 2021 NFL Draft or who the second quarterback will be.
It's likely those two questions will be answered with the same player selected, but it's tough to know exactly who that might be.
North Dakota State phenom Trey Lance is at least somewhat in the mix, and you can make money betting on when he's drafted. Will it be second overall? Probably not, but betting on prop bets for Trey Lance can still be a great way to cash in on this year's draft.
So, when will Trey Lance be drafted? Let's explore his draft range as we look at his draft odds and the teams that should be interested in selecting him in round one.
Odds for When Trey Lance Will Be Drafted
Under 6.5 (-140)
Over 6.5 (+100)
Before you start talking about the type of player Trey Lance is or which teams need a quarterback, first pay some mind to how his draft range is priced wherever you bet on the 2021 NFL Draft.
BetOnline has his draft range at 6.5, asking sports bettors to decide if Lance will go within the first seven picks (Under) or after the first six picks (Over).
This is a loaded quarterback class, and the need for elite signal-callers is pretty great, so logic suggests Lance has a good chance of being selected within the first seven picks.
The current pricing agrees, as you can see by the -140 odds for the Under.
Is the +100 price a good enough value to pull the arm of bettors and get them to bet on the Over? Is Lance a questionable enough prospect, and is there a possibility he could slide?
These are all questions that need answering to predict when Trey Lance will be drafted this year.
To help you figure out that process, let's break down both sides of the argument before coming to a final Trey Lance draft prediction.
Why Trey Lance Will Be Taken Before Pick 7
Because he's really good.
It sounds blunt, but Lance was unstoppable in 2019 when he put up 28 passing scores to zero interceptions and was also dynamic on the ground with 1,100 rushing yards and 14 more scores.
In a league where mobile quarterbacks are the best quarterbacks, teams are eyeing elite athletes that offer major potential as passers. The mobility, vision, arm strength, and grit are all there for Lance to iron out the wrinkles and develop into the league's next big star.
Of course, it's those bombs he drops that get most of the attention.
TREY LANCE THROWING BOMBS ? pic.twitter.com/1aza8i16M3

— PFF Fantasy Football (@PFF_Fantasy) April 19, 2021
With the talent and upside in place, the only other question is where Lance fits among his peers and which teams might covet him.
It can at least be argued that Lance is intriguing enough to be the second passer off the board, but realistically, he'd slide in as high as third for some.
That shouldn't matter to the first three teams picking in the 2021 NFL Draft. They all seem destined to take a franchise passer, which will only increase the need for other teams to act early.
Atlanta, Miami, New England, Denver, Philadelphia, and Detroit are just a handful of teams picking within the first 15 picks that could have an immediate desire to get better under center.
Why Trey Lance Will Slide Past Pick 7
You always need to look at both sides of the coin when trying to predict when players will get drafted. This is no different for someone like Trey Lance.
As special as he appears, he has a few things working against him. Here's a pretty incriminating list.
He didn't play in 2020
He's attempted 288 career passes
He faced weak competition
Consistency has been questioned
Accuracy can be spotty
For the most part, those are the same red flags most quarterback prospects have to answer to, but not playing football for a year has to be a big one.
Being away from the game compounds the questions about competition faced, the very low volume of actual passes thrown, and the lingering flaws seen on tape.
All of these risks play into why Lance could slide and why he might end up being one of the biggest busts in the 2021 NFL Draft.
There is no getting around the fact that Lance is a special talent, but sports bettors have to wonder if the question marks are enough to push his draft spot down.
When predicting where Trey Lance will get taken in the 2021 NFL Draft, you have to note the good and the bad.
Predicting When Trey Lance Will Be Drafted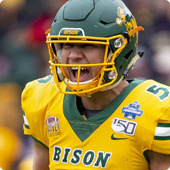 After all of this, you're probably still wondering who will draft Trey Lance and when.
The odds tell bettors that it's pretty likely his talent and the general need in the league will get him selected within the first seven picks, but there is still some risk here.
For one, Lance didn't play in 2020, and he wasn't a high-volume passer in college.
There are understandable concerns about his pure passing ability at the next level, while other quarterbacks being present could push him down, too.
Draft slides also happen all the time. Is Lance the latest big name set to be a victim of the draft going one way when mock drafts say they'll go another?
It's always possible, but in this case, elite talent and potential marry major need.
Most mock drafts have a quarterback going in the first three picks, which tells us two things; Lance could be one of them, or the run of passers being snatched up will force a quarterback-needy team to reach for him shortly after that.
One way or another, Lance's stock is staying steady, and I don't think the value is good enough to bet on a slide.
I like the Under at -140, and if you desire a prediction for which NFL team will draft Trey Lance, I'll go with the Denver Broncos.
It will probably require Denver trading up a spot or two to ensure they get their guy, but a lukewarm endorsement of incumbent starter Drew Lock suggests they're ready to move on.
Nabbing a tantalizing, dual-threat passer with a big arm should serve as an excellent investment moving forward.
Want to get in on this Trey Lance draft prop and other wagers? Hit up the best NFL betting sites to bet on the 2021 NFL Draft before it's too late.