The Top 5 Ways to Cash Out on Slots Without Betting the Maximum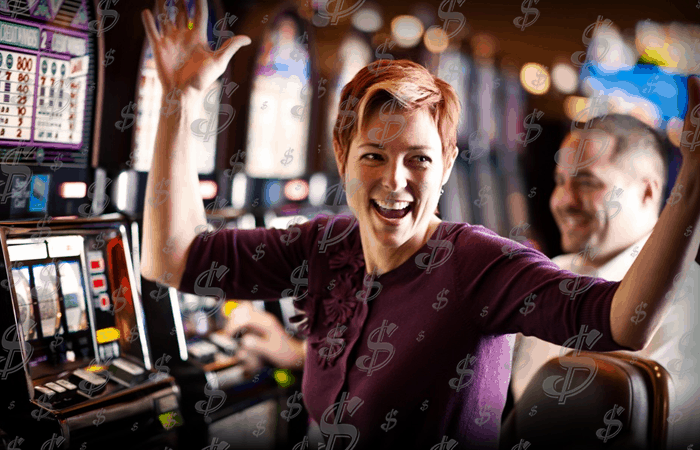 Straight out of the gate, let me just say that I'm not a slots player. I enjoy video poker and could play endless hours of it. In a casino, I walk past slot games themed with favorite shows and movies. I hear music and watch lights flashing, and symbols pop up out of virtually nowhere, and I notice that players are incredibly engaged in the interaction.
It looks like a lot of fun, but I still walk by and head to the video poker banks every time, but I am in the minority. Slots players are everywhere. They love their games, and a huge chunk of casino real estate is dedicated to slots as they provide a greater house edge than other games, so they're not just a player favorite, but casino as well.
Despite my personal preference, I've spent a lot of time navigating through online casinos looking for the latest and greatest in the table and slot games and doing research on bettors' top choices. I have accumulated some useful tips and tricks that may help anyone who enjoys the game but prefers to be more conservative in wagering.
A Few Definitions…
I don't want to have this come off sounding like a how-to manual or slot dictionary, but there are a few terms that you'll find helpful whether you already enjoy slot games or want to give them a spin for the first time.
Three-reel games – These are basic slot versions that have three vertical reels and then typically anywhere from one to five pay lines. Each pay line requires an individual wager, and maximum bet per line is three. So, five lines at the max bet would require a 15 credit investment for each round.
Five-reel games – Add two more vertical reels, and then the pay lines can also increase significantly. They can be straight, diagonal, or zig zag through the board. Five-reel games usually have much more ways to win. 25 pay lines are relatively standard, but there can be even more available. The increase in winning combinations adds to the minimum bet requirement if you want in on all possible ways to win. The three and five reel game structure is the jumping off point for today's slot games. Software manufacturers first select an overall set-up like a five-reel, 25 pay line machine. Then they develop the various ways to win, incorporate a theme, and add in any combination of different bonuses, wild cards, scatter wins, and free spins to produce their final product.
Jackpot Progressive games – Jackpot progressives can be singular such as a stand alone machine with its dedicated jackpot created from individual playing activity, or they can be linked to other machines or even other casinos. Online favorites like A Night with Cleo or Mega Moolah are linked to other sites, so bigger payouts are possible through compounded betting. These types of games can provide for million-plus jackpots, so they are incredibly appealing.
Video Slots – Video slots can also include 3D slots, and they take the very best of today's technology and transform it into a brand new slot playing experience. Recognizable themes with video presentations, audio files, and heightened graphic depictions extend the playing time by incorporating a storyline as well as more interactive bonus rounds and free spin opportunities. Superheroes, TV shows, movies, food, sports, history, and other engaging subjects transform the original one-armed bandit into something entirely new and exciting.

Those are the basics on the visuals of the slot games, but there are a few "behind the scenes" terms that may also be helpful.
Slot Variance
Slot machines break down into three variances:
High – games that have big jackpots up for grabs so make up for the big money potential by providing fewer small payouts
Low – these versions have more on-going wins to keep the reels spinning, but the top prizes will be comparatively lower
Medium – medium variance games provide a combination of both the larger jackpot potential (although typically not the million-plus payouts) and the more frequent smaller payouts
If you're playing online, you can sometimes find the slot variance for a particular game by searching for the name of the slot itself. Whether online or in person, you can compare variances by using a simple method. Go to the payout table and then weigh the prize for three identical symbols to the awards for four or five identical symbols. If they're close, it's a low variance game. Significant differences are attributed to high variance slots.
RTP – Return to Player Percentage
In very simplistic terms, the RTP is the overall average breakdown of what the machine provides to players versus the amount that the casino keeps. For example, a 95% RTP would mean that 95% of wagers are returned to players, and the casino keeps 5%.
Remember, that this is a long, long range determination. That's how some players are lucky and claim big wins, and some lose far more than 5% of their bets. Higher RTP games do give you a better chance of winning and slots that come in at 90% to 94.99% are considered to be decent. 95 and above is a good payout, and anything lower than 90 should probably be avoided.
You'll also sometimes be able to find out the total hit frequency as well. The overall hit rate is a percentage that tells players how often any payout is issued.
The Top Five Tips
All right, you're now armed with some basic information on how slots work, so let me get to the tips that I've picked up from experts along the way. Nothing is ever foolproof, and this is gambling, so the elements of chance and luck majorly factor in, but these are little things that you can do to nudge the probability of bigger wins in your direction without increasing your investment.
All of these tips are specifically for players who want to avoid maximum bets and need to keep their wagering as little as possible. There are ways to do that and still get in on some real payout potential.
If You're Going to Bet Less than the Maximum, Find a Fixed Pay Machine.
Fixed pay machines distribute the prize allocations equally regardless of the number of credits played. For example, on a fixed pay machine, a 1,000 coin payout for one credit would be 2,000 for two credits, and then 3,000 for three credits.
If it's not a fixed pay machine, you could be looking at something like 1,000 coins for one credit, 2,000 for two credits and 5,000 for three credits. There's usually a significant difference in the maximum credit top payout as opposed to the top prizes that are won through only one or two coin wagers.
Choose Games with Smaller Jackpots Instead of One Big Progressive.
These types of slots have low variances and allow for extended playing time as you're not singularly focused on the top payout, but appreciate the benefit of relatively smaller wins along the way.
Opt for a Game that Provides Excellent Bonus Features.
Bonus rounds, as well as other multipliers and free spin enhancements, can do a lot to add to your bank of credits as well as increase your chances for the jackpot by adding to your spin count. Just be sure that your machine of choice triggers bonuses regardless of whether or not the maximum bet is played. Even you choose a penny or a 1p machine, multiplying your wins through these types of value-adds can make those pennies really add up to a good cash out amount.
Video Slots Typically Pay Less.
More spins equate to more money for the casino. It wants its players to bet as much as possible and video slots, although extremely favored by many slot fans, slow things down considerably. The video presentations and the various bonus rounds that are digitally enhanced and allow for an interactive selection process, directly affect the spin count. So, these types of games will have slightly less payout potential to offset the reduction in the number of times a wager is being made.
Find a Progressive Jackpot Game with the Same Prize Potential Regardless of the Amount of the Bet.
For example, Mega Moolah, one of the most popular online slots offers million pound top prizes, and everyone who plays is eligible. While higher risked amounts do increase the chance to get in on the jackpot bonus round, they're not the deciding factor. Whether you're playing 1p on one line or the maximum of £6.25 per round for 25 pay lines, you can still win the million plus jackpot. The bonus round is random and not tied into a particular pay line, so these types of games are the best opportunities for players who want to bet as low as possible but still keep the possibility of winning big alive.
Your Personal Preferences
Just by reviewing all of the information regarding a particular slot game including the variance, the RTP, equitable payouts, and bonus requirements, you can get a good feel for which games provide the best chances for long-term play and a subsequent bigger cash out request.
It's all boils down to personal preference and goals. Some games will allow you to play for an extended period with a smaller deposit. If you just really like to play, but do enjoy having some real money in the game as well, low variance machines provide a better opportunity to stretch your wagering out longer.
If "life-changing" money is your only goal, smaller wagers on a game like Mega Moolah are irrelevant as everyone is in the running for the Mega Prize, minimum, maximum, and anywhere in between.