Top 10 UFC Knockouts for 2021 – Poirier Sleeps McGregor and More

Ranking the top knockouts in the UFC in 2021 is a thankless job.
Still, it's hardly a task I would turn my nose up at. I mean, rating the very best of the KOs of 2021 in the world's foremost MMA promotion is hardly going to feel like a chore.
Yes, we have been spoiled for choice this year. Despite the pandemic and the occasional cancelation, there have been fewer years that have been as downright exciting and entertaining as the one that is set to end.
So, without further ado, allow me to break down the ten best UFC KOs of 2021.
Best UFC KOs of 2021 – Top 10 to 6
Fans have been lucky to see some of the best UFC knockouts of all time this year. But where do we even start to rank the top KOs in the UFC in 2021?
Let's break down the best of them, from numbers 10 to 6.
10. Michael Chandler KOs Dan Hooker
It took a few years, but multiple-time Bellator world champion Michael Chandler finally arrived in the UFC in 2021.
His first test was a tough one. Dan Hooker, the lanky Kiwi, was 4-1 heading into the contest with the only loss from his last five against the fierce Dustin Poirier.
A win for Hooker would have kept him in the mix for a title shot. Chandler, on the other hand, was almost certainly set to go for UFC gold if he could put in an eye-catching performance on his Octagon debut.
And that's exactly what he did.
It took Chandler just two minutes and 30 seconds to dispose of "The Hangman," becoming just the second fighter in 30 bouts to stop the Auckland boy by strikes.
Never could've predicted this last year, I would've laughed in your face if you told me Michael Chandler would KO Dan Hooker after the Dustin fight. pic.twitter.com/btRBobVIOQ

— ?smeshing around the Christmas tree? (@SmeshJitsuOnly) January 24, 2021
Chandler would go on to fight for the vacant UFC lightweight title, only to fall victim to a stoppage at the hands of Charles Oliveira at UFC 262 in May.
In November, Justin Gaethje blasted him away to leave "Iron" Mike with a record of 1-2 in the promotion.
9. Alessio Di Chirico KOs Joaquin Buckley
Joaquin Buckley scored one of the most brutal knockouts in UFC history when he punched a return ticket for Impa Kasanganay to the shadow realm in October 2020.
Not only did that victory catch the attention of fans across the globe. It literally changed his life.
Fast forward just a couple of months, and those same fans were keen to see if "New Mansa" had any more tricks in his hat. Buckley faced an 0-3 Alessio Di Chirico. A guy that was, well, not exactly known for his finishing prowess.
Nonetheless, Buckley would walk straight into a head kick that flattened him on the spot.
Did the American underestimate the Roman? It certainly looked that way. But the bottom line is that Buckley went from hero to zero in just over two minutes.
One second, you're a viral hit. The next, you're the victim of one of the best UFC KOs of 2021.
It's a harsh business, folks.
8. Derek Lewis KOs Curtis Blaydes
If history has taught us fight fans anything, it's never to sleep on "The Black Beast."
Curtis Blaydes was angling for a shot at the title before he crossed paths with Lewis in February.
Remove Francis Ngannou from his resume and "Razor" would have had no losses in his career. The Coloradan has burst through most of the best heavyweights on the roster up until that point and was expected to get past Lewis on the night.
Just check out that record.
| | | | |
| --- | --- | --- | --- |
| Event | Opponent | Result | Date |
| UFC on ESPN: Blaydes vs. Volkov | Alexander Volkov | Win by Decision | June 20, 2020 |
| UFC Fight Night: Blaydes vs. dos Santos | Junior dos Santos | Win by TKO | January 25, 2020 |
| UFC 242 | Shamil Abdurakhimov | Win by TKO | September 7, 2019 |
| UFC Fight Night: Thompson vs. Pettis | Justin Willis | Win by Decision | March 23, 2019 |
| UFC Fight Night: Blaydes vs. Ngannou 2 | Francis Ngannou | Loss by TKO | November 24, 2018 |
| UFC 225 | Alistair Overeem | Win by TKO | June 9, 2018 |
| UFC 221 | Mark Hunt | Win by Decision | February 11, 2018 |
| UFC 217 | Aleksei Oleinik | Win by TKO | November 4, 2017 |
| UFC 213 | Daniel Omielanczuk | Win by Decision | July 8, 2017 |
| UFC Fight Night: Bermudez vs. Korean Zombie | Adam Milstead | No Contest | February 4, 2017 |
| UFC Fight Night: Lineker vs. Dodson | Cody East | Win by TKO | October 1, 2016 |
| UFC Fight Night: Rothwell vs. dos Santos | Francis Ngannou | Loss by TKO | April 10, 2016 |
Blaydes hit the ticker as a -450 by the time he entered the Octagon. He was a clear favorite to sweep past a fighter many saw as a limited striker with nothing but power.
But sometimes that's all you need to sink even the most unsinkable of ships.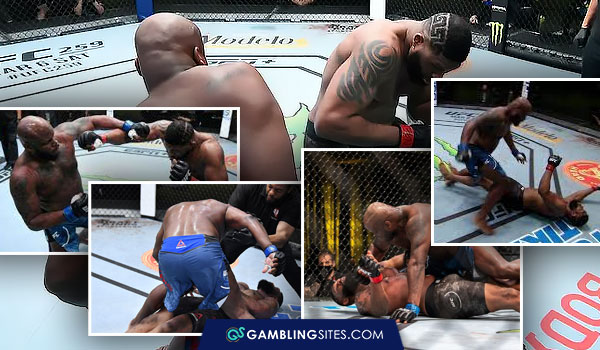 7. Ignacio Bahamondes KOs Roosevelt Roberts
Most fighters would have been content to hold their cards to their chest.
Especially when it would have taken just a matter of seconds to close shop and wait for the final horn to sound.
Not Ignacio Bahamondes, though. Nah. Bahomondes isn't that type of guy at all. If his knockout victory over Roosevelt Roberts is anything to by, "La Jaula" would much prefer not to leave anything up to the judges.
Coming off a split decision loss to John Makdessi in his promotional debut in April, the Chilean was determined to ensure that no stone was left unturned in his pursuit of a knockout.
OH MY GOODNESS!

[ #UFCVegas34 | Prelims are LIVE on ESPN2 & @ESPNPlus ] pic.twitter.com/eb31qfJ4bq

— UFC (@ufc) August 22, 2021
With just six seconds left on the clock, Bahamondes connected with a sublime wheel kick that folded Roosevelt like a deck chair.
One of the very best UFC knockouts of 2021? Hands. Down.
6. Francis Ngannou KOs Stipe Miocic
Revenge is a dish best served cold.
But come on, Francis. You didn't need to fish that one right out the back of the freezer, man.
To get an idea of just how cardinal a win over reigning champ Stipe Miocic was for Ngannou, I should take you back to January 20, 2018. That night, "The Predator" entered the Octagon looking smoother than fresh glass.
Awaiting the Cameroonian was more than just the UFC heavyweight title. A win would register his name in the record books as the first African champion in the history of the promotion.
25 minutes later, Ngannou was, well, a laughingstock.
Miocic has executed the perfect gameplan, depriving the ferocious hitter of the space and time he needed to land his signature right hand.
Just over three years later, Ngannou 2.0 finally got his revenge. And boy, was it something.
I'm just about ready to move on to numbers five to one in my top UFC knockouts of 2021. If you'd like to read a bit more about Ngannou's KO of Stipe — as well as his other defining stoppage wins in the UFC — the following piece covers it all.
If not, check it out when you're finished with this countdown.
5. Dustin Poirier vs. Conor McGregor 2
Event: UFC 257
Date: Jan. 24, 2021
Result: Poirier by KO – Round 2
Conor McGregor had never lost a mixed martial arts fight by way of knockout.
So, when my good friend Seano told me he was considering betting Poirier to knock "The Notorious" out, I asked him to reconsider.
Well, that's one way of putting it. Another, less diplomatic explanation, would be that I told him "no chance." It had to be a submission win, surely?
To say I had egg on my face was an understatement.
But the embarrassment I felt was nothing compared to the shame the Dubliner will have felt after he came to on the cold canvas inside the Etihad Arena in Abu Dhabi in January.
Like a couple of 2021's best UFC KOs, you could say there was an element of revenge involved. For Poirier, this win was almost seven years in the making following a TKO loss McGregor years before.
For all the trash talk ahead of their first encounter at UFC 178 in September 2014, Poirier made one smart decision following that loss. The Louisianan left the 145-pound weight class behind him with the intention of re-establishing himself among the top guns at lightweight.
Bar what some might class as a fluke knockout loss to Michael Johnson in September 2016 — no disrespect intended to Johnson, who more than deserved his win — Poirier would embark on a super streak at 155 until he met the colossal Khabib Numragomedov at UFC 242.
At one point, the Dagestani great was in danger of being choked out by Poirier, only to come back and submit the American. All hope was not lost, however, with the "Diamond" finding his way past Dan Hooker to keep himself in the title mix.
A win over Hooker saw McGregor matched up with Poirier, and the rest, as they say, is history.
Poirier might have landed the most satisfying stoppage of the year. But he takes #5 on my list of the best knockouts in the UFC in 2021.
4. Zhang Weili vs. Rose Namajunas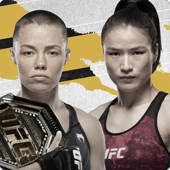 Event: UFC 261
Date: April 24, 2021
Result: Namajunas by KO – Round 1
Opening your heart and revealing your inner emotions mid-way through a rundown of the top UFC KOs of 2021 isn't exactly a great idea.
Don't worry. It's not like I'm the overly emotional kind.
Still, I must be honest when I say that I was disappointed to read some of the comments made by Rose Namajunas in the lead-up to her title fight with Zhang Weili. I took umbrage with her "better dead than red" barbs aimed at the Chinese star.
But from a purely strategic perspective, it's clear that they worked.
I'm a huge fan of both fighters and what they bring to the table. Needless to say, I was pumped to watch this clash of technical finesse and devastating brutality. It was the clash of styles.
With the oddsmakers on the top MMA betting apps making this a pick 'em, I knew I wasn't alone in finding it difficult to choose from the two. I went with Zhang, purely based on what I saw as a nightmare test for Rose.
Now, I'd like to think I'm right more than I am wrong when it comes to predicting winners in the UFC. The stats are in my favor. But all tongues must confess; all heads must bow — that night, Rose was destined to get her belt back.
THUG ROSE ‼️

Rose Namajunas wins the strawweight title with a head kick#UFC261

(via @ufc)pic.twitter.com/6q0UOJNh15

— Bleacher Report (@BleacherReport) April 25, 2021
Brutal.
3. Dominick Reyes vs. Jiri Prochazka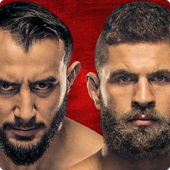 Event: UFC on ESPN: Reyes vs. Prochazka
Date: May 1, 2021
Result: Prochazka by KO – Round 1
Poor Dominick Reyes.
The dude had every right to feel aggrieved by his decision defeat to all-time great Jon Jones at UFC 247 in 2020.
On a personal level, I was sweating on that result to complete a six-way parlay that netted me some money. As I used those crisp notes to wipe the perspiration from my forehead, I couldn't help but feel bad for Reyes.
All jokes aside, Reyes won that fight. Just about. But something happened in the mind of "The Devastator" following the defeat that would send him into something of a downward spiral.
12-0 before Jones, Reyes is now 12-3 having found himself with back-to-back losses to Jan Blachowicz in September 2020, and more recently, a defeat to the downright terrifying Jiri Prochazka in May.
Prochazka, 28-3-1 in his pro career, landed one of the most spectacular UFC knockouts of the year when he took Reyes out of there in just the first round of their fight.
By the way, Prochazka's record since losing his last fight is looking pretty good, huh?
Win 28–3–1 Dominick Reyes
Win 27–3–1 Volkan Oezdemir
Win 26–3–1 C. B. Dollaway
Win 25–3–1 Fabio Maldonado
Win 24–3–1 Muhammed Lawal
Win 23–3–1 Brandon Halsey
Win 22–3–1 Jake Heun
Win 21–3–1 Bruno Henrique Cappelozza
Win 20–3–1 Karl Albrektsson
Win 19–3–1 Wilian Roberto Alves
Win 18–3–1 Mark Tanios
Win 17–3–1 Kazuyuki Fujita
The future UFC light heavyweight champion? Don't bet against it happening.
2. Cory Sandhagen vs. Frankie Edgar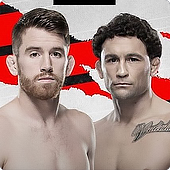 Event: UFC Fight Night: Overeem vs. Volkov
Date: February 6, 2021
Result: Sandhagen by KO – Round 1
Urgh.
It genuinely hurts to see Frankie Edgar still at. Especially when the legendary former UFC lightweight king is being bounced around like an old ball in the latter stages of his career.
It took Cory Sandhagen just two strikes inside 28 seconds to take out the former granite chinned warrior back in February. Props to Frankie for taking the fight, and respect to Sandhagen for being such a gent in victory.
But still. This is painful to watch.
Cory Sandhagen put Frankie Edgar out COLD ? #UFCVegas18 pic.twitter.com/AvrIH7hie6

— ESPN MMA (@espnmma) February 7, 2021
When all is said and done, this is the fight game.
Edgar is getting paid and doing what he loves. Who am I to give an opinion on whether "The Answer" should continue or not?
I mean, I'd prefer to see the king of NJ call it a day and enjoy his life.
Adding one of his losses to my list of the top KOs of 2021 in the UFC is one thing. Doing it next year is another.
1. Kamaru Usman vs. Jorge Masvidal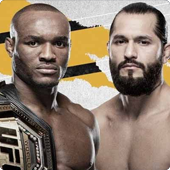 Event: UFC 261
Date: April 24, 2021
Result: Usman by KO – Round 2
Imagine being Trevor Wittman.
Just indulge me for a moment and think of how much of a bona fide badass you would feel like by turning one of the most dangerous guys into the UFC into a complete frickin' monster.
Give the man an Oscar. I don't care if he's not a director. Heck, throw a couple of Grammies, a Nobel Prize, and print the guy's face on money.
Of course, it would be doing a huge disservice to the man himself, Kamaru Usman, to put all of his success down to the iconic trainer. After all, Wittman might be the driver, but Usman is the tank.
Just a few years ago, if anyone had told us "The Nigerian Nightmare" would be the pound-for-pound best fighter on the planet — at least according to the official UFC rankings — would we have believed them?
I'm not sure that I would.
But here we are, counting down the best UFC knockouts of 2021, with the final destination ending at Usman's station. And let me tell you one thing — you do not want to end up at that stop as an enemy of the incumbent UFC welterweight king.
Usman knocked out the dangerous Gilbert Burns in February to defend his strap for the third time on the bounce. Following that win, he was pitted against Jorge Masvidal in a lucrative rematch at UFC 261 in April.
Of all places, Florida — the home state of "Street Jesus" himself — was chosen to host the fight. The place where he grew up knocking seven shades of blood out of skulls as a kid. The place where, of any state in America, he would never fall flat on his face.
Masvidal had only ever been knocked out once in 49 fights, which came against Rodrigo Damm in Japan in 2008. But at UFC 261 in Jacksonville, he would be on the wrong end of the best knockout in the UFC in 2021.
Why Usman's Knockout of Masvidal Tops the Lot
The power. The precision. The sheer balls of Usman to step inside of Masvidal and send him to sleep in front of a home crowd.
Again, Masvidal had only ever been stopped once by strikes. And never on American soil.
Usman exuded the confidence of a man that could do more than just sit in the pocket and trade with one of the best boxers in the UFC. He actively hunted the knockout and sent Masvidal to sleep with such force that I couldn't believe what I was seeing.
It's crystal clear that my top UFC knockout of the year goes to Kamaru Usman. You can find out where I rank him among the best male fighters in the promotion by hitting up the following piece.
Closing It Off
I do hope you enjoyed my rundown of the best UFC KOs in 2021.
Although I feel as though there were a couple of contenders that could feel a little disappointed to have not made the list, with just ten slots available, someone was ultimately gonna miss out.
It's been an incredible year for the promotion and I'm anticipating another hefty one in 2022. Before we know it. we'll be back here discussing another top ten UFC KOs of the year. Perhaps I might have to consider extending the list to 20 if things are particularly wild.
Anyway, that's it for now. Make sure to check out our MMA blog for more pieces like this.
I'll leave you with a look at the rankings for the best female UFC fighters of 2021. Feel free to check them out!