Hide Bonus Offers
| | | | | |
| --- | --- | --- | --- | --- |
| #1 | Bovada Sports | 50% Up To $250 | Visit Site | Bovada Sports |
| #2 | BetUS | 125% Up To $2,500 | Visit Site | BetUS |
| #3 | MyBookie | 100% Up To $1,000 | Visit Site | MyBookie |
| #4 | Everygame | 100% Up To $500 | Visit Site | Everygame |
| #5 | BetOnline Sports | 60% Up To $1,000 | Visit Site | BetOnline Sports |
Top YouTube Channels to Subscribe to for Tennis Betting

Social media platforms have replaced mainstream sources of information like papers and TV in so many fields. Tennis is certainly among them, and you should check out YouTube if you don't believe me.
You will find many great channels that provide excellent content for the sport, including news, analysis, etc.
The good news is that a lot of the information can help you from a gambling perspective. I've gathered a list of the best tennis YouTube channels for bettors and fans to use.
YouTube Channels of the Tennis Grand Slams
I assume that most of you will be looking to bet on tennis Grand Slams. The sport's biggest tournaments bring countless opportunities and are offered by all top tennis gambling sites online.
There's an official YouTube channel for each of them, and you might want to check them out if you plan to target tennis majors.
Top Tennis Grand Slams Channels
If you want to target other big tournaments, they most likely have official channels on YouTube too. Simply search for them and enjoy the content they provide.
Whether you're betting on the big tourneys or smaller events, you'll probably want a good approach.

Check out our tennis betting strategy guide for a little extra help.
YouTube Channels of Tennis Governing Bodies
The tennis governing bodies have their own YouTube channels, too, and you wouldn't want to miss them. They have exclusive access to the players, video rights, and other advantages over other content creators.
Let's look at the main channels and what they bring to the table.
I'm shocked that the official channel of the International Tennis Federation has fewer than 100k subscribers at the moment I'm writing this. It brings plenty of exciting videos, both from the present and past.
ATP's primary channel is not that useful from a betting perspective, but tennis fans will certainly enjoy the behind-the-scenes interviews, tutorials, and reports there.
An excellent resource for women's tennis, with plenty of highlights, interviews, and other interesting videos published regularly.
One of the best YouTube channels for tennis bettors. It's an official ATP property that revolves around live streams and highlights from men's fixtures. You can use the channel for both live betting and pre-match preparations.
All of the channels above produce a ton of content, and they won't be going anywhere. They provide an excellent starting point for every tennis bettor and more than enough amusement for fans of the sport.
They're some of the easier options to find, but that doesn't mean they're not among the best tennis YouTube channels out there.
More YouTube Channels for Tennis Bettors and Fans
The best tennis channels on YouTube I shared up to this point are all run by big organizations. I continue my selection with smaller ones created by fans, pro players, trainers, and other people involved with tennis one way or another.
They deliver exciting videos that can be helpful in many ways. Let's check them out.
The tennis channels above offer an excellent combination of interesting and helpful information for everyone who loves the sport. Most of them also deliver great content for bettors.
One thing they don't cover is instruction on how to play the game and get better at it. If that's what you want, you will love the next section of my post.
Best YouTube Channels for Tennis Instruction and Coaching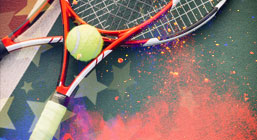 Using YouTube channels for tennis instruction to improve your skills is one of the cheapest and most efficient ways to get better at the sport.
There are countless channels focused on various aspects of the game, and they can be helpful for pretty much anyone, from amateurs and kids to pro athletes.
The number of YouTube content creators I could've included here is staggering, but the following five channels are my favorite ones.
These five YouTube channels can certainly help you become much better at tennis, so check them out if that's the plan. They are also excellent for coaches looking for drills and techniques they could implement in their training methods.
More Tennis Betting Resources
The best tennis YouTube channels I've detailed above are good for all sorts of things, including betting on the sport. Feel free to add your own suggestions for sources I might have missed in the comments below.
I also recommend checking several other sections and pages of our website to help you immensely. The first link below features information that can be helpful to both beginners and advanced bettors. While the second link can help you make the most of your in-play wagers.
You should also check out our tennis picks section for recommended wagers, while it may also be a good idea to bookmark our tennis betting blog.