Ten Talented Soccer Players Who Never Played for Their National Teams

Even though it is club soccer that pays the wages of players, there is still big prestige in playing for your country. Players across the globe dream of being selected for their national sides and representing them on big forums like the World Cup.
As is the case with every sport, however, there are some that never quite make it even though they possess great talent. The reasons for this are trivial. You can have bad luck with injuries, a bad relationship with the coach, or can fall victim to a squad that is jam-packed with superstars.
In this post, I review ten talented soccer players who never made their national teams.
Gabi
The Spanish midfielder's career started with Atletico Madrid as he moved through the youth ranks to make his debut for the first team in 2004. His impressive tackling ability and passing range saw him immediately slot into Atleti's midfield.
After spending three years in Madrid, Gabi moved to Zarazoga, where he became club captain and continued his development on both the offensive and defensive front.
In 2011, the midfield returned to Atletico and spent a further seven years with his boyhood club. His professional attitude and leadership skills won him a lot of praise with teammates and fans. To say that he is a legend of the team will be an understatement.
However, despite his great performances at club level, Gabi failed to win a call-up to the senior Spain squad. He had previously represented his country's Under-21 side but never managed to get to the next level.
There's not a lot that he did wrong during his career, but the presence of some of Spain's best midfielders in history limited his options.
Gabi is yet to announce his formal retirement, but it looks highly unlikely that he will get the call now.
Steed Malbranque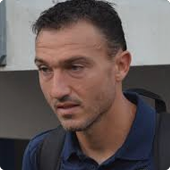 Malbranque was born in Belgium, but his soccer career began with French outfit Lyon. He moved there in 1994 and made his competitive debut for Les Gones in 1997. He spent four years playing in Ligue 1, scoring ten goals along the way and winning one league cup.
In 2001, Malbranque was transferred to Fulham, and that's where he made an impression on the soccer world. The skillful winger became an integral part of the West London team's exciting attacking play at the time.
His 44 goals in five seasons turned a lot of heads in England and eventually led Tottenham Hotspur to secure his services. The Frenchman made the trip to North London in 2006 and stayed with the Spurs for two seasons before moving to Sunderland.
By that time, he was an established Premier League player with good experience on both the domestic and continental front but was overlooked by France, even though he had featured heavily for different French youth national setups and had proven his credentials in the most competitive league competition.
France has never had a shortage of good wide players, but I still feel that Malbranque deserved a chance to show what he can do on the international stage.
Jose Enrique
A strong and skillful left-back with great pace, Jose Enrique first started out with Levante before moving to Valencia, Celta, and then Villareal. His performances for the Yellow Submarine prompted Newcastle United to move for him, and he ended up on Tyneside in 2007.
The Premier League seemed to fit Enrique's talents, and his four-year stint with Newcastle was a huge success. A move to a bigger club was imminent, and it was Liverpool that secured his signature in 2011.
The Spanish defender was a starter in his first two seasons at Anfield, but injuries gradually confined him to a smaller role.
Despite that, I feel he did enough between 2007 and 2013 to make the Spanish team at least once. However, Jordi Alba and Nacho Monreal were the ones preferred by coaches at that time.
Mauro Zarate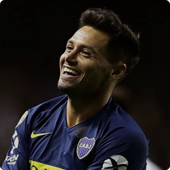 After impressing for boyhood club Velez, Zarate moved to Qatari club Al-Saad when he was only 20 years old. The young prodigy netted four goals in just six appearances for the team but did not spend much more time in Qatar as he moved to Birmingham City and Lazio in two consecutive loan deals.
Both his stints in the Premier League and Serie A were a success, and this prompted Lazio to give Zarate a permanent deal. His good performances in Rome continued, and overall, he netted 33 goals in three seasons for the Eagles.
After that, Zarate turned into a bit of a journeyman. He spent a year with Inter Milan before returning to Velez. He then switched between three Premier League clubs in Queens Park Rangers, West Ham United, and Watford and also spent one season with Fiorentina.
All of these clubs gave him a chance as it was evident that there was something special in the player. He never recorded crazy numbers but possessed a unique blend of speed, skill, and predatory instinct.
However, this was not enough to get him into the Argentine first team. Players like Sergio Aguero and Ezequiel Lavezzi made it impossible for Zarate, and despite the fact that he's still playing, I doubt we will get to see him representing his country.
Paolo Cannavaro
The defender spent his entire career in Italy. He spent seven seasons with Parma before moving to Napoli, where he played his best soccer. Paolo was a part of the Blues for eight years and became the club captain and a fan favorite there.
A tall, reliable, and strong center-back with good ability on the ball, you would think that Cannavaro would be an asset on any team.
But unlike his brother Fabio, who racked up over 100 caps for Italy, Paolo was never called up to the senior side. Sure, there were a lot of great defenders during his time, but it feels odd to me that he wasn't given a chance.
Especially after captaining the Italy under-21 side in the past and staying relatively injury-free throughout his career. In any case, the player retired in 2018, so case closed.
Steve Bruce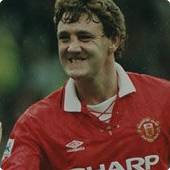 Steve Bruce is primarily known as a manager of several English Premier League clubs, but he did have an impressive playing career as well. In fact, he was one of Sir Alex Ferguson's key defenders when the Scot was establishing Manchester United's hegemony in the early EPL years.
Bruce was often criticized for his lack of discipline early on in his career, but as he matured, he developed into a great all-around defender. No doubt, Ferguson's coaching methods helped him make the most out of his limited natural ability and definitely put him on the map.
However, even this did not help him get into the England senior team, something that a few of the then England managers might regret when looking back on their defensive record from that time.
Sylvain Distin
Distin's professional career started in 1997, but he was a relative unknown before PSG sanctioned a loan deal to Newcastle United. The defender immediately took a shine to the Premier League, and his performances for the Magpies earned him a transfer to Manchester City.
Distin was the cornerstone of City's defense and played over 200 games for the team during his five-year stay here. He later moved to Portsmouth, where he racked up 95 appearances and subsequently spent seven very successful years with Everton.
Sure enough, competition in the French national team has always been high. However, here we have a player that has made 469 appearances in the Premier League. He has all the attributes of the modern center-back and has been well-liked by every coach who has worked with him.
I'm sure he feels gutted for never getting the call, but I love the way he handled it. Just check out the tweet below.
I m retiring from France team. It was a wonderful experience and after a record of #0 cap it's time to say goodbye and focus on my club ?

— Sylvain Distin (@sylvaind15tin) May 14, 2014
Quality banter from a quality defender.
Steven Taylor
London-born Steven Taylor moved to Tyneside in 1995 and spent almost his entire playing career with Newcastle United.
He made his debut in 2003 and quickly gained a reputation as one of the best young defenders in the Premier League. Taylor seemingly had it all. He was great in the air and on the floor, strong in the tackle, and showcased leadership qualities from a young age.
He made more than 20 appearances for the England Under-21 side and looked destined for a long international career, but this never materialized.
There are two big reasons for that, in my opinion. First of all, Taylor had massive injury problems throughout his time with Newcastle. He spent 13 seasons with the Magpies and only managed 268 appearances. And it was not because he didn't have the quality to be a regular starter.
The other big thing was the fact that he never moved to a bigger club. England managers rarely risk calling up defenders from the mid-table clubs, and there is a good reason behind that. The center backs from the top clubs have much more continental experience.
I'm sure Taylor didn't envisage it that way when he first started out, but that's life in pro soccer for you.
Paolo Di Canio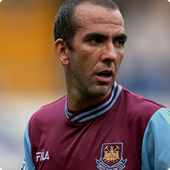 If the name doesn't ring a bell, I urge you to get on YouTube and watch every Di Canio clip you can get your hands on. The man was both a genius and a complete nutcase. While that helped with being creative on the pitch, it also got him into a lot of trouble.
Despite getting the bad boy reputation early on, Di Canio never had any shortage of suitors. He started out with Lazio and then played for Juventus, Napoli, and AC Milan. And while all of these clubs recognized Di Canio's potential, they all came to know his explosive nature as well.
The player's time in Serie A produced non-stop controversy, which saw him constantly getting into bust-ups with teammates and coaches.
After basically burning every bridge there was in Italy, Di Canio moved to Celtic, where he actually had a great season. He scored 15 goals in 37 games and won the Player of the Year award. After demanding a huge pay rise, however, Celtic decided to let him go, and the Italian ended up with Sheffield Wednesday.
He was Wednesday's leading goal scorer in his first season and quickly became a fan favorite. However, it did not last long. In a game against Arsenal, Di Canio pushed the referee after being sent off, and this resulted in an 11-match ban.
When he was cleared to play again, Harry Redknapp took a chance with the striker by signing him for West Ham United. His five seasons in East London are probably the best in Di Canio's career.
Not that he didn't get into any trouble, but he was also able to show his true potential more consistently.
After his stint with the Hammers, Di Canio moved to Charlton and then returned to Lazio before retiring in 2008.
Even though the player possessed an unbelievable skillset, flair, and tenacity, he was a very difficult character, and I believe that's the main reason why he never got into the national side. That extra bit of spark made him the player that he was, but it also closed a lot of doors on the way.
Mikel Arteta
Arteta was born in Sam Sebastian but joined Barcelona's academy in 1997. He failed to rise to the first team, though, so like many other La Masia prospects, he had to find an alternative way to start a professional career in soccer.
Usually, kids that don't get a contract at Barcelona go to other Spanish clubs, but not Mikel. He first went to France to play for PSG and then moved to Scotland with Rangers.
After gaining valuable experience abroad, Arteta returned to San Sebastian to play for Real Sociedad. However, this did not last long as he was loaned out to English club Everton.
The midfielder immediately fell in love with the dynamics of the Premier League and its fan culture. His impressive performances for the Toffees prompted them to secure him permanently, and Arteta remained an Everton player for seven seasons.
Then came the call from Arsene Wenger. Arteta had been one of Everton's best players for a while and certainly among the top central midfielders in the country. Wenger was a huge fan of the player's attitude and ability on the ball and was finally able to get him to move to the Emirates Stadium in 2011.
The Spanish midfielder slotted perfectly into Arsenal's style of play and even rose to the role of club captain when Robin van Persie left.
Despite his amazing pedigree in England and vast experience, Arteta didn't manage to secure a single game for Spain's national side. Players like Xavi, Busquets, and Xabi Alonso made it tough for Mikel, but I still fail to understand how he never got a chance.
I'm not saying he should have been a regular starter or anything like that, but a player of this caliber should have been at least tested. One person that shares my view is Fabio Capello. The manager actively attempted to get permission to select Arteta for his England team but was denied by the FA.
I'm sure that never getting the chance was a big blow for the player, but Arteta is steadily progressing in his managerial career now, and who knows? Maybe one day, he could lead Spain's team from the bench.
Final Words
This wraps up my take on the best soccer players who never got to represent their countries. Do you think I've missed someone important? I will be happy to read your thoughts on the subject, so feel free to add your own suggestions in the comment section below.
And if you're looking for more soccer updates, analysis, and other content, don't hesitate to check our blog regularly. If you bet on soccer, our soccer betting picks may be of interest.
AUGUST
Casino of the Month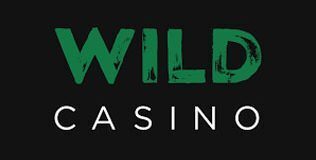 Welcome Bonus
250% up to $5,000
Read Review
Visit Site