Top Sleepers for NFL Offensive Rookie of the Year in 2021

The hype around the 2021 NFL Draft class is deafening. Trevor Lawrence is perhaps the most complete quarterback prospect since Andrew Luck. This quarterback class in general is stacked. Do not get me started on the wide receivers.
It's at worst a fun and exciting cast of NFL rookies. At best, the NFL could be introducing some generational talent to your TV screen this fall.
With the mounting anticipation, there is also the debate over who will win the 2021 NFL Offensive Rookie of the Year.
Top pick Trevor Lawrence feels like the slam dunk play. He was a monster in college at Clemson, #1 picks have at least been in the running for an individual award in recent years, and he figures to start immediately for Jacksonville.
The top NFL betting sites pencil him in as the favorite, but could there be value in eyeing some 2021 NFL Offensive Rookie of the Year sleepers?
I think so, and the following 2021 NFL rookie sleepers stand out the most.
Ja'Marr Chase, WR, Bengals (+1000)
Chase was out of football last year, but the last time he took the field, he poured in an insane stat line with 84 receptions, 1,780 yards, and 20 touchdowns.
In Cincy, he reunites with Joe Burrow, who was the quarterback at LSU that helped Chase reach those gaudy numbers.
Suffice to say, there is a positive buzz for his rookie season with the Bengals.
Please enjoy three minutes of @Real10jayy__ absolutely dominating defenders.

You might recognize the QB on the tape. 9️⃣➡1️⃣ pic.twitter.com/kxDaCMgYM3

— Cincinnati Bengals (@Bengals) May 5, 2021
Chase was widely regarded as the most dominant receiver in the 2021 NFL Draft and marrying his elite talent with Burrow could project quite nicely.
Wide receivers do not typically win the NFL Offensive Rookie of the Year, but Chase may have a fast track to elite stats in year one.
Odell Beckham Jr. did win this thing back in 2014, too, so if the quarterbacks in play underwhelm even slightly, Chase may pop as an elite value bet.
Najee Harris, RB, Steelers (+1000)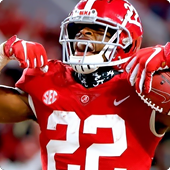 Chase is a good start, but it's pretty fair to say, looking back at NFL Offensive Rookie of the Year history, that this race is likely down to a quarterback or running back.
Saquon Barkley was the last back to claim the hardware in 2018, and four running backs have taken top honors since 2013.
Harris could be the next one, as he is drawn rave reviews from the Pittsburgh Steelers, with some calling him a (gulp) better Le'Veon Bell.
If we're talking about Bell in his prime, that's clearly saying something. It might not be off the wall hyperbole, however, as Harris was a monster at Alabama and even displayed underrated versatility with the Crimson Tide.
Harris is a punishing runner with good athleticism, and he's walking into a featured role for a one-dimensional Steelers offense that doesn't want to be so predictable anymore.
With a heavy workload and the talent to get the job done, Harris is just too nicely priced at +1000 at Sportsbetting.ag.
Zach Wilson, QB, Jets (+1000)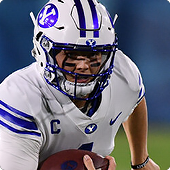 If you're unsure about which position is likely to win the 2021 NFL Offensive Rookie of the Year, check out the history for this trophy.
Justin Herbert became the ninth quarterback since 2004 to claim this award, and if Harris or another running back does not pop off, it's likely a passer does it again.
Obviously, Trevor Lawrence is the top dog and guys like Justin Fields, Mac Jones, and Trey Lance all boast superior betting odds. But hey, Wilson is headed for a starting gig right away with Gang Green, he is also a quarterback, and so far, he's looked great.
Wilson was a baller at BYU, and many draft scouts felt he was the best passer in this draft class.
Whether that ends up being true or not, he has the talent to thrive immediately, and the Jets got him some weapons by drafting Elijah Moore and signing Tevin Coleman and Corey Davis in free agency.
But I am not here to sell you on the Jets or Wilson's supporting cast. It's that he's a top-three arm talent from this draft class, and he's a steal at this +1000 price.
Davis Mills, QB, Texans ($2800)
Speaking of steals that could morph into legit NFL Rookie of the Year candidates, it's tough to ignore Davis Mills, who was a standout at Stanford.
Mills was overlooked by most in the 2021 NFL Draft process but ranking him behind this year's best passing prospects isn't necessarily a declaration that he isn't good.
It was just that loaded of a quarterback crop. That could play into him being a bargain for the Texans, who may require his services sooner rather than later given the Deshaun Watson fiasco.
There hasn't been much noise surrounding Watson's legal issues, but even beyond that, he already wanted out of town.
Rich Eisen senses some movement in that regard in the not-too-distant future.
I tend to agree. That could thrust Mills into the starting lineup, and if he can avoid a face-plant, he could return insane value given his +2800 odds.
Rashod Bateman, WR, Ravens (+4000)
Given the stacked quarterback class, my money is probably on one of the passers emerging as the likely ROY winner in 2021.
That said, there is still a lot of talent at other positions, and an injury could turn other guys like Travis Etienne and Javonte Williams into amazing bets, as well.
Another guy that feels discounted for bettors is Bateman, who may have a massive role right away as Lamar Jackson's new toy.
Bateman was a phenom at Minnesota and offers major big play ability as a likely focal point with the Baltimore Ravens. Just look at what he did in his last full season in 2019.
| | | | |
| --- | --- | --- | --- |
| Receptions | Receiving Yards | Yards Per Catch | Touchdowns |
| 60 | 1,219 | 20.3 | 11 |
The Ravens already have a burner in Marquise Brown, but they now finally have two guys opposing defenses need to keep track of.
Bateman has the talent to make an instant impact, and if he plays a hand in making Jackson look even better than he has the past two years, it'll only aid his case for 2021 NFL ROY.
Predicting Who Will Win the 2021 NFL Offensive ROY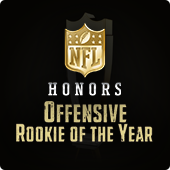 As I have suggested in spots in this post, all roads likely lead back to a quarterback winning the 2021 NFL Offensive Rookie of the Year.
There is a path for some running backs and wide receivers to make an impact in year one, and of course, I don't want to ignore Kyle Pitts completely at +1000.
That said, wide receivers don't win this award often, and tight ends never do.
Several quarterbacks project well in 2021, and many of them may be staring down starting roles almost immediately. Even so, I find it very hard to turn away from all of the value available to us at the best NFL betting sites.
Trevor Lawrence is a logical favorite, and even his direct competition is priced fairly. I prefer to take a shot at a bit more upside.
I think there's merit in betting on the 2021 NFL Offensive Rookie of the Year sleepers I've detailed here, and the guy I really have my eye on is Najee Harris.
Harris proved he could handle a huge workload at Alabama, and all the praise he's getting suggests the talent should check out at the next level.
The next thing to hang your hat on as a bettor is opportunity. The Steelers used to force-feed Le'Veon Bell touches, and it had fantastic results.
Pittsburgh allowed James Conner to walk in free agency, and they didn't bring any big names in to take over in the offensive backfield.
With a similar talent coming in with next to no competition for carries, you could be looking at your 2021 NFL Offensive Rookie of the Year in Najee Harris.
AUGUST
Casino of the Month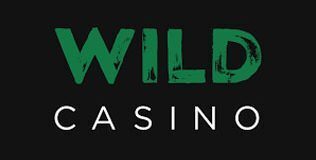 Welcome Bonus
250% up to $5,000
Read Review
Visit Site