Hide Bonus Offers
| | | | | |
| --- | --- | --- | --- | --- |
| #1 | Bovada Sports | 50% Up To $250 | Visit Site | Bovada Sports |
| #2 | BetUS | 125% Up To $2,500 | Visit Site | BetUS |
| #3 | MyBookie | 100% Up To $1,000 | Visit Site | MyBookie |
| #4 | Everygame | 100% Up To $500 | Visit Site | Everygame |
| #5 | BetOnline Sports | 60% Up To $1,000 | Visit Site | BetOnline Sports |
Top Prop Bets for Jake Paul vs. Ben Askren

If you're betting on the Jake Paul vs. Ben Askren fight this Saturday, it's good to you know you have options.
When it comes to proposition bets, better known as "props," it's worth checking out the various markets doing the rounds.
These bet types can often come with high payouts. So, if you think you have a good understanding of what might happen in the fight, you could make yourself a nice profit.
The online boxing betting sites have released their Paul vs. Askren prop bets for the fight. Not all of them are up my street, but there are plenty of intriguing ways to wager on the event, as you'll see from my choices below.
If you are thinking of placing top prop bets on Paul vs. Askren, stick with me. I'm going to share the pick of them today and hopefully help you to make some money with your wagers.
Let's get started with one of the most popular ways to bet on Paul vs. Askren ahead of their showdown on April 17.
Paul vs. Askren Round Betting
Round betting on Paul vs. Askren is sure to be popular.
If you're thinking of making a few dollars on this market, you can find the odds below.
| | |
| --- | --- |
| Fighter and Round | Odds |
| Paul In Round 1 | +700 |
| Askren In Round 1 | +2800 |
| Paul In Round 2 | +550 |
| Askren In Round 2 | +2800 |
| Paul In Round 3 | +700 |
| Askren In Round 3 | +2500 |
| Paul In Round 4 | +1100 |
| Askren In Round 4 | +3300 |
| Paul In Round 5 | +1600 |
| Askren In Round 5 | +4000 |
| Paul In Round 6 | +2200 |
| Askren In Round 6 | +5000 |
| Paul In Round 7 | +3000 |
| Askren In Round 7 | +6600 |
| Paul In Round 8 | +3500 |
| Askren In Round 8 | +8000 |
| Paul On Points | +500 |
| Askren On Points | +350 |
| Draw | +1800 |
Sure, one of the hardest prop bets for Paul vs. Askren to call will be the round in which the fight ends.
In all fairness, this is a tough bet to get right in any fight. Predicting the round where that knockout shot will land or the fighter will retire on his stool is going to be difficult for anyone. But if you get it right, this market can be very profitable.
Of all the props and specials for Paul vs. Askren, this one is usually attractive to those super confident of what will go down on the night.
For example, some who believe Paul is far too powerful for Askren might take odds of +700 on the YouTuber knocking him out in one. Others might see Askren's elite athletic background and experience frustrating Paul, even if his power does not, which could justify a bet on the fight to end in a draw (+1800).
I think this one will go the distance with Askren getting his hand raised.
Pick: Askren on Points +350
Will Jake Paul Score a Knockdown?
One of the best prop bets for Jake Paul vs. Ben Askren online has to be whether the YouTube star will knock the former ONE FC and Bellator champion down.
With Paul being touted as a knockout king among his internet kinfolk, some are rushing to put their lunch money down on the 2-0 "professional" dropping Askren at least once. But it's not going to be as easy as some think.
First, Askren has eaten shots from some of the hardest-hitting mixed martial artists on the face of the earth and has not gone down. It's worth pointing out that the likes of Robbie Lawler, Douglas Lima, and Andrey Koreshkov were wearing four-ounce gloves at the time.
Four. Ounce. Gloves.
Both guys will be wearing pillows on their fists this Saturday compared to the standard MMA glove. This makes it a lot harder for Paul to knock Askren down, and I wouldn't have called it an easy task in the first place.
I'm going against the odds here and saying no. Jake Paul won't drop Ben Askren.
Will Ben Askren Score a Knockdown?
I'm a little tempted to back Askren to put Paul down, but I am conscious that it's probably best to avoid this market altogether.
Can Askren score a knockdown against Paul? To be honest, I think we will see Paul on the canvas a few times throughout the fight. The question is, will any of them be ruled as legal knockdowns?
Askren might not be one of the top wrestlers in history but is certainly regarded as one of the greatest freestyle wrestlers in the history of MMA. He is as strong as an ox and has a ridiculous technical grasp of manipulating his opponents' balance.
One of the most dominant and innovative wrestlers in the modern era who became one of the most enigmatic figures in the sport of MMA. This is the story of Ben Askren

— FloWrestling (@FloWrestling) April 15, 2021
Of course, this is a boxing match, so we won't get to see him demonstrate this to its fullest capacity. But to flat out rule out Askren using this skill while inside the clinch? Well, that would be silly, wouldn't it?
The simple fact of the matter is that the odds for an Askren knockdown are worth some pocket change here. So, anyone looking for a top Paul vs. Askren prop bet online should consider the fact that the YouTuber will probably end up on his back a few times in the fight.
If just one is given as a legal knockdown, you win your bet. The question is, are you feeling lucky?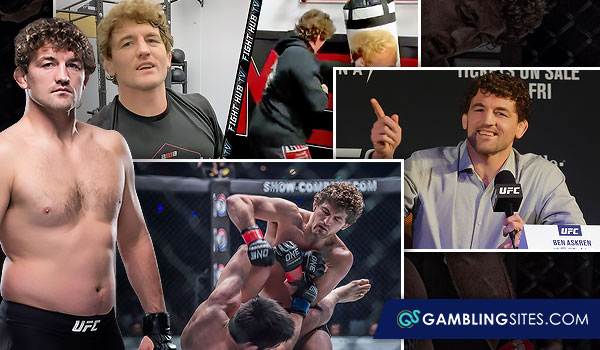 Over/Under Betting On Paul vs. Askren
If you're looking for the craziest prop bets for Jake Paul vs. Ben Askren online, you're not going to find them in this market.
But for solid odds for any props or specials for Saturday's bout, you could do a lot worse.
| | |
| --- | --- |
| Over | Under |
| 1.5 Rounds -500 | 1.5 Rounds +350 |
| 2.5 Rounds -225 | 2.5 Rounds +175 |
| 3.5 Rounds -135 | 3.5 Rounds +105 |
| 4.5 Rounds +105 | 4.5 Rounds -135 |
| 5.5 Rounds +140 | 5.5 Rounds -170 |
| 6.5 Rounds +160 | 6.5 Rounds -200 |
Similar to betting on the round that Paul vs. Askren will end, this market is based on the point in the fight that will see the fight waved off. But unlike putting money down on the exact round, you're actually betting on the bout ending over or under a set time in the fight.
Our dedicated guide to how to bet on Over/Unders will answer all your questions about this very popular way to bet. So, if you're looking to gamble on Paul vs. Askren props in this market but aren't quite sure what you are doing, give it a read.
There is nothing particularly difficult about betting Over/Unders on Paul vs. Askren or any other fight coming up. But it'll be more fun if you're 100% certain about what you are doing.
As for the best bet on this market? I think this one goes the distance, right? So, I'm looking past the 6.5 round mark.
Pick: Over 6.5 Rounds (+160)
Will a Fighter Bleed?
Yes, yes, yes!
Get on "Yes" at -120, as it's almost certain that one of these guys will leak some claret at some point in the fight.
I wouldn't be surprised to see Askren eating a wild shot while trying to close the distance, while I also envisage Paul taking a busted lip or nose from a wild head butt or elbow from the more experienced Askren. Either way, it's almost nailed on that this bet will pay out for anyone betting on "Yes."
Will Fighters Touch Gloves Before the Fight?
This is a fun Paul vs. Askren prop bet, but it's probably best not to go crazy with it.
I mean, how do we know whether these two will touch gloves? This is a decision that comes down to both men, so it's really a matter of chance. We can't use our knowledge of the sport or anything particularly scientific to help us win this bet now, can we?
OK, maybe you could say that the beef is real. Hence, these two will more than likely refuse to touch gloves. But there have been countless times when fighters have had genuinely hated each other yet hit those gloves. And I'm not talking about Ivan Drago vs. Rocky Balboa either.
Like all of the top Paul vs. Askren prop bets online, it's up to you whether you want to have a pop at this one or not. But don't put the inheritance on it!
If I were pushed, I'd go with "No" at +500. Why? Well, remember the face shove Askren did in the pre-fight presser? I'd take that into account. I'd also look to Paul wanting to play the bad man and keeping the energy going until the referee's instructions.
Paul or Askren to Have a Point Deducted
This is another prop bet for Paul vs. Askren that could be worth looking at.
But I would be careful to check the terms and conditions of this market before betting on it. Depending on the bookie, you could find a little bit of confusion regarding how this bet pays out.
For example, fighters are deducted a point for a knockdown suffered in a round. But you will struggle to find a sportsbook that will pay out in this type of market for something already covered under the knockdown market. You see, what we're looking at here are point deductions for other matters that warrant a deduction of a point.
In a genuine boxing bout, point deductions are rare. They are typically employed at the discretion of the referee and usually for blatant fouls. Think low blows, intentional headbutts, spitting, biting, etc. And that's what this market is geared towards.
When betting on this type of market, a top tip is to be careful of how this market is phrased. Will the boxing betting app or site payout if two points are deducted from a fighter rather than one?
Logan Paul, Jake's older brother, was deducted two points against KSI in their rematch in November 2019. It's not hard to envisage a 2-0 "pro" like Jake and a pro boxing debutant in Askren, screwing up at some point or even intentionally bending the rules but being caught and deducted.
However, given Jake Paul's lack of experience compared to Ben Askren's, he's the likelier candidate for a point deduction.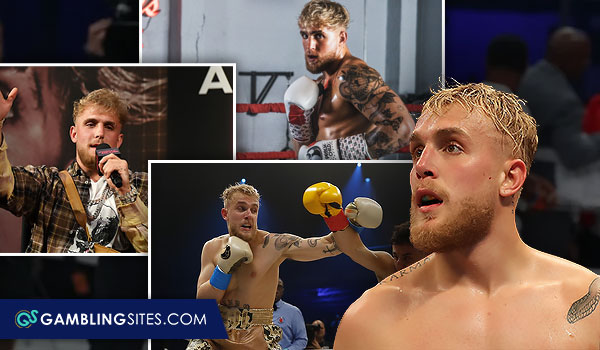 Paul vs. Askren Method of Victory
If the first question is based on who wins between Paul vs. Askren, the second will be "how?"
Method of Victory
Paul
Askren
KO/TKO/DQ
+110
+350
Decision/Technical Decision
+500
+350
Draw/Technical Draw
+1800
As you can see from the odds above, there are some interesting prices for both guys. But the shortest odds available in the Paul vs. Askren Method of Victory market are +110 for a knockout or disqualification win for Paul.
The longest is for a decision win for Paul, which pretty much goes to show that the bookies are expecting him to win early on.
As you'll already know, I'm not. I like the odds for Askren to win by decision. Interestingly, they are the same for "Funky" to win by KO/TKO/DQ.
Pick: Askren by Decision/Technical Decision
More Paul vs. Askren Betting Advice
Well, that's all my best prop bets for Jake Paul vs. Ben Askren laid out.
I've enjoyed putting these together for you today. If you are betting on Paul vs. Askren props, especially any of the above, I hope you get lucky!
Before you go, I'd like to share a little bit more advice for wagering on the fight. Included below is my betting pick for Paul vs. Askren, as well as advice for betting on celebrity boxing matches. Both pieces should tie up any loose ends and answer any further questions you have on the fight.
Once again, good luck with your bets, and enjoy the fight!