Analyzing the Top Poker Sunglasses and Whether They Help Players Win

In addition to making you look as cool as an arctic fox on lead guitar, could wearing the best poker sunglasses also improve you as a player?
Even the slightest jolt of the eyes could prove fatal in a game like poker. Experienced sneaks will read your intentions before making your next move. It's all in the eyes, right? Well, at least a fair deal of it is.
Before we start, let's clarify that this is not a sales pitch. I have no affiliation with any brand or interest in suggesting what sunglasses poker players should wear at the tables. I wish I did, but that's a story for another day.
Joking aside, I may be against the idea of shades in this game altogether. Perhaps the top sunglasses for poker are about as good as a caravan with no wheels. But maybe, just maybe, they can be the missing piece in your evolution to shark status.
Read on to find out if poker sunglasses are worth it. And if so, the best ones you should consider buying.
Wearing Top Poker Sunglasses – Are There Benefits?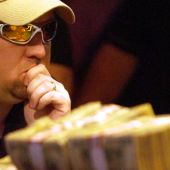 Before you part with $170 and head to the best online poker rooms looking like a boss, let's address the gigantic elephant in the room.
Do even the best poker sunglasses make you a better player?
First, if you're playing online, they'll be about as much use as a chocolate fire hydrant. The reasons should be obvious concerning that, right? I can see why you might think that is the case! Fundamentally, however, there is an argument for buying top sunglasses for poker if you are playing on the web (is that still a thing we say)?
The easiest way to address the pros and cons of shades at the tables is by asking yourself this question: Should you wear sunglasses when playing poker? But before you answer it, here are how glasses can help when hitting the tables.
Pros of Wearing Sunglasses
Poker sunglasses can help to alleviate nerves
Can act as a barrier to reflecting heavy lights for those with eye problems
They can conceal your eyes, making you tougher to read
Shades can help you to read players that have their eyes exposed
Looking good can both consciously and subconsciously instill confidence
All the above could potentially contribute to you improving your game
That's essentially what the top poker sunglasses can do for you.
It might not be what you want to hear, but it's the truth. I mean, if there were supernatural powers that could be triggered by wearing sunglasses, I'm sure everyone on the planet would be on board. But that's not the case.
As we go through this piece, I'll be answering questions such as "What sunglasses do poker players wear?" and "Should you wear sunglasses when you play poker." Naturally, I'll be providing a summary of whether you should or should not put your hand in your pocket for a pair.
But let's quickly look at a few potential downsides before going further.
Cons of Wearing Poker Sunglasses
You know the benefits of wearing the most highly recommended poker sunglasses. Well, poker sunglasses, in general.
Naturally, the best-made brands will have perks over the cheapos you found while looking through Uncle Joe's cardboard box with "Woodstock '69" written on it. And I'll get to the differences between them soon enough.
But the cons of wearing sunglasses when playing poker must be addressed. The most major of them are as follows.
Cons of Wearing Sunglasses
Some poker sunglasses could allow players to see your hand
Could lead to accusations of cheating
Might make you appear amateurish by concealing your eyes
Giving off a sense of low confidence
Shades might conceal your ability to read hands
Like almost anything heralded as performance-enhancing, and I'm talking about legal enhancers, there are clear downsides.
So, before you consider which sunglasses are best for poker, you should know why they might not be a good idea. Of course, some pro players do wear poker sunglasses. But they are extremely unlikely to make some of the same mistakes an amateur would.
Segue!
Sunglasses Not to Wear at the Poker Table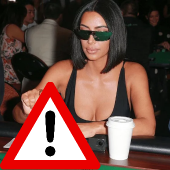 Should you wear sunglasses when you play poker? Ultimately, it's your call. Pun very much unintended.
There are popular poker sunglasses that many top pros swear by. Having already covered the benefits you can avail of from a sharp pair of shades at the table, you know what they are. But not all sunglasses are as conducive to success.
There are some particular styles of vision eyewear that I would unequivocally rule out. The best poker sunglasses are meant to help you limit the simple and emotive expressions we emit. Often without knowing that we are. This applies equally to whether you find yourself in a promising or unfortunate circumstance.
Obviously, no one told that to a certain Kim Kardashian.
Look, it would be hacky to rip on the erm, um…what does she actually do? Let's try that again.
It would be hacky to rip on this particular…famous person for her perceived lack of intelligence here. Yes, Kardashian wore mirrored glasses while playing at an "If Only" poker tournament in 2018. The joke writes itself, and it has gone through several iterations since.
But the bottom line here is that you should never wear mirrored glasses when playing poker. I don't care if you're a sucker for fashion, and Kardashian tries to be an edge lord by releasing a line of popular poker sunglasses with reflective lenses. Don't do it!
Whether you believe Kardashian was playing the role of the dopey fox or not, I don't need to explain why it's a silly nonpareil move! But the world's, um, most famous person for being famous isn't the only person to have donned this type of eyewear at the tables.
Phil Laak, the Dublin-born World Series of Poker and World Poker Tour winner, has been known to don mirrored aviators in the past. But unlike Kardashian, the chances of "The Unabomber" letting you see his cards via the glare of his glasses are about as low as your prospects of beating him at the table.
Rather than asking which sunglasses are best for poker, some should consider those that are likely to work against them. The most obvious are particular types of mirrored specs that give your game away.
With that out of the way, it's time to move on. You might be wondering if you should wear sunglasses when you play poker, especially if you've heard of some of the pros who have managed to attain success.
Moneymaker – The Greatest WSOP Win with Sunglasses?
Multiple players have won major tournaments wearing sunglasses. More interestingly, there have been examples of star players coming out on top while wearing mirrored specs.
I already gave you one example earlier, referencing Phil Laak. But the stigma around using these bifocals is even sillier when you consider a World Series of Poker (WSOP) player wore them during one of the most dramatic title wins in history.
How hard is it to win the WSOP wearing mirrored specs? Just ask Chris Moneymaker, who did just that before sweeping the grand prize in an emphatic bubble showdown against Phil Ivey in 2003.
It's always good to have some balance when considering if sunglasses are good for you or not.
Should you wear sunglasses when you play poker? That's up to you. But do sunglasses make you a better poker player? Probably not. I mean, they could potentially improve your game. If you expect to experience a Clark Kent-ish transformation with the help of popular poker sunglasses, that's probably not going to work out well for you.
Moneymaker earned his success and a warehouse full of cash by being a great poker player. But that's not the sole reason for his legendary win at the WSOP final table.
With all that being said, people operate differently under various parameters. So, especially if you are unknown on a local scene, it's not beyond the realms of possibility that wearing the best poker sunglasses money can buy might lead to more experienced players treating you with more respect.
But in a game like Texas hold 'em, you'll find it hard to bluff a good bluffer. At least you'll look ice-cold, though, right?
So, let's look at some of the best pro poker sunglasses and see if they might be right for you.
Blue Shark Optics Poker Glasses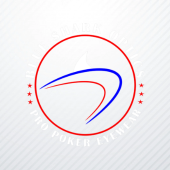 Considered by many as the top sunglasses for poker, Blue Shark has been providing some of the best lenses for Texas hold 'em players and more since 2008.
The company boasts the likes of 2004 WSOP Main Event champ Greg Raymer and WSOP bracelet winner Chris "Fox" Wallace on the team. Highly respected by pro players who wear glasses at the table, you can find some of the world's top talent endorsed by this brand.
But as for being the best poker sunglasses online? Well, there is a case for Blue Shark cornering the market and making it their own.
If you're looking to land yourself a pair of optics from Blue Shark, be prepared to pay a premium. The Chris Moneymaker signature edition is $169, at the time of writing, with the price for Rogue Shark Bifocals $189.
You get what you pay for, sure. But if you're still asking whether sunglasses make you a better poker player, I'd recommend weighing the pros and cons before buying.
Poker Armor Sunglasses
According to the company's website, "The Poker Armor brand was created by passionate and successful poker players for poker players."
Yes. As you might have been able to tell from the name itself, these shades are geared toward active players. They are not intended to be worn at a funeral nor while angling for carp in Clear Lake. Although I wouldn't say, the company would be too happy with that being part of their marketing pitch!
The cost of Poker Armor shades makes them less of a hit on the old bank account. You can get The Dark Vadar or The Bond, two of their most popular editions, for $59.98 a piece. That is not bad for a company that claims to be the "largest supplier of specialty and fashion-conscious poker glasses" worldwide.
Should you wear sunglasses when you play poker?
Again, that's up to you. But at this price, they appeal more to those who aren't quite ready to spend big on shades intended for the tables.
Ray-Bans for Poker Players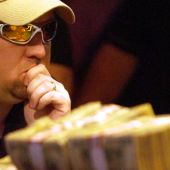 While Ray-Bans are not the most popular poker sunglasses, they are still worn by pros and amateurs alike.
They are, of course, an iconic brand usually associated with rock and roll and, erm, Instagram "influencers." I could go on a rant about the death of music and the solipsistic pouters that filled its vacuum, but I'll stick to the subject here.
So, are Ray-Bans the best poker sunglasses on the market? Probably not, especially with the two companies above doing so well in this department. But do professional players wear Ray-Bans? Sure. I've also seen some amateur to intermediate-level players at the casino using them.
I own a couple of pairs myself. Although you're more likely to see me wearing them when I'm hitting up tables on the best online casinos these days!
Cheap Sunglasses that Won't Break the Bank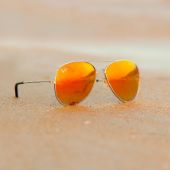 If it comes to choosing between $5 sunglasses from the thrift store or spending nearly $200 on the best poker sunglasses known to man, think about it.
First, your budget will determine whether you can afford the latter.
Unlike Chris Moneymaker or the other big-timers, spending big on professional poker sunglasses might not be the best idea. Of course, Moneymaker and other pros that wear poker sunglasses at tournaments don't even pay for theirs!
You can find very affordable sunglasses for poker for $10 or under. Will they work the same way as the top poker shades? Well, on a base level, yes. You can find a pair that will block out the light, conceal your eyes, and make you feel a little less exposed.
Will they be as good as the best poker sunglasses money can buy? Probably not. They will not be as well-crafted and maybe not as stylish. But unless you are playing a $250,000 buy-in No-Limit Texas hold 'em tournament, are you really that bothered?
Can you wear regular sunglasses playing poker? Yes. As long as the tournament permits, you can dress in a gorilla suit and put a bag over your head!
Should You Wear Sunglasses Playing Poker?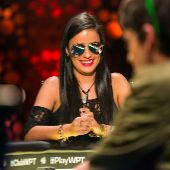 You can choose numerous brands to find the best professional poker sunglasses.
Some companies have exclusively based their commercial attack on targeting experienced and amateur players. Whether you are playing Omaha Hi Lo or hold 'em, these are the shades that stand out in the game.
Aside from making you look sharper than a wasp's butt, there are benefits to wearing some of the best poker sunglasses out there. But cui bono? If Latin isn't your forte (or fortis), who exactly benefits? Will your game be enhanced as soon as you put them on?
Furthermore, are the top poker sunglasses pro players wear only because they receive a commission from sales? Is this yet another advertising ploy that has run away with itself? I thought we learned a lot from the rise and fall of Reebok Pumps.
Of course, there are benefits to wearing poker sunglasses. Always remember that what you want and what you need are two different things.
For Example
I want a Lamborghini Aventador to take to my local grocery store when I run out of essentials. I need my legs to be able to get out of the car and walk in to grab said items. Considering the store is less than a five-minute walk from my front door, I'm gonna settle for my legs.
Although that is the case, anything that can give you an advantage in poker is worth considering. But should wearing a pair of awesome-looking shades take precedent over hard work and dedication? Nope. I'll take knuckling down on Texas Hold'em pre-flop strategies for $500, Alex.
Will Top Poker Sunglasses Make You a Better Player?
Even the best poker sunglasses won't transform a fish into a shark.
We all remember that kid who absolutely stank at sports when we were growing up. The one who got a Celtics jersey with the 33 on it for Christmas suddenly thought their jump shot was going to set the world on fire. Well, it didn't. And they eventually moved on to something else.
If you believe that there is a magical shortcut to improving your fortunes at the table, I'm sorry to be the one to inform you that there isn't. You can buy the top poker sunglasses ever made and still stink.
But that is not to say that poker sunglasses don't work. They can work. It all depends on how good you are before you don your shades. If you're starting out and are a little self-conscious or have the uncanny ability to give everything away with the slightest micro expression, they could transform your game.
The crux of the matter is that shades may or may not help you on the tables. But learning about the game, applying yourself, and making it your business to slay it will make you a better poker player.
Leave the glasses in the basket for now and read this complete guide to playing poker. If you're not a seasoned expert, don't ever be embarrassed to start from scratch.
Furthermore, the following tips from some of Reddit's best poker minds will also help you get where you are going!