Ranking the Top 10 MLB Players Who Never Won a World Series

Baseball is the epitome of a team sport. It takes pitching, hitting, and defense – only so much one man can do. For example, the betting line barely moves if a club's best hitter gets scratched before a game. That's if it moves at all. Even the best starting pitchers typically only appear in about 20% of a team's games.
Throw in how hard it is to be the last team standing, and we're left with some serious legends of the sport who never got to put on a ring. That's always something to think about when preparing to bet at the top MLB betting sites. No matter how good a player is, sometimes backing their team to win it all is simply a waste of time.
But which players were among the very best to never quite make it happen at the highest level? Narrowing that list down to a top 10 isn't easy, but I took that task on. Let's look at my ranking of the best MLB players to never win a World Series.
10. Juan Marichal
MLB Career: 1960-1975
Teams: San Francisco Giants, Boston Red Sox, Los Angeles Dodgers
World Series Appearances: 1
Juan Marichal's resume sparkles with six 20+ win seasons – all with the Giants between 1963-1969. Marichal sported a 2.34 ERA during those seven years by maintaining a sub 2.80 ERA during all seven of those seasons.
The 10x All-Star was especially stout in the Midsummer Classic, toting a 0.50 ERA across 18 innings. He threw a no-hitter in 1963 and was terrific in both of his postseason starts (12 IP, 1.50 ERA, 10 K). Notably, Juan tossed four scoreless innings in his only World Series appearance (1962).
Although Marichal never hoisted a Cy Young Award, the Dominican right-hander led the National League in the following categories twice:
Wins
Complete Games
Shutouts
Innings Pitched
WHIP
Marichal was inducted into the Hall of Fame in 1983.
9. Ichiro Suzuki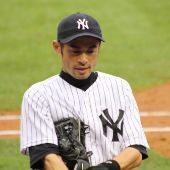 MLB Career: 2001-2019
Teams: Seattle Mariners, New York Yankees, Miami Marlins
World Series Appearances: 0
"Unparalleled" is a good way to describe Ichiro's sustained excellence. The Japanese right fielder racked up 3,089 hits and over 500 stolen bases during his big league career. He's a lifetime .311 hitter and holds the MLB record for most hits in a single season (262 in 2004).
Suzuki hit .331 during his first 10 years in the big leagues. This includes registering at least 208 hits every year between 2001-2010.
Joining Fred Lynn as the only other player to win ROY and MVP in the same season, here's a cool tidbit to help portray Ichiro's prolonged superiority.
Including his time in the Japan Pacific League, Ichiro tallied 4,367 career hits. Or 111 more than Pete Rose (the MLB's all-time leader in this).
8. Carl Yastrzemski
MLB Career: 1961-1983
Team: Boston Red Sox
World Series Appearances: 2
One of two players to win the Triple Crown since 1967, Carl Yastrzemski is on the cusp of being included as one of the ten best outfielders of all time.
He led the league in batting and slugging three times apiece; he led in on-base % five times and won seven Gold Gloves. During two WS appearances, Yastrzemski hit three home runs and slashed a robust .352/.438/.556.
Of the ten players in league history who've notched at least 3,400 hits, "Yaz" is one of three (Hank Aaron, Stan Musial) who's swatted out at least 450 home runs.
On the heels of 18 All-Star appearances and a first-ballot Hall of Famer, Carl is entrenched as one of the best MLB players to never win a World Series.
7. Mike Piazza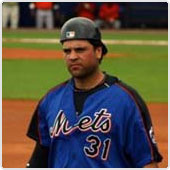 MLB Career: 1992-2007
Teams: Los Angeles Dodgers, Florida Marlins, New York Mets, San Diego Padres, Oakland Athletics
World Series Appearances: 1
The "Subway Series" in 2000 is the only time Mike Piazza ever played in a Fall Classic. Mike didn't disappoint, hitting two homers in the five games as the Mets came up short against the Yankees. Simply put, the 1993 NL Rookie of the Year Award winner is recognized as the best-hitting catcher to ever play the game.
Among Piazza's list of impressive accolades, his 399 HR as a catcher (427 HR total) are the most all-time (by a catcher).
He's got 10 Silver Slugger awards on his mantle at home and is the only catcher in history to record more than 200 hits in a season. Mike hit at least .300 in nine straight seasons (1993-2001), including when he hit .362 in 1997 and finished 2nd in NL MVP voting for the second straight year.
6. Ernie Banks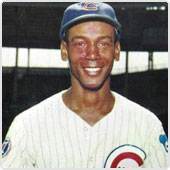 MLB Career: 1953-1971
Team: Chicago Cubs
World Series Appearances: 0
Every player listed on this page failed to win a World Series during their MLB careers. Some never even got to play in one. Well, cry me a river. Ernie Banks busted his tail for 19 years with the Cubs and never played in a single playoff game.
What he did do was win back-to-back NL MVPs in 1958 and 1959. Ernie led the Majors in RBI twice and is a member of the coveted 500-HR club.
Splitting his time between shortstop and first base, "Mr. Cub" hit at least 41 home runs in five different seasons. (make this text stand out)
Banks entered Cooperstown in 1977 as just the 13th player in MLB history to get in on their first year of eligibility. For perspective, Joe DiMaggio and Yogi Berra came before Ernie, and neither got in the HOF on their first ballot.
5. Tony Gwyn
MLB Career: 1982-2001
Team: San Diego Padres
World Series Appearances: 2
Pull up Tony Gwynn's stats and take a hard look at his .289 batting average across 54 games as a rookie. Because after that, Gwynn miraculously hit .309 or better in each of his final 19 seasons.
Tony won eight NL batting titles (all with the Padres) and was honored as a Silver Slugger seven times. Not being celebrated as a gifted base runner or accomplished defender directly results from Gwynn being hailed as one of the best left-handed hitters of all time. The fact of the matter is Tony stole 319 bases and won five Gold Gloves.
Tony Gwynn could've gone 0-for-1099 to end his career and still finished as a .300 hitter. Think about that. pic.twitter.com/Bo4KEVW4XG

— Super 70s Sports (@Super70sSports) October 21, 2021
I've read that certain touts like assessing a player's best five-year window indicate how great that player was. In that case, feast your eyes on Gwynn's video-game-like numbers between 1993-1997.
TONY GWYNN STATS – 1993-1997
Season
Batting Average
Walks
Strikeouts
1993
.358
36
19
1994
.394
48
19
1995
.368
35
15
1996
.353
39
17
1997
.372
43
28
Totals
.368
201
98
4. Ken Griffey Jr.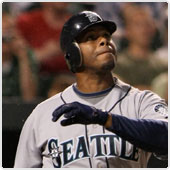 MLB Career: 1989-2010
Teams: Seattle Mariners, Cincinnati Reds, Chicago White Sox
World Series Appearances: 0
Armed with ten straight gold Gloves (1990-99) and a bevy of heroic catches, "The Kid" is one of the best defensive outfielders who's ever lived. He just so happened also to be one of the most prolific home run hitters we've ever seen.
One of three MLBer's to crank out at least 48 dingers in four straight seasons (Sammy Sosa, Mark McGwire), Ken Griffey Jr.'s in's rarified air as one of the six members of the 600-HR club.
Speaking of being on a list of "just three," here's the full list of MLB players who have accumulated at least 140 RBI in three straight years.
Babe Ruth
Lou Gehrig
Ken Griffey Jr.
To soak up his sweet swing and to watch Junior rob a bunch of home runs, check out these sweet Ken Griffey Jr. highlights.
3. Ty Cobb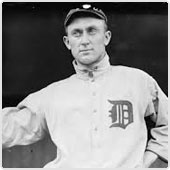 MLB Career: 1905-1928
Teams: Detroit Tigers, Philadelphia Athletics
World Series Appearances: 3
One of the best MLB players to never win a World Series is also one of the dirtiest athletes of all time. Perhaps Ty Cobb's mistreatment of others served as karma when the "Georgia Peach" found himself playing in the World Series.
Check out the massive discrepancies between Cobb's regular-season and World Series numbers, and you'll see what I mean.
Ty Cobb Numbers – Regular Season vs. World Series
Games
BA
OBP
SLG
Stolen Bases Per Game
Regular Season
3,034
.366
.433
.512
0.296
World Series
17
.262
.314
.354
0.235
Nevertheless, Cobb's the all-time leader in career batting average and clocks in 6th all-time in WAR (wins above replacement). He led the league in batting on 12 separate occasions, including nine in a row between 1907-1915.
2. Ted Williams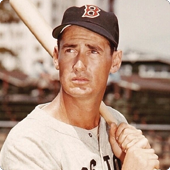 MLB Career: 1939-1942, 1946-196
Team: Boston Red Sox
World Series Appearances: 1
Teddy Ballgame's legacy is cemented. He won two Triple Crowns (1942, 1947) and two MVPs (1946, 1949); he's a 19x All-Star who led the league in batting six times, homers four times, and RBI four times.
Ted Williams' .482 career on-base % is the highest OBP in MLB history.
Also hailed as the "Splendid Splinter" and "The Thumper," Ted's eye at the plate is second to none. One of four players in MLB history to log over 2,000 walks, here's how Williams' walk-to-strikeout ratio stacks up against the rest.
Players with 2,000+ Walks in MLB History
Player
Walks
Strikeouts
BB:K Ratio
Barry Bonds
2,558
1,539
1.66
Rickey Henderson
2,190
1,694
1.29
Babe Ruth
2,062
1,330
1.55
Ted Williams
2,021
709
2.85
Williams led the league in walks eight times and hit at least .400 in a season three different times. His 1941 campaign (.406/.553/.735) is on the shortlist of the greatest single-seasons by a hitter in professional baseball history.
1. Barry Bonds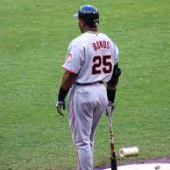 MLB Career: 1986-2007
Teams: Pittsburgh Pirates, San Francisco Giant
World Series Appearances: 1
Whether you put an asterisk on Barry Bonds' numbers – that's up to you. The bottom line is he's the greatest player in MLB history. And frankly, I'm not sure it's even particularly close.
Although Barry's Giants lost to the Angels in seven in the 2002 World Series, don't lose sight of Bonds' dominance throughout that Fall Classic.
Highest OPS in single postseason series (min 25 PA):

2002 WS Barry Bonds: 1.994
2013 WS David Ortiz: 1.948
2011 ALCS Nelson Cruz: 1.713
2011 NLCS David Freese: 1.691
1995 ALDS Edgar Martínez: 1.667
2021 NLDS Eddie Rosario: 1.647

— Sarah Langs (@SlangsOnSports) October 24, 2021
What's even easier to lose sight of is the colossal shot that Bonds hit off Troy Percival with two outs in the ninth inning of game 2 in the 2002 WS.
Bonds ranks first in single-season home runs (73) and career home runs (762), and that's just the tip of the iceberg. He snagged 514 bases and won eight Gold Gloves, but here's my favorite "Bonds' stat" of all time.
Barry's 688 intentional walks are more than double any other player in MLB history.
It goes without saying that Bonds takes the cake among the list of best MLB players to never win a ring.
Whether you agree with my rankings here or not, one thing can't be argued; realizing when a player may never win the big one is an undervalued skill. You can try putting it to practice the next time you place a bet on who will win the World Series. When you do, be sure to visit the very best online sports betting sites the US has to offer.
AUGUST
Casino of the Month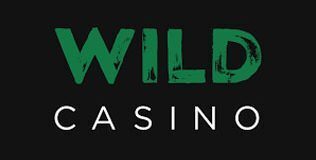 Welcome Bonus
250% up to $5,000
Read Review
Visit Site