Hide Bonus Offers
| | | | | |
| --- | --- | --- | --- | --- |
| #1 | Bovada Sports | 50% Up To $250 | Visit Site | Bovada Sports |
| #2 | BetUS | 125% Up To $2,500 | Visit Site | BetUS |
| #3 | MyBookie | 100% Up To $1,000 | Visit Site | MyBookie |
| #4 | Everygame | 100% Up To $500 | Visit Site | Everygame |
| #5 | BetOnline Sports | 60% Up To $1,000 | Visit Site | BetOnline Sports |
Top Picks for NBA DFS on Thursday, April 15 (2021)
The NBA continues to be insanely unpredictable. Considering this is probably the most predictable sport for betting and fantasy sports, that is saying something.
It has everything to do with the absurdly quick turnaround from the end of last season to the beginning of this one. That is led to more injuries, a tighter schedule, and teams resting players far more frequently.
Things are complicated further as we advance to the end of the regular season, as teams out of playoff contention will have no qualms about sitting their top stars.
It makes for fun (albeit risky) sports betting and daily fantasy sports, so this early look at the best NBA DFS picks, sleepers, and the top lineup is hopefully as helpful as ever.
Keep in mind that things can (and will) change before lock on Thursday, but it's always good to have a baseline to start with. Let's see what plays stand out for April 15th, 2021.
Best NBA DFS Picks for April 15th
Stephen Curry, PG, Warriors ($10.6k)
Bogdan Bogdanovic, SG, Hawks ($7.2k)
Khris Middleton, SF, Bucks ($8.3k)
Draymond Green, PF, Warriors ($7.1k)
Deandre Ayton, C, Suns ($6.7k)
Curry just keeps slaying, and he has to know he can't stop if the Warriors have any real hopes of making the playoffs this year.
De'Aaron Fox and Trae Young (if he plays) are cheaper options with similar floors and ceilings, but how do you not use Curry right now – especially on a tiny four-game slate?
I'll entertain doing just that if the ownership is wild, but for now, a red hot Curry looks like a fine stud to build around.
Boggy also stands out as a fine core play, and he's on the table even if Trae Young is back.
I wrote about how that game is going to be straight fire in Thursday's NBA betting picks, and that's the case regardless of how healthy the Bucks and Hawks are.
Young being out would open a ton of usage, but there are enough injuries that Bogdanovic would keep hoisting and producing no matter what.
Middleton is a bit of a placeholder for me. Ideally, we could have had Bodan at SF, or a punt opens up.
I will gladly use Middleton if Giannis Antetokounmpo continues to sit, of course, and this game environment does keep him in play, anyways.
Dray looks like a fine play on Thursday, as well. His price looks okay, and despite the pace-down game against the Cavs, he does so much that he should be matchup proof.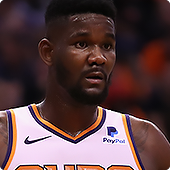 There is always a question as to whether he'll be rested on the second leg of a back-to-back set, but Golden State really doesn't have that luxury right now.
Lastly, there is Ayton, who has a dream matchup against the Kings.
I'd certainly be worried about the blowout risk here, but it's such a small slate that I refuse to let that dictate how I build my NBA DFS lineups.
The matchup is so good that Ayton could crush in three quarters, anyways. He's been super steady lately, topping 35+ fantasy points in each of his last six games. In a smash spot, I'll make him part of my core.
NBA DFS Sleepers for Thursday
Brandon Goodwin, PG, Hawks ($4.5k)
Kentavious Caldwell-Pope, SG, Lakers ($4.4k)
Kent Bazemore, SF, Warriors ($4.9k)
Dean Wade, PF, Cavaliers ($5.1k)
You certainly can't ignore Goodwin in the event Trae Young sits out yet another game. He'd start and see 35+ minutes, and so far, he's turned that into 32+ fantasy points twice.
In an up-tempo date with the Bucks, Goodwin would be a core play. Just make sure Young sits before firing him up.
This slate is starving for value, so yes, we need to look at someone like KCP.
I hope that ends up being a non-issue and more NBA DFS sleepers make themselves known, but the guy gets 30+ minutes and can catch fire from deep.
KCP may be worth a dice roll at this price, but he's largely a slate-dependent play.
Kelly Oubre Jr. has been missing some time, and if he's out again, Kent Bazemore can be looked at for solid salary relief.
His price has gone up a bit, but he's logged 32+ minutes and churned out 23+ fantasy points in his last two games. The matchup isn't great, and the price is rising, but he'd still be viable if Oubre remains sidelined.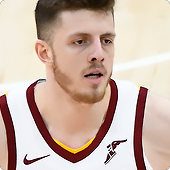 You know the value is bad when you're looking at a $5.1k Dean Wade, but hey, that's where we're at.
There's actually a decent chance the Cavs rest their veteran bigs with this being the second game of a back-to-back set, though.
If that happens, Wade and Isaiah Hartenstein ($5.5k) would both actually become compelling chalky.
Hartenstein is the guy I'd covet, of course, and if some extra run opens up, he's a core play for me. The guy is an elite fantasy points per minute producer.
He just doesn't start every game, and he has foul trouble issues. In a dream spot against the Dubs, both of these Cavs big men would be very appealing.
Just make sure one of Kevin Love, Larry Nance, or Jarrett Allen takes a seat after playing on Wednesday.
Thursday's Top NBA DFS Lineup
PG: Brandon Goodwin – Hawks ($4.5k)
SG: Bogdan Bogdanovic – Hawks ($7.2k)
SF: Kent Bazemore – Warriors ($4.9k)
PF: Jae Crowder – Suns ($4.4k)
C: Deandre Ayton – Suns ($6.7k)
G: Stephen Curry – Warriors ($10.6k)
F: Draymond Green – Warriors ($7.1k)
UTIL: Kentavious Caldwell-Pope – Lakers ($4.4k)
If Trae Young is in, you can start over and just lean on my top NBA DFS picks and sleepers. I'd still like Boggy just fine, but Goodwin wouldn't be playable, and suddenly Trae over Curry would be a viable option.
I like Curry as my top stud right now, though. Giannis would be the only other guy that can safely match him, and any other would-be stud would just carry more risk.
Paying almost $11k for a less than 100% Giannis isn't something I'd want to do, anyways. In the event The Greek Freak is out again, you know the drill; fire up your Bucks.
If you're not sure who to use, feel free to pay for Jrue Holiday and Khris Middleton, and get some exposure to Bobby Portis, Donte DiVincenzo, and maybe even Brook Lopez.
Antetokounmpo got in a full practice on Tuesday, however, so I'm guessing he's in, and I'd really only want the Hawks side of that game.
Elsewhere, some Suns players to close in a dream spot makes sense. If you think the Kings keep it close, drop from Curry to Fox and maybe even build a mini-stack.
For now, I'll roll out Dray with Steph, and if the Cavs bigs sit, I'll fire up some Cleveland value.
It's weird to say, but so much can change even on a slate this size, so be sure to keep an eye out for any news that could alter this lineup. Good luck and enjoy the games!