Top Picks for NBA DFS on Thursday, April 1 (2021)

Thursday is admittedly all about the return of baseball, which may be why The Association only opted for a light seven-game schedule.
Well, it's not that light, but it's also not so heavy that it will keep you from enjoying MLB Opening Day.
Speaking of which, I broke down all things daily fantasy baseball for the first slate of the new season, and you can see where my head is at in my 2021 MLB Opening Day DFS picks.
For the daily fantasy basketball side of things, check out tonight's NBA DFS picks, sleepers, and top lineup.
Top NBA DFS Picks for April 1st
Russell Westbrook, PG, Wizards ($11k)
Kyrie Irving, SG, Nets ($9.8k)
Brandon Ingram, SF, Pelicans ($7.8k)
Danilo Gallinari, PF, Hawks ($5.2k)
Nikola Jokic, C, Nuggets ($10.6k)
It probably doesn't even need to be said, but if Bradley Beal is out again, Russell Westbrook is a must. His price hasn't even spiked, despite putting up an insane 94.5 fantasy points two games ago.
Westbrook dropped in 69.75 fantasy points as an encore the following day, too.
He's in play if Beal is back, but he'd tap into beast mode if he's the main source of offense for the Wizards against a bad Pistons team.
Ditto for Irving, who could be forced to do it all for Brooklyn with James Harden (calf) possible out for this one.
James Harden exits vs. Rockets with hamstring tightness. https://t.co/4tjC2xI1Fl pic.twitter.com/re3QDycFf1

— theScore (@theScore) April 1, 2021
Harden tweaked his calf last night, and it allowed Irving to deliver a double-double, and 60 fantasy points. He'd be a terrific play in an up-tempo spot against the Hornets.
Another guy that is banged up and could miss some time is Zion Williamson. Nothing is official, but he's dealing with a hand injury, and there has been speculation that it could be somewhat serious.
If he's out, Brandon Ingram stands out as the main benefactor. With Williamson off the floor, Ingram posts a nasty 31% usage rate and averages 1.24 fantasy points per contest.
Gallo should also be on your radar. Atlanta is down big man John Collins, who hurt his ankle and exited his last game.
An @emoryhealthcare injury report for tomorrow's game:

De'Andre Hunter (right knee soreness): Questionable
John Collins (left ankle sprain): Out
Kris Dunn (right ankle surgery): Out
Cam Reddish (right Achilles soreness): Out pic.twitter.com/AzsTznyIRP

— Atlanta Hawks (@ATLHawks) March 31, 2021
He won't play on Thursday, and in the past, that's equated to a starting spot and a big performance for Gallinari. More specifically, when Collins is off the court, Gallo owns a 24% usage rate, and is prone to blow-up offensive outings.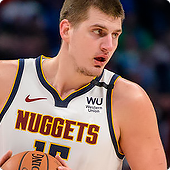 Lastly, you can always pay for Jokic. The matchup on the road with the Clippers honestly isn't ideal, but is there a better leverage play against a chalky Westbrook?
And in the event Beal is back, Jokic is just a fine pivot off a slightly less appealing Westbrook in general.
Recency bias could bring The Joker's ownership down, too. He didn't even clear 40 fantasy points in his last game and has been held under 50 in three of his last four.
It's still Jokic we're talking about, though. The guy has nearly averaged 60 fantasy points on the season, and he put up 51.8 fantasy points in this matchup earlier this year.
Daily Fantasy Basketball Sleepers for Thursday
Bruce Brown, PG, Nets ($4.7k)
Jerome Robinson, SG, Wizards ($3.5k)
Luke Kennard, SF, Clippers ($4.2k)
Deni Avdija, PF, Wizards ($4k)
Isaiah Hartenstein, C, Cavaliers ($3.7k)
Kyrie Irving benefits from the likely absence of Harden at a high level, but he's the only other stud Brooklyn has these days.
It never feels great but doing a deep dive into some of the Nets value does make sense on this slate. Due to role, price, and versatility, Brown stands out the most to me.
Brown has a better floor than a cheaper option like Tyler Johnson, and he does a little bit of everything, so his ceiling is decent in an expanded role.
Washington spares will also be on the table, provided Beal is out for a third game in a row. Robinson logged 36 minutes last game, and Avdija keeps getting about 32.
These guys have incredibly low floors, but they're in a fantastic game environment against the Hornets, and they have fairly concrete roles.
Monitor Paul George and Kawhi Leonard going into Thursday night, too. If either of them sit, then Kennard and other Clippers will look very appealing. If both sit, then L.A. sleepers will be a must.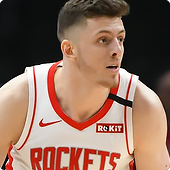 Lastly, I love Hartenstein.
He put up 35 fantasy points in just 26 minutes in a tough matchup with Utah, so he's proven he can succeed in just about any situation.
I'd be scared of him if Joel Embiid were on the floor for the 76ers, but he's not.
Cleveland is starving for centers due to injuries, so Hartenstein feels like a lock for me at this price tag.
Best NBA DFS Lineup for April 1st, 2021
PG: Russell Westbrook – Wizards ($11k)
SG: Jerome Robinson – Wizards ($3.5k)
SF: Luke Kennard – Clippers ($4.2k)
PF: Danilo Gallinari – Hawks ($5.2k)
C: Isaiah Hartenstein – Cavaliers ($3.7k)
G: Kyrie Irving – Nets ($9.8k)
F: Brandon Ingram – Pelicans ($7.8k)
UTIL: Bruce Brown – Nets ($4.7k)
This team basically builds itself. If Beal, Zion, and Harden are all out, an elite core of Russ, Kyrie, and Ingram really makes too much sense.
That could be chalky, so you can consider a pivot, or try to differentiate with your supporting cast.
Elsewhere, depending on news, Robinson, Kennard, and Brown all stand out as quality NBA DFS sleepers. Gallo is a lock for me with JC sidelined, and Hartenstein feels like a free square.
Will I ignore ownership percentages if this squad ends up being super chalky? No, but I will find it very tough to not keep this team as is if some of these plays fly under the radar.
As always, my NBA DFS picks, sleepers, and top lineup are just a starting point. Definitely keep tabs on all the news, and also hit up the best NBA betting apps for the latest odds.
With that, I wish you luck tonight. Enjoy the games!