8 Top March Madness Props to Bet on in 2022

March Madness is finally here, so let the insane upsets commence. We have many talented teams for this year's tournament and talented players throughout.
Hopefully, you have made your bracket already and are ready to place some 2022 March Madness prop bets. These props are a different way to have fun for this year's tournament.
There are many special props on the top March Madness betting apps to take advantage of for this year's tournament. Let's get right into the best ones for this year's tournament.
First/Last No. 1 Seed to Be Eliminated
We found our 4 No. 1 seeds on Selection Sunday earlier this week. Those teams turned out to be Gonzaga (West), Baylor (East), Kansas (Midwest), and Arizona (South).
With that being said, the chances of all 4 of them making the Final Four is slim. If all 4 No. 1s make the Final Four, you would be able to cash a (+2500) bet on BetUS. So the chances are not likely in general.
That brings us to a couple of other props on BetUS, which are the first and last No. 1 seeds to be eliminated.
The no. 1 seeds are tough to beat, but the upsets are king in March Madness. If you want to bet on the first No. 1 seed to be eliminated, here are those odds.
Gonzaga (EVEN)
Arizona (+225)
Kansas (+250)
Baylor (+350)
The teams are in the same order for the last No. 1 seed to be eliminated, but with slightly different odds.
Baylor (+150)
Kansas (+175)
Arizona (+200)
Gonzaga (+350)
So, by looking at these odds, we know that the books heavily favor Gonzaga as the best No. 1 seed. That is smart, as the Bulldogs have been incredible this season at 26-3.
Arizona is right behind them, as the Wildcats went 31-3 this year. The Jayhawks follow them with their 28-6 record, while the Baylor Bears are last in these bets with their 26-6 season.
Being a No. 1 seed means that you are one of the best teams in the country. Unfortunately, that won't win you the games alone.
March Madness doesn't care what seed you are, and you need to show your opponent's why you are a No. 1 seed. My money will be on Gonzaga for both of these bets.
Will a No. 1 Seed Win the Tournament?
That brings us to our next bet about winning the tournament. The fact that you can get plus money in this bet has me wanting to take that already. As I said in the section above, Gonzaga is looking like the team to beat this year.
The top 4 seeds are official:

? Gonzaga
? Baylor
? Kansas
? Arizona

Are one of these teams going to win March Madness this year? pic.twitter.com/B6oBXgECou

— theScore (@theScore) March 13, 2022
They were defeated in the championship game last year against Baylor, so they'll be wanting revenge this year.
They have the best field goal percentage in the country while ranking very high in other important categories.
Getting plus odds for any No. 1 seed seems like a solid bet, but Gonzaga should be considered the team who is most likely to pull it off.
The other three No. 1 seeds could ultimately be the ones to pull it off as well. With Gonzaga being heavily looked at as the team this year, the other No. 1s can take that personally.
For instance, Arizona's winning percentage was a smidge better at 91.2% versus Gonzaga's 89.7%. They could look to gain more respect by blazing through their region and winning the championship game.
Baylor knows what it is like to win the March Madness championship game. They were the team to take down Gonzaga last year, and I'm sure they won't be afraid this time around either.
This year, they would meet in the Final Four if it came down to it, which could be a massive rematch. Kansas is right there with them, too, as they will look to get hot and run at the title themselves.
I love the plus odds for "Yes" for this bet, so that I will take that for my pick here.
Most Outstanding Player Winner
Chet Holmgren (Gonzaga)
+800
Oscar Tshiebwe (Kentucky)
+1200
Bennedict Mathurin (Arizona)
+1200
Ochai Agbaji (Kansas)
+1800
Jabari Smith (Auburn)
+1800
Keegan Murray (Iowa)
+2200
James Akinjo (Baylor)
+2500
Andrew Nembhard (Gonzaga)
+2500
Azuolas Tubelis (Arizona)
+2800
Paolo Banchero (Duke)
+2800
Adam Flagler (Baylor)
+2800
Christian Koloko (Arizona)
+3300
Julian Strawther (Gonzaga)
+3300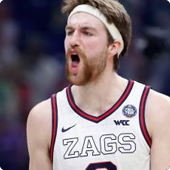 You can also bet on who you think will win the Most Outstanding Player award for the 2022 March Madness prop bets.
Drew Timme and Chet Holmgren lead the charge in the odds for this one. They are two of the best players on the best team in the tournament. If they make a deep run, these two players could have great chances to win the award.
Despite taking up many options, the choices will not be all Gonzaga players. You can choose from 90 different players with odds up to (+30000).
It makes sense to bet on who you think will win the tournament. The Most Outstanding Player award winner has been on the championship team every year since 1983 (Akeem Olajuwon, Houston).
If you think Gonzaga gets upset by someone this year, you could target some other team players you think have the best chance to win. A player can win the award while not being on the championship team, but 35+ years in a row is a substantial streak.
Buzzer Beaters to Win/Tie in Round of 64
This will be a fun one. Buzzer beaters are always the most exciting plays in basketball as the clock hits zero and the buzzer goes off. It is an electric moment to see the player hit the shot as the buzzer goes off and the crowd goes crazy.
For this year, you can bet on the number of buzzer beaters to happen in the Round of 64. There are 32 total games, and the odds for buzzer-beaters (to win or tie) are great.
0 Buzzer Beaters (-150)
1 Buzzer Beater (+200)
2 Buzzer Beaters (+700)
3 Buzzer Beaters (+1400)
4 Buzzer Beaters (+2500)
5 Buzzer Beaters (+3300)
6 or More Buzzer Beaters (+6000)
There have been 34 total buzzer beaters since 1977, which comes out to 77% of the years. Plus, odds are being offered for just one, and the 77% hit rate of buzzer-beaters seems too good to be true.
2018 features two buzzer-beaters, which is an even better offer odds-wise at (+700).
These are tough to predict. They put the Madness in March Madness, and I wouldn't count out at least one from hitting this year.
If you think this is a huge year for buzzer beaters, you would be in for a serious payday with these odds.
Most Points Scored by a Single Player in Round of 64
This one is going to be based on individual players. That could make a decent bet if a player can go off for 35+ points in the first round. There are tons of great players in college basketball, and a lot of them made the tournament.
The nation's top 5 scorers who made the tournament include (or the First Four).
Peter Kiss (Bryant): 25.1 ppg
Keegan Murray (Iowa): 23.6 ppg
Kofi Cockburn (Illinois): 21.1 ppg
Jordan Walker (UAB): 20.2 ppg
Malachi Smith (Chattanooga): 20.1 ppg
This year, Peter Kiss has been incredible but has to win the Final Four game against Wright State to get in. From there, he would face Arizona in the first round, but he dropped 35 points on February 24th and 34 on March 8th.
He could be a target for this bet if the Bulldogs can make it to the first round. Keegan Murray from Iowa scored 32 on March 12th and 37 back on February 13th, but more on him in the next section.
Kofi Cockburn hit 37 points in a game this year, back on February 2nd against Wisconsin. He'll go head-to-head with Jordan Walker, who scored 40+ points twice already this year.
These college players could get hot in the first round and hit the over for this bet at the end of the day. You might have to look for top scorers with favorable matchups, but Cockburn vs. Walker will be a great battle in the first round, and they could both score 35+.
Keegan Murray Points Per Game Average (O/U 22)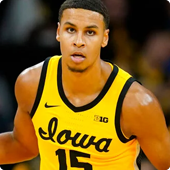 Keegan Murray has been Iowa's leading scorer and the 4th highest scorer in the nation, with 23.6 points per game.
You can bet on his average for this year's tournament. The bar is set at 22 points, which has (-120) odds for both the over and under. That's 1.6 points lower than his usual average, which makes sense because there should be more formidable defenses to face.
That might not be a reason to fade him, though, as Iowa could play one game, and he can score 23 and cash the over. The bet is for per game average, which means he can play a few games and make it easier to hit.
Iowa takes on the Richmond Spiders in the Round of 64, with a 187th best defensive rating. That could give Murray a chance to start his March Madness off right.
He's shooting 55.5% from the field and an incredible 40.5% from three-point range. If he drops a big game in the first round, he can give himself a great chance to average 22+ per game and possibly hit the previous bet of 35+ points.
Ochai Agbaji Points Per Game Average (O/U 18.5)
Another player who you can bet on their points per game average is Ochai Agbaji from Kansas. The Jayhawks' guard is averaging 19.7 points per game this year, while also averaging 40.5% from the three-point range.
He's not shooting as well from the field as Murray, but he's still a respectable 47.7% for a guard. Agbaji has gone a tad cold in his recent games, though. Here are his recent performances.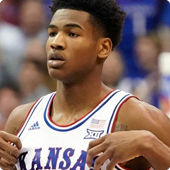 March 12th vs. TTU: 16 points
March 11th vs. TCU: 22 points
March 10th vs. WVU: 18 points
March 5th vs. TEX: 8 points
March 3rd vs. TCU: 22 points
March 1st vs. TCU: 13 points
That brings his last average in his previous 6 games to 16.5 points per game. Texas Southern's defense is solid in defensive rating, too, ranking 37th. That could get him off to a bad start for his tournament points per game average.
If you think Agbaji continues to score a bit lower than usual, his odds are (-120) for the under and over. However, he's been great this year and could push into his next gear in the first round.
The Winner from East or West of the Mississippi River
This is an awesomely unique bet by BetOnline that you can place for this year's tournament. This is for your geography fans, and I love how these teams come from across the nation to play in the game.
You can bet on which side of the Mississippi River the winner will be from. The West side is favored to win (-235), but the East has some value at (+165). Let's look at which teams will be playing for their respective sides of the Mississippi River.
| | |
| --- | --- |
| West Seed | East Seed |
| Gonzaga (No. 1) | Villanova (No. 2) |
| Arizona (No. 1) | Duke (No. 2) |
| Kansas (No. 1) | Kentucky (No. 2) |
| Baylor (No. 1) | Auburn (No. 2) |
As you can see, all 4 No. 1s are on the west of the Mississippi River, while all 4 No. 2s are on the east. This will be an exciting thing to bet on but a fun one to switch things up.
I would target your top couple picks to win this year's tournament and choose which side you like the most.
You only need one team to pull it off at the end of the day, so choose wisely.
Betting on March Madness Props in 2022
I like the geography bet because of how unique it is, but my all time favorite bet has to be the over 34.5 on player points in the Round of 64.
It is a tall order for a player to drop 35+ points in a college game, but we need one to pull it off for an even return on our investment.
Be sure to bet on whichever bets you like the most. That could be anything from a prop with a high likelihood of hitting or crazy odds bet like the buzzer-beaters. Be sure to have fun with it, and hopefully, you can cash your bets.
Check out my full bracket predictions for the 2022 March Madness tournament below.
September
Casino of the Month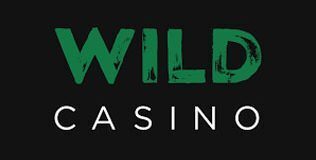 Welcome Bonus
250% up to $5,000