Hide Bonus Offers
| | | | | |
| --- | --- | --- | --- | --- |
| #1 | BetOnline Sports | 60% Up To $1,000 | Visit Site | BetOnline Sports |
| #2 | Bovada Sports | 50% Up To $250 | Visit Site | Bovada Sports |
| #3 | BetUS | 125% Up To $2,500 | Visit Site | BetUS |
| #4 | Everygame | 100% Up To $500 | Visit Site | Everygame |
| #5 | MyBookie | 100% Up To $1,000 | Visit Site | MyBookie |
Ranking the Top 9 Drivers in Indy 500 History

The Indy 500 is a race that every IndyCar driver dreams of winning. Hell, you'll see drivers come from NASCAR and Formula 1 to try their hand in the race. It's an honor just to compete.
Winning the Indy 500 will alter your career. It immortalizes you in motorsports history as an Indy 500 winner. The best Indy 500 drivers had much success at Indianapolis Motor Speedway. Their performances put them among the elites of the sport.
Who are the top Indianapolis 500 drivers? Let's check out the nine best of all time.
9. Johnny Rutherford
Johnny Rutherford was a non-factor early in his career in the Indy 500. He failed to finish the event in eight of his first nine starts. So how does someone like that become one of the best top Indy 500 drivers? Win races.
He began to turn things around in 1973, starting on the pole and scoring a ninth-place finish. Rutherford did that while finishing nine laps down. In 1974, Rutherford had a dominant performance, leading 122 of 200 laps to win his first Indy 500.
Rutherford finished second in 1975 but rebounded to win his second Indy 500 in three years. The 1976 Indy 500 only went 102 laps, as rain shortened the race. Rutherford led the final 23 laps.
STAND ON IT MONDAY,
Indianapolis Motor Speedway, May 25, 1980. Johnny Rutherford started from the pole, led 118 of the 200 laps, and won the Indy 500 convincingly in the No. 4 Chaparral Cars Pennzoil Chaparral 2K Cosworth. https://t.co/18WMPsquaB pic.twitter.com/46TppfieER

— Peter DeLorenzo (@PeterMDeLorenzo) June 8, 2020
Rutherford captured his third Indy 500 victory following a rough three years. He started on the pole, leading 118 laps. He passed Rick Mears with 22 laps to go to score the win.
Rutherford competed in the race until 1988. He had three more top 10 finishes but never competed for the win. He might not have the longevity of success, but his Indy 500 prime was as good as anyone.
8. Mario Andretti
If you ask anyone to name one IndyCar driver, the name "Andretti" should come up more than anyone else. Michael Andretti often came close to winning, but something always came in the way. His father had a little more success.
Andretti made his first Indy 500 start in 1965. He scored a third-place finish but followed that up with three DNFs. Then came his triumph in the 1969 Indianapolis 500.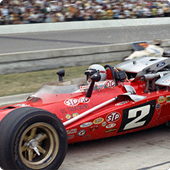 Starting Position: 2nd
Finishing Position: 1st
Laps Led: 116 of 200
Andretti and A.J. Foyt went back and forth in the first half, but Andretti took command to lead the final 95 laps. He became the first driver to win the Indy 500 and Daytona 500.
Surprisingly, Andretti only won the Indy 500 once, but he came close. He led 107 laps in 1985, finishing second to Danny Sullivan. Two years later, he dominated the race, leading 170 of the first 178 laps. Unfortunately, a mechanical issue ended his race.
Andretti led 73 laps in his second to last Indy 500, finishing fifth. There's no doubt Andretti is one of the best IndyCar drivers of all time. His Indy 500 success is a big reason.
7. Bill Vukovich
Bill Vukovich only made five starts in the Indy 500, but he made the most of them. He had an oil leak in his first start in 1951, but he bounced back with a great showing in the 1952 Indy 500.
Vukovich had the car to beat, leading 150 laps. Unfortunately, he had a steering issue while leading with less than ten laps to go. That led to a disappointing 17th-place finish. He put that behind him with one of the most dominant performances in Indy 500 history.
Bill Vukovich🇺🇸 (1918-1955) and his wife Esther after he won 1953 Indianapolis 500.#RETROMANIA pic.twitter.com/8hHf9Lfhjy

— Retr⭕mania (@Retromania4ever) April 27, 2022
He led 195 of 200 laps en route to the dominant victory. Vukovich went back-to-back after winning the 1954 Indy 500. He led 91 laps, including the final 50, to win his second Indy 500.
No driver in Indy 500 history has ever won three straight races. However, Vukovich found himself in a great position. He led 50 of 56 laps, but this is where the story gets tragic.
Vukovich was leading by 17 seconds when a big wreck happened in front of him. Vukovich couldn't avoid the wreck, flipping multiple times before landing outside the track but, unfortunately, the crash claimed his life.
Many people believe Vukovich could've been the greatest Indy 500 driver if not for his untimely death.
6. Wilbur Shaw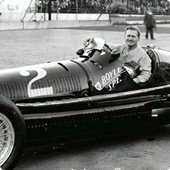 Wilbur Shaw's status as one of the best Indy 500 drivers extends beyond his success on the track. We'll talk about that later, but let's start with his driving success.
Shaw had a pair of top-five finishes in his first six Indy 500 starts, but he wasn't leading many laps. He changed that by leading 56 laps in the 1935 and 1936 Indy 500s. That set up this amazing four-year stretch in the Indy 500.
| | | |
| --- | --- | --- |
| Year | Finishing Position | Laps Led (of 200) |
| 1937 | 1st | 131 |
| 1938 | 2nd | 0 |
| 1939 | 1st | 51 |
| 1940 | 1st | 136 |
Shaw led 107 laps in his final Indy 500, but a crash ended his race.
World War II meant this would be the final Indy 500 until 1946. The track would've been demolished if Shaw didn't convince Tony Hulman to buy the track. Shaw helped keep Indianapolis Motor Speedway alive, and the rest was history.
5. Bobby Unser
Bobby Unser might not have received as much attention as Mario Andretti or A.J. Foyt in his time, but there's no denying his status as one of the best Indianapolis 500 drivers.
Unser had a rough start to his Indy 500 career, running a combined 72 of 600 laps in his first three starts. He turned it around with back-to-back top 10 finishes. Then came this performance in the 1968 Indy 500.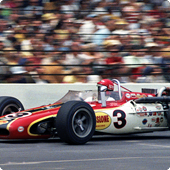 Starting Position: 3rd
Finishing Position: 1st
Laps Led: 127 of 200
Unser dominated the race but found himself behind Joe Leonard in the final 20 laps. Leonard had a driveshaft issue with nine laps to go, allowing Unser to take the victory.
He led 20+ laps in 1971, 1972, and 1973 Indy 500 but failed to finish. He only led 11 laps in the 1975 Indy 500, but Unser was out front when the rain began to fall. Unser won his second Indy 500 in a rain-shortened race.
The 1981 Indy 500 marked his final appearance in the race. He led 89 laps from the pole, capturing his third Indy 500 victory. That staked his claim as one of the best Indy 500 drivers ever.
4. Helio Castroneves
Most of the top Indianapolis 500 drivers come from the pre-21st century, but Helio Castroneves is the lone exception. Castroneves showed up to Indianapolis in 2001 and had immediate success.
Castroneves began his Indy 500 career with a pair of victories and a second-place finish. He came alive in the late stages of each race, only leading the final portion.
He wasn't in contention for the next five or six years, but Castroneves returned to the top in 2009. Castroneves, Scott Dixon, and Dario Franchitti combined to lead 189 laps, but Castroneves led the final 59 laps to score the victory.
Castroneves only led 20+ laps in the Indy 500 twice over the next ten years. It looked like his best days were behind him, but the 2021 Indy 500 came.
Castroneves became the fourth driver in IndyCar history to win the Indy 500 four times. He was already one of the best Indy 500 drivers ever, but that fourth victory earned him a spot among the true elites.
He could have the record to himself if not for a close second to Ryan Hunter-Reay in 2014. Either way, his legacy is enough to be a top Indy 500 driver.
3. Al Unser
The Andretti family might have the most famous name, but the Unser bunch has the upper hand in Indy 500s. We already talked about Bobby Unser, so let's talk about his brother Al Unser.
Unser's Indy 500 career spans from 1965 to 1993. He failed to lead a lap in his first four starts but scored a second-place finish in the 1967 Indy 500. Unser kicked off the 1970s with a pair of dominant performances.
| | | |
| --- | --- | --- |
| Year | Finishing Position | Laps Led (of 200) |
| 1970 | 1st | 190 |
| 1971 | 1st | 103 |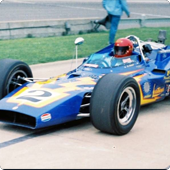 No one could compete with Unser in the 1970 Indy 500. He effectively led the whole race en route to his first Indy 500 victory. Unser defended his title after dominating the second half of the 1971 Indy 500.
He finished second in 1972, but it was tough sledding for a few years. Unser recaptured his glory by winning the 1978 Indy 500. His record-tying fourth Indy 500 victory came nine years later, in 1987.
Unser finished his Indy 500 career with 644 laps led. That's the most in Indy 500 history. He also became the oldest Indy 500 winner at 47 years old. That all plays into him being one of the best Indianapolis 500 drivers.
2. Rick Mears
Rick Mears is one of the best IndyCar drivers of all time, so it makes sense that he ranks near the top of the best Indy 500 drivers. Mears had an engine issue in his first Indy 500 start but recovered to win the event in his second start.
The 1982 Indy 500 is among the greatest Indy 500 races of all time. Mears nearly erased an 11-second deficit but finished less than 0.200 seconds behind winner Gordon Johncock.
It was a legendary finish, but Mears was on the wrong side of history. However, he had many more chances to win. Mears led 119 laps en route to his second Indy 500 victory two years later.
Mears competed in the Indy 500 eight times from 1985 to 1992. He finished outside the top 20 four times. His other four finishes? Third, first, fifth, first. Mears led 30+ laps three times in that stretch, including both his victories. He also started on the pole in those victories.
The 1991 Indy 500 was his final victory in this race. It was also one of the best Indy 500s, as Mears inherited the lead from Michael Andretti with 13 laps to go.
1. A.J. Foyt
Good luck convincing someone that A.J. Foyt isn't the best Indy 500 driver of all time. Many people consider Foyt, the greatest motorsports driver of all time. His success in the Indy 500 is the driving force behind that.
Foyt started in every Indy 500 from 1958 to 1992. He didn't lead a lap in his first three starts, but Foyt broke through the 1961 Indy 500. Foyt and Eddie Sachs battled for the win, but Sachs' late pit stop opened the door for Foyt's victory.
Three years later, Foyt had a dominant performance, leading 146 laps on his way to his second Indy 500 victory. In 1967, he overcame a dominant Parnelli Jones to win his third Indy 500 in seven years.
He had a rough start to the 1970s, but Foyt finished seventh or better in every Indy 500 from 1975 through 1979. That includes a victory in the 1977 Indy 500.
One of the most legendary, if not the most legendary, front rows consisting of Rick Mears, AJ Foyt, and Mario Andretti takes the field to the green flag for the 1991 Indy 500. pic.twitter.com/GDJz7FSMAn

— Champweb (@champwebdotnet) May 24, 2020
Foyt wasn't in contention for much of the 1980s but closed his Indy 500 career with three top 10 finishes in four races.
He has accomplished everything there is in the motorsports world. It only makes sense he stands out as the best Indy 500 driver of all time.
It's a dream for every motorsports driver to compete in the Indy 500. It'll be interesting to see who can join this list in the future. Helio Castroneves is the lone driver from the 21st century, so it'd be nice to see a few new faces.
By checking out the IndyCar betting guide, bettors can continually refine their IndyCar betting skills.
IndyCar Racing Betting Guide