Top 10 Women That Have Covered Professional Sports

Unfortunately, there's a negative stereotype surrounding women in sports. The reality is women have worked twice as hard as others to leave their mark. We know athletes have accomplished that feat, but we're recognizing women in media.
Many women have established themselves in the sports world as top analysts. They've worked their way to the top of a field dominated by men.
My list of the best female sports analysts will revolve around women in sports media that have left their mark with their stellar reporting and on-air presence. Here are the top 10 female sports analysts of all time.
10. Charissa Thompson
Charissa Thompson has made quite the rise in her sportscasting career. She worked for the Big Ten Network and Fox Sports Net in the late 2000s. Thompson covered the NFL, college basketball, and college football.
She was with ESPN from 2010 to 2013, but her career took off when she rejoined Fox Sports in 2013. This came when Fox Sports launched a new channel, Fox Sports 1. Thompson started as the host of Fox Sports Live.
Thompson has left her mark as a top female sports reporter. Her hard work with Fox Sports led to her taking a job with Amazon as they'll cover Thursday Night Football full-time.
Amazon Taps Charissa Thompson as 'Thursday Night Football' Studio Host https://t.co/d3ljbKjOrm

— The Hollywood Reporter (@THR) June 28, 2022
She'll be the in-studio host for Thursday Night Football coverage. She'll have an all-star cast, including Richard Sherman, Tony Gonzalez, and Ryan Fitzpatrick. Thompson will have plenty of football knowledge surrounding her.
It's no surprise Thompson became one of the best female sports commentators. She had aspirations of being a commentator at an early age. Her in-studio work has led to landing a marquee position with Amazon.
She has undoubtedly had a few tips from her good friend Erin Andrews.
9. Josina Anderson
How many sports analysts can say they've won an Emmy? We know one can, as Josina Anderson won an Emmy in 2009 for writing a television story. Before that, Anderson struggled to find a steady job.
Anderson didn't land a steady job until she was almost 30 years old. She worked for FOX 31 in Denver. That led to a role with CBS. However, she quickly landed her dream job with ESPN in 2011. She appeared on numerous shows during her time at ESPN, which you can see below.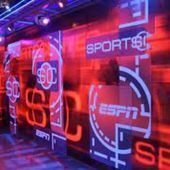 Sunday NFL Countdown
NFL Live
SportsCenter
Unfortunately, Anderson is no longer with ESPN. She was with the company from 2011 to 2020 but lost her job at the onset of the COVID-19 pandemic. There are rumors that the pandemic didn't lead to her firing.
Anderson landed a major job with USA Today in September 2021. USA Today launched a digital subscription service surrounding sports coverage and tabbed Anderson as the leader. She serves as the senior NFL insider.
Her insider knowledge has set her apart from other top women sports analysts. Anderson may not be the first to break the news, but she's sharp with the latest NFL rumors. That's a product of building strong connections.
8. Pam Oliver
My list of top female sports reporters started with two younger reporters. That trend ends with Pam Oliver. Oliver's career began as a news reporter with WALB in 1985. She worked for numerous news stations, including as a news anchor in Tampa and Houston.
Typically, you'd see a sportscaster remain with a top network like ESPN for an extended time, but Oliver had no problem moving around. Check out her roles following her time in Houston.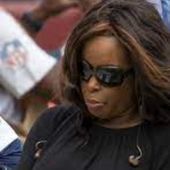 1993-1995: ESPN
1995-2005: FOX
2005-2009: TNT
Oliver became the top sideline reporter for FOX in 1995. She was honored to work alongside two of the greatest sports broadcasters, John Madden and Pat Summerall. It's hard to find a more elite duo in the broadcasting world.
In 2005, she broadened her horizons with her work as a sideline reporter for the NBA. That lasted until 2009, but she returned to FOX to serve as the No. 2 sideline reporter.
There's no denying that Oliver paid her dues. She spent eight years with various news stations before landing a marquee position. Her work as an NFL sideline reporter has her among the top female sports analysts.
7. Doris Burke
There's no doubt that the most famous female sportscaster for the NBA is Doris Burke. Burke was a basketball player at Providence before transitioning into the broadcast field. She began her career by calling Providence games on the radio.
She worked on basketball coverage for the Big East throughout the 1990s. Her work with the WNBA earned her a spot alongside Dick Vitale for college basketball's lead broadcasting team in 2003.
In 2020, Burke left her mark as a top female sportscaster.
Doris Burke will call the conference finals and NBA Finals for ESPN Radio. She'll be the first woman to serve as a game analyst on a radio or network TV broadcast that far into the playoffs.

History for Doris 🙌 pic.twitter.com/BXFnPO3H7b

— Bleacher Report (@BleacherReport) September 9, 2020
It's only a matter of time before she calls an NBA Finals game on TV. Many fans would love to see her have a chance. The 2020 NBA Finals wasn't the only time she made history in the broadcasting field.
Burke was the first female to broadcast a New York Knicks game and the first female to commentate a Big East men's game. It's tough to discount those accomplishments.
She has a great chance to move up this list in the future. She continues to serve as one of the top basketball analysts for ESPN so we know she has seen a few great NBA Finals performances during her career.
6. Linda Cohn
Linda Cohn grew up in a family that loved watching sports. Cohn played hockey during her teenage years and college. She earned a Bachelor's Degree at SUNY Oswego in arts and communication.
Cohn worked for multiple New York news stations in the early to mid-1980s. She became the first full-time female radio sportscaster when she joined ABC in 1987. Five years later, she joined ESPN to be an anchor for SportsCenter.
Linda Cohn's 1992 'SportsCenter' debut was so very early '90s https://t.co/pVi4nLr0MK pic.twitter.com/Ppvt76Csbv

— For The Win (@ForTheWin) January 29, 2016
We remember her now as one of the best ESPN female sports analysts, but it was almost over before it started. ESPN nearly fired Cohn in 1994 because she didn't show her passion for sports. The network gave her six months to improve.
That may have changed her career, as Cohn has left her mark in the broadcast world. Most people know her for her time on SportsCenter, but she also spent time as a play-by-play announcer for the WNBA.
Cohn and Neil Everett have co-hosted SportsCenter in Los Angeles on the weekends since 2016. She has come a long way since her near firing in 1994. Her longevity plays a factor in her status as a top female sportscaster.
5. Michele Tafoya
Michele Tafoya grew up in California, attending the University of California, Berkeley, and USC, but her broadcast career began in Minnesota.
She was a host and reporter for a Minnesota radio station, covering the Minnesota Vikings and the University of Minnesota women's basketball team. Tafoya also covered the Minnesota Timberwolves.
Tafoya joined CBS in 1994, taking on a much bigger role. Her time with CBS included covering the U.S. Open for tennis, Winter Olympics, and Orange Bowl. She joined ESPN at the turn of the century. Check out her biggest assignments with ESPN.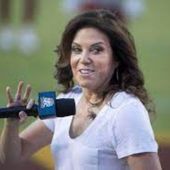 College Football Sideline Reporter
Monday Night Football Sideline Reporter
NBA Sideline Reporter
ESPN allowed her to work for NBC Sports to cover the 2000 Summer Olympics. Tafoya joined NBC in 2011 as the sideline reporter for Sunday Night Football. She was on hand for Super Bowl 52, which resulted in one of the biggest surprise Super Bowl winners of all time.
Tafoya remained in the role for ten years before leaving NBC Sports to pursue a political career. If that's the end of her sportscasting career, she can look back with much admiration.
4. Robin Roberts
We're starting to move into the elite category of the best female sports analysts. Most people likely know Robin Roberts for her status as the anchor of Good Morning America, but she had an extensive career in sports broadcasting.
Roberts was a sports reporter for various news stations from 1983 to 1990. Roberts joined ESPN as a sportscaster in 1990. She spent most of her time at ESPN on SportsCenter and gained experience with Olympic coverage.
How many sportscasters can say they're a Hall of Famer?
@RobinRoberts is an American television broadcaster. Roberts is the anchor of ABC's Good Morning America. Roberts was a sportscaster on ESPN for 15 years. Roberts was inducted into the Women's Basketball Hall of Fame in 2012. @GMA #BlackHistoryMonth pic.twitter.com/Nnty4poJjF

— North Star Photography (@NorthStarPhoto3) February 5, 2021
She was a standout basketball player in her time at Southeastern Louisiana University. That contributed to her making the women's basketball Hall of Fame, but it was also a product of her sportscasting.
How can we leave a Hall of Famer off the list of best female sports commentators? Her work with Good Morning America has only helped grow her popularity.
Roberts received much support after battling breast cancer in 2007. She dealt with a bone marrow disease in 2012 but returned to Good Morning America after missing four months. She served as an inspiration to many people.
3. Hannah Storm
Hannah Storm has an extensive background in sports media. She spent the 1980s working for radio stations and news stations before joining CNN in 1989. Her time with CNN included covering the Daytona 500 and the MLB playoffs.
In 1992, Storm began to call NBC Sports her home. She spent ten years with the network, establishing herself as one of the women's best sports analysts.
Olympics
NBA
MLB
NFL
Figure Skating
Wimbledon
French Open
Golf U.S. Open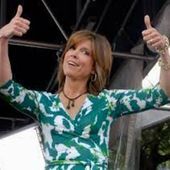 Does anyone want to question why we consider Storm one of the best female sports analysts? Her diverse background makes her one of the smartest women in sports.
Storm took a six-year break from sports media to work for The Early Show on CBS. She joined ESPN in 2008, serving as a SportsCenter host. Storm also covered the U.S. Open and NBA Finals.
In 2018, Storm made history with Andrea Kremer. They became the first female duo to call an NFL game. Storm was the play-by-play commentator for Amazon Prime from 2018 to 2021.
2. Lesley Visser
Lesley Visser may not be a popular name with the younger generation, but she paved the way for many female sportscasters. There weren't many opportunities for females in the 1960s and 1970s, but Visser didn't let that stop her.
She started as a sportswriter for the Boston Globe in 1974. That lasted for ten years, as she joined CBS Sports in the mid-1980s. Visser covered the NBA Finals, Final Four, World Series, College World Series, and Olympics.
I imagine the top American betting sites had much action with those events. Covering those events played a significant factor in a Hall of Fame career.
Congratulations to our own Lesley Visser who is this year's 2022 Lifetime Achievement Award winner from the Broadcasters Foundation of America.

Visser has been inducted into 7 Halls of Fame, including being the first woman to be enshrined in the Pro Football Hall of Fame. pic.twitter.com/ldbjrYM9Ay

— We Need To Talk (@WeNeedToTalk) March 14, 2022
Visser became the first female sideline reporter for the Super Bowl. That came during her time with ESPN. She was with the network from 1993 to 2000, covering the Super Bowl, MLB All-Star Game, and World Series.
She returned to CBS in 2000 and remains active by writing a column for CBS Sports' website.
Regardless of gender, how many sports analysts can you find that have covered as many events as Visser? She paved the way for female sports analysts, leaving her mark as one of the most influential female sportscasters.
1. Erin Andrews
I imagine many people were waiting to see Erin Andrews' name on this list. We've reached the No. 1 spot, and it was hard to go with anyone other than Andrews
Andrews began her career in the Southeast, working in Florida and Georgia for various sports teams. That led to her joining ESPN in 2004. She covered the NHL, College World Series, and Little League World Series.
That later turned into a bigger role, including college football coverage. In 2012, Andrews left ESPN for Fox Sports. She went on to cover quite a few marquee events such as the following.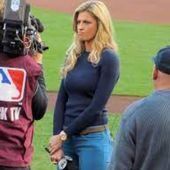 World Series
NFL Playoffs
Daytona 500
MLB All-Star Game
The launch of Fox Sports 1 led to Andrews covering college football. Andrews has exclusively worked with the NFL since 2016. She serves as the top sideline reporter for FOX's Game of the Week.
Andrews has experience outside of sports, serving as Dancing with the Stars host from 2014 to 2019. Her do-it-all style makes her the greatest female sports analyst.
What Makes a Good Female Analyst?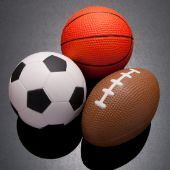 There are no criteria for an excellent female analyst, but I look for females with extensive sports background and longevity. Those were the main factors behind my ranking of the best female sports analysts.
It's not easy for a female to leave their mark in the sports broadcasting industry, but these women earned respect from their peers. There were many women worthy of this list, but I could only cover the best of the best.
Does this talk about sports have you in the mood for betting? Check out our guide to online gambling with real money below.
AUGUST
Casino of the Month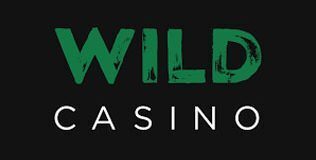 Welcome Bonus
250% up to $5,000
Read Review
Visit Site