Top DFS Lineups for Super Bowl 55 – Recommendations for Your Daily Fantasy Football Contests

Super Bowl 55 is almost here, which means you have one last chance to build NFL DFS lineups. The NFL season is a blur, but wallowing in our own football-is-about-to-be-gone self-pity does us no good.
Instead, NFL fans need to take advantage of Super Bowl Sunday, whether it be by placing bets at the best Super Bowl betting sites, or playing daily fantasy sports.
I opt for both, but for those that can't bet, won't bet, or just prefer NFL DFS, I'm here to help you piece together some fun (and hopefully profitable) Super Bowl 55 DFS lineups.
There are shockingly a lot of ways to go on a showdown slate, and all roads probably lead to you tying with 100+ people at the top of a GPP – should you be so lucky to get there.
Even so, there's always the chance you outsmart everyone else. And tying for winnings of hundreds (if not thousands) of dollars isn't exactly a bad thing.
To get you ready for the big game, let's go over the best Super Bowl 55 DFS lineup, as well as some extra rosters that could be fun to try this weekend.
Best Super Bowl 55 DFS Cash Lineup
CAPTAIN: Ronald Jones, RB, Buccaneers ($3.3k)
FLEX: Patrick Mahomes, QB, Chiefs ($12k)
FLEX: Travis Kelce, TE, Chiefs ($11k)
FLEX: Tyreek Hill, WR, Chiefs ($10.4k)
FLEX: Tom Brady, QB, Buccaneers ($10k)
FLEX: Rob Gronkowski, TE, Buccaneers ($3k)
What is a cash game lineup anymore, anyways? Due to the volatility of showdown contests, I don't think the line between GPPs and cash games is very defined.
You're going to need to get creative, as Super Bowl 55 has a hefty 56 game total, and both the Chiefs and Buccaneers can pile on the points.
This projects to be a shootout, so you'll want shares of as many studs as possible. Kansas City's weapons have a monopoly on the targets and production in their top-ranked passing game, though.
Suffice to say, you'll want Tyreek Hill and Travis Kelce in your DFS NFL lineup for Super Bowl 2021.
The question, of course, is where, and which could you fade? Personally, I don't think fading the KC studs in any regard is feasible for this game.
And if you must put one in the Captain slot, it's probably got to be Tyreek Hill. Just look at what he did to Tampa Bay the last time he faced them.
Tyreek Hill vs Tampa Bay
? 13 catches
? 269 yards
? 3 TDs
? 44.9 fantasy points pic.twitter.com/RCk99J234q

— PFF (@PFF) November 30, 2020
Nobody is more consistent than Kelce, either. He's literally topped 20+ fantasy points in each of his last six outings. Then there's Patrick Mahomes, who has done that in 10 consecutive games, and hung 35 fantasy points on the Bucs back in week 12.
Feel free to Captain any of these guys. However, if you want the best DFS lineup for Super Bowl 55, you will probably need all of them.
And if you want them all – not to mention a stud from Tampa Bay – it's arguable you can't afford to slide them into the top slot.
Due to that, I think no matter what type of Super Bowl 55 DFS contests you enter, you need to jam in as many of them as you can and nail a value play in the Captain.
I think you can do that with Ronald Jones II, who has been relatively quiet lately but has still seen 10+ touches in two playoffs games. Against a beatable Chiefs run defense, Jones has the upside to smash here – and allow you to stack a bunch of studs in the rest of your DFS Super Bowl lineup.
Rob Gronkowski also needs to be considered, as Tampa Bay is potentially going to be without Antonio Brown.
Most will gravitate to Scotty Miller or Tyler Johnson (and rightfully so), but Gronk has the better matchup (Chiefs rank 27th vs. TEs), and he fills this roster out nicely.
Tom Brady is the elite Buccaneers spend, and he makes sense as a run-it-back option in what should be an explosive game. He did hang 26 fantasy points on the Chiefs in the previous meeting, after all.
The two things to consider are the following; is this lineup going to be too chalky, and can you get away with cramming one of the studs above in the Captain slot?
Just as important, of course, could be which of those studs may win the Super Bowl 55 MVP award.
Top Super Bowl 55 DFS Lineup for GPPs
CAPTAIN: Tyreek Hill, WR, Chiefs ($15.6k)
FLEX: Patrick Mahomes, QB, Chiefs ($12k)
FLEX: Tom Brady, QB, Buccaneers ($10k)
FLEX: Chris Godwin, WR, Buccaneers ($8.8k)
FLEX: Tyler Johnson, WR, Buccaneers ($1.2k)
FLEX: Ronald Jones II, RB, Buccaneers ($2.2k)
For tournaments, it may pay to either get extra creative in the Captain slot (pivoting off of ROJO, etc.) or just spend up for the best stud possible.
Most will assume that's Patrick Mahomes, but don't think I'm kidding myself into believing Hill would be super contrarian.
He offers more upside than anyone else. Hill dropped an unfathomable 60 fantasy points against the Bucs last time, and while a repeat isn't to be expected, it's clear nobody has a better ceiling in this game.
You can pivot to Kelce, Mahomes, or anyone else you care to, but I will land on Hill. I'll naturally pair him with Mahomes and bring it back with Brady and Godwin on the other side.
Godwin might be a bit lower-owned than Mike Evans due to a slightly lower ceiling and thicker salary, so perhaps you can gain a small amount of leverage there. Fading Kelce is another calculated GPP move.
Kelce is a stud who can easily be the best play of Super Bowl 55, but it's worth noting that Tampa Bay "held" him to an 8-82 line earlier this year. That's still 16 fantasy points, and his usual touchdown would have him topping 20.
However, if he sticks at 16 or lower, he would probably be worth fading.
Tyler Johnson is dirt cheap, so he will probably garner some ownership with Antonio Brown doubtful to play.
Buccaneers WR Antonio Brown (knee) and S Jordan Whitehead (shoulder/knee) doubtful for Super Bowlhttps://t.co/8TfahTrlRA pic.twitter.com/y1tujkIxHW

— Around The NFL (@AroundTheNFL) January 29, 2021
He makes this roster work, however, and it's no guarantee his ownership is out of control.
Ronald Jones II can still be used again here, but in this lineup, you're not demanding he break the slate. Instead, 50+ yards and a score would make him a perfectly useful option that just pulls this thing together.
Other Super Bowl 55 DFS Lineups
You have my top Super Bowl 55 DFS lineups for cash games and tournaments. For the most part, I'd stick to those two, and just switch things up over multiple lineups.
But sometimes it pays to get wacky.
Here are a few Super Bowl 2021 lineups I think could be fun, if not also pretty rewarding. Take them all with a grain of salt, but if you're max-entering, don't totally ignore them.
Super Bowl Copycat
CAPTAIN: Clyde Edwards-Helaire, RB, Chiefs ($10.5k)
FLEX: Patrick Mahomes, QB, Chiefs ($12k)
FLEX: Tyreek Hill, WR, Chiefs ($10.4k)
FLEX: Scotty Miller, WR, Buccaneers ($3.4k)
FLEX: Travis Kelce, TE, Chiefs ($11k)
FLEX: Ronald Jones II, RB, Buccaneers ($2.2k)
This is just one game, so thinking a bit outside the box when building Super Bowl 2021 lineups may be beneficial to you.
In this case, you can look to last year's Super Bowl, where Damien Williams was the Captain in the top overall lineup.
That squad also featured Mahomes, Sammy Watkins, Kendrick Bourne, Hill, and Kyle Juszczyk.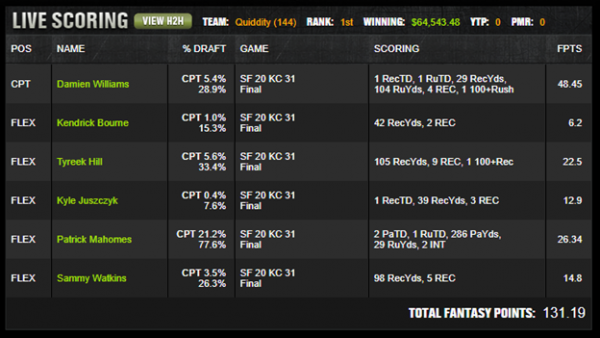 Obviously, the 49ers aren't in this game, so you need to make alterations. In this case, I'm sliding in CHE in place of Williams, and rolling out that chalky Mahomes/Hill stack.
Should the game flow be similar, perhaps the other quarterback just isn't necessary, and Tampa Bay's main production comes from their backup running back and a role player like Miller.
You can make variations of this, with Darrel Willaims taking CHE's spot being one way to get the party started.
All of the Studs
CAPTAIN: Jayden Mickens, WR, Buccaneers ($300)
FLEX: Patrick Mahomes, QB, Chiefs ($12k)
FLEX: Travis Kelce, TE, Buccaneers ($11k)
FLEX: Tyreek Hill, WR, Chiefs ($10.4k)
FLEX: Leonard Fournette, RB, Buccaneers ($7.8k)
FLEX: Mike Evans, WR, Buccaneers ($8.4k)
This is a pretty extreme squad, and is only really worth a look in GPPs. To be clear, Jayden Mickens is more of a placeholder than anything.
You'd probably need Antonio Brown to not play, and I'd certainly create variations with other minimum-priced options.
The lowest you can go is $300 in the Captain slot, though, so even for this wacky Super Bowl DFS lineup strategy, the options are somewhat limited.
Once you have the cheap option figured out in the Captain slot, you can play around with five different studs you can use.
The Chiefs stack is self explanatory, but for this specific option, I'm fading Tom Brady and loading up with Fournette and Evans.
Worst Super Bowl Ever
CAPTAIN: Patrick Mahomes, QB, Chiefs ($18k)
FLEX: Tyreek Hill, WR, Chiefs ($10.4k)
FLEX: Harrison Butker, K, Chiefs ($4k)
FLEX: Ryan Succop, K, Buccaneers
FLEX: Buccaneers Defense ($2.8k)
FLEX: Chiefs Defense ($2.6k)
I'm mostly kidding here, and if you really want to get weird with this, I'd try a few variations where you're not featuring both kickers or both defenses.
But this illustrates my point pretty well, and that's this.
"What if Super Bowl 55 is just the absolute worst?"
If that's the case, you'll probably just want the main stack that's worth paying for, and/or focus on the running games. But think back to Super Bowl LIII, when the Patriots beat the Rams, 13-3.
That was a horror show, and it featured an extremely good L.A. offense.
It's very unlikely Super Bowl 55 forces us to suffer through a game like that, but what if that's the spin nobody sees coming?
The exact Super Bowl DFS lineup above may not necessarily be the winning result of that, but thinking about all possible outcomes – even the ugly ones – is something you need to do for showdown slates.
Summary
Ultimately, I think Super Bowl 55 is going to be a good one.
The scoring will be there, it won't be a blowout, and most of your daily fantasy football Super Bowl lineups will want as many studs as you can reasonably afford.
I don't think the Jayden Mickens-type lineup will be necessary, though, so the focus should be on lineup constructions such as my cash game and GPP options.
Keep in mind that these are just my favorite Super Bowl 55 DFS lineups, and that it may require you making pivots (or entering numerous different versions) to get to where you need to go.
That said, this breakdown of the best Super Bowl 55 DFS lineups should at least point you to in the right direction.
For a bit more insight, dive into my breakdown of the top Super Bowl DFS picks, as well as my favorite Super Bowl 2021 sleepers.
Analyzing the top value picks going into the 2021 Super Bowl.
Breaking down the best daily fantasy football picks to roster in Super Bowl 2021 lineups.