Top College Football Betting Sites – Where to Bet On College Football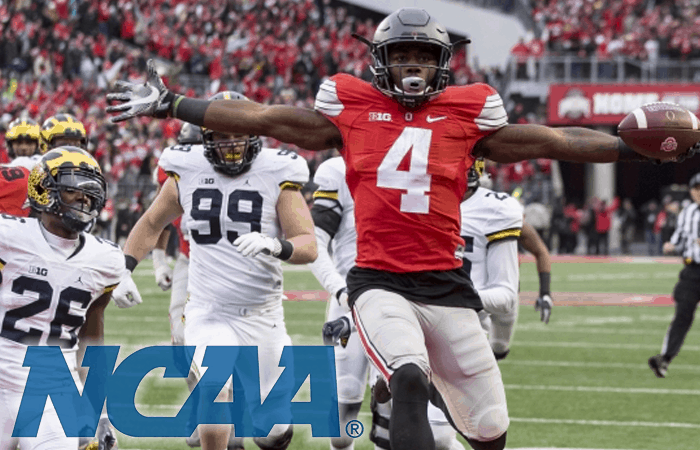 The 2017 NCAA football season is upon us. In fact, a few teams have already hit the field and more will follow this week.
I know, the knee-jerk reaction is to shrug and say Alabama is going to win, but they didn't win last year and everyone knows college football is about more than just the national title game.
We promise, it is. There are conference championships to be won, individual records to be broken, bowl games to attend and Heisman candidates to root for.
The best part? It's not just about enjoying college football. We can profit off of these games, too.
That's right, all of the top college football betting sites have long issued bets for the upcoming 2017 college football season, ranging from wagers on who will the national championship game to who will take home the Heisman.
There is a litany of reasons to throw down some cash on NCAA football this year, whether you have school loyalties or not. The real question, of course, is where you're going to end up putting your hard-earned dollars on the line.
Top College Football Betting Sites
We'll always freely admit that calling any sports betting sites the "best" is subjective. That being said, we've poured through all of the important stuff to make sure any sites we promote are going to make us look really smart.
It's not just about looking smart or being right, though. We want to make sure you feel safe betting your money on these sites and also feel confident that when you win you'll actually get your cash.
In addition, the top college football betting sites need to offer competitive odds, provide top notch customer service and display a variety of bets. Not every betting site meets that criteria, which is why we compiled this list of the very best NCAA football betting sites that we have no problem getting behind:
All of these college football betting sites meet our important criteria. Obviously, you want to find the most value in your bets and the widest variety of bets, but you also want safety and reliability at any site you bet on.
These sites give us all of this, while they're all traditionally known for having elite customer service, as well as a long list of bonuses and special promotions.

Bovada
Bovada lives by their tag line – where the line originates – as they always have early lines and are constantly offering competitive bets. In addition, they showcase some of the best value you'll find in the industry.
They also have one of the cleanest interfaces online, making it really easy to find your sport and the wager you want. In addition, Bovada just brought their poker room back and also issued a new rewards program. They also have a $250 sports welcome bonus that you can use with your college football bets.

BetOnline
BetOnline is about as good as Bovada and has been around longer, but they usually offer even more wagers. It's arguable you won't find the same value as you will at Bovada, but BetOnline might offer the most college football prop bets out of any of the sites here.
Looking at their Futures & Props section on the site, BetOnline displays a whopping five college football betting categories. NCAA fans can bet on how conferences will play out, how many wins teams will have, who will win the national championship and specific player/game props during the week.
Most sports betting sites offer these betting options, but it's tough to find a site that does it better.

SportsBetting.ag
Lastly, we have SportsBetting.ag, which is basically a mirror image of BetOnline. There's nothing wrong with that, as we've detailed where BetOnline goes right and SportsBetting.ag tends to follow suit.
The big difference is the killer promos SportsBetting.ag has to offer. They have a 75% kickoff bonus for the NFL season and also have a slew of promotions for the new college football season. For college football betting, current users can get a 50% kickoff reload bonus, while new users can take advantage of their mobile betting $50 free play and free $25 in-game live betting promotion.
You're getting a plethora of betting options with SportsBetting.ag, as well as some of the more competitive bonuses in the industry. That should have college football bettors looking this site's way with the 2017 season roaring to go.
Best NCAA Football Bets to Target
Each of these sites is safe to play on and they also have their own unique college football wagers for you to peruse. You will find that they share a lot of the same popular bets, but you always want to hunt for two things: unique wagers you won't find anywhere else and elite value.
With that in mind, here are some of the best college football bets we can attack on these sites:

Team Wins
There are two really lucrative college football team win prop bets going on right now at BetOnline:
Ohio State Buckeyes Wins
Over 10.5 (-205)
Under 10.5 (+165)
We're not saying you need to bet on the Under for the Buckeyes but consider the value. Ohio State is expected to be one of the best teams in the nation, but they did win 11 games a year ago. Is it possible they only win 10 games when everything's said and done?
A 10 win season is still a strong year, but it'd have the Buckeyes going 10-3 during the regular season – including the Big 10 title game. That might not be necessarily likely, but Ohio State was one game off of this bet a year ago, so it could be worth a shot.
Wisconsin Badgers Wins
Over 9.5 (-220)
Under 9.5 (+180)
Staying at BetOnline and inside the Big 10, we get even more value with the Under if we bet on the Badgers. This is another strong team in this conference (9th in the nation currently) and after winning 11 games a year ago, this isn't exactly a bet people are flocking to.
The point here is one of these teams could perform slightly below expectations. Ohio State going 10-3 or Wisconsin going 9-4 really isn't that crazy to imagine. The question, of course, is whether or not you're down for betting on it.

Heisman Odds
Individual player prop bets are quickly going away from most of the best college football betting sites, largely due to the season already starting for some teams.
There are some sites where we can still find those wagers, though, while most sites still feature Heisman Trophy odds. Bovada has arguably the best lineup of both options and odds this year. Here's a quick rundown of how things were shaping up in August:
As we write this Bovada has taken down their 2017 Heisman odds to update them, and that's another thing we love about this site. Bovada is among the best at offering unique bets and also keeping odds from growing stagnant.
This can mean you often have to act quickly to take advantage of value you see initially, but it also means that if some big news breaks, Bovada is paying attention and you can hop on enhanced value after they alter their odds.
For now, there are some very appealing bets for the Heisman going into 2017 and with so many viable contenders, we've come to two conclusions: this is a very profitable bet and one that may demand more than one wager.

National Championship Winner
This is the big bet everyone wants to chase and doing so before the season really gets going is usually ideal. You can attack value the top college football sportsbooks don't see yet and you can pluck out sleepers perhaps few others notice.
Big injuries and brutal schedules haven't impacted the college football national championship odds yet, so picking the right sleepers now can put you in a very profitable position.
Over at Sportsbetting.ag you don't even need to pick one team. You can just saddle up with a conference. Here's an interesting bet that carries solid value, whether you think Alabama is winning it all or not:
SEC (+155)
Big 10 (+325)
ACC (+450)
Pac 12 (+475)
Big 12 (+650)
Any Other (+5000)
The Crimson Tide are the favorites but we actually get value here by taking them along with arguably the best conference in the nation. If we don't love Alabama or the SEC as a whole, though, we could target the ACC (Clemson and Florida State are both ranked inside the top 5 currently), or hit up the Big 10 (Michigan, Ohio State and Wisconsin all appear to be viable threats).
The Pac-12 is as loaded as anyone, too, as Washington should be a tough out again and Stanford is always hard to deny early on.
The real value could be in bypassing all of these specific conferences and going a little outside the box. It's not a safe bet by any means and the national champion almost always comes from one of the powerhouse conferences, but you get quite a few outs here at +5000.
Summary
The big takeaway here is that the college football season is in action and it's only going to get more intense from here. Eventually, the preseason college football prop bets will shut down and we'll mostly be focusing on weekly winners, conference winners and the national champion.
By that time, you're going to want to hammer down your favorite site to bet on, or at least a handful that you can jump around at so you can maximize your bets and value.
Wager types and betting value are huge, but the biggest thing to always look for is reliability and safety.
Our top college football sportsbooks are extremely reputable and provide everything the casual or die hard sports bettor will be looking for.
Hopefully, our look at the best college football betting sites we see online helps you in that process. Regardless of where you bet, we wish you luck this year!