Hide Bonus Offers
| | | | | |
| --- | --- | --- | --- | --- |
| #1 | BetOnline Sports | 60% Up To $1,000 | Visit Site | BetOnline Sports |
| #2 | Bovada Sports | 50% Up To $250 | Visit Site | Bovada Sports |
| #3 | BetUS | 125% Up To $2,500 | Visit Site | BetUS |
| #4 | Everygame | 100% Up To $500 | Visit Site | Everygame |
| #5 | MyBookie | 100% Up To $1,000 | Visit Site | MyBookie |
Top Casino Games Women Love to Play Most

What are the best casino games for women? Short answer — the same as the top casino games for men.
You would think that gender has no bearing on such a thing. And for the most part, it doesn't. But according to numerous reports, it appears that there are casino games women play most.
Granted, not every woman will gravitate to the same types of titles offered by the best online casinos. And I can't remember the last time I saw a bunch of women disproportionately spread across a land-based casino floor, either!
But facts are facts. And according to research, there are some casino games women like more than others. Today, I'm going to break them down for you.
Slots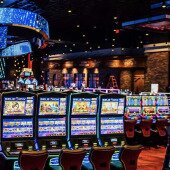 One of the best casino games for females, hands down, is slots. Why?
Well, it's simply one of the most enjoyable games to play. Period. It doesn't matter whether you are a man, a woman, or a macaque. OK, probably the macaque bit is pushing things too far.
But regardless of where you are in the world, if it's legal to gamble, you'll find tons of real money slot machines waiting to be played.
While men are just as hot on slots, it happens to be one of the games women play at the casino. Is there any particular reason for this? While I'm no psychological or sociological expert, I'm pretty sure it has something to do with the fact that they are hella fun.
More than this, the various types of slots you can play mean that there is just more range to sample. People, in general, can get bored of playing the same table game, day in, day out. With slots, you can access a multitude of different titles from the best software providers on the planet.
No one game will be the same. For example, you can hit up classic, three-reel slots from one provider. Then move seamlessly to playing the top Red Tiger Must Drop jackpot slots. It depends on where you play, of course. But for the most part, everyone likes variety. Yes, even women…
Besides the obvious selling points, women also like to win money gambling! Shock horror. Thus, you'll find that the best casino games for females will usually include slot machines in there, regardless of the stats or studies.
The games women play at casinos are the same as the ones men have access to. Perhaps not macaques, though. The average lifespan of a lion-tailed macaque is 20 years, while Nevada law states that you must be 21 or over to gamble in casinos in the area.
What a bummer.
Not all hope is lost, however. Other jurisdictions are not as strict with gambling laws for women and men. Monkeys, on the other hand? Sorry lads. Not tonight.
Poker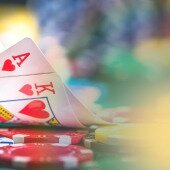 Marketed as everything from casino games women like most to the best of the best female casino games online, poker is also a big deal.
According to a study conducted by PR firm Hatch and 888poker, there has been a 22% increase in the number of females in Britain playing online poker. At one time, this game was labeled as one for the men. But the numbers don't lie.
Are the tables turning enough that we can now call poker one of the top female casino games in the world? Well, not exactly. I know of a few women who enjoy playing poker. And you only have to look at the best female poker players in the world to find that women are hardly thin on the ground.
Furthermore, some of the best celebrity poker players are women. The likes of Shannon Elizabeth and Jennifer Tilly are players you probably want to avoid at the tables.
And then there are the pros. And I'm talking about the real, badass, take no prisoners players that have carved their legacies out in this game. Remember Vanessa Selbst?
Successful female poker players have contributed to enhancing the reach of the game. There can be no debate about that.
With that said, there are other reasons poker continues to grow as one of the most casino games played by women. It's fun and engaging and gives females a shot at potentially winning major prizes.
It's not a little antiquated to suggest that women can't play poker better than men. That's just downright stupid. I wouldn't dare play against some of the women I know, as I would get my butt handed to me and have to look at their smug grins all night. But at least I can get my own back by reminding them the dishes have not yet been done.
While men have traditionally dominated the major tournaments in the world, poker remains a game that doesn't discriminate. It matters not one iota whether you are male, female, or don't identify with either of those genders. The same applies to religion, nationality, age, and almost every other category out there.
Whether you fall into the category of the top Australian poker players of all time or the top sharks that have happened to be born in Scotland, poker is a game beloved by all. And that includes women. To suggest otherwise is just plain silly.
According to that study I mentioned earlier, circa 58% of women responded that they like poker as it is a "fun and social game." A solid 33% of females claimed that these popular casino games played by women were consistently easy to win money playing.
Are you looking to play poker right now? Head to the top online casino, pick the best online poker sites from our list of suggestions, and crack on!
Bingo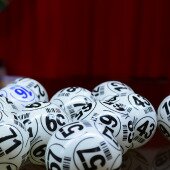 If I gave you a pen and paper and asked you to draw the first thing that came into your head when I mentioned this one, I can imagine what the image would look like.
Yes, it's OK to associate bingo with old ladies, luminous marker pens, and croaky voices cackling over the droning, monotone of the caller. Enter any bingo hall, anywhere, and prove me wrong. You will still see that exact scenario play out in front of your eyes.
But something rather strange has happened over the past few years where this one is concerned. More and more youngsters are beginning to play it. Numbers suggest that most of those in their 20s and 30s taking this game up are female.
So don't look at me as if I'm a dinosaur for suggesting that it is still one of the best casino games for women to play.
Bingo is easy. It's sociable. It's…a little bit of an experience. Trust me; I was dragged to a bingo hall in 2015 by my then-partner and her friends, who also dragged their boyfriends along for the ride. Although it was an experience that I would rather forget, I could see the appeal—kind of.
Certainly not as much as these bingo heads, though!
All things considered; I don't think there is anything wrong with labeling bingo among the top casino games women like. Especially when it is. I mean, 80% of the world's bingo players are women. And that number is greater in underdeveloped nations.
Now, I'm not as naive as to think some men don't enjoy the odd game of bingo while certain women would rather be hung, drawn, and quartered than enter a bingo hall. But the old stigma of silver-haired eagles and half-price food is not where bingo is going these days.
Who would have predicted the whole baking fad that exploded over the past decade with some young people?
The same applies to fashion. There are kids in their teens listening to The Doors and Elvis as we speak.
The point is that retro is cool. And no game quite does retro as well as bingo, considering it can be traced back to 16th century Italy's "Il Gioco del Lotto d'Italia."
Of course, the evolution of this game now means that you can play from the comfort of your own home. That means you are safe to circle some numbers without catching a whiff of "Au de pee and biscuits" by finding one of the best real money bingo sites.
Roulette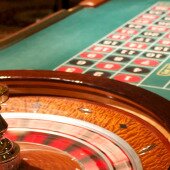 Although I could get mobbed for even suggesting this, women gamble differently than.
Some women that is. Not all women. And maybe that is something that is beginning to change.
But one of the best casino games for women and men alike, at least in my opinion, is roulette. This game is made for fun and can be an excellent title to play with your male or female companion, or own your own, depending on how you want to do things.
Our complete guide to playing roulette covers the finer details and contains some valuable tips that could help you win some money.
The concept of the game is fairly easy to understand. There is a table to place your bets, with various options available. You can choose a straight-up bet on red or black or opt for a number or several numbers.
Here's a look at some of your choices when playing roulette.
Red or Black – As easy as it comes. If the ball lands on the roulette wheel on any red or black number, you win or lose, depending on your selection. A winning bet pays even money. If it lands on zero or double zero, you lose.
Odd or Even – This one pays even money, too. If you opt for odd, and the ball lands on 13, for example, you win. If it lands on 2, you win. I just hope it doesn't land on either zero.
Straight Up Number – Most roulette games pay at odds of 35 to 1 for a winning bet. If you place a wager on number 23 to win, and it does, you will be paid out at those odds.
Split – This is when you choose to "split" your chip across two different numbers. The odds are 17 to 1 for this bet.
There are so many different bets you can place on the roulette that it would take me a long time to talk you through them all.
But while the volume of potential wagers is sizeable, the time it takes to understand how to play roulette is minimal. This is one of the reasons why it remains among the best female casino games that women tend to enjoy most. Typically, that is.
It's simply one of the top casino games to play, period.
Blackjack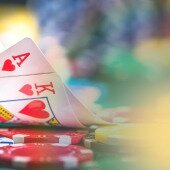 And just like that, you thought I would leave blackjack off this list of the best casino games for women.
Despite it being one of the most popular games in the world. Can you imagine me explaining that faux pas? It doesn't bear thinking about. Especially since, well, I should know better. But I know better, thank you, hence why we are having this conversation.
Relating to both my own experience and what I have read before putting this piece together, blackjack ranks as one of the women's most popular casino games. That's about as surprising as opening my fridge door and seeing milk staring back at me.
"But women can't play blackjack, Reginald? I mean, they are clearly not cut out for this game," I said, twirling my mustache and gesturing for the cropper to turn the wireless up.
Yup, they can. Don't get me wrong. I've kicked ass against women in the past (sorry, grandma), and I will try again. But had I gone up against any of the following top female blackjack players in history, I might have been left with more than a curled mustache on my face.
Angie Hardy
Eleanor Dumont
Cathy Hubert
Erica Schoenberg
Alice Walker
Monica Reeves
There are casino games women like most. And I believe blackjack is one of them. Whether they are playing with Bovada or any other leading site is down to them.
While everyone is free to choose whatever they want to play whenever they want to, I've seen nothing to suggest that this is not a popular go-to for female casino dwellers. The archaic image of a dogged-eyed loser betting his daughter's college fund is out. A stylish casino experience for all has pushed it out the door.
If you're looking to get involved in playing online blackjack but don't know where to begin, I'd recommend starting with the following guide. That applies to both women and men. But not macaques. We have a guide to winning at card games aimed exclusively at Cercopithecinae…
Wouldn't that be awesome if it was true? Oh, reality. Why do you have to hurt me like this?
More of the Top Casino Games Women Play the Most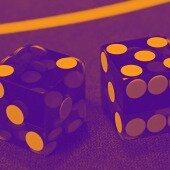 Are the best casino games for women any different from the best games for men?
Nope. Money does not discriminate. Neither do the best apps for playing roulette. If you're looking to play Hotdrops Jackpots at the best online casinos, I don't think the algorithm will award wins based on the sex you identify with.
Of course, some casino games played by women the most have been covered. We know that bingo is hugely popular with females, whether you like it or not. But that shouldn't deter anyone from having a go, right?
I wanted to briefly touch on the other two casino games before letting you go. They are craps and video poker. Again, these are also popular with females looking to win money playing casino games.
Craps – Learning the basics of playing craps doesn't take long. And for such a minimal effort, you could be up and running online or at your local casino like a boss.
Video Poker – Perhaps you're familiar with playing with online video poker sites? As one of the casino games with the lowest house edge, it's no wonder this game also grows in popularity with women.
Is there any point in closing off and saying goodbye with an unnecessary, flowery title?
No. There isn't. So, go out there and sample some of these games for yourself! If you want to drop me a line, letting me know how you get on, you can do so in the comments section.
Adios, for now!