Top Boxing Matches You Can Bet on in February 2022 – Is Mayweather Coming Back?

If you're looking to make money betting on the top boxing matches in February 2022, I've got a few for you to consider.
There's no doubt that 2022 could be one of the greatest years in boxing in quite some time. Although this batch of fights isn't quite as stellar, there are a few bouts that could lead to some major shakeups in the sport.
Alongside some domestic rivalries and title fights on the boxing calendar for February 2022 is the potential return of Floyd Mayweather to the ring. You can read about that, as well as the best fights to target this month, below.
Chris Eubank Jr. vs. Liam Williams – February 5, 2022
Where: Motorpoint Arena – Cardiff, Wales
Division: Middleweight
Titles on the Line: N/A
Betting Favorite: Eubank (-280)
First up on this list of the best boxing matches you can bet on in February is a domestic dust-up between Chris Eubank Jr. and Liam Williams.
Not everyone will see it as much of a domestic thing rather than a scrap where the pride of Wales meets one of the most polarizing English boxers of recent times. Whatever happens, this one should be a tear up, with Cardiff's Motorpoint arena a fitting venue for the bout.
Here's a look at how these two middleweights compare.
| | | |
| --- | --- | --- |
| Chris Eubank Jr. | Tale of the Tape | Liam Williams |
| 33 | Total Fights | 27 |
| 31 | Wins | 23 |
| 2 | Losses | 3 |
| 23 | KOs | 18 |
| 0 | Draws | 1 |
| 33 | Age | 29 |
| 5'11" | Height | 5'10" |
| 72″ | Reach | 70" |
| Orthodox | Stance | Orthodox |
| English | Nationality | Welsh |
Those betting on boxing matches in February will find fewer bouts as highly anticipated as this one. Although Eubank and Williams are not as known stateside, they are big names on the British circuit. Hence, there will be a lot of interest around betting on the Eubank vs. Williams fight.
Although there is no title on the line, the bragging rights are there for the taking. Eubank was expected to be fighting elite competition at this stage but could find himself in trouble if he underestimates the Church Village-born brawler.
This should be a top fight, with oddsmakers on the top boxing betting apps not majorly keen on either man to walk it.
Other notable bouts on the card include the following:
Claressa Shields vs. Ema Kozin
Samuel Antwi vs. Conah Walker
Keith Thurman vs. Mario Barrios – February 5, 2022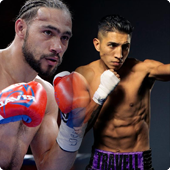 Where: Michelob Ultra Arena – Las Vegas
Division: Welterweight
Titles on the Line: N/A
Betting Favorite: Thurman (-182)
Can you believe that the last time we saw Thurman inside ropes, he lost to Manny Pacquiao in July 2019?
Since then, a lot has changed in the boxing world. Thurman is no longer considered an elite welterweight, while the now-retired Pacquiao is running for president of the Philippines.
Still, those looking for top boxing matches to bet on in February 2022 should be excited for this one. First, Thurman's odds are surprisingly choppy, with bookies uncertain as to whether he can shake off ring rust effectively against a very solid opponent.
Despite "El Azteca" moving back up to welterweight having lost to Gervonta Davis at junior middleweight in June, Thurman is only a moderate favorite. That could be enough to see a lot of money put on "One Time" to get the job done.
FIGHT WEEK❗️#ThurmanBarrios ? https://t.co/38A8343plQ pic.twitter.com/XeNnO2CYt0

— Keith Thurman Jr. (@keithfthurmanjr) January 31, 2022
Does he still have it? We will find out on February 5. While we are at it, we will get to see two excellent supporting fights on the first Vegas boxing card of 2022.
Other notable bouts to look out for on this card include the following:
Leo Santa Cruz vs. Keenan Carbajal
Luis Nery vs. Carlos Castro
Daniel Jacobs vs. John Ryder – February 12, 2022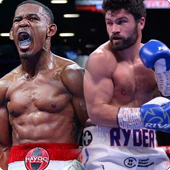 Where: Alexandra Palace – London, England
Division: Super Middleweight
Titles on the Line: N/A
Betting Favorite: Jacobs (-180)
It wasn't long ago that Daniel Jacobs was being touted as the man that could end Canelo's lengthy win streak.
On February 12, Jacobs steps into the ropes as a moderate favorite against England's 30-5 John Ryder. Although things are changing in the world of boxing, to see a former elite fighter like Jacobs priced so low is a bit of a surprise. Ryder will do his bit to make this one of the best boxing matches to bet on this February, however. Make no bones about that.
Former world titlist, Jacobs, will fight for just the third time outside of the United States and the first outside of the Americas. Ryder will be ready to introduce him to his home city of London, where he will have a legion of fans supporting him.
One of the main questions fans will have is why Jacobs's odds to beat Ryder are so low. The short and sweet answer is that he looked poor in a win against Gabe Rosado that he probably didn't deserve. Before that, he beat Julio Cesar Chavez, when the Mexican quit, which caused a mini-riot in Arizona.
Regardless, Jacobs is confident of taking the win on foreign soil.
"I'm super excited to be returning to the ring. It has always been a dream of mine to fight in London as a professional, and I'm looking forward to fighting in front of a great crowd. I'm putting my best foot forward."
Ryder is a fighter that has the respect of boxing fans in his home country.
Although he has picked up some disheartening losses in his career thus far, he earned many fans for his heroic efforts against the then-unbeaten Callum Smith in November 2019.
With the WBA and The Ring super middleweight straps on the line, some fans were stunned to learn the decision was given to the Liverpudlian, despite Ryder seemingly doing enough to take the titles.
Despite what happens, this should be among the top fights to bet on in February 2022.
Other notable bouts on this card include:
Felix Cash vs. Magomed Magiev
Jonny Fisher vs. Gabriel Enguema
Amir Khan vs. Kell Brook – February 19, 2022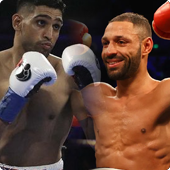 Where: AO Arena – Manchester, England
Division: Welterweight
Titles on the Line: N/A
Betting Favorite: Brook (-175)
A rivalry that goes back over a decade will finally be settled in Manchester this month.
For all the trash talk and threats of a scrap, both Amir Khan and Kell Brook have thus far failed to deliver. Although the fight might be past its sell-by date, it is one of the fastest-selling British bouts of all time and is certainly among the top boxing matches to bet on in February 2022.
"I've never run from Kell; I never needed to. My achievement in the sport speaks for itself. We're here now, there's no point crying about the past.
In the past I don't think he deserved the fight, now it's come to a stage where I am waiting to give him a big shot… in the face. All that big talk he's been doing – I'm gonna do this, I'm gonna do that – come February 19 we will see what he can do and how he can back those words up."
We have so many questions to ponder, of course. First, does Khan still have the speed? Second, is Brook's power enough to stop his opponent? Will the fight exceed expectations, or be little more than a final payday for these rivals?
Tune in on February 19 to find out. In the meantime, I would suggest a little reading about what is at stake and who should be in better shape heading into the contest. I'd also suggest checking out predictions and picks for Khan vs. Brook, which you can find, below.
Josh Taylor vs. Jack Catterall – February 19, 2022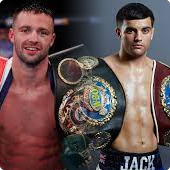 Where: OVO Hydro – Glasgow, Scotland
Division: Light Welterweight
Titles on the Line: WBA (Super), WBC, IBF, WBO, and The Ring
Betting Favorite: Taylor (-1600)
Is there a more underrated boxer than Taylor right now?
The undisputed light-welterweight king puts his titles on the line in Glasgow against England's Jack Catterall on February 19. Although some might see this as a tune-up fight for a later showdown with Teofimo Lopez, it is still one of the best fights in boxing to bet on this February.
That all depends on the types of bets you are placing on the fight, of course. Backing Taylor on the moneyline seems a little pointless, which means looking at the latest prop bets markets might be a better idea.
Taylor is currently ranked by The Ring as the fifth-best pound-for-pound fighter on the planet. That kind of blows a hole through any notion that he is underrated. What I can say for the Scot — who I also placed at fifth in my rankings of the best male boxers of 2021 — is that he doesn't get the respect he deserves.
This guy is truly something and will light up any ring he steps into. A win over Catterall wouldn't mean for much in the grand scheme of things, but a loss would be huge.
If you're betting on boxing matches in February 2022, this is one you do not want to miss.
Floyd Mayweather Jr. vs. "Money Kicks?"
Could "TBE" be set to return? Depending on who you ask, the answer is yes.
According to rumors, Mayweather's next fight could happen this February. While it's unlikely that the former pound-for-pound great has any desire to fight for a title, we could see the legendary "Money" man mixing it up in another exhibition bout.
Floyd Mayweather has stated that his next exhibition fight will take place on Feb 20th at the helipad on top of the Burj Al Arab in Dubai, UAE. Opponent TBC, but Mayweather named YouTuber/social media star 'Money Kicks' as a possibility. pic.twitter.com/6mJhAPAPkX

— Michael Benson (@MichaelBensonn) January 3, 2022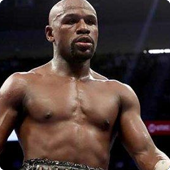 Last month, it was "confirmed" that Mayweather was set to fight a rich kid from the United Arab Emirates. And when I say rich kid, I'm not talking about someone who inherited a million bucks from a deceased relative that had a few stocks and bonds that came good.
This guy, Rashed Belhasa, has an estimated net worth of over $2 billion.
But would this fight really happen? His potential opponent, known as "Money Kicks," can't throw a straight punch. The Michigan-native has already taken flak for fighting Logan Paul, and even more when odds for a fight between Mayweather and Jake Paul broke.
This would be a step too far, surely? Well, not necessarily for those looking to make money betting on boxing matches in February 2022.
With odds for Mike Tyson vs. Jake Paul on the board, I wouldn't rule anything out at this point.
Best Boxing Matches to Bet on in February 2022 – Wrap Up
That brings us to the conclusion of my list of the top boxing matches to bet on in 2022.
These fights have been handpicked from a bunch of very competitive bouts that are also worthy of consideration. For example, Jesse Rodriguez vs. Carlos Cuadras and Jose Ramirez vs. Jose Pedraza could have easily made this list, and deserve consideration.
Whatever fights in February you choose to bet on, make sure to keep your boxing betting strategy in mind.
On a side note, there's a major fight coming up in March that you might want to check out, too. Read more about betting on Tyson Fury vs. Dillian Whyte, below!
September
Casino of the Month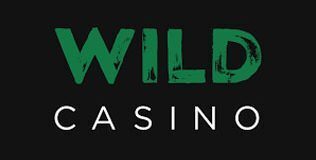 Welcome Bonus
250% up to $5,000