Top Bonuses and Promos for Online NFL Betting in 2021

As we inch closer to the start of the 2021 NFL season, now's the perfect time to familiarize yourself with the best football betting promos out there.
From recouping funds when you first sign up to capturing NFL betting bonuses each time you deposit, I've written this blog to help you take full advantage of the "freebies."
The first step toward "not missing out" is to be diligent when you create an account.
Welcome Bonuses at Football Betting Sites
The top NFL betting sites have made it easier than ever to sign up and start betting. The table below showcases how much "free money" you're entitled to at the time of signing up.
Welcome Offers at the Best Football Betting Sites
Site
Welcome Promotion
Min. Deposit
Rollover Requirement
BetUS
125% up to $3,125
$100
10x
MyBookie
50% up to $1,000
$50
10x
BetOnline
50% up to $1,000
$55
10x
SportsBetting.ag
50% up to $1,000
$55
10x
XBet
100% up to $500
$45
7x
BetNow
100% up to $500
$20
15x
Bovada
50% up to $250
$20
5x
It's important to understand what rollover requirement is beforehand so you're not wondering why you can't withdraw a winning bet. In its simplest form, "rollover" refers to the amount of money you need to bet before you can claim the bonus.
Example – You deposit $100 on BetNow. Your deposit is matched, and your account now has $200 in it. A 15x rollover means you must make $3,000 worth of bets ($200 x 15) before you can withdraw.
15x is certainly on the high side, so know that BetNow offers two other football betting bonuses that may be of interest.
50% up to $500 (8x Rollover)
25% up to $500 (5x Rollover)
Reading the fine print is always beneficial so that you know exactly what you're signing up for. For example, BetUS's welcome promotion reads 125% up to $3,125 with a 10x rollover requirement. However, if your only interest is online bonuses for NFL betting, here's what you're looking at.
BetUS Welcome Bonus – 100% up to $2,500 for sports bets. 25% up to $625 for casino games.
Of all the football betting promo codes, "XB100" at XBet is probably my favorite and one that should suit all bettors favorably. The minimum deposit is low, as is the rollover requirement, plus you're getting 100% of your deposit back to use for future bets. It's a win-win for everybody.
When you're ready to create an account, click on any of the football betting sites inside the table.
Enhanced Football Betting Bonuses With Cryptocurrecy
Don't be in a rush to capture your bonus until you explore all the details of the available NFL betting promos. For example, the financial benefits of depositing with Bitcoin and crypto can be massive at certain sportsbooks.
While not all of our recommended online betting sites incentivize bettors with crypto offers, a handful of them do.
Crypto Sign-Up Offers
Sportsbook
Welcome Promotion
Min. Deposit
Rollover Requirement
BetUS
200% up to $2,500
$100
15x
BetOnline
100% up to $1,000
$20
14x
SportsBetting.ag
100% up to $1,000
$20
14x
These sites improve their initial offers for those who deposit with crypto as opposed to a more traditional option. For a list of which cryptocurrencies these bookmakers accept, refer to the table below.
What Cryptocurrencies Do These Bookies Accept?
Site
Bitcoin
Bitcoin Cash
Ethereum
Litecoin
Ripple
Stellar
USD Coin
BetUS
Yes
Yes
Yes
Yes
No
No
No
BetOnline
Yes
Yes
Yes
Yes
Yes
Yes
Yes
SportsBetting.ag
Yes
Yes
Yes
Yes
Yes
Yes
Yes
Intended to entice bettors to start banking with Bitcoin and other forms of crypto, don't be shy about securing these incredibly juicy offers.
Those who were on the fence about dabbling with digital currencies, here's the motivating factor you were looking for. Especially those of you residing in the United States where the use of cryptocurrencies for online gambling continues to become more prevalent.
Reload Bonuses for Online Football Betting
The online betting bonuses for football don't end when you first sign-up. Play your cards right and they're just getting started.
Make sure you're giving your account a boost every time you deposit money onto one of these sites. Claiming reload football betting promotions adds to your bottom line and gives you additional ammunition for a Sunday slate.
As you comb through all the subtleties, you'll notice a sliding scale at BetUS. There, the reload bonus and rollover requirement differ depending on how much you deposit.
Reloading Your Sports Betting Account at BetUS
Range of Deposit ($)
Bonus
Rollover Requirement
100-299
10%
3x
300-499
15%
4x
500-999
20%
5x
1,000-1,999
30%
6x
2,000-4,999
35%
7x
5,000-9,999
40%
8x
10,000 and Higher
50%
10x
Just some food for thought as you're trying to get the most out of the best NFL betting promotions.
As you can imagine, reloading using your crypto wallet can lead to obtaining more free money.
Crypto Reload Promotions
Sportsbook
Reload Promo
Min. Deposit
Rollover Requirement
BetOnline
35% up to $350
$20
8x
SportsBetting.ag
35% up to $350
$20
8x
Notice the different bonuses for betting on football online (at these two sites) when you re-up?
Another aspect to be mindful of is the more frequently you place bets, the more reload promos you'll be bombarded with. I've listed the terms for the basic reload promotions, although habitual football bettors will likely be flooded with even more intriguing offers.
Latest NFL Betting Promos for the 2021 Season
The run-up in the weeks leading into the 2021 NFL season is an exciting time for a lot of reasons. Preseason games are getting underway as we're perusing draft tips for fantasy football. Most of us are counting down the days until the Cowboys and Buccaneers take the field (September 9th).
August and September also happen to be the perfect time to jump in on the best NFL betting promos with money. To attract bettors and encourage them to be active, the most reputable sportsbooks bolster their offers with time-sensitive promotions that are uniquely advantageous.
Here are some examples.
Boosted Odds in Week 1
Boosting the odds for a particular game is a common tactic sports betting sites use to lure in bettors. Using the Cowboys vs. Buccaneers TNF matchup as an example, Tampa Bay is -7 in most spots. One site might let you bet the Bucs -5 or the Cowboys +9 without tweaking the juice. It's basically two free points of insurance.
The odds boosters for NFL bets start there but get much more creative. And much easier to cash in.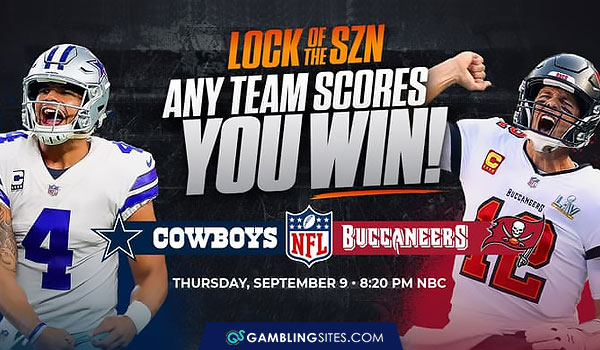 MyBookie has an NFL betting offer for the Cowboys vs. Buccaneers TNF game that almost seems too good to be true. You can bet that either team scores at -110. As long as the game doesn't end in a 0-0 tie, you're cashing in on this bet.
Bonuses for betting on football online can't get much easier than that! Or maybe they can.
Another one of the odds boosters I saw for week 1 is "Tom Brady to throw for at least one yard" at +100. You read that right.
The max bet for this particular wager is only $10, but it's basically a free $10.
Free Super Bowl Bets
Another promo that some sites are offering for the upcoming season is a risk-free bet on Super Bowl 56. Say you bet $50 on your favorite team winning Super Bowl 56 and they get eliminated. The site will refund your account with a $50 betting credit.
An alternative is that any time you bet on Super Bowl 56, you unlock free money to place additional Super Bowl 56 bets.
Free Bets to Wager on NFL Games In-Play
Place a $10 bet on the Cowboys vs. Buccaneers game and you'll be rewarded with a complimentary $10 to use to live bet that same game.
Of course, only those who have signed up will be able to reap these lucrative NFL betting bonuses. The more sites you sign up for before the season starts, the more promotions you'll encounter.
Real Money Contests at NFL Betting Sites
During rounding up all of these promotions for online football betting, take some time to get acquainted with the NFL contests the bookmakers are offering.
BetOnline offers a gigantic contest designed for those who like to pick against the spread. The entry fee is $100 and you pick five games ATS each week. The prize pool is $500,000 with the winner walking away with $200,000. That specific contest runs from week 1 all the way through week 18.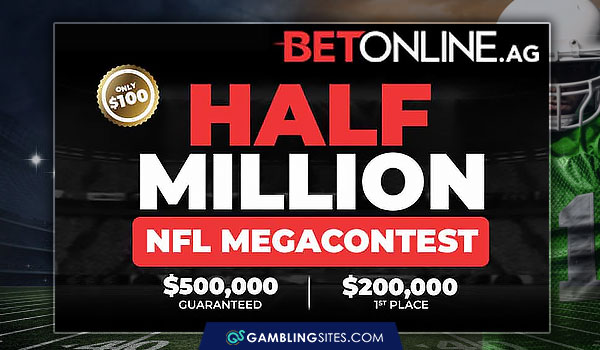 BetUS and MyBookie both provide NFL Squares contests – something you're likely in tune with if you've ever attended a Super Bowl party with friends.
To be brought up to full speed on the NFL Squares, as well as a myriad of other NFL contests live in 2021, check out this dedicated post.
More NFL Betting Tips in 2021
Taking full advantage of these football betting promotions will leave you with ample opportunities to get money down on the action. Maybe you want to snoop around the early week 1 odds. Perhaps you want to scoop up some value baked into the countless NFL player props available at these sites.
Fortunately, we've got a few NFL betting experts on hand who are here to help you out.