Top 10 Australian Cricket Players in History – Bradman, Warne, and More

Who are the best Australian cricket players of all time? Since the Aussies played their first Test match back in 1877, that is not an easy question to answer.
Countless superstars have donned the famous baggy green over the years. From Don Bradman and Dennis Lillee to Ricky Ponting and Shane Warne, the list of top cricket players from Australia is almost endless.
Of course, every cricket fan has their own views on the best Australian cricketers in history. So, it's only fair that I get to share my top 10, right?
Join me as I give my take on the best Australian cricket players ever.
Don Bradman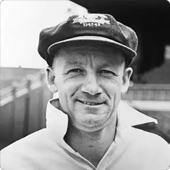 As one of the greatest batsmen in the history of cricket, it only makes sense that Don Bradman kicks off my list of the best Australian cricket players of all time.
Although Bradman's professional career spanned between 1928 and 1948, his achievements are regularly talked about to this day. I mean, you only have to look at his absurd average to understand why.
HIGHEST BATTING AVERAGES BY AUSTRALIANS
1. Don Bradman – 99.94
2. Adam Voges – 61.87
3. Steve Smith – 59.87
4. Marnus Labuschagne – 56.92
5. Greg Chappell – 53.86
"The Don" racked up 6,996 runs in just 52 Test matches, racking up 29 centuries along the way. He even managed 12 double centuries and three triple centuries, underlining his unrivalled ability with the bat.
In addition to being one of the top Australian cricket players in history, Bradman is a bona fide national hero. No cricketer has ever come close to emulating his record – and it's doubtful that anyone ever will.
Shane Warne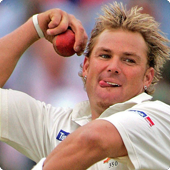 From the best Australian batsman in history to the greatest Australian bowler of all time.
Between 1992 and 2007, Shane Warne claimed a colossal 708 Test wickets for his country. The iconic spinner even held the world record for the most Test wickets before Sri Lanka's Muttiah Muralitharan surpassed the milestone in 2007.
However, "Warnie" still holds many records – including the most five-wicket hauls in an innings (37) and the most ten-wicket hauls in a match (10) by an Australian.
MOST TEST WICKETS TAKEN BY AUSTRALIANS
Player
Innings
Wickets
Shane Warne
273
708
Glenn McGrath
243
563
Nathan Lyon
198
415
Dennis Lillee
132
355
Mitchell Johnson
140
313
Not only did Warne revolutionize spin bowling, but he also put cricket on the map. His infectious blend of unequalled skill and alluring showmanship made him a world-class sportsman on and off the field.
Tragically, Warne died of a heart attack in March 2022 at the age of 52. But he will always be remembered as one of the best Australian cricket players of all time.
Allan Border
Only one Australian has scored more Test runs than Allan Border. If you keep on reading, you will find out who that player is, but make sure you stick around to learn about Border's brilliance.
"AB" chalked up a whopping 11,174 runs in 265 Test innings between 1978 and 1994, captaining his country for much of his career. During that period, he played the most consecutive matches by an Australian (153) and also notched the most half-centuries (63).
Granted, Border was not the most technically gifted or orthodox batsman. But what he lacked in natural ability, he more than made up for with his grit, determination, and capacity to score runs at a rapid rate.
Given that Border has also captained more Test matches than any other Aussie, he is undoubtedly one of the best cricket players from Australia.
Of course, the best Australian online gambling sites were not around when Border played. But if they were, the sportsbooks would have been stacked with prop bets relating to the great man himself.
Glenn McGrath
While Warne is Australia's greatest-ever spinner, Glenn McGrath is the best pace bowler in the country's history.
McGrath sits second on Australia's all-time leaderboard for most Test wickets. The super-consistent seamer claimed 563 scalps in 243 innings, regularly getting the better of the world's top batsmen with his unrivalled line and length.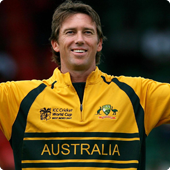 Better still, McGrath has notched the second-most five-wicket hauls in Australian Test history (29). He is also one of only ten players to have secured three or more ten-wicket hauls in a match.
Coincidentally, McGrath made his debut in 1993 – one year after Warne – before both players retired in 2007. Can you imagine facing not one but two of the world's best-ever bowlers in the same era!?
Alongside Warne, McGrath is also one of the greatest bowlers in cricketing history.
Ricky Ponting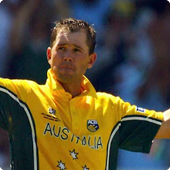 When it comes to discussing the top cricket players from Australia, Ricky Ponting's name always gets mentioned. Why? Because he is the country's all-time leading run-scorer.
"Punter" amassed a stupendous 13,378 runs in 287 innings between 1995 and 2012, setting the record for the most Test centuries scored by an Aussie (41). On top of that, he also achieved the second-most half-centuries (62) – picking up one fewer than Border.
MOST TEST RUNS SCORED BY AUSTRALIANS
Player
Innings
Runs
Ricky Ponting
287
13,378
Allan Border
265
11,174
Steve Waugh
260
10,927
Michael Clarke
198
8,643
Matthew Hayden
184
8,625
The Tasmanian best known for his beautiful pull and hook shots boasted the perfect blend of balance, intelligence, and staying power. All of those attributes make him one of the greatest batsmen of all time.
Ponting wasn't just a great batsman; he was an excellent fielder, too. His 196 Test catches make him the most prolific fielder in the history of Australian cricket, emphasizing his versatility.
Dennis Lillee
It could be argued that Dennis Lillee is one of the most feared bowlers in cricketing history. The lethal paceman was among the quickest bowlers of his generation – and he had the accuracy and precision to match.
Whether he was sporting his iconic headband or steaming in with half of his jersey unbuttoned, opposition batsmen always knew they were in for a torrid time.
Only three Australian bowlers – Warne, McGrath, and Nathan Lyon – have taken more Test wickets than Lillee over the years. That tells you everything you need to know about his ability.
Lillee's record of 355 wickets at an average of 23.92 was a Test record when he retired in 1984. For that reason – and many other reasons, to be honest – he is one of the top cricket players from Australia.
Adam Gilchrist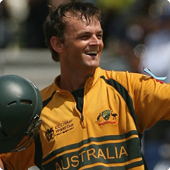 There is no denying that Adam Gilchrist is the best Australian wicket-keeper of all time. Naturally, that makes him one of the greatest-ever cricket players born in Australia.
Granted, legends such as Ian Healy and Rod Marsh have starred behind the stumps for Australia. Although they were great players in their day, few would argue that "Gilly" is not the GOAT Aussie wicky.
MOST TEST DISMISSALS BY AUSTRALIAN WICKET-KEEPERS
Player
Matches
Dismissals
Adam Gilchrist
96
416
Ian Healy
119
395
Rod Marsh
96
355
Brad Haddin
66
270
Wally Grout
51
187
As the table above details, Gilchrist holds the record for the most Test dismissals by an Australian wicket-keeper. Despite playing 23 fewer matches than Healy, he managed to amass 21 dismissals more than his nearest rival.
Gilchrist was a phenomenal batsman, too. Across all formats of the game, only six Australians have scored more runs than the legendary left-hander.
It is also worth noting that Gilchrist has taken more catches than any other Aussie wicky over the years (379). That alone puts him among the top Australian cricket players of all time.
Brett Lee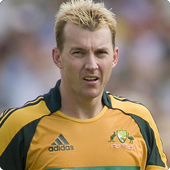 I remember idolizing Brett Lee when I was growing up. As a young and aspiring pace bowler, I studied Lee's high-powered action and attempted to replicate it while playing street cricket with my brothers.
As you probably guessed, I didn't make it as a professional cricketer. Instead, I'm writing about the best Australian cricket players of all time rather than trying to follow in their footsteps. But that doesn't bother me – I promise!
Warne and McGrath are the only Australians to have claimed more wickets than Lee across all formats. Thanks to his magic in Tests, ODIs, and T20s, the super-speedy bowler accumulated a colossal 718 wickets between 1999 and 2012.
Lee is also the third-fastest bowler in the history of the sport, having bowled a delivery at 99.9 mph (160.8 km/hr) against New Zealand back in 2005. Scary stuff, right?
In addition to being a phenomenal international player, Lee enjoyed massive success in T20 cricket. In fact, he was involved in one of the most iconic moments in Big Bash League history.
Matthew Hayden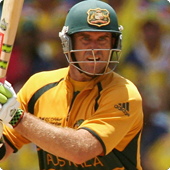 It is difficult to think of a more destructive opening batsman than Matthew Hayden. Between 1994 and 2009, the big-hitting brute was arguably the most feared opener on the planet.
"Haydos" is renowned for many things. Not only is he the fifth-highest run-scorer in the history of Australian Test cricket (8,625), but he is also the Australian with the third-most Test centuries (30).
That said, he is best known for his outrageous knock against Zimbabwe in 2003.
HIGHEST INDIVIDUAL SCORES BY AUSTRALIANS
1. Matthew Hayden – 380 runs vs. Zimbabwe (2003)
2. David Warner – 335* runs vs. Pakistan (2019)
3. Mark Taylor – 334* runs vs. Pakistan (1998)
4. Don Bradman – 334 runs vs. England (1930)
5. Michael Clarke – 329* runs vs. India (2012)
At Perth's iconic WACA, Hayden smashed 380 runs in a single inning – breaking the record for the highest individual score by an Aussie. Only West Indian legend Brian Lara has scored more runs in a single inning.
Remarkably, Hayden played in the same golden generation as Warne, McGrath, Ponting, Gilchrist, and Lee. Opposing teams rarely stood a chance when they all featured in the same line-up.
Steve Smith
Steve Smith is the only name in my top 10 Australian cricket players who still plays today. Given the caliber of players that Australia has produced over the years, Smith must be special to have made it onto my list.
At the time of writing, Smith has the third-highest batting average in Australian Test history (59.87). Only the legendary Bradman (99.94) and Adam Voges (61.87) sit above him on the leaderboard.
"Smudge" is also one of just seven Australians to have notched three or more double centuries. Funnily enough, all of his double tons came against England. The first came in 2015, while the most recent came in 2019.
Like Border, Smith is an unorthodox batsman. However, his record speaks for itself. He may not be the most aesthetically pleasing player to watch, but his ability to rack up runs at a freakish rate is what makes him one of the best cricket players born in Australia.
The 33-year-old currently sits tenth on Australia's all-time run-scoring leaderboard. He will surely finish even higher when he retires if he carries on the way he's going.
More of the Top Australian Cricket Players in History
That concludes my take on the top 10 Australian cricket players of all time. But I'm not finished just yet. Before I sign off, I want to share 20 honorable mentions that narrowly missed out on my top 10.
Here are 20 more top Australian-born cricket players.
Victor Trumper
Ray Lindwall
Greg Chappell
Steve Waugh
Shane Watson
Nathan Lyon
Keith Miller
Michael Clarke
Mitchell Johnson
Ian Healy
Peter Siddle
Mark Taylor
Justin Langer
Pat Cummins
Rod Marsh
David Boon
Michael Hussey
Andrew Symonds
Mitchell Starc
Jason Gillespie
Can you think of any more top Australian cricketers? Do you think I've missed anyone out? Feel free to share your thoughts on the best-ever Australian cricket players in the comments section below.
If betting on cricket is your thing, why not examine our ultimate cricket betting guide? And if you especially love Australian cricket, be sure to check out my take on the best players in Big Bash League history.