Top Athletes to Watch at the Winter Olympics (Beijing 2022)

As the countdown to the Winter Olympics continues, it feels like the perfect time to check out some of the best athletes set to compete at Beijing 2022.
With over 100 events and 15 disciplines across seven sports, there is no shortage of top athletes to watch at the 2022 Winter Olympics.
Almost 3,000 athletes took part in the last Winter Games in Pyeongchang four years ago. With a similar number expected in Beijing, we are set for a thrilling fortnight of action.
Join me as I go over ten athletes to watch the Winter Olympics in 2022. My list includes an American snowboarding prodigy, a legendary Dutch speed skater, and many other top athletes.
Suzanne Schulting
Age: 24
Nation: Netherlands
Sport: Speed Skating
Even before the 2021 World Short Track Speed Skating Championships, Suzanne Schulting was one of the top athletes to watch at the Winter Olympics.
Following her phenomenal exploits at the World Championships, however, the 24-year-old will now be one of the highest-profile athletes competing in Beijing.
The Dutchwoman won every single event at this year's World Championships, becoming only the second woman and fourth skater in history to claim the clean sweep.
She won the 500m, 1000m, 1,500m, and 3,000m relay events before clinching the overall title. Needless to say, that is a remarkable achievement.
Schulting clinched gold in the 1000m race at Pyeongchang 2018, along with bronze in the 3,000m relay. The best Winter Olympics betting sites view her as a firm gold medal favorite in multiple events at Beijing 2022.
Yuzuru Hanyu
Age: 26
Nation: Japan
Sport: Figure Skating
It could be argued that Yuzuru Hanyu is the greatest male figure skater of all time.
I mean, the 26-year-old has won gold in the men's singles competition at each of the previous two Winter Games and is heavily favored to secure three consecutive titles in 2022.
If he triumphs again in Beijing, he will become the first man to claim three straight Olympic figure skating golds since 1928.
Yuzuru Hanyu's Records and Achievements
First Asian men's singles skater to win Olympic gold.
Youngest male skater to win gold since 1948.
First and only male singles skater to achieve a Super Slam.
Along with breaking 19 world records, Hanyu is the only man to have clinched the Super Slam. That means he has won all of the sport's major competitions in his senior and junior career.
The double gold medalist is definitely one of the top athletes to watch at Beijing 2022.
Mikaela Shiffrin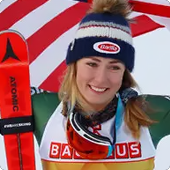 Age: 26
Nation: United States
Sport: Alpine Skiing
When it comes to alpine skiing, Mikaela Shiffrin is the woman to beat.
After claiming gold in the slalom event at Sochi 2014, the Colorado native won a further two Olympic medals at Pyeongchang 2018 – securing gold in the giant slalom and silver in the combined.
Earlier this year, she added four medals to her bustling silverware cabinet at the 2021 World Championships – including gold in the combined competition.
The six-time world champion has dominated alpine skiing for the best part of a decade, and at 26, it feels like she can continue to dominate the sport for years to come.
Shiffrin is the youngest slalom champion in Olympic alpine skiing history. If she carries on the way she's going, she could become the oldest, too.
Jarl Magnus Riiber
Age: 23
Nation: Norway
Sport: Nordic Combined
At just 23 years old, Jarl Magnus Riiber already has 53 podiums, 36 race wins, and three overall titles to his name in FIS Nordic Combined World Cups.
Riiber was also part of the Norwegian squad that claimed silver in the team event in Pyeongchang four years ago, so he knows what it takes to win Olympic medals, too.
Although he often dominates the large hill discipline, Riiber thrives in the normal hill competition. He won gold at the 2021 World Championships in that event, adding to his golds in the team event.
Fresh from securing his third consecutive Crystal Globe at the end of the 2020/21 World Cup season, Riiber will be one of the best athletes at the 2022 Winter Olympics.
Can he add an Olympic gold to his impressive haul? I guess we'll have to wait and see.
Natalie Geisenberger
Age: 33
Nation: Germany
Sport: Luge
It's safe to say that Natalie Geisenberger has been around the block – or the luge track – a few times. In fact, the German is the most successful female luger in the history of the Olympics.
The uber-decorated veteran has a whopping four gold medals under her belt, having won the singles and team relay events at Sochi 2014 and Pyeongchang 2018.
If she triumphs again at Beijing 2022, she will become the first athlete to win three successive golds in the women's competition.
Better still, she could become the most decorated Olympic luger of all time is she helps Germany to win the team relay competition in China. That is, of course, a huge incentive.
Oh, and let's not forget that Geisenberger is a nine-time world champion. No wonder she made it onto my list of the top athletes to watch at Beijing 2022!
Johannes Thingnes Bo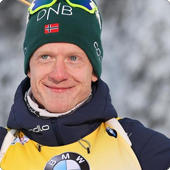 Age: 28
Nation: Norway
Sport: Biathlon
Johannes Thingnes Bo won three medals at Pyeongchang 2018. After clinching gold in the 20km individual event, he won silver in both the mixed relay and 4 x 7.5km team relay.
Most athletes would be pretty content with that haul, but not Thingnes Bo. Over the past few years, the Norwegian biathlete has continued to cement his status as the best in the business.
Since the last Winter Olympics, the 28-year-old has secured three consecutive Crystal Globes. He now has more than 100 podiums and over 60 race wins to his name in World Cups.
Not only is Thingnes Bo an individual gold medal favorite, but he is also part of a seriously strong Norwegian biathlon team. Don't be surprised to see him atop the podium in Beijing.
Chloe Kim
Age: 21
Nation: United States
Sport: Snowboarding
When Chloe Kim clinched gold at Pyeongchang 2018, she became the youngest woman to win the top prize in the Olympic snowboarding halfpipe event.
At the tender age of 17, the Californian hit back-to-back 1080s in South Korea – posting a winning run of 98.25. Following the Games, she was included in Time magazine's 100 Most Influential People of 2018.
After taking a year out to study, Kim is back and performing better than ever. She claimed her sixth Winter X Games gold earlier this year, taking her overall medal tally in the competition to eight.
Kim heads to China as the reigning Olympic, World, and X Games champion. She is the first and only female athlete to win all three major titles.
Personally, I can't wait to watch Kim throw down her trademark tricks at Beijing 2022.
Mikael Kingsbury
Age: 29
Nation: Canada
Sport: Freestyle Skiing
Mikael Kingsbury is officially the most decorated mogul skier in history.
The Canadian has won two Olympic medals over the years, claiming gold in 2018 and silver in 2014. He also has multiple World Cup and Freestyle World Championship triumphs to his name.
Mikael Kingsbury's Competition Statistics
Olympics: 1 gold medal, 1 silver medal
World Championships: 6 titles, 11 medals
World Cup: 93 podiums, 65 wins, 9 discipline title, 9 overall titles
Kingsbury also holds the records for the most men's moguls World Cup titles, most World Cup race victories, and most medals in Freestyle World Championships.
It goes without saying that Kingsbury will be one of the best athletes at the 2022 Winter Olympics.
Francesco Friedrich
Age: 31
Nation: Germany
Sport: Bobsleigh
The bobsleigh events are invariably among the most competitive events in the Winter Olympics. That said, Francesco Friedrich makes Germany a gold medal favorite in both disciplines.
The legendary sledder guided Germany to gold in both the two-man and four-man events at Pyeongchang in 2018, emphasizing his importance to the team.
Canada pushed Germany all the way in the two-man event, but the four-man event wasn't even close. The Germans finished 0.79 seconds ahead of Latvia, thanks largely to Friedrich's skills.
The 13-time world champion and six-time European champion has accumulated almost 30 medals across his glittering career. Don't be shocked if he bolsters his tally in Beijing.
Ireen Wust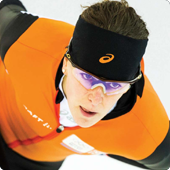 Age: 35
Nation: Netherlands
Sport: Speed Skating
Last, but certainly not least, Ireen Wust is my final athlete to watch at the 2022 Winter Olympics. In fact, you could say that I've saved the best for last!
At 35, the iconic Dutchwoman is the most decorated speed skater in Olympic history. She has won five golds, five silvers, and one bronze during her career.
As the most decorated active Winter Olympian, Wust has the chance to become the first athlete to win a gold medal at five editions of the Games – including the Summer Olympics.
Having sealed gold in the 1500m event at Pyeongchang 2018, along with silver in both the 3000m and team pursuit, Wust heads to Beijing as a firm medal favorite.
The 2022 Winter Olympics will almost certainly be Wust's final Games. Let's hope she goes out with a bang.
Looking Ahead to Beijing 2022
That concludes my take on the top athletes to watch at the Winter Olympics.
The opening ceremony for Beijing 2022 gets underway on February 4, meaning there are less than 100 days until the best sportsmen and women on ice and snow touch down in the Chinese capital.
In the meantime, why not check out our review of the 2018 Winter Olympics in Pyeongchang? Many of the athletes who feature in this post also pop up in our Pyeongchang 2018 review.
September
Casino of the Month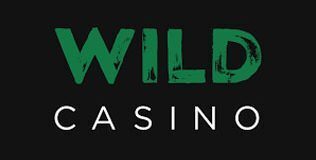 Welcome Bonus
250% up to $5,000