Top 9 Players in the Canadian Premier League in 2021

The Canadian Premier League was hit hard by the pandemic last year. The 2020 CPL season was cut short, and there were fears that the 2021 campaign would also be disrupted.
Thankfully, the best players in the Candian Premier League will be able to exhibit their talent again when the new season gets underway on Saturday, June 26.
You probably won't be surprised to see a number of Forge stars among my top CPL players to watch in 2021. After all, the Hammers clinched their second straight title last year and head into the new campaign as the team to beat.
But following a host of new arrivals during the offseason, the best CPL players in 2021 are dotted across the league and represent several different clubs.
Join me as I discuss the top players in the Candian Premier League right now.
Kyle Bekker – Forge FC
Age: 30
Position: Central Midfield
What better way to start my take on the best Canadian Premier League players in 2021 than by talking about Forge's two-time CPL-winning captain?
The Hammers have dominated Canadian soccer since the league kicked off back in 2019, and Kyle Bekker has been at the heart of everything good about the team.
The former Toronto FC, FC Dallas, and Montreal Impact star – who has over 50 MLS appearances to his name – spent a couple of years playing in the USL before teaming up with Forge. Since returning to his homeland, he has reminded everyone of what he is capable of.
A dynamic midfielder with both attacking and defensive qualities, Bekker has even represented Canada 18 times over the years.
After captaining Forge to back-to-back titles last season, the 30-year-old was named CPL Player of the Year for his troubles. Naturally, that makes him one of the top players in the Canadian Premier League.
Akeem Garcia – HFX Wanderers
Age: 24
Position: Forward
Having made a name for himself in Trinidad and Tobago's semi-professional leagues, Akeem Garcia was signed by HFX Wanderers for the inaugural CPL season. The rest, as they say, is history.
During his first year in Halifax, the forward scored seven goals in 24 league games. Despite making just ten appearances last season due to the pandemic, Garcia still managed to bag six goals and ended the campaign as the league's top scorer.
TOP GOALSCORERS – CANADIAN PREMIER LEAGUE (2020)
Player
Team
Goals
Akeem Garcia
HFX Wanderers
6
Marco Bustos
Pacific FC
5
Joao Morelli
HXF Wanderers
4
The Wanderers made it all the way to the CPL final last year, only to fall to Forge at the last hurdle. If it weren't for Garcia's goals, the club probably wouldn't have gotten anywhere near the showpiece.
Best known for his unstoppable pace and clinical finishing, there is absolutely no denying that Garcia is among the best CPL players in 2021.
Joe Mason – Cavalry FC
Age: 30
Position: Forward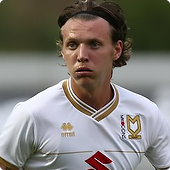 Joe Mason has yet to kick a ball in the Canadian Premier League. But if his résumé is anything to go by, he should already be classed as one of the top players in the CPL.
With almost 200 English Championship appearances under his belt, it could be argued that Mason is slightly overqualified for the CPL. Still, Cavalry managed to lure the forward to Calgary – and that speaks volumes about the league's evolution.
Funnily enough, Mason has already had a taste of North American soccer. While playing for Wolverhampton Wanderers in 2018, he enjoyed a loan spell with the Colorado Rapids – scoring three goals in 14 MLS matches.
Following a 12-year career in some of England's top divisions, the ex-Cardiff City striker joined Cavalry from Milton Keynes Dons during the offseason. Personally, I can't wait to watch him tear it up in the CPL.
Triston Henry – Forge FC
Age: 27
Position: Goalkeeper
The only goalkeeper on this list, Triston Henry has been pivotal to Forge's success over the past couple of years.
In 2019, the Toronto native finished joint-top of the CPL shutout charts, having kept nine clean sheets that year. Last season, Henry achieved five shutouts in ten appearances to clinch the Golden Glove outright.
MOST SHUTOUTS – CANADIAN PREMIER LEAGUE (2020)
Player
Team
Shoutouts
Triston Henry
Forge FC
5
Marco Carducci
Cavalry FC
3
Nathan Ingram
York United
2
Christian Oxner
HFX Wanderers
2
James Pantemis
Valour FC
2
Nacho Zabal
Atletico Ottawa
2
Guys like Bekker and Alexander Achinioti-Jonsson (more on him later) grabbed the bulk of the headlines following the Hammers' second straight triumph last term. But in my eyes, Henry deserved just as much credit.
Forge conceded just one goal in three playoff matches last year before keeping a clean sheet in the final. When you consider that record, Henry must be viewed among the best players in the Canadian Premier League.
Marco Bustos – Pacific FC
Age: 25
Position: Attacking Midfield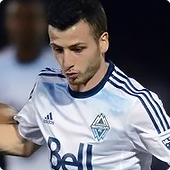 Many believe that Marco Bustos didn't get a fair shot at Major League Soccer. I mean, the attacking midfielder only made four MLS appearances for the Whitecaps before dropping into the USL.
However, the Manitoban returned to Canada in 2019 and has since become one of the top CPL players in the game.
Bustos joined Valour for the maiden Premier League season and went on to rack up seven goals and three assists in 25 matches during the 2019 campaign. After swapping Winnipeg for Greater Victoria, he notched five goals and three assists in just ten CPL outings for Pacific last year.
Not only was Bustos the league's top assist-getter last term, but he also finished second in the goalscoring charts. I'm pretty sure that makes him one of the best Candian Premier League players in 2021.
Rafael Galhardo – Valour FC
Age: 29
Position: Right-Back
You don't play for Brazilian giants like Flamengo, Santos, and Gremio without being a good player, right? Well, Rafael Galhardo has done all that – and more!
Having come through the ranks at Flamengo, Galhardo claimed the 2009 Serie A title before joining Santos. He was then named in the 2015 Serie A Team of the Year before winning the Copa do Brasil with Gremio in 2017.
Oh, and did I mention that he represented Brazil U20 on 12 occasions?
It's safe to say that Valour sent shock waves through the Candian Premier League when they recently signed Galhardo from Vasco da Gama. If the experienced right-back lives up to his reputation, he will almost certainly shine for Rob Gale's side.
Shamit Shome – FC Edmonton
Age: 23
Position: Central Midfield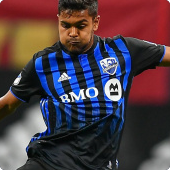 Shamit Shome has come full circle.
The central midfielder joined FC Edmonton's academy program in 2015 and signed his first professional contract a year later. But he didn't hang around for long.
Montreal Impact recognized Shome's talent and snapped him up in 2017. He went on to make just over a half-century of appearances for the Quebec-based Major League Soccer outfit, winning the Canadian Championship in 2019.
Five years after signing his first pro deal, Shome returned to his hometown club in January 2021.
Let's get one thing straight – there is no doubting Shome's ability. If the 23-year-old can hit the ground running in Edmonton and prove his worth, there is no reason why he can't make it back to MLS in the coming years.
Arnold Bouka Moutou – Valour FC
Age: 32
Position: Left-Back
Alongside Galhardo, Arnold Bouka Moutou has the potential to make 2021 a hugely successful year for Valour.
With 42 Ligue 1 appearances and 70 Ligue 2 appearances to his name, Bouka Moutou has vast experience. On top of that, the Congo native has 19 internationals caps in the bank.
The 32-year-old was unfortunate to miss most of the previous campaign, but I'm backing him to come back stronger this year. It goes without saying that Valour supporters will also hoping to see the best of the gifted left-back in 2021.
Alexander Achinioti-Jonsson – Forge FC
Age: 25
Position: Defensive Midfield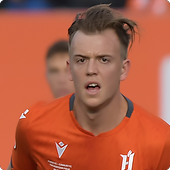 It's fair to say that Alexander Achinioti-Jonsson endured a tricky debut season in Canada. Although he featured in 25 CPL games for Forge, he only managed to chalk up two assists and didn't always receive the praise he deserved.
But following a standout 2020 campaign, the Swedish midfielder is now widely regarded as one of the top players in the Canadian Premier League.
Simply put, Achinioti-Jonsson was immense last year. Not only did he net three goals on his way to lifting the CPL trophy, but he also anchored the Hammers' midfield throughout the season.
If you're talking about the best Canadian Premier League players in 2021, don't sleep on Forge's midfield maestro!
Wrapping Up the Top CPL Players in 2021
As the Candian Premier League prepares for its third season, I'm excited to see the best players in the CPL take to the field once again.
The 2020 CPL season was decimated by the health crisis, so we only caught a glimpse of the top Canadian Premier League players last year. But as the new campaign draws nearer, it won't be long before the best CPL players in 2021 return to action.
If you want to learn more about the top players in other North American soccer leagues, make sure you check out the posts below.
September
Casino of the Month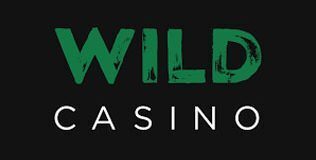 Welcome Bonus
250% up to $5,000