Top 9 Boxing Matches to Bet on in July 2021

If you're planning on making money betting on the best boxing matches in July 2021, I find it's a good idea to plan ahead.
With that in mind, I have put together this list of the top boxing bouts to wager on this month. Treat it like a boxing calendar for July, but one that is focused on the big bouts.
Is there a bigger fight in boxing right now than Tyson Fury vs. Deontay Wilder 3? That one goes down in Las Vegas later in the month. I'll be covering Fury vs. Wilder 3 in this piece, alongside more of the top fights to gamble on in July.
So, to find out more about the unmissable bouts in boxing over the next month, keep reading!
Chris Colbert vs. Tugstsogt Nyambayar
When: July 3, 2021
Where: Dignity Health Sports Park, Carson, California, U.S.
For: WBA Interim Super-Featherweight Title
The first stop on my list of boxing's best fights to bet on in July 2021 is Colbert-Nyambayar on July 3. The bout goes down in California for the interim strap at 130-pounds and should be a good one for boxing bettors to have a crack at.
Colbert (15-0, 6 KOs) was initially set to take on the aged but still game Yuriorkis Gamboa, only for the 39-year-old Cuban to pull out with an injury. This did not go down well with Cobert, who accused the veteran of intentionally avoiding him. Erm, really?
I mean, Gamboa has a rich history of fighting the best in the business. If he wasn't worried about taking on the likes of Terence Crawford, Gervonta Davis, and Devin Haney, I doubt he's concerned about Colbert.
If anything, Colbert taking on a guy who is clearly on the decline suggests poor matchmaking.
If you're counting your bankroll and looking to find the best bets on July's boxing calendar, I'd suggest looking at Colbert's scrap with the Mongolian replacement. Nyambayar (12-1, 9 KOs) is not an absolute newb. He previously held the IBO featherweight strap and took on Gary Russell Jr. in 2020.
Head over to the top boxing betting sites for the odds for Colbert vs. Nyambayar, which should almost certainly end up as one of the top boxing matches to bet on in July 2021.
You'll find odds for the rest of the fights on this list, too.
Michel Rivera vs. Jon Fernandez
When: July 3, 2021
Where: Dignity Health Sports Park, Carson, California, U.S.
For: WBA Lightweight Eliminator
Like me, you're probably looking for the best boxing bets for July 2021 so you can line your ducks up early.
When it comes to betting on boxing, it can pay dividends to plan in advance. Alongside other top tips for betting on boxing matches, playing the early bird is often a good idea.
Well, it just so happens that Rivera vs. Fernandez is among the best fights to wager on in July. It features on the undercard for Colbert vs. Nyambayar and is arguably a better matchup. It features two men in similar phases of their careers and is bound to show us what they are capable of.
Rivera and Fernandez are top-quality prospects with a combined record of 41-1 between them, with 31 KOs shared.
You might remember Rivera (20-0, 13 KOs) was being lined up to face one of boxing's clowns and wild men, Adrien Broner, only for that to fall through. Fernandez (21-1, 18 KOs) was all set to battle Isaac Cruz in March, only for that to fall apart due to issues with his visa.
But to the boxing gods, I tip my cap. If not for those two fights happening, we wouldn't have what I believe is one of the very best boxing matches to bet on this July.
Although matchmaking in boxing leaves a lot to be desired these days, there is no denying that those responsible have nailed it with this one.
Tim Tszyu vs. Michael Zerafa
When: July 7, 2021
Where: Entertainment Centre, Newcastle, Australia
For: WBO Global Light-Middleweight Title
What do get when you pair up the son of a Hall of Famer and one of Australia's most recognized boxers? That's right. One of July's best boxing matches to bet on.
But why do I love this matchup so much, given that it is for a belt that holds about as much weight on the global scene as the one around my waist? Honestly? I really like what could happen in this bout.
Additionally, I believe it will provide Tszyu with the confidence to attach a trailer and launch his unquestionable talent into the global boxing stratosphere.
Except for the biggest boxing matches to gamble on in July, this one should be top of the list of any bettor. I'm expecting wall-to-wall action from start to finish, with both men looking to heighten their respective resumes with a big result.
Tszyu (18-0, 14 KOs) is expected to land a shot at the WBO strap with a win. But if Zerafa (28-4, 17 KOs) can get past him, Brian Carlos Castano might have the now #6 ranked contender to deal with.
What makes this fight even juicier is the clear disdain both men have for each other. Zerafa's "Micky Hatton" quip — in reference to Tim's father's beating at the hands of Ricky Hatton back in 2005 — went down about as good as a shot of propane with the Tszyu camp.
I'm looking forward to this one. And I'm not the only one.
Gilberto Ramirez vs. Sullivan Barrera
When: July 9, 2021
Where: Banc of California Stadium, Los Angeles
It's been a little while since Gilberto Ramirez cut through Arthur Abraham to land the WBO super-middleweight title in 2016. Ramirez has since upped his record to 41-0, picking up 27 KOs in the process.
But have we really seen the best of the Mexican? I'm not sure. Although his resume is immaculate, many of the names on it are far from impressive.
Ramirez's Last 5 Opponents
Alfonso Lopez
32-1
Win
Tommy Karpency 29
29-6-1
Win
Jesse Hart 25
25-1
Win
Roamer Alexis Angulo 23
23-0
Win
Habib Ahmed 25
25-0
Win
Now plying his trade at light heavyweight, Ramirez locks horns with the very capable Sullivan Barrera on July 9 in LA. The Cuban might be approaching his final days inside the ropes, but he still has the capacity to cause a splash at 175-pounds.
Barrera (22-3, 14 KOs) last fought to a loss against Jesse Hart in June 2019. At 39, he's hardly a spring chicken either.
So, in many ways, you can't really be surprised that he has been chosen to bolster Ramirez's record at light heavyweight, and potentially move him into contention against one of the top dogs of the division with a win.
Still, this will be one of the boxing matches to bet on in July 2021. Even if I'm not expecting it to be a 50/50 fight, there is an opportunity to make money betting on Ramirez vs. Barrera.
Joseph Diaz Jr. vs. Javier Fortuna
When: July 9, 2021
Where: Banc of California Stadium, Los Angeles
For: WBC Interim Lightweight Title
The betting sites have Diaz as a significant favorite ahead of his bout with Javier Fortuna.
But the fight is not a foregone conclusion. Thus, this makes it on to my list of the top boxing bouts to wager on in July 2021.
Diaz (31-1-1, 15 KOs) will be aiming to put on a show for the crowd at the Banc of California Stadium in Los Angeles knowing that a win gets him a shot at WBC lightweight king Devin Haney.
Fortuna (36-2-1 1 ND, 25 KOs), is the mandatory challenger for that strap. He was set to face Ryan Garcia, only for the rising star to pull out citing personal problems as the reason for his withdrawal.
This bout will crown an interim champion and should be a good one. Let's just hope that Diaz makes weight this time around.
Jermell Charlo vs Brian Castano
When: July 17, 2021
Where: AT&T Center, San Antonio, Texas, U.S.
For: WBA, WBC, IBF, and WBO Super-Welterweight Titles
Jermell Charlo vs. Brian Castano is one of the big fights to bet on in July 2021.
That is almost entirely down to the Texan's reputation in the fight game. But there is a chance that Castano could provide some difficult questions for the American.
Charlo (34-1, 18 KOs) is coming off a solid 8th round KO of Jeison Rosario in September and is aiming to better his credentials against Argentina's Castano (17-0-1, 12 KOs) in front of a home crowd.
Charlo's Record Since First Title Fight
34–1
Jeison Rosario
Win by KO
33–1
Tony Harrison
Win by TKO
32–1
Jorge Cota
Win by KO
31–1
Tony Harrison
Loss by UD
31–0
Austin Trout
Win by MD
30–0
Erickson Lubin
Win by KO
29–0
Charles Hatley
Win by KO
28–0
John Jackson
Win by TKO
If you're looking to gamble on Charlo vs. Castano, you might be interested to learn that "Iron Man" is currently -278 with online boxing sportsbooks to take the win.
Don't miss out on this one. It will almost certainly be one of boxing's best matches in July 2021 to bet on.
Tyson Fury vs Deontay Wilder 3
When: July 24, 2021
Where: T-Mobile Arena, Las Vegas
For: WBC and The Ring Heavyweight Titles
Folks, it's almost here. By now you will have figured out that I put this piece together to list the top boxing matches you can bet on in July 2021.
Well, there is no doubt that Fury vs. Wilder 3 is the best fight to bet on this July. Period.
Fury (30-0-1, 21 KOs) made light work of Wilder (42-1-1, 40 KOs) in their February 2020 rematch, and is the favorite to triumph once more. But I'm not sold on the idea that this will be the walk in the park for "The Gypsy King" that some believe it to be.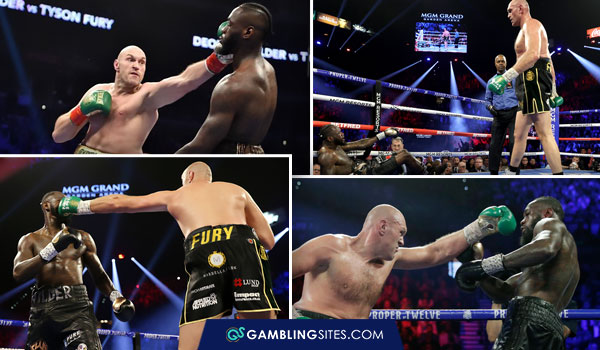 Wilder has switched a few things up ahead of the rematch. He has acquired a new trainer in former opponent Malik Scott and has exhibited a few new tricks in recent videos uploaded to his social media platforms.
However, his most potent weapon is his right hand, and that's what Fury's camp will be working around in their reconnaissance for this WBC heavyweight title showdown.
If you're looking for boxing matches to bet on this July, Fury-Wilder 3 is the apex of what's great about the fights this month. Ergo, don't do anything until you have checked out my early betting preview of Fury vs. Wilder 3.
Joe Joyce vs. Carlos Takam
When: July 24, 2021
Where: The SSE Arena, London, England
For: WBC Silver and WBO International Heavyweight Titles
Joe Joyce derailed a big British heavyweight hype train when he stopped Daniel Dubois in November. That win has earned the "Juggernaut" some well-deserved clout while setting him up with a tough test in France's Carlos Takam.
One of the top boxing matches this summer, it's also a solid one from a betting perspective.
Takam (39-5-1, 28 KOs) has won four on the bounce since being stopped by Dereck Chisora in 2018 and will fancy his chances against the Olympian. He has the power to trouble the Londoner, and will clearly back himself to score an upset.
Will Joyce (12-0, 11 KOs) beat Takam? He looks the better fighter all-around, but you just don't know in heavyweight boxing.
Regardless, I'll explain where you can find previews and picks for the best boxing matches in July after I have covered this next fight. Moving on.
Conor Benn vs Adrian Granados
When: July 31, 2021
Where: Matchroom Headquarters, Brentwood, England
For: WBA Continental (Europe) Welterweight Title
The son of one of my all-time favorite fighters of all time, Conor Benn has some way to go before he can be classed alongside his father, Nigel.
But to say the kid doesn't have anything to him would be grossly unfair. Benn (18-0, 12 KOs) has enjoyed something of a growth spurt in terms of his ability recently and showed his devastating power with a first-round TKO over Samuel Vargas in April.
I'd suggest adding this one in among your top boxing fights to bet on in July 2021, as Granados (21-8-3-1, 15 KOs) could test the Brit early on.
He may have four losses from his last nine bouts, but Shawn Porter, Adrien Broner, Danny Garcia, and Robert Easter Jr. are big names.
If Benn beats Granados, and beats him good, he won't be content with the For WBA Continental strap that is on the line. He will be hunting a place on the global welterweight ladder.
As I said, this fight promises to be one of July's top boxing matches to bet on.
How and Where to Bet on Boxing in July 2021
That almost brings my list of the best boxing matches to bet on this July to a close. But before I bid you farewell, allow me to explain how and where to bet on the fights.
Make sure to check out our boxing picks section for the latest odds, predictions, and betting picks for the fights coming our way. Our boxing blog also provides material that can help you increase your chances of winning money on the fights.
But before you can even think about gambling on boxing matches in July, you're going to need a solid, reliable online betting site. Take your pick from our recommended sportsbooks for boxing.
Enjoy the fights!
September
Casino of the Month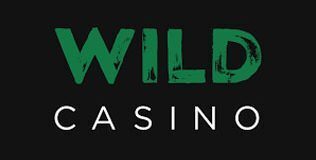 Welcome Bonus
250% up to $5,000