Top 5 Overrated NFL Players Going Into the 2021 Season

If you want to measure how great of a player somebody is, look at his number of All-Pro selections, not how many Pro Bowls he made. A national panel of qualified voters decides who makes the All-Pro team.
Fans get a say in who makes the Pro Bowl. That means reputation can outweigh current production, which is why I am stepping in to help clear the air.
Let's set the record straight on some guys who aren't as good as the public perceives. With that, here are the five most overrated NFL players in 2021.
Jadeveon Clowney, EDGE, Cleveland Browns
NFL edge rushers are paid to impact the game at the line of scrimmage and wreak havoc in the backfield. They are paid to drag the quarterback to his knees.
After doing an excellent job of those things in Houston from 2014-2018, Jadeveon Clowney's production has evaporated into thin air.
Remember Max Kellerman preaching about that cliff that Tom Brady was bound to fall off? Jadeveon Clowney has already plummeted to the bottom of that valley.
Jadeveon Clowney – By the Numbers Since 2019
Year
Team
Games
Tackles
Sacks
QB Hits
2019
Seahawks
13
31
3.0
13
2020
Titans
8
19
0.0
6
It's no wonder Cleveland baked as many incentives as they did into his one-year deal. Jadeveon and I accumulated the same number of sacks last season for the Titans, and I've never even been to Nashville.
And I can assure you nobody was paying me 12 million bucks.
Those expecting Clowney to be the "Robin" to Myles Garrett being "Batman," don't count your chickens before they hatch.
Patrick Peterson, CB, Minnesota Vikings
Patrick Peterson was a top-tier cornerback and a three-time First-Team All-Pro selection. Keyword being, was.
Don't get me wrong, Patrick is still an upgrade to what Mike Zimmer had in his secondary in 2020, but he's far from a shutdown corner at this stage of his career.
Peterson last made the All-Pro team in 2015 and turns 31 in July. He's started 154 games in his career and isn't getting any faster – let me bring you up to speed on the way his career has been trending.
Patrick Peterson PFF Grade In the Last Three Seasons
Year
Grade
Rank Among NFL Cornerbacks
2018
82.5
10th
2019
68.6
43rd
2020
55.2
90th
So maybe I lied, maybe Peterson doesn't enhance Vikings secondary in the upcoming year. Just seven cornerbacks yielded more than 450 air yards, five touchdowns, and a 65% completion rate in 2020.
Sadly, Patrick Peterson was one of the seven.
Bud Dupree, EDGE, Titans
And yet another free agent who switched teams in 2021 makes my list of the most overrated players in the NFL.
Bud Dupree inked a five-year deal worth $82.5 million this season equaling the $16.5 million annual salary being earned by Chandler Jones. Bud's making more than Trey Hendrickson or Danielle Hunter and virtually the same amount as Shaq Barrett.
Comparing Dupree to the aforementioned names – the former Steelers outside linebacker comes up a bit short.
For starters, he tore his ACL in December and is still going through the rehab process. That is a question mark, as is Bud's ability to drop back in coverage.
Even more glaring was that Dupree's lofty numbers appear to be the result of a stout supporting cast in Pittsburgh.
"Last season, 60.5" of Dupree's total pressures were either unblocked, cleanup or pursuit plays, which are more circumstantial than they are evidence of plus play. By contrast, only 26% T.J. Watt's pressures fell into those categories."
Odell Beckham Jr., WR, Cleveland Browns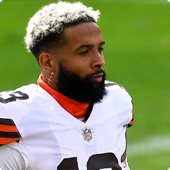 I am not trying to call out the Browns, I'm just calling it like I see it. Odell Beckham Jr. was regarded as one of the elite wideouts in the sport when he came to Cleveland in 2019.
And rightfully so, the dude put up video-game-like numbers with the Giants and made one acrobatic catch after another.
With that being said, the NFL is a "what have you done for me lately" type of business. OBJ has been busy resting on his laurels, and in the meantime, has been passed by dozens of names on the list of the best WRs in football.
Setting injuries aside, Odell's per 16 game average as a member of the Giants was 106-1,485-12.
In two years with the Browns, his per 16 game average has plunged dramatically to 67-942-5. OBJ's catch rate in New York was 62.7%, it's 55.1% since he was traded.
It was clear as day how much better and more confident Baker Mayfield looked without Beckham in the lineup. That was not just a coincidence, it's because OBJ isn't all he's jacked up to be.
Dak Prescott, QB, Dallas Cowboys
Of the five most overrated NFL players featured on this page, Dak is the one I almost left out. The problem is he just signed a deal that his him slated to be the second-highest-paid quarterback in the league behind only Patrick Mahomes.
$40 million per year seems a little rich for a guy who's won one playoff game in his entire career.
If you're playing fantasy football and all you care about is stats, Dak should be right up your alley. If you want to win big games down the stretch of a season, you might want to look in another direction.
There's no denying how much better Dallas plays with Prescott in the lineup, but hang on a second.
Would any offense look good with a battered offensive line and a decaying Andy Dalton under center?
The Most Overrated NFL Players: Honorable Mention List
I was going to include Russell Wilson on this list but was afraid one of my colleagues might want to chop my head off.
I will instead frame my thoughts around the idea that I simply think Wilson is a poor man's version of Josh Allen. There, I gave my co-workers some bait.
Other guys I am not as high on as the rest of the general public include the following.
Ezekiel Elliott
Jalen Ramsey
Amari Cooper
Jamal Adams
For more on either agreeing or disagreeing with my perception of the NFL in 2021, check out the blogs below.