Hide Bonus Offers
| | | | | |
| --- | --- | --- | --- | --- |
| #1 | BetOnline Sports | 60% Up To $1,000 | Visit Site | BetOnline Sports |
| #2 | Bovada Sports | 50% Up To $250 | Visit Site | Bovada Sports |
| #3 | BetUS | 125% Up To $2,500 | Visit Site | BetUS |
| #4 | Everygame | 100% Up To $500 | Visit Site | Everygame |
| #5 | MyBookie | 100% Up To $1,000 | Visit Site | MyBookie |
Top 4th of July Activities – Fireworks, Party Advice, Things to Bet On, and More

Are you looking for the best things you can do on the 4th of July? Perhaps I can help you with that!
In case you didn't already know, July 4th marks the Declaration of Independence of the United States from Britain on the same day in 1776. It's America's Independence Day and a big deal for patriots looking to celebrate across the country and around the world.
There are numerous 4th of July activities you can participate in, regardless of where you are. From New York to New Delhi or California to Cardiff, Americans don't need to be on hollowed soil to enjoy the festivities. Nothing beats being at home during the Fourth of July, but these tips will surely help you have a great time!
Let's get started with one of the most essential things to do for the 4th of July — that is to eat!
Get Your Independence Day Barbeque Fired Up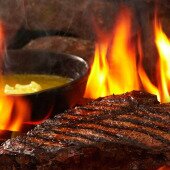 Whether you are planning to make this 4th of July the mother of all parties or a slightly timider affair, we all need food.
Look inside yourself and tell me a food more beloved by your average American than the barbeque? Right. Furthermore, fewer things to do on the 4th of July can quite stimulate the senses more than a barbeque. The delicious scent of food cooking over those hot coals does something to us as a species.
I'm a steak and sausage guy myself, but BBQs are not restricted to meat-eaters. Sure, the thought of vegetarians or vegans sharing the same grill as carnivores is hardly what some would label among the best 4th of July activities.
You know that there is no law stating that only one BBQ can be used simultaneously, right? The United States is a free country! And what better way to enjoy freedom than by embracing the range of delicious foods to make on Independence Day over the coals.
From rib-eyes and burgers to halloumi and vegan sausages, a great barbeque would have probably been enough to see John Hancock and George III put aside their differences.
Sure, old George would have probably tried to steal the BBQ and claim it for Britain right after, but that's beyond the point.
If you are looking for the best things to do for the 4th of July, wheel the big girl out and have a good old taste of America while celebrating your independence! Well, at least from the dishwasher. Remember paper plates! Never forget paper plates!
Bet on Nathan's Hot Dog Eating Contest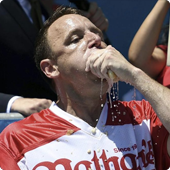 Paper plates are one thing. But some might interpret a barbeque without hotdogs to be a devastating screw-up!
Others won't be as keen to add chewing down on hotdogs to their ultimate list of things to do on the Fourth of July. That doesn't mean that watching others inhale hotdogs isn't on the cards, especially if some good old-fashioned competition is involved!
The best part is that you can gamble on such a thing. Am I shocked? No. Surprised? No. Intrigued? Pfft. Yes!
Sift through the various prop bets for Nathan's Hot Dog Eating Contest and tell me you aren't even slightly startled by how bizarrely appealing they are. As far as the top things to do on the 4th of July goes, it's up there!
Of all the countries on this beautiful planet, you'll find some strange quirks involving food. And while some might say America's eating competitions are up there with the oddest of them all, I firmly disagree. Just look at some of the following and tell me I'm wrong.
India – Traditional coconut skull smashing
Spain – The La Tomatina tomato-throwing fight
Denmark – Cinnamon tossing at unmarried 25-year-olds
Thailand – Annual monkey buffet in Lopburi Province
Mexico – The La Mordida face-to-cake shoving party
And that's just scratching the surface. I mean, we've had the emergence of eating broadcasts in Asia, as well as other things that make hotdog eating contests look perfectly sane.
The thought of shoveling down several poles of mystery meat enveloped in bread is enough to make me reach for the antacids. And my 'Hotdogaholic Anonymous' sponsor's phone number. But it's sure worth a laugh and could potentially win you some money!
I wonder if Thomas Jefferson had such a practice in mind when he quoted the following.
"We hold these truths to be self-evident: that all men are created equal; that they are endowed by their Creator with certain unalienable rights; that among these are life, liberty, and the pursuit of happiness."
This is not meant to disrespect the great man. But while all men are created equal, not all men entering Nathan's Hotdog Eating Contest will potentially win you money on the best sports betting sites in the USA.
Some are machines. Remorseless, hotdog eating machines…
Wager on Sports Events During the 4th of July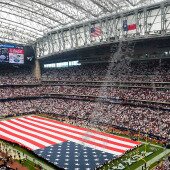 Not interested in wagering on grown men eating hotdogs? That's cool. I'm not going to hold it against you.
However, if you're looking for things to bet othe n during the 4th of July, your options are a little limited. This is because this year's Independence Day falls on a Monday. And as any experienced sports bettor will know, a Monday in July is not usually the most desirable day to host a major event.
Does that mean there are no sports to bet on this 4th of July 2022? Nope. We're getting lucky this year! There are some big tournaments and competitions that will be running on the day. Let's take a quick look at things to do on July 4th for gamblers.
Major League Baseball – You can bet on MLB games this year on the 4th of July and fixtures that fall before and after Independence Day. Our expert baseball tipsters will help you to get the best bets down. Visit our MLB picks section for Cubs vs. Brewers, Cardinals vs. Braves, and more!
Wimbledon – Early odds for Wimbledon are out there and available to bet on. The British tennis tournament might not be for everyone, but gamblers still have the option to wager on it.
Tour de France – From British tennis to the world's most famous cycling tournament. I guess the only thing these two nations share with the US is the color of their flags. But you can potentially win money on the event with the help of our Tour de France betting guide.
All these competitions will run through the 4th of July and beyond. But there will be plenty of other sports out there that you can bet on.
I'd recommend looking through the MyBookie sportsbook and seeing what games are happening on Independence Day. You can't deny that watching "America's game" on July 4th is a great way to spend the day.
As for the other two? Well, they are not nearly as patriotic, in a sense. But remember that US athletes will be performing on the international stage here! If that still doesn't do the trick, perhaps you will find something more to your liking than tennis or cycling. But for fans of the aforementioned sports, you're in luck.
Gambling on Sports Around the 4th of July
Wouldn't it be awesome to have a nice win to help you make the most of the big day? It would, right?
Of course, you should never gamble on anything recklessly. But providing you use good judgment and make the most of our various resources on this site — such as how to make more successful bets — you'll be in good hands.
That is nice to know when there are some awesome things to do on the 4th of July weekend, where betting is concerned. Here are some of the big events I am looking forward to that go down on Independence Day weekend 2022.
July 2 – Boxing: Ricky Hatton vs. Marco Antonio Barrera
July 2 – UFC 276: Adesanya vs. Cannonier
July 2 – Rugby: Japan vs. France
July 2 – Rugby: Argentina vs. Scotland
July 2 – Rugby: South Africa vs. Wales
For more potential bets for the 4th of July 2022, head on over to our sports betting blog!
Find the Best 4th of July Fireworks Display Near You
Listen here. You know it, and I know it. Of all the top things to do on Independence Day, fireworks are a given.
Just like sniffing out for a good BBQ, asking where to find the best fireworks display on the 4th of July 2022 in Texas, New York, or Wisconsin is high up on the list. Gazing at the sky as it lights up to the crack of fireworks gives us that same sense of wonder as a hot, juicy steak.
But I would be doing myself no good right now if I overlooked the fact that not everyone likes steak. Well, guess what? Not everyone likes fireworks, either. My dog, for example, walks around like Randy Savage during a promo cut most of the year. But crack a few fireworks off, and she suddenly becomes a quivering mess.
Does that mean you should not blast some fireworks off on your own land? It's not my place to tell anyone in a free country what to do. And if no one is being hurt or harmed in any way, all power to you.
Most shows start around 9pm. https://t.co/xhy6t30CLr

— Time Out Los Angeles (@timeoutla) June 10, 2022
I want to add to the tail end of that to remember to be safe with those fireworks! Remember the same kind of story about fireworks we were all told as kids? The one about the youngster that held on to one too long, and it shot up into his face and sent his head into orbit? Then it descended and landed on a hot barbeque? No? Was that just me?
Joking aside, be careful! I love the fireworks but from a safe distance. Please don't do a Steve-O and try to shoot some out of your butt after too many beers. Avoid handing your best bud a hotdog with a freshly lit bottle rocket inside!
There are plenty of places to go on the 4th of July that have fireworks displays. Don't believe me? Look up the best 2022 4th of July fireworks displays in your town or city, and you'll find something, I'm sure.
Have a 4th of July Party and Invite Everyone
Well, not everyone.
I mean, there are limits. If you happen to live near any pesky Brits with an eye on stealing your land, it's probably best to give them a wide berth. The same can be said for any overenthusiastic exes with a penchant for scratching your car.
But what are fun things to do on the 4th of July without your friends, family, and neighbors? Yes, there are a few I can think of. Still, if you want that authentic Independence Day party vibe, you should try to have your favorite people around you.
To have a successful party, you will need to cover the basics. These include the following.
The best 4th of July party food for everyone to enjoy.
Drinks. Both alcoholic and non-alcoholic.
Enough space to accommodate everyone.
First-aid kit for any emergencies. I'm looking at you, Mike!
A top 4th of July music playlist. More on that later.
To be completely honest, the guests of your party will determine what you need and what you don't.
For example, my friends and I tend to celebrate any major event with a few drinks and some food. But not all of my pals drink alcohol or eat meat. Most of them do, but I'll always ensure everyone is covered so as not to exclude those who are teetotalers, veggies, or have specific allergies or dietary requirements.
It's a party 🎉 #fourthofjuly #july4th #IndependenceDay #party #arnra pic.twitter.com/uGBJUEOria

— ARNRA (@ARNRA_official) June 15, 2022
If you don't like tequila, though, you're dead to me…
As for party things to do during the 4th of July? Again, that's up to you and your guests. Perhaps you want to watch some sports, play some table games, or just drink much mescal as you can before the hunger pangs kick in and you smash those pizzas.
Create a Top Independence Day Playlist
What are fun things to do on the 4th of July?
I'll tell you what I wouldn't count as fun things to do on Independence Day—listening to awful music and having to sit through gritted teeth at the audio assault on your ears. No one wants to listen to ABBA, Jane. Anyway, they are Swedish, right?
Over the past century, the US has provided the world with some of the greatest music ever created. As a homage to the United States' prolific musical output, you could at least add some of those legendary artists to your playlist.
But what songs to choose? I hate to say it, but this will come down to who is attending your party.
Although it might be tempting to fish for a reaction, playing Eminem's The Marshall Mathers LP at full blast at 2 pm around a bunch of 6-year-olds isn't the smartest move. If your party consists of hip-hop heads, I'm not sure sticking Boston's "More than a Feeling" on a constant loop will improve the mood.
If you want to go super patriotic, I'd definitely recommend building a 4th of July playlist for a party based on something everyone can vibe off. Either that or you could set our your device, fire up Spotify or whatever streaming app or site you use, and allow everyone to choose a song.
Well, everyone except Jane…
Play Some 4th of July Themed Slots and Games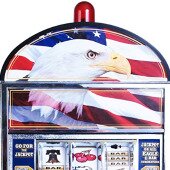 Take a look through the best online casinos on the 4th of July, or before then, to see what patriotic slots you can play this Independence Day.
If the top things to do on the 4th of July 2022 involve you, a laptop, and slots, you'll be in good hands. Plenty of slots are geared toward the concept of America's Independence Day, focusing on the flag, fireworks, and other common themes.
Take the 4th of July Slot, for example. Remember that one? Then, of course, other slots come with US themes. Or, quite simply, they are related to the United States in different ways.
Take the Flintstones Slot, for example. Alright, the concept of the United States of America was impossible to conceive at a time when primitive man lived in caves and had no frame of reference for a confederacy of states based on a demo…
Well, Fred and Wilma had some pretty exceptional mod-cons for the time, no? Besides it was created by Hanna-Barbera Productions, an American company.
Looking past one of the most random picks for slots to play on the 4th of July, there are some great games out there. I've recently played the following titles and should suggest them!
Golden Buffalo – If you're not keen on gambling in Las Vegas on July 4th, this title is available on the best casino sites.
Mustang Gold – This cowboy-themed classic is another excellent choice for those looking for the best slots at the top real money casino apps.
Jimi Hendrix Slot – The man pulled a revolution of his own off by hitting us with a supersonic, alienlike sound. There's also his version of the "Star-Spangled Banner," which was embraced as the soundtrack of the counter-culture movement of the time. Also, the game rocks.
In all fairness, hundreds, if not thousands, of things to do on the 4th of July involving American slots.
From flags, currency, US TV shows, culture, food, music — you name it — there will be a connection back to the good old US of A.
But Americans, like anyone from any other nation, like big wins. If jackpots are your thing, I'd consider playing the new Hotdrops Jackpots games currently doing the rounds. The following piece explains everything!
More Things You Can Do on the 4th of July
I think that just about covers most of the best things to do on the 4th of July.
You're almost set to get planning, from hotdogs and fireworks to party tips and gambling advice. But before I bid you farewell, I'd like to recommend four more things to do on the 4th of July.
Show Your Appreciation to Service People by Volunteering –Remember, without the people who have laid their lives down to defend the nation, there would be no nation. There are plenty of ways to 'give back' by volunteering on or around the day.
Watch Some Patriotic Movies with the Family – Citizens of the United States have much to be proud of. If you're looking to remind yourself why there are tons of movies covering some of the finer things the US has done for its people and the world.
Create Some 4th of July Crafts and Food – It doesn't have to be about parties, fireworks, and Flintstones slots. You can also make some red, white, and blue banners, cookies, and art.
Visit Somewhere in the US You Have Never Been – If you have a four-day weekend and circumstances permit, go visit somewhere new! Get out there and enjoy the entire span of one of the most beautiful countries on planet earth.
There are numerous things to do and places to go on the 4th of July. But not everyone will be able to move around as freely as others. And if that is you, you are in my thoughts. If you will be stuck at home or elsewhere this Fourth of July for whatever reason, you're in my thoughts.
If you want to read more while you recover or have some more time on your hands than usual, you're most welcome to read the latest entries on our blog. You wouldn't be looking for some new poker sunglasses, by any chance?