Ranking the Top 30 Busts in NFL Draft History

The NFL draft gives teams a chance to upgrade their roster without shelling out a big contract. We've seen championship teams build their roster through the draft. Unfortunately, it has gone the other way with some of the worst NFL draft picks in league history.
Some players don't live up to the hype, earning their status as one of the biggest NFL draft busts. They set their team back for a few years, and they go from elite prospect to utter failure in the process.
So, who ends up being among the worst of the worst when it comes to bad NFL draft picks? Let's find out by checking out the top 30 biggest NFL draft busts of all-time.
Worst NFL Draft Busts: 30-11
30. Robert Griffin III
29. Vince Young
28. Justin Gilbert
27. Dwayne Haskins
26. Josh Rosen
25. Art Schlichter
24. Tony Blackledge
23. David Klinger
22. Matt Leinart
21. Jeff George
20. Rick Mirer
19. Steve Emtman
18. Dion Jordan
17. Johnny Manziel
16. Justin Blackmon
15. David Carr
14. Tim Couch
13. Vernon Gholston
12. Ki-Jana Carter
11. Andre Ware
A common theme with the worst NFL draft busts is quarterbacks. Quarterback is the most important position, so teams typically take one high in the draft. We've seen players have Hall of Fame careers, but not the players on this list.
Former Heisman Trophy winner Andre Ware is the top NFL draft bust outside the top 10. Ware only played 14 games with the Detroit Lions. Now the worst NFL draft picks aren't exclusive to quarterbacks.
Running back Ki-Jana Carter and wide receiver Justin Blackmon made the top 20. Injuries derailed Carter's career while Blackmon dealt with numerous off-field issues.
Vernon Gholston, Dion Jordan, and Steve Emtman make the 1st round draft busts as defensive players. Emtman is one of the biggest busts among first overall picks.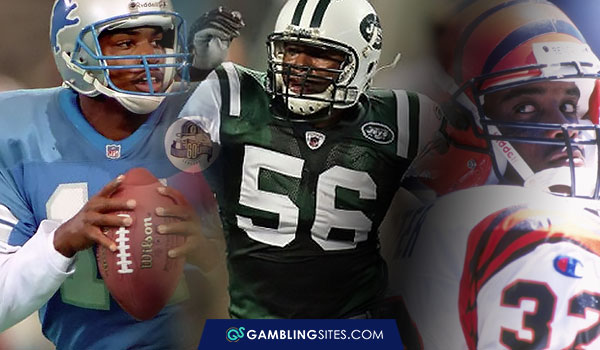 Now it's time to talk about the ten biggest NFL draft busts.
10. Jason Smith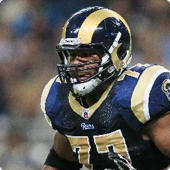 Team Drafted By: St. Louis Rams
Pick Selected: 2nd Overall
Time Spent in the NFL: 4 Seasons
Offensive tackle Jason Smith was an All-American and made the All-Big 12 first-team. There were question marks about his ability to play in an NFL offense, but the St. Louis Rams decided to select him No. 2 in the 2009 NFL draft.
Before stepping foot on the field, St. Louis gave him a six-year, $61 million contract, with $33 million guaranteed. That turned out to be a bad move as Smith struggled to adjust to the game and dealt with injuries.
Smith played 15 games in 2010, but injuries popped up again in 2011. The following season, the Rams traded him to the New York Jets. New York released him after one season.
He signed with the New Orleans Saints and Jets in 2013 but didn't play. That marked the end of his career, earning his status as a first-round NFL draft bust. The injuries didn't help, but there was much more to his bust status.
9. Lawrence Phillips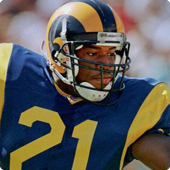 Team Drafted By: St. Louis Rams
Pick Selected: 6th Overall
Time Spent in the NFL: 3 Seasons
Coming into the 1996 NFL draft, most viewed Lawrence Phillips as the best player. The running back helped Nebraska win a pair of National Championships, but off-field issues had some wondering if he was worth it.
The St. Louis Rams took a chance, selecting Phillips sixth overall. Phillips spent two seasons with the Rams, posting these numbers.
| | | |
| --- | --- | --- |
| | 1996 | 1997 |
| Carries | 193 | 183 |
| Yards | 632 | 633 |
| Yards Per Carry | 3.3 | 3.5 |
| Touchdowns | 4 | 8 |
His numbers weren't terrible, but numerous off-field issues led to the Rams releasing him during the 1997 season. He went to the Miami Dolphins, but more off-field problems led to his release.
Phillips played eight games with the San Francisco 49ers in 1999. That marked the end of his NFL career, but he spent two seasons in the CFL. The off-field issues led to Phillips being one of the biggest NFL draft busts.
Unfortunately, he could never get away from the legal issues. He committed suicide in his jail cell in 2016.
8. Heath Shuler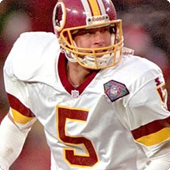 Team Drafted By: Washington Redskins
Pick Selected: 3rd Overall
Time Spent in the NFL: 4 Seasons
Heath Shuler was the SEC Player of the Year in 1993. He passed for 2,354 yards and 25 touchdowns, finishing second in Heisman Trophy voting. The Washington Redskins selected their quarterback of the future with the third overall pick.
It didn't take long to see Shuler would be a top NFL bust. Check out his numbers across his first two seasons.
13 games
2,403 yards
13 touchdowns
19 interceptions
He was the backup as Washington let seventh-round pick Gus Frerotte lead the team in his third season. Following the 1996 season, Washington traded Shuler to the New Orleans Saints for a fifth-round pick and a future third-round pick.
He started nine games with the Saints, passing for two touchdowns and 14 interceptions. There was no question about his status as an all-time biggest NFL draft bust. New Orleans released him after the season, ending his career.
At least he found success in his post-playing career.
7. Trent Richardson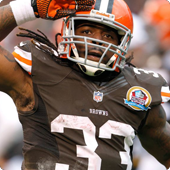 Team Drafted By: Cleveland Browns
Pick Selected: 3rd Overall
Time Spent in the NFL: 3 Seasons
Trent Richardson put up big numbers at Alabama, earning numerous accolades. The running back had high expectations, with the Cleveland Browns trading up to select him third overall.
Richardson wasn't terrible his rookie season, rushing for 950 yards and 11 touchdowns. Those numbers masked an ugly 3.6 yards per carry. A few games into his second season, the Browns traded Richardson to the Indianapolis Colts for a first-round pick.
His numbers came way down, rushing for 2.9 yards per carry. Following a rough 2014 season, the Colts released Richardson. He signed with the Oakland Raiders, only playing in the preseason. That gave us this memorable image.
Trent Richardson lacks "vision"..#SEC #SomeBodyNeedsGlasses ? pic.twitter.com/vjk8DGPXMg

— PremierAthletes (@SlyJohnson3) August 18, 2015
That marked the end of his NFL career. In three seasons, he rushed for 2,032 yards and 17 touchdowns. Richardson's lowlights include 3.3 yards per carry and seven fumbles. He was the biggest NFL flop at the running back position.
The Cleveland Browns have had a turbulent history in the draft, but Richardson was their worst pick.
6. Brian Bosworth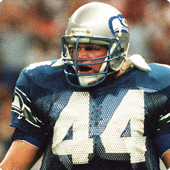 Team Drafted By: Seattle Seahawks
Pick Selected: Supplemental Draft
Time Spent in the NFL: 3 Seasons
Brian Bosworth was a star in college. He won the Butkus Award twice as the best linebacker and was a two-time unanimous All-American.
The issue with Bosworth was he was a very controversial athlete. His steroid use earned him a suspension in the 1987 Orange Bowl. His actions on the sideline led to his dismissal from Oklahoma.
The Seattle Seahawks selected Bosworth in the Supplemental draft. His drama started before he stepped foot on the field. He didn't join the Seahawks until they made him the highest-paid rookie in NFL history.
That should've indicated that Bosworth would've been one of the worst NFL draft picks. He continued his trash talk, claiming he would stop Bo Jackson. Jackson ran through Bosworth on a touchdown run.
A shoulder injury forced Bosworth to retire two games into his third year. His steroid use left his shoulders looking like a 60-year-old. He finished his disappointing career with four sacks.
5. Akili Smith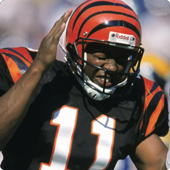 Team Drafted By: Cincinnati Bengals
Pick Selected: 3rd Overall
Time Spent in the NFL: 4 Seasons
Akili Smith had a great Senior season at Oregon, passing for 3,763 yards and 32 touchdowns. That was his only productive season in college, but the Cincinnati Bengals saw enough to make him the third overall pick.
His selection came one spot after the Philadelphia Eagles made one of the most surprising NFL draft picks.
His one great season proved to be a fluke. Check out his numbers in his first two seasons.
48.3 completion percentage
2,058 yards
5 touchdowns
12 interceptions
Cincinnati decided they had seen enough. They benched Smith as he spent his final two seasons on the sidelines. He had brief stints with the Green Bay Packers and Tampa Bay Buccaneers but never appeared in a game.
His production alone makes him one of the biggest NFL draft busts. However, it worsens when you find out the New Orleans Saints offered to trade nine picks, including multiple first-rounders for the third overall pick.
4. Charles Rogers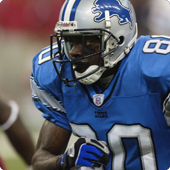 Team Drafted By: Detroit Lions
Pick Selected: 2nd Overall
Time Spent in the NFL: 3 Seasons
After two stellar seasons at Michigan State, Charles Rogers looked like a future All-Pro. He had 135 receptions, 2,821 yards, and 27 touchdowns. Many people believed he was a sure-fire pick. The Detroit Lions made a move, selecting him second overall.
Rogers had 243 yards and three touchdowns in his first five games. Unfortunately, he suffered a broken clavicle in practice, ending his rookie season. Rodgers suffered the same injury three plays into his second season.
The Lions allowed him to be away from the team. Unfortunately, that led to substance abuse, resulting in his downfall.
He played nine games in 2005, but his numbers were way down. Rogers was a shell of his former self, leading to his release in 2006. He worked out for a few other teams but never signed. His NFL career was over after 15 games.
Who knows what could've happened without the injuries. Rogers died in 2019 from liver failure.
3. Tony Mandarich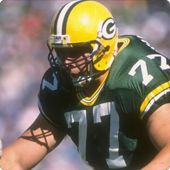 Team Drafted By: Green Bay Packers
Pick Selected: 2nd Overall
Time Spent in the NFL: 6 Seasons
The 1989 NFL draft featured four Hall of Famers in the top five. The Green Bay Packers could've gone with Barry Sanders, Derrick Thomas, or Deion Sanders. Instead, they went with offensive lineman Tony Mandarich.
At the time, Mandarich was one of the best draft prospects among linemen of all time. Unfortunately, he never lived up to the hype.
No question. It's Tony Mandarich. https://t.co/qdw6I6r6NN pic.twitter.com/KYbjGkkWgq

— Soren Sodergren?? (@Soren_Sodergren) March 5, 2022
It didn't take long for him to become one of the worst NFL draft busts. Mandarich had a terrible work ethic, believing everything revolved around him. The Packers relegated him to special teams in his rookie season.
He only missed one game over the next two seasons, but the Packers released him. After four years out of the league, Mandarich returned to play three seasons with the Indianapolis Colts. He retired following the 1998 season.
A few things go into Mandarich being one of the biggest draft busts of all time. Being taken over three Hall of Famers makes this one of the biggest draft mistakes in sports history.
2. Ryan Leaf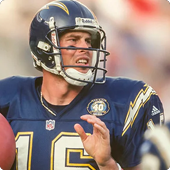 Team Drafted By: San Diego Chargers
Pick Selected: 2nd Overall
Time Spent in the NFL: 4 Seasons
In the 1998 NFL draft, there was a debate about who should be the first overall pick. The Indianapolis Colt needed a quarterback, deciding between Peyton Manning and Ryan Leaf. Manning went to the Colts, with the San Diego Chargers taking Leaf.
There were problems before Leaf made his NFL debut. That seems to be a common theme among the all-time biggest NFL draft busts.
His career got off to a terrible start. In his third game, he went 1-15 with four yards, two interceptions, and four fumbles. The following day, a video revealed him going on a tirade to a Chargers reporter.
Check out his numbers from his rookie season.
45.3 completion percentage
1,289 yards
2 touchdowns
15 interceptions
Leaf missed the entire 1999 season with a shoulder injury. He had a rough 2000 season, leading to his release. Leaf spent some time with the Dallas Cowboys, but his career was over after four seasons.
1. JaMarcus Russell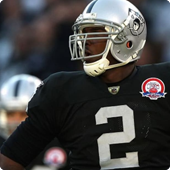 Team Drafted By: Oakland Raiders
Pick Selected: 1st Overall
Time Spent in the NFL: 3 Seasons
JaMarcus Russell tops the list of worst busts in NFL draft history. Russell had serious questions about his work ethic, but Al Davis wanted Russell leading the Oakland Raiders. He led the charge, making Russell the No. 1 pick of the 2007 NFL draft.
Russell only started one game his rookie season, but the Raiders named him the starter for the 2008 season. He started 15 games, passing for 2,423 yards, 13 touchdowns, and eight interceptions.
The following season, we saw his numbers take a steep decline.
8 completion percentage
1,287 yards
3 touchdowns
11 interceptions
That was the end of his NFL career. The Raiders released him after he showed up to minicamp overweight the following offseason.
Russell's status as one of the biggest busts in sports history comes from his work ethic. I'm sure most know the story of the Raiders giving him a blank DVD, which he later stated were blitz packages.
This list of NFL draft picks who were busts showed how difficult it is to draft. A player can have all the talent in the world, but they won't succeed for various reasons. It wasn't wise to bet on these players having a promising career.
It's disappointing to see how some bad NFL draft picks panned out, but the draft is still an event filled with promise. Believe it or not, you can actually bet on it every year, too. You can't bet on which players will end up being busts, but you can bet on when they're picked, and more.
If you'd like to bet on the NFL draft, be sure to check out the top NFL betting sites.