Hide Bonus Offers
| | | | | |
| --- | --- | --- | --- | --- |
| #1 | BetOnline Sports | 60% Up To $1,000 | Visit Site | BetOnline Sports |
| #2 | Bovada Sports | 50% Up To $250 | Visit Site | Bovada Sports |
| #3 | BetUS | 125% Up To $2,500 | Visit Site | BetUS |
| #4 | Everygame | 100% Up To $500 | Visit Site | Everygame |
| #5 | MyBookie | 100% Up To $1,000 | Visit Site | MyBookie |
Top 2021 Super Bowl Viewing Parties in Las Vegas

There is a way to a) get out of the house, b) watch the Super Bowl, c) bet on the Super Bowl, and d) have the BEST Big Game day ever!
Two words: Las Vegas.
A number of sportsbooks and clubs are hosting Super Bowl watch parties on Sunday, February 7th. And to judge by the food, drinks, and entertainment planned for that day here in Sin City, these parties are going to be LIT.
We all feel like we've been in solitary for just about a year now. It's time to escape the cage, burn our grey "at home" sweatpants, and don socks for the first time in months. Maybe even shoes!
Any day out would be nice, but the Super Bowl? Words cannot express how good this day can be. (Except that I will express it now. In words.)
Approximately 300,000 football fans swarm into Vegas every year for the Super Bowl festivities. Even if you don't love football, you don't want to miss a party weekend like this.
There are just some things that Vegas does better than anywhere else in the world, and throwing parties is one of them.
Here is my list of the most popular and well-attended Super Bowl watch parties. Most of them include bottomless cocktails and food with entry ticket.
Note: because of capacity restrictions throughout the State of Nevada, and due to the need to have each party separated from each other by a distance of six feet, these parties will be much more exclusive this year, and thus, much more pricey.
If you love standing shoulder to shoulder with a wild and unruly crowd, you may be disappointed this year. However, the opportunity to safely party in Vegas is well worth a bit of adjustment.
TAO
You know this venue as one of the hottest nightclubs in Las Vegas. You think, "how are electronic music and spangly mini-dresses going to work when I'm trying to pay attention to—you know—THE GAME?"
Fret not. This upscale and sexy space within the Venetian is going to put away all things dance party, and roll out an extensive food menu, bottle service, and ginormous screens for your viewing pleasure.
This event will fill up quickly and is pricey (depending on where you want to sit). Decide soon and plan for a safe ride home that night, since TAO parties have a reputation for going long and getting wild.
The TAO party starts at 1:00 p.m. Pacific Time.
Circa Casino
Currently the largest sportsbook in the world, the Circa on Fremont Street offers a unique sports watching experience. The seating is tiered to give you a stadium feel, and the screens are off the hook (three stories high, with 78 million pixels).
The vibe is friendly, the eateries are close and of good quality, and the new casino has the "grand opening" buzz about it.
The Super Bowl viewing party will not be in the sportsbook, however, but out at the casino's adults-only, year-round pool area, called Stadium Swim.
This is not a traditional pool area, however. It is essentially a stadium stocked with lounge chairs, rather than hard stadium seats. The pools wend their way between the seating sections. There is a Jabba the Hut-sized screen that will be in play on Super Bowl Sunday as you lounge and sip and maybe take a dip in the 98℉ water.
So place your wagers and your prop bets, then head out to your reserved seats in the Stadium Swim area. The cost to reserve one lounge chair for the watch party runs between $175 and $225. A few drinks are included, along with a buffet.
The Circa's Stadium Swim party begins at 11 a.m. Pacific Time.
Note: you can also watch the Super Bowl inside, in the sportsbook. However, sportsbook seats tend to be claimed early in the morning on Super Bowl Sunday. Keep in mind that by 10 a.m. there may not be a sportsbook seat left anywhere in the city.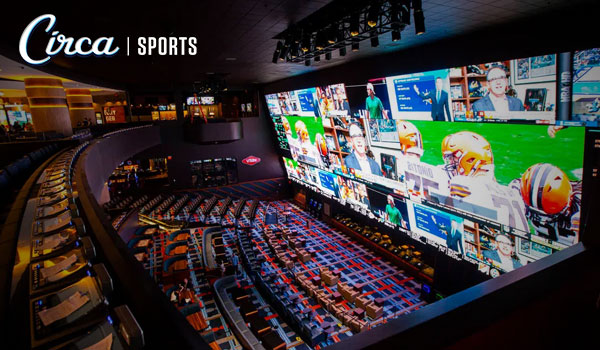 Montecristo Cigar Bar in Caesar's Palace
This cigar bar boasts that on February 7th, it will transform into the "Ultimate Super Bowl Man Cave." Those are big words. But when those words are backed up by drinks, football, and the world's top cigar labels, you start to believe them.
Oh, and Playboy has called the Montecristo one of the nation's "best bars." Not a shabby recommendation at all.
There is a 208-inch television wall, plus screens throughout the cigar bar. A few of the Big Game packages are already sold out. The Big Game Package for 4 is still available, at $650, as are a couple of other packages.
Strangely, single seats are not being offered on the reservation page but may be available by calling the bar itself well ahead of the big day.
If are one of the lucky cigar enthusiasts who grab a seat at the Montecristo on game day, here are some of the cigar and cocktails pairings for which the property is famous:
Smoke an Oliva Serie V Melanio Figurado and sip Louis XIII Cognac by Remy Martin
Smoke a Padron 1964 Torpedo Maduro and sip an Avion 44 Tequila
Smoke an Ashton Symmetry Prism and sip a Jack Daniel's Single Barrel Select
The Montecristo party begins at 2 p.m. Pacific Time.
The LINQ
This is one of the most enjoyable of the Vegas Strip properties, in my opinion. This property has a different look and feel from other Strip casinos. There is also a LINQ promenade just outside the casino which acts like a "mini-Strip" and is home to restaurants, shops, and plenty of people watching.
The Book at the LINQ, which is what the casino's sportsbook calls itself, is famous for "interactive fan caves." On Super Bowl Sunday, you'll enjoy bottomless drinks and food from Guy Fieri's nearby restaurant.
Of course, as with all Super Bowl experiences, things can get pricey here. Gameday seats range from $636 for one person to $2545 for a group of four.
The Book at the LINQ watch party begins at 2:00 p.m. Pacific Time.
Blondie's Sports Bar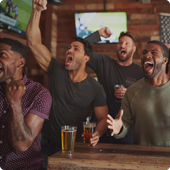 Blondie's has the perfect sports bar ambiance. Cool-looking, but not "fancified," always busy but rarely uncomfortable, this is the place to let your hair down and holler as loud as you want (or need) to upon the event of:
A touchdown.
You win the MVP bet.
You eat an especially spicy wing.
With 60 big screens, some of them 12 feet wide, and a large, excellent menu, this is a go-to bar for many Vegas locals when the Big Game looms. Menu items (on regular days) include ribeye steaks, fish & chips, shrimp in shallots, club sandwiches, BLTs, street tacos, and pizzas. Oh, and thick homemade chili topped with green onions and sour cream.
The Super Bowl Sunday menu may differ, of course, depending on where the world stands on the seventh of Feb. But it will be tasty, whatever is decided upon.
Blondie's will have an open bar (including Top Shelf liquors) for Super Bowl guests. If that seems too good to be true, let me tell you that it will cost you $250 to attend this watch party.
Blondie's is located in the Miracle Mile Shops at Planet Hollywood. Arrive early to claim that spot.
The Blondie's party begins at 1:30 p.m. Pacific Time.
The only way to make the Super Bowl more exciting than it already is, is to BET ON IT Bet on the winner of the game, bet on who will score the first TD, and check out the prop bets like who will win the coin toss, and what color of Gatorade will be served. Yes! Do it!
Westgate Resort & Casino
This will be the 11th time this convention-center hotel will be hosting a watch party for the Big Game. This party boats an open bar (yes, please), a buffet, and high-definition viewing screens that feature top-of-the-line audio.
This Super Book sportsbook at the Westgate has truly impressive screens, along with a number of in-house betting contests.
The Westgate is neither on the Strip, nor in the Fremont Street District. Rather, the Westgate sits near the Las Vegas Country Club a mile and a half from the heart of the Strip.
The Westgate party begins at 1:30 p.m. Pacific Time.
Crazy Horse III
This famous local strip club is hosting another popular Super Bowl watch party. With 24 big screens, numerous "cheerleaders," and fourth quarter bottle specials, this watch party is an annual favorite in Sin City.
The watch package includes seating for up to four attendees, an open bar for the duration of the game, and unlimited food.
Compared to the prices of other Las Vegas watch parties, this one is a great deal at $799.
The start time for this party has not yet been announced.
Sapphire
Another popular Vegas "gentleman's club," Sapphire pays homage to Super Bowl 55 by offering such packages as the "VIP Blitz Booth." This package runs $1500, and includes free transportation, four tickets to the event, a bottle of premium liquor and mixers, a free $300 to spend at the bar, and premium seating.
Several other packages are available, ranging from $1000 to the $4500 Rock Star Package. There will also be prizes and giveaways to heighten the game day fun, as well as a special Big Game menu.
Fun fact: Katy Perry, Will I Am, Seth Green, and Criss Angel have been known to hang out here at the Sapphire. On Super Bowl Sunday, however, you'll be too busy with the game to celebrity-spot.
Party start time at the Sapphire is noon, but may be subject to change.
Hofbräuhaus Las Vegas
Locals and tourists alike love the Hofbräuhaus. Yes, it has German food, which may not be to everyone's taste, but there is no denying this place was built with fun in mind.
The staff are welcoming, the eating room is huge, just like the Hofbräuhaus in Munich, Germany, and if you are lucky, you can request to be painfully spanked with a wooden paddle after downing a shot of schnapps. Who wouldn't want that?
On Super Bowl Sunday, pay $165 to enjoy guaranteed seating, an open bar, and unlimited food in what is unquestionably one of the great spots in Vegas for camaraderie and silly behavior. (Which is why I am often to be found here, large Bavarian pretzel in one hand, even larger beer stein in the other.)
The start time for the Super Bowl watch party has not yet been announced.
Hard Rock Café
There are Hard Rock Cafes around the world, from the Caribbean to the United States to the Middle East. This eatery is famous everywhere for offering surprisingly good food in a casual and upbeat atmosphere.
The Hard Rock Las Vegas will host a Big Game watch party that starts a bit later than the others, but will include a premium open bar, a 20 foot LED screen, and guaranteed pre-assigned seating for $300, which is considerably more affordable than many other Strip-area events.
The watch party will be inside the Hard Rock Hotel, which is near the MGM Grand, in case you didn't know the Hard Rock had a casino here in town.
The party starts at the Hard Rock at 3 p.m. Pacific Time.
One Last Thought
As long as you have a great view of a screen, a comfy chair, some good food, and plenty to drink, you are going to enjoy your Super Bowl experience.
You don't have to shell out the big bucks to shout for your favorite players.
But then again, the Super Bowl only happens once a year. If you can watch it with a cigar and cocktail in hand, why wouldn't you? Just try to have one of the best Super Bowl betting apps in hand, too, so you can get your real money wagers in nice and easily.
The more people who are in the room, the bigger the excitement during the game. The bigger the excitement, the longer you want to stay out and party. The longer you stay out and party, the more value you are getting from your Vegas experience. Total win-win.