Hide Bonus Offers
| | | | | |
| --- | --- | --- | --- | --- |
| #1 | BetOnline Sports | 60% Up To $1,000 | Visit Site | BetOnline Sports |
| #2 | Bovada Sports | 50% Up To $250 | Visit Site | Bovada Sports |
| #3 | BetUS | 125% Up To $2,500 | Visit Site | BetUS |
| #4 | Everygame | 100% Up To $500 | Visit Site | Everygame |
| #5 | MyBookie | 100% Up To $1,000 | Visit Site | MyBookie |
The Top 15 Blackjack Legends and Influences (So Far, Anyway)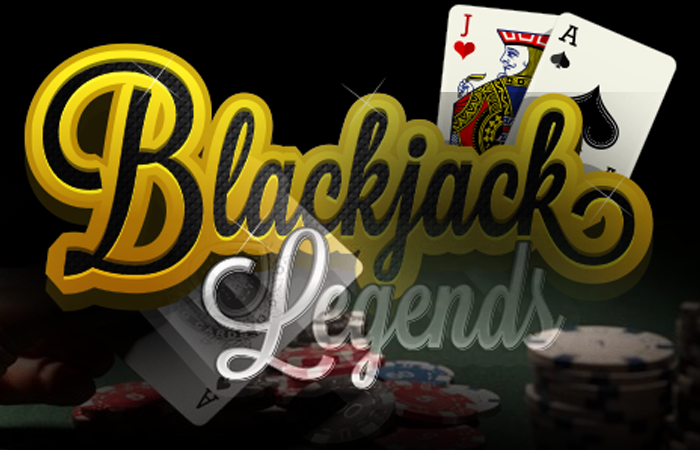 Blackjack is one of the oldest card games still being played regularly today in casinos, online, and at home. Known for many years as 21, this game is said to have originated in the 1700's in France. Like many older games, the exact origin isn't known for sure.
The game is played with a single deck of cards, and the object is for the player to beat the dealer by getting a combination of cards that are more than the dealers but less than 22 when added up, or to have 21 or less and have the dealer go over 21.
This game doesn't have a single person to credit for its creation or a single time period that we can definitively say when it started, but it has grown to be one of the most popular games being played on casino floors all over the world.
Blackjack, like poker, has players that play it professionally in the casinos and in tournaments. These players have mastered the game and have learned a proven system that helps them win. The game has also been one of the games that people try to cheat at the most.
Movies and television shows have been made about the groups of people who've successfully beat the game and won a crap ton of money by counting the cards. The casinos go through a great deal of trouble trying to keep this from happening, but it's just something that is going to happen.
The people that follow aren't going to be on any of those lists of cheaters; they've made an impact on the world through the game.
1 – Bryce Carlson
Bryce Carlson started playing blackjack in the 1970's. He began playing the game because he had always wanted to be able to beat the casinos. He used other players that he met to help him get better. He would ask for help with strategies and tips which helped him bring his game play up to professional level.
He learned about team play, card counting strategies, and much more from these players that he has continued to use throughout his 40 plus year career. In the late 1990's when the internet really took off blackjack was offered online and Bryce just couldn't resist. He would gather with a group of other professional players and play other well-known players from all over the world.
To help fellow players and those who want to learn how to play the game Bryce wrote his book Blackjack for Blood which was a huge success. In his book he talks about using the Advanced Omega II system which is a card counting strategy that can help you become a winner.
Bryce didn't stop with his book though; he also developed a computer program called Omega II Blackjack Machine that helps you develop strategies that are going to work when you're at the table.
2 – Arnold Snyder
Arnold Snyder is not only known as one of the best blackjack players in the world but he is also quite an accomplished teacher in the field. He has written a number of books that relate to the game of blackjack and has even written the trade journal for the game.
His books collection includes Blackbelt in Blackjack, Big Book of Blackjack, The Blackjack Formula, and The Over / Under Report. He has also been editing the trade journal and the Blackjack Forum since 1981. To this day he still does this for free so that he can share his knowledge and love of the game with others who want to learn to play.
Arnold also helped develop software that helps players learn all the essentials of the game. PowerSim Blackjack Card Counting Simulation Software is available to players who need to learn how to play the game free of charge. This software teaches you all about the tools, calculations, and strategies that you need to know to be a successful blackjack player.
During his time in the gambling community Arnold has taught or wrote about just about every possible aspect of the game. He has also been inducted into the Blackjack Hall of Fame as one of the first seven. He is well known all over the world for his skills both at the table and in lessons; you'll always learn something new from him.
Snyder has started playing poker as well and has written a few books to help poker players learn how to bet the game. Just like blackjack, poker can be played profitably and the casino or poker room isn't trying to catch you and ask you to leave.
3 – Lance Humble
Lance Humble didn't start out as a blackjack player; instead he was a teacher at York University in Toronto. There he taught a course on the Aspects of Gambling. The course was supposed to be based on horse racing and how it was used as a form of gambling, but the students were more interested in learning about the games that could be found at casinos. They wanted to learn how to play the games and how to beat them so he started to do some research.
He read everything he could get his hands on and became well versed on the game of blackjack. He learned the Dubner point count system and the different strategies used in the game. He was a natural so he took his new skills and headed to Las Vegas to put them to the test.
On his first trip to Vegas he was able to use his skills to make a profit so he decided this was the game for him and he knew he had to continue to hone his skills. He did this by taking lessons from greats like Lawrence Revere and studying the strategies of others such as Stanford Wong.
The longer he played the better he got and he was even able to design a card counting system with Julian Braun that he lays out in the book he helped write with Kenneth Cooper. The book is called The World's Greatest Blackjack Book and in it you can learn his Hi Opt I and Hi Opt II. The Hi Opt I card counting system is very basic and can be used by even the most inexperienced players.
The book also teaches the reader what to look for in a casino and how to interact with the dealer which helps when a player is trying to win by using his system. Also included in the book is how to talk to a pit boss and knowing when it's time to quit and walk away.
4 – Tommy Hyland
Tommy Hyland started his career as a blackjack player as part of a team in Atlantic City. He and four others put $4,000 in to start the team's bank for playing blackjack. It didn't take long for the four men to start winning and within a few months had won enough that their bankroll totaled $50,000.
Tommy has always been a member of a team when playing blackjack. He believes playing as a member of a team makes the losses a little less devastating. Tommy's teams use many different strategies at the table where some count cards; others use ace sequencing and / or shuffle tracking to get the job done.
He has team members all over the country and has even been a part of teams that member numbers at times would be as high as 40 players. Each of the players has their own way to be successful but with his years of experience he has become known as The King of Blackjack.
Tommy has been in the business of counting cards since 1979 after reading Lawrence Revere's book Playing Blackjack as a Business. This makes it a little harder for him to go into a casino and just sit down at a table and play. He has been counting cards for so long that at most casinos he is recognized and asked to leave. He and members of his team have at different time's worn costumes and disguises so they could play at the casinos.
Since card counting isn't illegal and the states have passed laws that stop casinos from banning card counters Tommy and his teammates don't have to worry too much anymore when they go into the casinos about legal action, but they still are asked to leave when they're discovered. He was inducted into the Blackjack Hall of Fame at the same time as Arnold Snyder as part of the original seven inductees.
5 – Stanford Wong
Stanford Wong was born in Georgia during World War II and was given the name John Ferguson. He had always been a fan of games and was always trying to figure out a way to beat the games with different tactics.
He says that he was never interested in playing games with other people until after he had figured out the best ways for him to win on his own first. His knack for developing winning strategies stuck with him and made him a great deal of money and fame.
It wasn't until 1963 and the release of Edward Thorps book Beat The Dealer where he realized that playing cards could be more than just a hobby. After reading the book he honed his skills at counting cards and took his newfound ability to Reno to see if he could win at the tables.
As soon as he turned 21 he went to Reno and started playing blackjack and started winning immediately. He continued to make trips to casinos where he would play and win for many years. It wasn't until he started making more playing blackjack than he was making as a professor that he decided to start playing professionally.
After playing professionally for a few years he started to write books and give his knowledge of the game to others seeking to follow in his footsteps. He, like many other professional players, started out playing using someone else's strategy and then began to develop one of his own. His strategy is called Wong Halves, which is a card counting strategy that is extremely complicated but is incredibly accurate.
When he became a professional player and author he chose to use a pen name instead of his given name. He chose his name to represent Stanford University, his alma mater, and an Asian last name to give him the air of mystery. He has become known as one of the world's most profitable professional players.
6 – Lawrence Revere
Lawrence Revere, unlike many of the other players on the list, started his run in the gambling world on the other side of the table. He started dealing cards when he was just 13 years old in Iowa and fell in love with gambling. As he grew up he went to college at the University of Nebraska where he majored in mathematics and used his skills learned here to develop strategies for blackjack.
When he was old enough he started working at the casinos he spent time at the tables as a dealer then went on to be a pit boss and eventually owned a casino of his own. When he decided to use his skills to become a professional player he was able to use his knowledge of the games and how casinos work to his advantage.
He has been one of the foremost experts in the gambling community on blackjack. He has written many books that have been the teacher of some of some of the greatest players the world has ever seen. He has multiple card counting strategies named after him that he helped develop. His books are some of the most read on the subject because he didn't just include his knowledge of the game as a player; he also bestowed what he learned to work in and owning a casino.
His work on the other side of the table made him a master of camouflage and gave him the upper hand when it came to being able to disguise himself when he played so he wouldn't get in trouble while he worked at the casinos. Lawrence passed away in 1977 but his knowledge lives on and is still used by many who love the game today.
7 – Peter Griffin
Peter Griffin's interest in blackjack started back in the 1970's. At this time he was working as a professor and wanted to see how he could develop a class that used mathematics for casino gambling. So, he started trying to play blackjack and discovered that he was pretty bad at it because he hadn't studied the game enough.
So, he started doing his research and began to compile different strategies and calculations that could be used to increase the chance of winning at the game. He became so good at the game he published a book called The Theory of Blackjack: The Complete Card Counter's Guide to the Casino Game of 21. The book did so well that it was classified as the best book since Edward Thorp's Beat the Dealer.
In his book, he lays out the most complete and accurate strategies to use when playing blackjack that are easy enough for even the beginner players. He became one of the top players in the game and was inducted into the Blackjack Hall of Fame with the initial seven.
8 – Edward O Thorp
Edward Thorp is known for having written the best gambling book related to blackjack of all time. Most of the professional players that have ever been any good have read his book and have used his card counting system at some point. Thorp started his research on counting cards when he and a fellow MIT professor started taking weekend trips to Las Vegas.
He used these trips as a way for him to test his strategies and when one didn't work he would adjust it during the week and try again on the next weekend. He was able to come up with two different card counting strategies that have become the basis of most other strategies used today.
His Simple Point Count and Complete Point Count systems are used by many professional players at the start of their career. To test these card counting methods he went to Las Vegas with $10,000 and proved that they worked. He used this experience in his book to show the readers that if they follow his strategies they can be successful.
Thorp has gone on to write many more books and has used his skills with statistics and probability to make a fortune on the stock market but his heart is still in the game of blackjack.
9 – Ken Uston
Ken Uston isn't your everyday blackjack player. He started his career with the game by pure accident. He had never been very interested in playing cards until one day he decided he needed to make some changes in his life. At this time, he was working on the San Francisco Stock Exchange and felt as though his life was at a standstill.
So, he decided to go out one night after work and met Al Francesco who introduced him to the world of blackjack. With just this one glance into the world he was hooked and started reading everything he could get his hands on during his lunch breaks at the stock exchange. After trying his skills out in small games, he decided he was confident enough in his abilities and went to Las Vegas.
When he arrived in Las Vegas he started playing and winning instantly. When he saw the amounts of money that could be won playing this game he quit his job at the stock exchange and started playing full time. He began perfecting his stills at counting cards and started working with a team to increase his wins and lower the blow of losses.
Ken made a name for himself in the casinos because he was the type who played hard but partied just as hard. This wasn't the best thing for his career and caused him to become recognizable and ended up getting him banned from casinos around the globe.
He also made changes in the laws when he filed a lawsuit against the casinos that had banned him in Atlantic City.
10 – Don Schlesinger
Don started playing blackjack in 1975 in Las Vegas. He wanted to learn how math played a part in the casino game and started to learn how to do it from the Lawrence Revere book Playing Blackjack as a Business. Using this book, he learned how to count cards and has been doing so ever since.
Since his initial start in the game Don has made blackjack strategies a hobby and has done great research in many different areas of the game. He used his research to write many different books that have been used by many to learn the different ways to play the game from risk analysis, card counting, to team play.
He has always loved the game but teaching and research were always his first love. That is why he has continued to do research and has become one of the people that newer players turn to for advice. He has worked with professional players like Arnold Snyder and Edward Thorp on different strategies and books.
You can still to this day find him writing articles for publications online and in print sharing his knowledge of the game with the world.
11– Julian Braun
Julian got his start in blackjack by reading Thorp's book Beat the Dealer. He contacted Thorp and asked for a copy of his computer program so he could use it to make improvements on Thorp's already successful strategy.
Julian had programing experience form where he had worked at IBM. He used his abilities to take Thorp's strategies and make them simpler and more accurate versions which he then published in the revised version of Thorps book in 1966.
The thing about Julian that sets him apart from the rest of the people on this list is that he isn't a player at all but has been a huge contributor to the game. He even made it into the Blackjack Hall of Fame for his different collaborations with other players to help build new and improved strategies over the years. He even published his own book in 1980 that gave an insider's look at the math and logic used in counting cards.
12 – Bill Zender
Bill Zender started playing blackjack when he was a young boy at the age of nine. He would play with the neighborhood kids and they played for pennies. His love for the game only continued to grow through his teen years when he would sneak into casinos and play the 50 cent tables.
He is another professional player that has seen the game from both sides of the table. Before becoming a professional player, he worked for a casino as a blackjack dealer and learned a great deal about how to count the cards from his coworkers.
He worked at the Aladdin Casino and worked his way up to being the casino manager and wanted to learn more about how people could cheat at the games. This wasn't something that many in the gambling industry knew anything about at this time so he learned the methods and was able to become quite good.
Bill has used his knowledge of both sides of the table to write books that teach players the best ways to cheat at blackjack. He is one of the professional players that change his counting methods as he plays but has never designed one of his own. His go to form of counting is the Hi / Lo system.
13 – Keith Taft
Keith is noted as the one who built the first blackjack computer in 1970 which could compute blackjack strategies. He continued to produce electronic ways for players to beat the game such as smaller calculating machines and cameras that could be used to see the dealer's hole cards.
Keith worked with Ken Uston in a team that he put together to test his devices. The team had an 80% success rate in a five-week period. This successful run didn't last too long because the devices were discovered and the team was charged but the charges were later dropped because the FBI didn't classify the devices as cheating tools.
He has also been inducted into the Blackjack Hall of Fame.
14 – Al Francesco
Al Francesco is noted for being one of the players to popularizing the use of team play. He began playing card games at the age of 19 and started with rummy, but after reading Thorp's book he decided to change over to blackjack because he saw the potential success in counting cards.
When he first started using his skills at the casinos they only used one deck of cards during a game which made it super easy for the card counters to keep track of the game. It wasn't long before the casinos caught on and started using more decks which caused Al a bunch of issues since his method wouldn't work as well with multiple decks.
So, he started doing more research and found Lawrence Revere's book and was back in business. When he started using this method he began getting heat from the casino owners so he decided to try and develop his own method and that is where he came up with team play.
His team style play has been used by many and was able to get him inducted into the Blackjack Hall of Fame with the initial seven inductees.
15 – John May
John May is an expert at blackjack and has been writing books about the game for many years. He got his start with blackjack in 1990 when he came across a book by Jacques Black and he was hooked. He started to do research and decided to go a different route than most.
His strategy is unique because it isn't based on counting cards like many of the other professionals use. Instead his focusses on the camouflage, sequencing, and card steering are far more important than just being able to count cards.
Even though he doesn't leave card counting out completely, he does put more emphasis on learning the other strategies. This is mainly because everyone seems to be counting cards these days but very few are able to master all the other options available to a blackjack player.
John is a professional player that travels all over the world but mostly stays in European and Asian casinos.
He is a well-known blackjack expert and author of the book Get the Edge at Blackjack. He currently lives in Ireland, but has travelled the world playing in casinos everywhere from Europe to Asia.
Conclusion
Blackjack has a huge following and is one of the easiest games to play on the casino floor. If you're a beginner you can read any one of these players' books and learn a great deal about the different strategies that can be used in the game to give you a better advantage.
Casinos today look down on card counting but there isn't a law that has made doing so illegal. They can no longer ban you from the casino if you are caught either. They may ask you to leave but you can just go to a different casino and get right back in the game.
All of these men have made themselves very wealthy from playing blackjack and writing books that bestow their knowledge onto people just like you and me. Many of these men still play to this day and have used their own experiences to craft new and easier methods.
Most of these guys have at some point had losing streaks so you must remember that even though you learn how to use card counting or any of the other methods doesn't guarantee you're going to win. You can still lose large amounts of money sometimes at the table if you aren't careful with your money and how you're playing the game.