Top 10 Running Backs in the 2021 NFL Draft

Le'Veon Bell got paid big bucks by the Jets and never delivered. He was eventually shipped out of town, just like Todd Gurley after his big deal with the Rams turned out to be a disaster. Ever since Ezekiel Elliott inked a $90 million deal with Dallas, Tony Pollard has been the Cowboys most effective back.
The moral here is teams are much better off drafting a fresh rookie than overpaying for someone with additional mileage on their tires.
With that in mind, there are a handful of incoming running backs looking to make their mark in 2021. These NFL Draft RB rankings help get you acquainted with 10 of those names.
1 – Javonte Williams, North Carolina
Height: 5'10"
Weight: 220 pounds
Think of a young Marshawn Lynch, only faster and shiftier. Williams will enter the league ready to contribute in the passing game and as a blocker, but his best attribute his ability to truck over defenders.
Javonte was terrific as a sophomore when he totaled 1,109 yards and six touchdowns from scrimmage (5.6 yards per carry), but he exploded during what was a sensational junior campaign.
When the dust settled on North Carolina's 2020 season, Williams had racked up 1,445 yards and 22 touchdowns, averaging a video-game-like 7.3 ypc. A ready-made three-down back that can be integrated as a starter from the get-go.
2 – Najee Harris, Alabama
Height: 6'2"
Weight: 230 pounds
His size and skillset are very comparable to Steven Jackson. Harris proved he can serve as a bell cow with a 31-carry performance against Georgia (152 yards), and that came one week after he toted the rock 23 times for 206 yards and five touchdowns against Ole Miss. Najee's 30 touchdowns this past year set a new SEC record, surpassing the 28 TDs Derrick Henry ripped off in 2015.
The production is there, and GMs will have solace knowing that Harris lost just one fumble over the course of 719 career touches in Tuscaloosa. His prowess as a bulldozer between the tackles is blatant, plus he can slash outside and gain chunks in an instant.
As for his size and his strength, the following image serves more justice than any adjective I can drum up.
Saquon Barkey and AJ Dillon have a new challenger in the quad game.

Alabama RB Najee Harris pic.twitter.com/XWcTqjzJGZ

— NFL Update (@MySportsUpdate) January 26, 2021
3 – Travis Etienne, Clemson
Height: 5'10"
Weight: 210 pounds
Positioned at the top of several NFL Draft RB rankings, Travis Etienne has a genuine shot and being plucked off the board within the first 32 picks. The ACC's all-time leading rusher is lively on the ground, but he also happens to be the most efficient pass-catcher among all of the best running backs in the 2021 draft class.
Case in point – Travis posted an eye-popping 90.9 PFF grade as a receiver (1st among all FBS running backs) and led all college running backs with 588 receiving yards.
Etienne's decorated numbers at Clemson allude to his capabilities, and his explosiveness in the open field makes him even more of an alluring prospect. His deficiencies in pass-pro can be developed at the next level; the speed and instinct he possesses can't be taught.
4 – Michael Carter, North Carolina
Height: 5'8"
Weight: 202 pounds
The comparisons to Clyde Edwards-Helaire are fair, especially if Michael Carter gets drafted into a system with the resources in places that can complement his adroitness. Paired alongside Javonte Williams in Chapel Hill, Carter was able to get loose nearly every time he touched the football.
In fact, Michael's 7.98 ypc in 2020 is the all-time single-season record at UNC. His career 6.62 ypc is also a school record. Carter's a slippery RB who, just like his time in college, will be able to flourish as the "lighting" as someone else acts as the "thunder."
As almost all NFL teams progress into a two-headed attack, Carter can provide a boost right away as a rookie.
5 – Kenneth Gainwell, Memphis
Height: 5'11"
Weight: 191 pounds
Kenneth Gainwell opted out of the 2020 season after his family suffered through heartbreak, but the former Memphis RB is locked and loaded for the upcoming draft. Keep in mind, Gainwell was a high-school QB who was thrust into a starting running back role as a RS freshman with the Tigers in 2019.
How's this for a supposed "fill-in."
Kenneth Gainwell By the Numbers – 2019 Season at Memphis
Games
Rushing Yards
Rushing TDs
Yards/Carry
Receptions
Receiving Yards
Receiving TDs
14
1,459
13
6.3
51
610
3
That's 2,069 yards from scrimmage and 16 TDs in his first full year playing the position.
Kenneth will likely begin his career #2 or #3 on his team's RB depth chart. However, all signs are pointing to him eventually surging up to the top spot. In all likelihood, sooner rather than later.
6 – Trey Sermon, Ohio State
Height: 6'0"
Weight: 213 pounds
The Oklahoma transfer was at his best in the Big Ten Championship Game and the CFP against Clemson – vaulting his way up the list and into the top-10 RB rankings for the 2021 NFL Draft. Trey projects to be a heavy lifter on first and second and a weapon in goal line stations. He'll be best utilized by an NFL team that already has a pass-catching back in place to handle third-down duties.
What draws scouts to Sermon is his physical nature at the point of attack, as well as his proficient ball security. With just 170 carries on his resume since the start of 2019, Trey's legs are fresher than most.
7 – Jaret Patterson, Buffalo
Height: 5'9"
Weight: 195 pounds
Averaging 23.8 carries per game during his final two seasons with the Bulls led to some off-the-charts production. After rushing for over 1,000 yards and 14 touchdowns as a true freshman at Buffalo, Patterson went berserk as a sophomore and junior.
Jaret Patterson's Final Two Seasons at Buffalo
Season
Games Played
Rushing Attempts
Rushing Yards
Rushing TDs
Yards/Carry
2019
13
312
1,799
19
5.8
2020
6
141
1,072
19
7.6
19 rushing TDs in six games this past year, and we're talking real-life – not playing NCAAF on an Xbox in rookie mode.
Built with a sturdy lower half and incredible downfield vision, Jaret's top-notch footwork and suppleness allowed to him gash defenses on the regular. Likely on the cusp of being a day 2 selection, Patterson could very well wind up as one of the steals of the 2021 NFL Draft.
8 – Rhamondre Stevenson, Oklahoma
Height: 5'11.5"
Weight: 227 pounds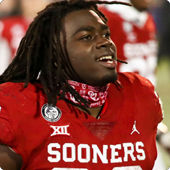 A good-old-fashioned power running back who runs with a chip on his shoulder. Instead of earning a scholarship to Norman straight out of high school, Rhamondre had to work his way up the ladder starting at Cerritos Junior College. It was there that the Las Vegas native ran for over 2,000 yards as a sophomore to gain attention from Lincoln Riley.
The result at OU was stupendous – 165 carries for 1,180 yards (7.2 ypc) and 13 TDs. His game was expanded in 2020 to where he can now be trusted as a pass-catcher, too.
Stevenson has slimmed down from a top weight that was pushing 250 pounds to help become more elusive in the open field. Like Jaret Patterson, Rhamondre figures to be on the fringe between being drafted late on day 2 or early on day 3.
9 – Jermar Jefferson, Oregon State
Height: 5'9"
Weight: 215 pounds
A cutback specialist who thrived in Corvallis, Jefferson will especially appeal to teams that have implemented the zone read into their game plan. Think Baltimore, Buffalo, Arizona, and Philly. Frankly, any franchise that's armed with a sincere dual-threat QB should take a hard look at the Oregon State RB.
Jermar only dropped one pass in 27 career games and figures to be a nice addition to the screen game. Most concerns surrounding his ceiling come back to his shortcomings as a complete running back – namely as a blocker.
With that being said, Jefferson doesn't need to be a workhorse to impact an offense. 10-12 touches a game are more than enough for him to seriously dent a defense.
10 – Elijah Mitchell, Louisiana
Height: 5'11"

Weight: 215 pounds
46 touchdowns and nearly 3,900 yards from scrimmage during his career at Louisiana. Imagine the numbers Elijah would have put up had he not been splitting work with Raymond Calais and Trey Ragas.
Without top-end burst like some of the others featured in my 2021 draft rankings for running backs, Mitchell will slide to the back burner and probably be a day 3 pick. The investment could pay massive dividends, though.
As an addendum to my NFL Draft RB Sleepers column, please see Exhibit A on why I believe Elijah Mitchell can be a 3-Down RB at the next level

Hands, body control, vision, acceleration, contact balance

Absorbs a hit and STILL stays on his feet!@EliMitch15 is the Real Deal ? pic.twitter.com/SuNo3pMtwu

— Eric Froton (@CFFroton) March 6, 2021
While he doesn't excel in any one specific area, Elijah has a durable frame and is sufficient in all aspects. On top of being a dynamic threat as a pass-catcher, Mitchell has shown determination in short-yardage situations.
He's exactly what teams are looking for when trying to stack adequate RB depth on their roster.
More NFL Draft Position Rankings for 2021
This version of NFL Draft RB rankings helps set the foundation for what's in store come April. It's possible that no running backs are taken on day 1, while it's not out of the realm that three could be selected.
Day 2 and Day 3 is where we'll see the majority of rookie running backs find out where they'll be calling home.
If you're looking for a "lay of the land" for what the landscape looks like for the incoming quarterbacks and wide receivers, check out the two blogs below.
September
Casino of the Month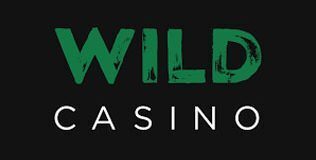 Welcome Bonus
250% up to $5,000