Top 10 Pitching Rotations for the 2021 MLB Season

Who has the best pitching staff in baseball was a fair discussion heading into February. On the heels of the Dodgers luring Trevor Bauer to La La Land, it's now a one-sided debate.
Almost any MLB enthusiast would concede that Los Angeles boasts the best collection of arms in the big leagues, but it's certainly not the only staff that's brimming with talent. Looking ahead to the 2021 campaign, I've compiled my list of the 10 best pitching rotations.
Let's start at #10 and work our way to the top.
10 – Minnesota Twins
Twins Projected Rotation for 2021
1 – Jose Berrios, R
2 – Kenta Maeda, R
3 – Michael Pineda, R
4 – J.A. Haap, L
5 – Randy Dobnak, R
Rocco Baldelli is likely to hand the ball to Jose Berrios on Opening Day, which means the Twins best pitcher will be utilized in game #2. Kenta Maeda was good with the Dodgers, but the 32-year-old Japanese right-hander took his game to another level upon arriving in the Twin Cities.
Kenta Maeda – 2020 Stats
Games Started
Wins
Losses
ERA
Innings
Strikeouts
11
6
1
2.70
66.2
80
Maeda finished 2nd in the 2020 AL Cy Young voting after posting an MLB-best 0.750 WHIP. Rich Hill's departure is curbed by the addition of J.A. Happ, while Michael Pineda returns after pitching wonderfully a season ago.
Randy Dobnak will begin the year in the five-hole, but it may not be long until Jhoan Duran gets his shot. Standing 6'5" and tipping the scales at 230 pounds, the 23-year-old Dominican has a bright future ahead.
9 – Houston Astros
Astros Projected Rotation for 2021
1 – Zack Greinke, R
2 – Framber Valdez, L
3 – Lance McCullers Jr., R
4 – Jose Urquidy, R
5 – Cristian Javier, R
With Justin Verlander most likely shelved until 2022, Houston will rely on the same five guys from their 2020 starting rotation. Interestingly enough, the highest ERA among the quintet belonged to the team's ace, Zack Greinke.
Houston Astros Pitching Staff – 2020 Regular-Season
Name
ERA
Innings
Jose Urquidy
2.73
29.2
Cristian Javier
3.48
54.1
Framber Valdez
3.57
70.2
Lance McCullers
3.93
55.0
Zack Greinke
4.03
67.0
It's easy to get excited about all of these names, and it's worth noting that Cristian Javier excelled during the postseason. On top of that, Forrest Whitley, one of the more heralded names in the minor leagues, should see some big league action at some point during the year.
People outside of Houston would love to see the 'Stros crumble, and their hitters may very well take another step back. With that being said, the Astros rotation is among the best pitching staffs in the MLB.
8 – New York Mets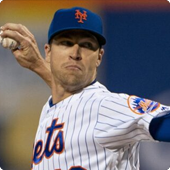 Mets Projected Rotation for 2021
1 – Jacob deGrom, R
2 – Carlos Carrasco, R
3 – Marcus Stroman, R
4 – David Peterson, L
5 – Joey Lucchesi, L
Noah Syndergaard is hoping to rejoin the Mets rotation in June, but no exact timetable has been set in stone. Should "Thor" return at full-strength and look like his old self, New York's staff will be propelled into one of the five best MLB rotations.
The Mets inability to agree to terms with Trevor Bauer would have stung a lot more had they not traded for Carlos Carrasco. The 33-year-old Venezuelan is more than capable of filling in as the #2 starter after a terrific 2020 in Cleveland. The bottom half of this rotation is by no means a sure thing, but the guy at the top is as close to a "sure thing" as it gets.
Jacob deGrom turned his third straight sub-2.45 ERA season in 2020 and led the National League in strikeouts. If it weren't for Bauer, deGrom may have won his third Cy Young in a row.
7 – Cleveland Indians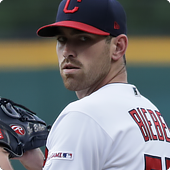 Indians Projected Rotation for 2021
1 – Shane Bieber, R
2 – Zach Pleasac, R
3 – Aaron Civale, R
4 – Triston McKenzie, R
5 – Logan Allen, L
The 2nd-best pitcher in baseball last year was a former Indian, Trevor Bauer. The hands-down best pitcher last season was a current member of the Tribe, Shane Bieber.
"Not Justin" was lights-out in 2020 K'ing 122 batters across 77.1 innings. He posted a blistering 1.63 ERA and won a league-high eight games. Bieber became the first Cleveland pitcher to win the pitching Triple Crown and ran away with the Cy Young award.
I could go on raving about Shane's numbers, but he's just one piece to the puzzle that led to the Indians topping the American League in team ERA in 2020.
Zach Pleasac was sensational (2.91 ERA, 55.1 innings, 57 Ks), and only five pitchers logged more innings than Aaron Civale. Based on how comfortable Triston McKenzie looked in his eight-game sample size (3.24 ERA, 33.1 innings, 42 Ks), perhaps I'm being naïve by only ranking Cleveland's staff #7.
6 – Chicago White Sox
White Sox Projected Rotation for 2021
1 – Lucas Giolito, R
2 – Dallas Keuchel, L
3 – Lance Lynn, R
4 – Dylan Cease, R
5 – Carlos Rodon, L
Chicago recognized the opportunity standing in front of them in 2021. The White Sox needed one more arm to add to their arsenal, and that got what they wanted in the form of Lance Lynn. The hard-throwing righty delivered an MLB-high 84 innings last year in Texas, striking out 89 batters and garnering a sturdy 3.32 ERA.
Adding Lynn to a staff that includes Lucas Giolito and Dallas Keuchel has the ChiSox in line to make a run at the AL Pennant.
I won't pretend to believe that Carlos Rodon is going to stay healthy, and Dylan Cease still needs to prove himself at the Major League Level. On the flip side, Reynaldo Lopez isn't the worst contingency plan, and Michael Kopech is out there somewhere waiting to be unleashed.
5 – New York Yankees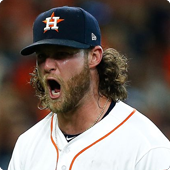 Yankees Projected Rotation for 2021
1 – Gerrit Cole, R
2 – Corey Kluber, R
3 – Jameson Taillon, R
4 – Jordan Montgomery, L
5 – Domingo German, R
Gerrit Cole demonstrated that he can shoulder the load in the Big Apple, and he should have plenty of help this year behind him in the rotation. Deivi Garcia will factor in somewhere, and Aaron Boone is hoping that Luis Severino can return "sometime this summer." The good news in New York is Boone can afford to let Garcia develop in the minors. He can let Severino take his time rehabbing his elbow.
Domingo German returns after a season-long suspension, and remember, German won 18 games in 2019. And there are the newcomers.
Corey Kluber signed with the Yanks (one-year/$11 million) and Jameson Taillon arrives via trade. Kluber, a two-time AL Cy Young winner, was in desperate need of a fresh start after a lost year with the Rangers. And now instead of being wasted away in Pittsburgh, Taillon's skillset will be on full display under the bright lights of Yankee Stadium.
4 – Washington Nationals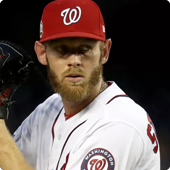 Nationals Projected Rotation for 2021
1 – Max Scherzer, R
2 – Patrick Corbin, L
3 – Stephen Strasburg, R
4 – Jon Lester, L
5 – Joe Ross, R
Forget about Washington finishing with a disastrous 5.09 team ERA in 2020 (26th in the league). Stephen Strasburg threw a total of five innings and Patrick Corbin never settled into a groove. Frankly, nothing went right for the Nationals in the year following their first World Series in franchise history.
In terms of turning the page toward 2021, nobody is happier than Nats skipper Davey Martinez.
"Stras" is coming back well-rested and ready to contribute in a big way. Corbin's struggles were directly correlated to a significant drop in his velocity, which is why it'll be important to monitor Corbin's "Velo" in spring training. I imagine a full off-season of prep work will help Patrick get his pitches in order.
When it comes to Max Scherzer's dip in production last year, that isn't anything worrisome. "Mad Max" is still among the elite righties in baseball – go ahead and pencil him in for 200+ innings and 15+ wins this season.
Washington's rotation rounds out with Jon Lester and Joe Ross, both eager to prove themselves in the upcoming season. Lester was abysmal for the Cubs in 12 starts in 2020, while Ross opted-out before the season even began.
3 – Atlanta Braves
Braves Projected Rotation for 2021
1 – Max Fried, L
2 – Mike Soroka, R
3 – Charlie Morton, R
4 – Ian Anderson, R
5 – Drew Smyly, L
In the event that Mike Soroka isn't ready by April 1st, expect Kyle Wright to step in behind Smyly at the back of Atlanta's rotation. Soroka emerged in 2019 as one of the best young pitchers in the game; Max Fried followed suit this past year.
Anchored by Fried and Soroka at the top, the Braves front office is extremely excited about what Ian Anderson brings to the table. The third-overall pick in the 2016 MLB Draft hurled 32.1 innings as a rookie, striking out 41 batters while accumulating a blazing 1.95 ERA. The best part about Anderson's first season in the Bigs is he was even better in the playoffs.
Ian Anderson 2020 Postseason – By the Numbers
Date
Opponent
Result
Innings
Earned Runs
Hits
Strikeouts
10/1/20
Reds
W, 5-0
6.0
0
2
9
10/7/20
Marlins
W, 2-0
5.2
0
3
8
10/13/20
Dodgers
W, 8-7
4.0
0
1
5
10/18/20
Dodgers
L, 4-3
3.0
5
2
2
24 Ks in 18.2 innings with video-game-like 0.96 ERA.
The only thing Atlanta was missing was a trusty veteran to plug into the middle of their rotation. Enter Charlie Morton on a one-year/$15 million deal.
2 – San Diego Padres
Padres Projected Rotation for 2021
1 – Yu Darvish, R
2 – Blake Snell, L
3 – Dinelson Lamet, R
4 – Joe Musgrove, R
5 – Chris Paddack, R
Dinelson Lamet was brilliant in 2020. Let me say that again. Dinelson Lamet was brilliant in 2020. As in the dude struck out 93 batters in 69 innings and registered a 2.09 ERA. His 0.8551 WHIP was lower than Shane Bieber's.
San Diego would have been in great shape had Lamet been tabbed as their Opening Day starter, but that wasn't enough to satisfy A.J. Preller. The Padres general manager traded for two top-tier starters and now has a trio of legitimate aces.
Three of a kind.@snellzilla4 | @faridyu | @LametRHP pic.twitter.com/MfENxOj2xu

— San Diego Padres (@Padres) December 31, 2020
Did you think Preller was finished?
The Friars acquired Joe Musgrove in January the year after he K'd 12.4 batters per 9 innings. Having Chris Paddack as your 5th guy means Jayce Tingler will be getting plenty of shuteye at night.
Can you imagine how good this rotation will be once Mike Clevinger and MacKenzie Gore are ready to join the fray?
1 – Los Angeles Dodgers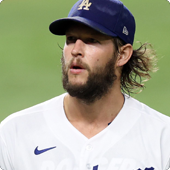 Dodgers Projected Rotation for 2021
1 – Trever Bauer, R
2 – Walker Buehler, R
3 – Clayton Kershaw, L
4 – Julio Urias, L
5 – David Price, L
The cream of the crop when it comes to the best pitching staffs in baseball.
Talk about the rich getting richer, the Dodgers reached into their pocket and presented Trevor Bauer with a contract that was too generous to pass on. Bauer's $102 million for three years pushes the team's 2021 payroll to just under $235 million, and here's some perspective.
That's $45 million more than the next highest team (New York Yankees) and more than $64 million more than anyone else in the National League.
Clayton Kershaw may not be at the peak of his career, but he's still one of the best southpaws in the majors. Walker Buehler's ascension to the upper echelon of starting pitchers is blatant, and let's squeeze in a quick word about Julio Urias. The 24-year-old lefty was great during the regular season, and he was even better during the Dodgers' October run (1.17 ERA in 23 postseason innings).
LA has the luxury of subbing Dustin May and Tony Gonsolin in if one of their regulars goes down – two guys that are worthy of being high-end starting pitchers.
These Are the Best Rotations in Baseball
There are some other good ones, too. St. Louis re-upped with Adam Wainwright, and I pegged Jack Flaherty as one of my MLB bounce back candidates in 2021. The Cardinals are right there.
Cincy and Philly could both wind up with one of the 10 best pitching staffs in the MLB, and the Marlins are loaded with lots of young studs. There's no doubt Miami's rotation is on the rise.
Ready to switch gears and study the best batting orders in 2021?
September
Casino of the Month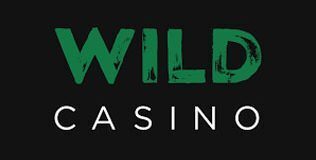 Welcome Bonus
250% up to $5,000