Top 10 Lineups in the MLB for the 2021 Season

As the dust starts to settle from the flurry of offseason transactions, 2021 MLB lineups are starting to take shape. We have a pretty good idea of what batting orders are going to look like, and we have last year's stats to fall back on.
Throw in upcoming projections and maybe the slightest bit of partiality, and we arrive at my top-10 rankings.
Houston, Boston, and Washington narrowly missed the cut, but I had to draw the line somewhere.
10 – Philadelphia Phillies
Slotting the Phillies ahead of some others hinges on Rhys Hoskins staying healthy and being a steady contributor.
We know Bryce Harper is going to produce, and J.T. Realmuto is the best-hitting catcher in the league by a mile. If Hoskins can elevate his batting average over .260 and still pound out 30+ homers and 90+ RBI, Philly will be a force to be reckoned with.
Phillies Projected Lineup for 2021
Andrew McCutchen, LF
Alec Bohm, 3B
Bryce Harper, RF
J.T. Realmuto, C
Rhys Hoskins, 1B
Didi Gregorius, SS
Jean Segura, 2B
Scott Kingery, CF
Pitcher
Didi Gregorius hit .284 and led Joe Girardi's club in total bases and RBI, plus Andrew McCutchen still has plenty of pop left in his bat.
Alec Bohm is locked and loaded for a full season at third base after hitting a sporty .338 as a rookie.
9 – St. Louis Cardinals
The Cardinal's fairly average offense received a major boost on February 1st, so much so that landing Nolan Arenado catapults the Redbirds into the discussion of World Series contenders.
It certainly pushes them up the MLB lineup rankings to where they're now armed with one of the top-10 batting orders in baseball.
Cardinals Projected Lineup for 2021
Tommy Edman, 2B
Paul DeJong, SS
Paul Goldschmidt, 1B
Nolan Arenado, 3B
Dylan Carlson, RF
Yadier Molina, C
Tyler O'Neil, LF
Harrison Bader, CF
Pitcher
Arenado at the hot corner and Paul Goldschmidt across the diamond give St. Louis one of the best "1-2" punches in the game, and there are all sorts of bright spots littered around them.
Among the Cards up-and-comers, I'm pegging Dylan Carlson as one of MLB's breakout stars in 2021. Carlson is a switch-hitting corner outfielder who got hot late in the summer, and he'll have ample opportunities to drive in runs hitting behind two perennial All-Stars.
If, for whatever reason, Tommy Edman or Tyler O'Neil flame out, veteran Matt Carpenter will be waiting in the wings.
8 – San Diego Padres
Ha-seong Kim arrives in America's Finest City after dominating in the KBO. Kim slashed .306/.397/.523 last year with 30 jacks and 109 ribbies. And here's the scary part.
The Padres are so loaded, they don't even have room for Ha-seong to play every day. The left side of the infield is dominated by two guys who finished in the top-4 last season in NL MVP voting, and Jake Cronenworth is sneaky good at the keystone.
Padres Projected Lineup for 2021
Trent Grisham, CF
Fernando Tatis Jr., SS
Manny Machado, 3B
Eric Hosmer, 1B
Tommy Pham, LF
Will Myers, RF
Jake Cronenworth, 2B
Austin Nola, C
Pitcher
Trading for Austin Nola late in 2020 was a terrific move by A.J. Preller, one of the many he's made since taking over as the Friars GM.
Once you start assessing the pitchers who were lured in, you quickly see why so many people think the Padres will win the 2021 World Series.
7 – Los Angeles Angels
The initial plan is for Joe Maddon to play Albert Pujols at first base against left-handed pitchers, but I doubt that holds up.
One of my bold MLB predictions in 2021 is that left-handed-hitting first baseman Jared Walsh will lead the Angels in home runs.
Before you laugh that off, know that Walsh emerged in 2020, clubbing nine homers in 99 at-bats, hitting .293 in the process.
His .646 slugging % was higher than Mike Trout's, and no, he's not a fluke. Jared belted out 36 homers in AAA the year before.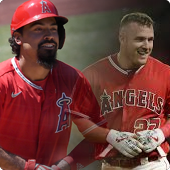 Angels Projected Lineup for 2021
David Fletcher, 2B
Jared Walsh, 1B
Mike Trout, CF
Anthony Rendon, 3B
Justin Upton, LF
Shohei Ohtani, DH
Dexter Fowler, RF
Jose Iglesias, SS
Max Stassi, C
I still think Anthony Rendon is one of the purest hitters and baseball, and hardly anyone knows that newcomer Jose Iglesias hit a whopping .373 last year (39 games).
This lineup is LEGIT, and it should get even better once Jo Adell gets called up from the minors.
6 – New York Mets
You know you're overflowing with firepower when your fifth batter is two years removed from setting a rookie record with 53 home runs.
Pete Alonso may get shuffled into the cleanup spot, depending on if Luis Rojas wants to toy around with Francisco Lindor hitting leadoff, but Michael Conforto is no slouch. Conforto hit .322 last season and was second on the team in total bases, trailing only Dominic Smith.
Mets Projected Lineup for 2021
Brandon Nimmo, CF
Jeff McNeil, 2B
Francisco Lindor, SS
Michael Conforto, RF
Pete Alonso, 1B
Dominic Smith, LF
J.D. Davis, 3B
James McCann, C
Pitcher
Smith, a first baseman by trade, has converted to left field full-time to get everyday at-bats. The former first-round pick by the Mets back in 2013 shined across the board in 2020.
Dominic Smith in 2020 – By the Numbers
Games
At-Bats
Batting Avg.
Hits
Home Runs
Doubles
RBI
Runs
50
177
.316
56
10
21
42
27
All these weapons, and it's easy to forget that Jeff McNeil has batted .311 or higher in each of his three seasons at the major league level.
5 – New York Yankees
The first thing casual fans think about when the Yankees lineup is brought up is the raw power possessed by Aaron Judge and Giancarlo Stanton. Rightfully so – these are two of the game's most prolific home run hitters.
However, the ones who study the Bronx Bombers closely know that Luke Voit actually led the majors in homers a season ago. They know Aaron Hicks is a total stud, and they're aware that Gio Urshela is hitting .310 since taking over at third base in 2019.
With that being said, there's no question as to who is the best hitter in New York's lineup.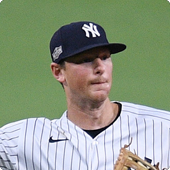 Yankees Projected Lineup for 2021
D.J. LeMahieu, 2B
Aaron Judge, RF
Aaron Hicks, CF
Giancarlo Stanton, DH
Luke Voit, 1B
Gleyber Torres, SS
Clint Frazier, LF
Gio Urshela, 3B
Gary Sanchez, C
It's D.J. LeMahieu, and it's not even particularly close.
Signed as a utility infielder after the 2018 campaign, LeMahieu was a Silver Slugger in 2019 and 2020 – finishing inside the top-4 in AL MVP voting both years. has played in 195 games for the Yankees during the last two years.
So much for slowing down after leaving Coors Field, D.J. hit an MLB-high .364 last season and was the only American League player to post an OPS over 1.
4 – Atlanta Braves
Inking Marcell Ozuna to a four-year/$64 million extension was a big deal, specifically because Adam Duvall bolted for Miami a couple of days later.
Perhaps overshadowed by some of his teammates, don't get lost in Ozuna's brilliant performance in 2020. The guy nearly won a Triple Crown!
Marcel Ozuna – Batting Stats in 2020
Total
NL Rank
Home Runs
18
1st
RBI
56
1st
Batting Average
.338
3rd
Hits
77
2nd
Total Bases
145
1st
The reason Marcell didn't get more love around the league was that his teammate Freddie Freeman was busy getting crowned as the NL MVP.
And yet Ronald Acuna Jr. has more upside than both.
Braves Projected Lineup for 2021
Ronald Acuna Jr., RF
Freddie Freeman, 1B
Marcel Ozuna, LF
Travis d'Arnaud, C
Ozzie Albies, 2B
Dansby Swanson, SS
Austin Riley, 3B
Christian Pache, CF
Pitcher
The Braves lineup doesn't have to do anything out of the ordinary to be special in 2021.
They led the majors in OBP, SLG, and hits last year. They finished 2nd in runs, batting average, and home runs.
3 – Toronto Blue Jays
Baseball fans north of the border have been waiting until they can field a team that can genuinely challenge for an AL East title. 2021 is that time.
Blue Jays Projected Lineup for 2021
George Springer, CF
Marcus Semien, 2B
Bo Bichette, SS
Teoscar Hernandez, RF
Vladimir Guerrero Jr., 1B
Cavan Biggio, 3B
Lourdes Gurriel Jr., LF
Rowdy Tellez, DH
Danny Jensen, C
Things had already started to turn the corner in 2020 behind strong play from Teoscar Hernandez and Toronto's burgeoning young core.
Bo Bichette, Vladimir Guerrero Jr., and Cavan Biggio represent a triumvirate that's going to make a lot of noise for many years to come. But then they went out and signed George Springer to plug in at atop the batting order – the most coveted asset in free agency.
GM Ross Atkins wasn't done there and grabbed Marcus Semien one a one-year deal worth $18 million.
Rowdy Tellez is another intriguing player who will DH and play a bit of first base, and he gives Toronto some power from the left-hand side of the plate. Randal Grichuk platooning has me convinced that the Blue Jays have one of the best lineups in the MLB.
2 – Chicago White Sox
The Southsiders are going to make a deep run in October, and they're bringing some big bats along for the ride. The White Sox led the AL in home runs and slugging % in 2020.
Only the Yankees scored more runs, and only the Red Sox boasted a higher clip at the plate.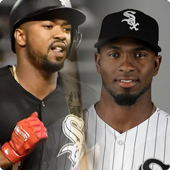 White Sox Projected Lineup for 2021
Tim Anderson, SS
Adam Eaton, RF
Yasmani Grandal, C
Jose Abreu, 1B
Eloy Jimenez, DH
Yoan Moncada, 3B
Luis Robert, CF
Adam Engel, LF
Nick Madrigal, 2B
It's safe to say Chicago had the best hitting team in the American League, and the good news is their budding lineup remains intact. Jose Abreu is coming off an AL MVP season – one in which he became the first qualifying player to record as many RBIs as games played since 2001.
Tim Anderson was a sincere MVP candidate posting double-digit home runs and steals, and Luis Robert won a Gold Glove and finished 2nd in the ROY voting. And there's more.
Eloy Jimenez lived up to the hype (.296, 14 HR, 41 RBI in 55 games) and has the potential to be one of the league's best hitters. Heck, Nick Madrigal hit .340 last season, and Yasmani Grandal is the best catcher in the AL. This is as potent of a lineup as you're going to encounter.
1 – Los Angeles Dodgers
Re-signing Justin Turner would be the cherry on top, but the Dodgers are going to be just fine if Turner winds up elsewhere.
There are a lot of ways to rationalize just how compelling LA's batting order is, but here's one way to serve it the justice it deserves.
Dodgers Projected Lineup for 2021
Mookie Betts, RF
Corey Seager, SS
Max Muncy, 1B
Will Smith, C
Cody Bellinger, CF
A.J. Pollack, LF
Edwin Rios, 3B
Chris Taylor, 2B
Pitcher
Cody Bellinger won the 2019 NL MVP, and yet four Dodgers posted a higher WAR than "Belly" in 2020.
That doesn't even include Max Muncy or the guy who led the team in homers (A.J. Pollack). Speaking of WAR, there was one MLB hitter who separated himself from the pack in the truncated regular season.
MLB WAR Leaders in 2020 (Batters)
Player
WAR
Mookie Betts
3.4
Freddie Freeman
2.9
D.J. LeMahieu
2.9
Manny Machado
2.8
Jose Abreu
2.8
Dansby Swanson
2.6
Fernando Tatis Jr.
2.5
Mike Yastrzemski
2.5
Marcell Ozuna
2.3
Tim Anderson
2.2
Trent Grisham
2.2
Simply put, Mookie Betts is on the shortlist of the "best MLB players."
Recapping the Best MLB Lineups for 2021
The Dodgers led the league in homers and runs scored. They're sitting atop my MLB lineup rankings for now, but the White Sox and Blue Jays are hot on their trail. In fact, so are the Braves and both New York teams.
Having said that, it's feasible that the Padres or the Angels could end 2021 with the top offense in baseball. Maybe Jose Altuve and Alex Bregman will finally wake up from their nightmare and bring the Astros batting order back to life.
Only time will tell.
Fortunately, we have the next 7+ months to sort it all out.