Top 10 Greatest Ballon d'Or Winners of All Time

Since the Ballon d'Ors inception back in 1956, 44 players have been fortunate enough to win the most prestigious individual accolade in world soccer.
In recent times, the award has been dominated by two players; Lionel Messi and Cristiano Ronaldo. Messi has scooped six of the last 12 prizes, with Ronaldo triumphing on five occasions during that period.
But who are the greatest Ballon d'Or winners of all time?
Of course, countless illustrious names have won the award over the years. But which players have produced the best Ballon d'Or winning seasons in history?
Below, I rank the top 10 Ballon d'Or winners of all time.
10. Ronaldinho (2005)
Sure, Ronaldinho may not have been able to post the outrageous numbers that other Ballon d'Or winners have over the years. I mean, the Brazilian was never a prolific goalscorer, was he?
But when it comes to discussing the greatest Ballon d'Or winners of all time, you cannot leave the entertaining trickster out of the conversation.
Ronaldinho enjoyed multiple standout seasons across his career, winning top-flight titles in Spain and Italy, as well as clinching the Champions League with Barcelona in 2006. Oh, and let's not forget about the part he played in Brazil's World Cup triumph in 2002.
Still, there is no denying that Ronaldinho was the best player on the planet in 2005.
The attacking midfielder consistently humiliated defenders with his audacious skills and dazzling footwork throughout the 2004/05 campaign, racking up 13 goals and 16 assists for Barca.
Not only did he lead his side to the La Liga title that year, but he also scored one of the most iconic goals in Champions League history.
9. Franz Beckenbauer (1976)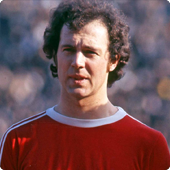 Between 1972 and 1976, Franz Beckenbauer won two Ballon d'Ors (1972, 1976) and finished second in the voting on two occasions (1974, 1975).
It goes without saying that the legendary German defender was one of the best players of his generation.
He guided Bayern Munich to four Bundesliga titles and three European Cups, before adding another Bundesliga triumph to his collection at Hamburger.
After winning the 1972 European Championship and the 1974 World Cup, he even went on to enjoy several title-winning seasons with the New York Cosmos. But 1976 was arguably his best year.
Having defined the "sweeper" position, Beckenbauer was still able to bag five goals and four assists during the 1975/76 season. He then helped his team to see off Benfica, Real Madrid, and Saint-Etienne en route to lifting the European Cup.
It is rare for a defender to win the Ballon d'Or, yet Beckenbauer did it twice.
8. Michel Platini (1985)
Nowadays, Michel Platini is known for his scandalous work at FIFA. But there was a time when he was the world's top soccer player.
In fact, the Frenchman is one of only five players to have won the Ballon d'Or more than twice. After clinching back-to-back triumphs in 1983 and 1984, Platini further upped his game to make it three in a row in 1985.
Playing for Juventus, Platini picked up exactly 110 votes in 1983 and 1984. However, in 1985, he became one of the greatest Ballon d'Or winners in history, receiving 127 votes.
MICHEL PLATINI (1984/85 SEASON)
Competition
Games
Goals
Assists
Serie A
30
18
1
European Cup
9
7
2
Coppa Italia
7
4
5
UEFA Super Cup
1
–
–
Total
36
25
15
The gifted playmaker led Juventus to the Serie A title in 1984 before winning the European Cup with the Old Lady in 1985. Overall, he notched up 29 goals and eight assists in 47 appearances during the 1984/85 campaign, including seven goals in nine European Cup games.
Platini cemented his status as one of the best Ballon d'Or winners of all time by scoring the winning goal in the European Cup final against Liverpool.
7. Karl-Heinz Rummenigge (1980)
Karl-Heinz Rummenigge won two straight Ballon d'Ors in 1980 and 1981, with his goals helping Bayern Munich to win the Bundesliga title in both of those years.
But given that he also triumphed at the 1980 European Championship, Rummenigge's first Ballon d'Or-winning season is arguably his best.
The prolific striker netted 26 goals in 34 Bundesliga games across the 1979/80 season, scoring a further ten times in the UEFA Cup and German Cup. He then capped off a phenomenal campaign by contributing a goal and an assist in Germany's Euro 80 success.
Rummenigge often found himself playing second fiddle to the great Gerd Muller at Bayern. But as it turned out, Muller only managed to win one Ballon d'Or, while Rummenigge secured the accolade on two occasions.
As well as producing one of the best Ballon d'Or seasons in history, Rummenigge is also one of the top Bundesliga players of all time.
6. Johan Cruyff (1971)
Only Lionel Messi and Cristiano Ronaldo have won more Ballon d'Ors than Johan Cruyff. Just let that sink in for a second or two.
The iconic Dutchman is largely remembered as one of the great pioneers of the game, and between 1971 and 1974, he outshone legendary names like George Best, Dino Zoff, and Sandro Mazzola to clinch three Ballon d'Ors in four years.
Cruyff won a La Liga title and a Copa del Rey during his time at Barcelona. However, his best Ballon d'Or-winning campaign came in 1971, with Ajax lifting the European Cup.
JOHAN CRUYFF (1970/71 SEASON)
Competition
Games
Goals
Assists
Eredivisie
25
21
8
European Cup
6
1
4
Dutch Cup
5
3
3
Total
36
25
15
Remarkably, the famed attacking midfielder averaged over a goal involvement per game in the Eredivisie in 1970/71, clocking up 21 goals and eight assists in 25 outings. He also chipped in with one goal and four assists as Ajax sealed European glory.
With numbers like that, you simply can't talk about the best Balldon d'Or winners without mentioning Cruyff.
5. Ronaldo (1997)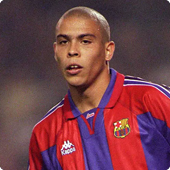 Nope, not that Ronaldo. We'll get to him shortly.
Before Cristiano burst onto the scene, there was only one Ronaldo – Ronaldo Luis Nazario de Lima.
Widely considered one of – if not the – best striker in the history of soccer, nobody came close to Ronaldo in his prime.
His blistering pace, ruthless power, and lethal finishing meant that defenders rarely stood a chance when he was running towards them.
Ronaldo's 2002 Ballon d'Or triumph could easily have made it into the top ten. The deadly forward netted eight goals in seven World Cup games as Brazil lifted the Jules Rimet Trophy, although he spent a large portion of 2002 sidelined through injury.
But having bagged 47 goals and 12 assists in 49 appearances for Barcelona during the 1996/97 campaign, the first of Ronaldo's two Ballon d'Or-winning seasons is undoubtedly his best.
To cap things off, the unstoppable striker scored the winning goal in Barca's European Cup Winners' Cup success over PSG.
4. Cristiano Ronaldo (2017)
In all honesty, each of Ronaldo's five Ballon d'Or triumphs could have made it into the top ten. But that wouldn't have been incredibly fun to read, would it?
So, what makes 2017 so special?
Well, injuries threatened to hinder Ronaldo's 2016/17 campaign. But despite missing a number of games, he still managed to lead Real Madrid to the La Liga and Champions League double, scoring 42 goals in 46 matches.
Perhaps most impressively, the Portuguese megastar scored the winning goal in each of Los Blancos' UCL ties from the quarterfinals to the final, with five goals coming against Bayern Munich, a hat-trick against Atletico Madrid, and a brace in the final against Juventus.
Keep reading to find out which of Ronaldo's Ballon d'Or titles eclipses his 2017 achievements.
3. Cristiano Ronaldo (2014)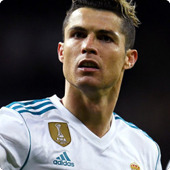 In the 2016/17 season, Ronaldo scored 42 goals in 46 games. But when he secured the 2014 Ballon d'Or, he did so by netting an astonishing 51 goals in 47 games throughout 2013/14.
Real Madrid may have missed out on the La Liga title that year, yet Ronaldo's efforts cannot be overlooked.
I mean, he was still able to score 31 La Liga goals in 2013/14, before guiding Los Blancos to Copa del Rey glory.
Still, his Champions League endeavors in 2014 remain unrivalled to this day.
Ronaldo scored 17 goals in just 11 UCL appearances during the 2013/14 campaign, netting in all but one of his European outings that season. With braces against four different opponents and a hat-trick against Galatasaray, the Portugal international holds the record for most goals in a single UCL campaign.
Let's face it, there is only one man who could possibly outshine Ronaldo when it comes to Ballon d'Or achievements.
2. Lionel Messi (2015)
Okay, there is where things start to get ridiculous.
Not only did Lionel Messi help Barcelona to win the treble in 2014/15, but it's fair to say that he pretty much singlehandedly fired his side to glory in every competition that season.
The Argentine racked up 43 goals and 20 assists in 38 La Liga games as the Catalans clinched the top-flight title in Spain, before contributing five goals and four assists to Barca's Copa del Rey triumph.
On top of that, Messi bagged ten goals and six assists en route to securing European glory, netting UCL braces against Ajax and Bayern Munich, as well as a group-stage hat-trick against APOEL Nicosia.
In total, Messi clocked up 88 goals involvements – 58 goals and 30 assists – in 57 appearances during the 2014/15 campaign.
How could it possibly get better than that?
1. Lionel Messi (2012)
It's official – Lionel Messi's 2012 triumph is the greatest Ballon d'Or-winning season of all time.
Scoring an outrageous 91 goals across the calendar year, 2012 Messi was a machine. Nobody could touch the Argentine magician back then – and let's be honest, few have been able to get close to him since.
Somehow, Barcelona missed out on the 2011/12 La Liga title, despite Messi netting 50 goals – yes, 50 goals – in Spain's top tier that season. Oh, and he also provided 19 league assists along the way.
LIONEL MESSI (2011/12 SEASON)
Competition
Games
Goals
Assists
La Liga
37
50
19
Champions League
11
14
6
Copa del Rey
7
3
4
Club World Cup
2
2
1
Supercopa
2
3
2
UEFA Super Cup
1
1
1
Total
60
73
33
Barca's Champions League campaign also ended on a sour note, with Chelsea overcoming the Catalans in the semi-final. Still, Messi scored 14 goals in 11 UCL outings, including five in a single game against Bayer Leverkusen!
Many Ballon d'Or winners have scooped the prize thanks to their team's success, yet Messi's 2012 title was all about his individual efforts.
Ultimately, it is difficult to imagine anyone ever emulating Messi's 2012 Ballon d'Or conquest.
Wrapping Things Up
I understand that my top ten Ballon d'Or winners are bound to get people talking. After all, I have left out plenty of notable names.
Marco van Basten, Alfredo Di Stefano, and Kevin Keegan have each claimed the award more than once, while legendary players like Eusebio, Bobby Charlton, Zinedine Zidane, Roberto Baggio, and Ruud Gullit all deserve a mention.
But with so many great players winning the Ballon d'Or over the years, it was impossible to include them all in my top 10.
Unfortunately, not all great players go on to unlock their full potential. If you enjoyed this post, make sure you check out the 9 promising soccer players who wasted their talents.