Hide Bonus Offers
| | | | | |
| --- | --- | --- | --- | --- |
| #1 | BetOnline Sports | 60% Up To $1,000 | Visit Site | BetOnline Sports |
| #2 | Bovada Sports | 50% Up To $250 | Visit Site | Bovada Sports |
| #3 | BetUS | 125% Up To $2,500 | Visit Site | BetUS |
| #4 | Everygame | 100% Up To $500 | Visit Site | Everygame |
| #5 | MyBookie | 100% Up To $1,000 | Visit Site | MyBookie |
Top 10 Earners in the NBA for 2020 – The Stars Who Earn Big Bucks On and Off the Court

Are NBA stars overpaid? Considering that the lowest-paid player on my list below makes $25.8 million per year to toss a ball through a hoop, maybe.
But if you think that NBA stars are overpaid, wait until you see how much more they earn in endorsement deals. Some players make more money off the court than they do on it.
The numbers blew my mind. I think they might blow yours, too. So, let's look at them now. Below is a list of the 10 highest paid NBA stars ranked in order from who makes the least off the court to who makes the most.
10. Chris Paul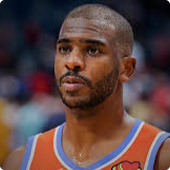 Chris Paul earns $38.5 million per year to play basketball, which makes him one of the highest-paid players in the NBA.
Look at some of his accolades — he's clearly worth it.
Rookie of the Year
NBA All-Star Game MVP
2x Olympic gold medal winner
All he needs is a championship ring. But he'll have to get one soon, seeing as he's 35 years old.
Either way, he'll continue to bring in the big bucks…and it'll probably continue to come in a long time after he retires from basketball, thanks to his endorsement deals.
Currently, Chris Paul earns $8 million per year (17% of his total salary) from his endorsement contracts with companies like Spalding, Nike, State Farm, Kaiser Permanente, and FanDuel.
9. Damian Lillard
Damian Lillard has created quite an impressive resume since the Portland Trailblazers drafted him in 2012.
Rookie of the Year
5x NBA All-Star
He's well-paid for his performance too. Lillard earns $29.8 million per year to play in the NBA.
Lillard is well-paid off the court, too, earning $14 million (half his NBA salary) in endorsements. He works with brands such as State Farm, McDonald's, Toyota, and Powerade. His contract with Adidas is worth $10 million alone.
8. Klay Thompson
Klay Thompson is considered one of the greatest basketball shooters in NBA history — well worth the $32.7 million he earns every year. He's earned the nickname "Splash Brothers" (along with Warriors teammate Stephen Curry) after they set a record for hitting 484 three-pointers in 2014.
Thompson is also a 3x NBA champion with the Golden State Warriors.
So, it's no surprise that companies are eager to work with him. Thompson earns $15 million annually in extra spending money, thanks to his deals with Activision Blizzard, Kaiser Permanente, Monster Energy, and Wheels Up.
7. James Harden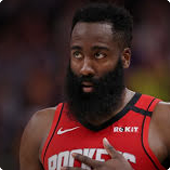 James Harden is one of the world's highest-paid athletes. He earned the #20 spot on the Forbes list in 2019. Harden is likely to keep or improve his position as he's currently earning $38.2 million per year.
He's got the resume to prove he's worth the money.
8x NBA All-Star
3x NBA Scoring Champion
2018 NBA MVP
2012 Olympic Games gold medal
His sponsors agree. Harden earns $17 million per year through his deals with Adidas, Body Armor, Electronic Arts, and State Farm.
6. Russell Westbrook
Westbrook earns $38.5 million per year, which ties him with Chris Paul for the number three spot for the highest-paid player in the NBA when it comes to salary.
Is he worth it? You tell me.
2017 NBA MVP
9x NBA All-Star
2x NBA Scoring Champion
2x NBA Assist Leader
Other companies sure think so. Westbrook earns nearly half of his $56.5 million annual salary from endorsements. He receives $18 million each year from companies like PepsiCo, Samsung, and True Religion Apparel. Westbrook also has his own signature Nike shoe.
5. Giannis Antetokounmpo
Antetokounmpo has been playing for the Milwaukee Bucks ever since they drafted him in the first round in 2013. In that time, he has earned some major awards.
2x NBA MVP
4x NBA All-Star
2x All-NBA First Team
He has also earned the title as one of the highest-paid NBA players because of his $25.8 million annual salary.
What's crazy is that he earns almost half of his $45.8 annual income from his endorsement contracts. Companies like Hulu, 2K Sports, and Nike pay him a combined $20 million annual for exposure to their brands.
Nearly half of that comes from his Nike deal, which was increased from his initial $20,000 contract. Antetokounmpo is set to receive even more once Nike releases his signature shoe.
4. Kyrie Irving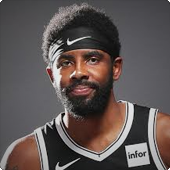 Kyrie Irving is the first NBA star on this list so far who has an NBA championship ring. He earned it in 2016 when he and LeBron James overcame a 3-1 game deficit to beat the Golden State Warriors 4-3.
The ring isn't the only thing on Irving's resume.
6x NBA All-Star
NBA All-Star MVP
FIBA World Cup MVP
2016 Olympic Games gold medal
2014 World Cup gold medal
2010 FIBA Americas U18 Championship
This probably explains why Irving is the 6th highest earning player in the NBA during 2019-2020. Of his $51.7 million annual income, $31.7 million comes from the NBA. The other $20 million comes from his endorsement contracts with 2K Sports, Foot Locker, Pepsi, and Nike.
3. Kevin Durant
Kevin Durant has a couple of NBA championships, too, both of which he won while playing for the Golden State Warriors in 2017 and 2018. Durant is also a 2x NBA Finals MVP and an NBA MVP.
What's crazy about Durant is that he's one of the highest all-around earning NBA players in the league, yet his $38.2 million annual salary barely accounts for half.
The other $35 million comes from his endorsement deals with companies like Alaska Air, Google, Gatorade, Skullcandy, Sprint, and others.
He also signed a ten-year deal with Nike in 2014 that has the potential to be worth as much as $300 million. This deal includes a $50 million retirement package.
2. Stephen Curry
Odds are you've heard of Stephen Curry.
3x NBA champion (2015, 2017, 2018)
2x NBA MVP
6x NBA All-Star
2x World Cup gold medalist
Curry is the second half of the "Splash Brothers" (the other is #8 on my list, Klay Thompson). They earned the nickname for shooting 484 three pointers in the 2014 season. They broke this record the next season with 525 three pointers and the season after that with 678 threes.
What's unique about Curry's income is that he is one of two players on this list that earns more money off the court than he does on it. His 2020 NBA salary is $40.2 million.
The other $45 million he earns comes from his endorsement contracts with companies like Chase, Under Armour, Nissan Motor, and more.
1. LeBron James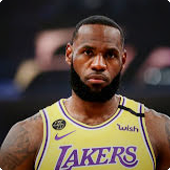 Many people believe that LeBron James will go down in history as the best basketball player of all time. Whether you agree with that or not, you can't deny that he's one of the best NBA players of all time.
4x NBA Championships
4x NBA Finals MVP
4x NBA MVP
16x All-Star Selections
2x Olympic Games gold medalist
1x Olympic Games bronze medalist
2006 FIBA Championship bronze medalist
2007 FIBA Championship gold medalist
With all these accolades under his belt, and likely more to come, it's crazy to think that James sits in the middle of the pack when it comes to his NBA salary — only $37.4 million per year.
Yet despite his average annual earnings, he out-earns everyone on this list because of the big bucks he receives each year from his sponsors. James currently earns $55 million from his deals with Coca-Cola, Beat Electronics, Blaze Pizza, Upper Deck, State Farm, Dunkin Donuts, and more.
His most lucrative deal is with Nike. They fought off Adidas and Reebok to get James onto their roster in 2003. At the time, they offered him an $87 million contract. He was only 19 years old!
They didn't stop there. In 2015, Lebron James signed a lifetime deal with Nike in which he'll earn $1 billion by the time he's 64 years old.
Because of all his endorsements, savvy investments, franchises, and production companies, I have no doubt that LeBron James will be one of the few athletes in history to have a $1+ billion net worth.
Conclusion
What did you think? Crazy, right?
These NBA stars earn tens of millions of dollars to play a game most of us play for free. But they earn tens of millions more from their endorsement deals.
The craziest part to me is how the top three earn the same or more off the court than they do playing on it, which is what made them so wealthy in the first place.
Even so, all of the players on this list — LeBron James included — are chasing Michael Jordan, arguably the greatest basketball player to ever have played the game. He earns north of $130 million per year from his Nike Jordan brand, as well as some pocket money from his deals with Hanes, Gatorade, and Upper Deck. This in part explains how Michael Jordan accumulated his $2.2 billion net worth.
We'll just have to wait and see whether someone like LeBron James or Stephen Curry can surpass him. What do you think — is it possible? Comment below and let me know what you think.
And for more NBA content of all kinds, head over to our NBA blog.