Top 10 Boxing Matches You Can Bet on in September 2021

The boxing calendar for September 2021 is looking good.
There's no doubt that the Anthony Joshua vs. Oleksandr Usyk heavyweight clash is the pick of the bunch, but there are some other potential fight-of-the-year contenders on the list.
Add those to fights for Oscar De La Hoya, Anderson Silva, and David Haye and you have a nice mix of bouts to look forward to. More importantly, they are some great matches you can potentially make some money from.
I've put together a list of the ten best boxing matches to bet on this September 2021 for you to look at. If you're looking to gamble on the fights, these are the ones to target. Help yourself.
Mauricio Lara vs. Josh Warrington 2
Revenge is on the cards for Josh Warrington in a huge rematch in his hometown of Leeds, England.
Warrington (30-1, 7 KOs) was stunned by Mexican underdog Mauricio "Bronco" Lara at the SSE Arena, London, in February. Not only did the challenger overcome the odds to beat the former unbeaten featherweight king, but he was simply ruthless in his execution.
Lara dropped and finished "The Leeds Warrior" to register a ninth-round TKO that ended a 30-fight win streak for the Englishman. It was a bitter pill to swallow for the former champion, but he did initially take the loss on the chin.
Warrington's ambitions of unifying the division and securing some major cross-Atlantic opportunities were scuppered in that bout.
Another loss to the Mexican would be devastating. But as far as Lara is concerned, he will beat the hometown hero again. This time, in an even more devastating fashion.
Mauricio Lara spoke about his rivalry with Warrington.
"I'm a very humble person. He won my respect in the first fight because he was number one in the world, but that's no longer the case. He doesn't respect me and he has said many things about my dad. He made a mistake, believe me. He met a friendly version of me and look what happened."
Lara vs. Warrington 2 should be one of the best fights to bet on in September 2021. It headlines a Matchroom card that features Irish sensation Katie Taylor, as well as the fledging welterweight talent, Conor Benn.
Katie Taylor vs. Jennifer Han
Date: September 4, 2021
For: WBA, WBC, IBF, and WBO Women's Lightweight Titles
Ireland's premier female boxer returns to the ropes in what should be a good fight.
Taylor (18-0, 6 KOs) takes on Han on the undercard of Warrington-Lara in Leeds. It's definitely one of the best boxing matches to bet on in September 2021, so make sure to check out the latest odds on our recommended boxing betting apps.
As things stand, Taylor is expected to win this one with ease. Han (18-3, 1 KO) is now 38 and approaching the end of her career.
Thus, it would be a major shock if the Bray-native were to have much trouble with her American opponent, but there are a few prop bets that could be worth looking at.
Katie Taylor's Last Five
Date
Opponent
Result
May 1, 2021
Natasha Jonas
Win by UD
Nov 14, 2020
Miriam Gutiérrez
Win by UD
Aug 22, 2020
Delfine Persoon
Win by UD
Nov 2, 2019
Christina Linardatou
Win by UD
Jun 1, 2019
Delfine Persoon
Win by MD
Taylor is one of the best female boxers on the planet. Thus, this one appears to be more of a tune-up than anything.
With that said, Taylor vs. Han is an unmissable boxing fight to bet on as well as to watch. So, add it to your list of big boxing fights in September you can bet on.
Conor Benn vs. Adrian Granados
Date: September 4, 2021
For: WBA Continental (Europe) Welterweight Title
Although his chances of replicating the achievements of his famous father Nigel Benn are slim, the "Destroyer" is highly touted in his homeland.
Thus far, Conor Benn (18-0, 12 KOs) has put in some solid performances in bouts. But they have been in fights that he has been highly expected to win.
Benn vs. Granados (21-8-3-1, 15 KOs) is no different. Still, the fight makes my list of the top boxing matches to bet on in September 2021 for the number of potential opportunities for gamblers. I'll be touching upon those in my preview for Benn-Granados that you will find a little closer to the date of the fight.
I'll explain more on how you can find that, as well as picks for the top boxing matches in September, a little later.
This fight was, of course, initially set to go down on July 31 only to be postponed due to a positive COVID test registered by Benn.
Fans will be buzzing to see if he can put in another devastating performance following his 1st Round knockout of Samuel Vargas in April.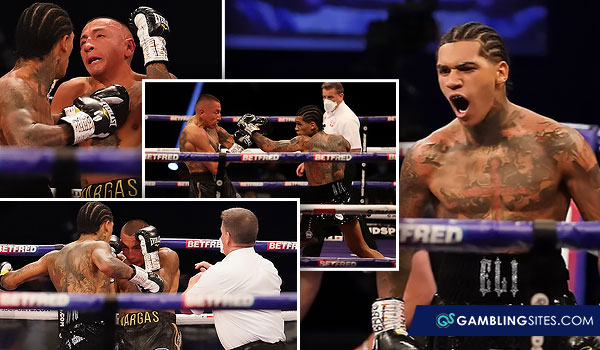 Oscar Valdez vs. Robson Conceicao
Date: September 10, 2021
For: WBC Super Featherweight Title
It took a while to get over the line, but WBC super featherweight king Oscar Valdez will put his strap on the line against Robson Conceicao on September 10th at the Casino Del Sol in Tucson, Arizona.
Valdez (29-0, 23 KOs) is the favorite to pick up the win in what should be one of the best fights to bet on in September 2021. But Conceicao (16-0, 8 KOs) is no pushover and will be looking to get his mitts on his first world title.
Gracias por la visita a nuestro campamento en San Diego @wbcmoro, una gran responsabilidad defender mi título mundial del #CMB @WBCBoxing el próximo 10 de septiembre. Gran trabajo en el gimnasio con @CANELOTEAM ?? #TeamValdez ????? #PuroNogales #ValdezConceicao | #Tucson pic.twitter.com/gxcb72CNUv

— Oscar Valdez Fierro (@oscarvaldez56) August 28, 2021
The Brazilian is best known for winning gold in the lightweight category at the 2016 Rio Olympics. But it's safe to say that he has faced no one on Valdez's level and will need to pull something exceptional out of the bag to win.
Don't sleep on this can't miss boxing match this month.
Sunny Edwards vs. Jayson Mama
Date: September 11, 2021
For: IBF Flyweight Title
If you're looking for top fights to bet on in September 2021, add this one to your list.
Sunny Edwards takes on his mandatory, Jayson Mama, at London's Copper Box Arena in the first defense of his IBF flyweight strap.
Edwards (16-0, 4 KOs) overcame the tenacious Moruti Mthalane back in April, ending a 12-year championship reign of the top-class South African.
Although Mama is not in the same league, this should still be one of the top bouts on the boxing calendar for September 2021.
Mama (16-0, 9 KOs) is unproven at the top level but that doesn't necessarily mean that he's not up to it. This is his big chance and he'll be up for it. Edwards isn't the most powerful puncher on the planet, and this will give him the impetus to take the fight to the champ.
This should be a good one.
Oscar De La Hoya vs. Vitor Belfort
I have previously spoken at length about why Oscar De La Hoya's comeback is a terrible idea.
Does that make me right? Perhaps the only right I have is not to tune in and watch his boxing match with former UFC champion Vitor Belfort.
But what I can't deny is that this is one of the top boxing matches you can bet on in September.
Let's be honest here. De La Hoya (39-6, 30 KOs) is hardly going to be fighting for world titles anytime soon. And if anything, I guess the "Golden Boy" will get a better grasp on just how harsh a slap from Father Time is on the night.
The worst-case scenario here would be that De La Hoya scores an early KO/TKO and undergoes ego boost that keeps him chasing past glories. But even with Belfort's inferior boxing skills, he should be able to dish out and take his fair share of punishment.
I guess we'll find out, right?
Anderson Silva vs. Tito Ortiz
Remember when Anderson Silva was the most terrifying mixed martial artist on the planet? I do.
Can you remember when he scored a split decision win over Julio Cesar Chavez Jr. in June? You should, because it wasn't really that long ago at all.
Well, Silva's rather weird win over the former world champion (and eternal disgrace to his father) at the age of 46 years and 96 days has given him reason to believe he can still fight. But instead of taking on the unpopular Mexican prince again, he's facing Tito Ortiz another former UFC champion.
Here's Silva's boxing record thus far.
| | | | | |
| --- | --- | --- | --- | --- |
| Date | Opponent | Result | Round | Age in Fight |
| Jun 19, 2021 | Julio Cesar Chavez Jr. | Win by SD | 8 | 46 years, 96 days |
| Aug 5, 2005 | Julio Cesar de Jesus | Win by KO | 2 | 30 years, 113 days |
| May 22, 1998 | Osmar Luiz Teixeira | Loss by RTD | 1 | 23 years, 38 days |
Although I'm not expecting this to be a great fight to watch, it will be one of the best boxing matches to bet this September.
There will be a wide array of boxing prop markets to choose from and the build-up alone should make it a decent spectacle.
David Haye vs. Joe Fournier
Former heavyweight champion David Haye returns to the ropes this month, but "The Hayemaker" will not be fighting a professional bout with his friend and training partner Joe Fournier on the undercard of Oscar De La Hoya's fight against Vitor Belfort.
A ruling by the California State Athletic Commission means that the clash is now an 8-round exhibition with 12oz gloves worn by both men.
Once again, the number of markets available makes this an unmissable boxing match in September.
I'm not expecting Ali vs. Frazier III, nor some Mike Tyson-style knockout to go down.
Haye was stopped by Tony Bellew in May 2018 which ended his career as a prizefighter. Although 9-0 in the paid ranks, Fournier has fought no one of note. He knocked out Colombian reggaeton artist Reykon on the undercard of the Jake Paul vs. Ben Askren bout in April and that's probably his best-known win.
Haye vs. Fournier is another opportunity to make money on boxing matches in September 2021.
Stephen Fulton vs. Brandon Figueroa
Date: September 18, 2021
For: WBC and WBO Super Bantamweight Titles
The boxing calendar for September gets even better toward the end of the month.
WBC titlist Brandon "Heartbreaker" Figueroa takes on WBO champ Stephen "Cool Boy Steph" Fulton Jr. in a 122-pound unification bout on September 18. The fight was initially penciled in for September 11, but a clash with the De La Hoya vs. Belfort card led to it being pushed back.
It should be an must watch boxing match for gamblers in September, as both men look to leave the ring at the Park Theater at Park MGM in Las Vegas with both belts.
The fight has been a long time coming, with the history between these two adding a little extra spice.
Fulton's win over Angelo Leo in January was a surprise, given just how bullish he looked in the win. Leo was unbeaten before that fight, which made it even more impressive.
Figueroa knocked out the two-division champ Luis Nery in May to take the WBC super bantamweight crown. I predicted the Heartbreaker would overcome the odds to win that fight, and am interested to see if he can push his career even further with a victory on the night.
Anthony Joshua vs. Oleksandr Usyk
Date: September 25, 2021
For: WBA, IBF, and WBO Heavyweight Titles
The big one. Anthony Joshua vs. Oleksandr Usyk is the pick of the best fights you can bet on this September.
It's also the fight that the vast majority of boxing fans will be waiting for.
Joshua defends his world titles on the night against the consensus 2018 boxer of the year and former unified cruiserweight king, Usyk. It's a matter of brains vs. brawn for many observers but I think it will be a little more complicated than that.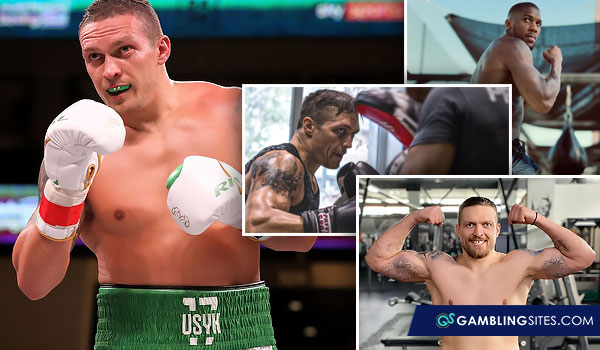 Ukraine's Usyk will be walking into the lion's den with most of the 60,000+ fans in attendance at the Tottenham Hotspur Stadium there to watch the home country hero. Can he handle the pressure?
If "AJ" can convincingly get past Usyk, it's almost certain that he will turn his attention back to the all-British heavyweight unification bout with Tyson Fury.
Fans will have circled this fight in their calendar as one of September's best boxing matches to bet on, and it should also be an incredible fight.
You can read my early take on the bout in my article that looks at the early odds for Joshua vs. Usyk and provides some analysis of the matchup.
Boxing Betting Advice for September 2021
You have plenty of options when it comes to betting on the top boxing matches this September.
The ten fights above are the ones bettors should be looking at first. But there are a few more that could have easily made the list.
I'll be providing odds, predictions, and picks for the big bouts in September. You can find those recommended bets in our boxing picks section. Make sure to check out our boxing betting blog for more insight and advice for the fights.
Speaking of advice, the following expert strategy guide is the perfect companion when gambling on the big fights this month.