Hide Bonus Offers
| | | | | |
| --- | --- | --- | --- | --- |
| #1 | BetOnline Sports | 60% Up To $1,000 | Visit Site | BetOnline Sports |
| #2 | Bovada Sports | 50% Up To $250 | Visit Site | Bovada Sports |
| #3 | BetUS | 125% Up To $2,500 | Visit Site | BetUS |
| #4 | Everygame | 100% Up To $500 | Visit Site | Everygame |
| #5 | MyBookie | 100% Up To $1,000 | Visit Site | MyBookie |
Tom Brady Set to Make His 9th Super Bowl Start – Looking Back at Numbers 1-8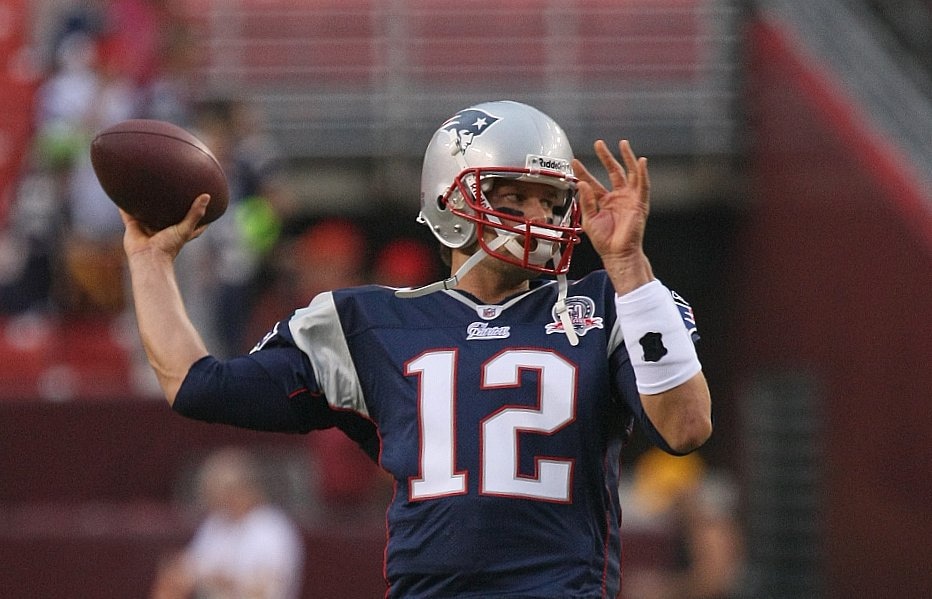 We are all familiar with the saying, "A cat has nine lives."
Well, ladies and gentlemen, I guess a G.O.A.T does, too. And who knows how many more tricks the Patriots QB has up his sleeve or how many more years he intends to play? Doubting him at this point would just be silly.
February 3rd will mark the ninth time Tom Brady starts at quarterback in a Super Bowl, a record that will likely never be touched.
Here's a guy who has appeared in 13 AFC Championship games, although you'd never know that by watching him go to work.
And you know what I appreciate the most from Tom Brady?
It's not the unfathomable records or the unbreakable streaks that he owns – it's something much more profound.
The most humbling thing about Tom is that despite his legendary status, he displays the hunger and work ethic that resembles a young rookie who is trying to earn his spot on the team.
And he practices and plays with this fiery passion, day in and day out.
If you don't think that Brady's attitude, attention to detail, and diligence to his craft has rubbed off on his Patriots teammates over the years, you just aren't paying any attention.
That's why it's time to take a step back and fully acknowledge what we are witnessing. I don't need to sit here and continue to gloat about Tom Brady being the G.O.A.T. – that's already been conceded.
My plan is to point out some actual substance, hopefully information that could perhaps help you bet Super Bowl 53. Because you might actually be surprised at what you learn.
Let's take a look at the other eight Super Bowls that Brady has competed in and find out if the Pats were able to cover the spread or not.
Then you might have a better understanding of whether or not "fading Brady" in Super Bowl 53 is really a good move or not.
Super Bowl 36 – Patriots Defeat the Rams 20-17
Date: February 3rd, 2002
Closing Line: Patriots +14
Closing Total: 53.5
Result: Patriots 20, Rams 17
Back where the dynasty got started, the New England Patriots knocked off the team known as the "Greatest Show on Turf." Mike Martz and the Rams were the heavy favorites for a couple of reasons. For starters, the 2001 Rams team was 8-0 on the road and was unequivocally considered as the best team in the league.
The Rams had the last three MVP Award winners in Kurt Warner (twice) and Marshall Faulk, and here's the most important part.
Tom Brady was a relatively unknown commodity, as he had taken over for injured starter Drew Bledsoe earlier in the year. Nobody expected the Rams to lose this game, especially considering the opposing QB was a 24-year-old second-year player with virtually no playoff experience.
Brady and the Pats went on to shock the world, not only covering the spread but winning the game outright. It's safe to say that since then, the rest is history.
Result: Pats Cover, Under
Super Bowl 38 – New England Edges the Panthers 32-29
Date: February 1st, 2004
Closing Line: Patriots -7
Closing Total: 37.5
Result: Patriots 32, Panthers 29
The 144+ million of viewers that tuned into Super Bowl 38 were the most Super Bowl viewers ever at the time. Some remember the game for the infamous Janet Jackson and Justin Timberlake controversy during the halftime show, but don't let that nonsense spoil the hard-fought battle that ensued on the field.
After rolling through their regular-season schedule and accumulating a 14-2 record, the Pats slipped by Tennessee in the divisional round before beating Peyton Manning and the Colts in the AFC Title game.
The Panthers needed an extra game to get to Houston (site of Super Bowl 38) and almost pulled this upset off. But the back-and-forth affair ended in another Adam Vinatieri winning kick, meaning it was time for Brady and company to get fitted for ring #2.
Keep in mind, however, that they didn't fare as well from the "betting standpoint" this time around as the favorite.
Result: Pats FAIL to Cover, Over
Super Bowl 39 – Brady Makes It a Hat Trick Against Philadelphia, 24-21
Date: February 6th, 2005
Closing Line: Patriots -7
Closing Total: 47.5
Result: Patriots 24, Eagles 21
After reaching the Super Bowl for the third time in four years, the talk of a "mini-dynasty" had begun to brew. Another 14-2 regular season was in the books, and Brady was beginning to look like one of the most dependable quarterbacks the game had seen.
Once again, bettors found themselves in a predicament when the line fell at 7. Did they want to take the Patriots and lay a full touchdown, or did they think that Andy Reid had enough to keep this game close?
Those who gambled on New England were sitting pretty with under two minutes remaining in the game, as the Pats were leading by 10. But when Donovan McNabb hooked up with Greg Lewis on a long touchdown pass with 1:48 remaining, those same folks' hopes had been dashed.
The Pats won the game, but for the second straight Super Bowl as a touchdown-favorite, they failed to cover the spread.
Result: Pats FAIL to Cover, Under
Super Bowl 42 – The Giants Spoil New England's Perfection, 17-14
Date: February 3rd, 2008
Closing Line: Patriots -12.5
Closing Total: 54.5
Result: Patriots 14, Giants 17
After bludgeoning the competition throughout the year en route to a perfect 16-0 regular season, the Pats arrived in Phoenix as the whopping 12.5-point favorite in Super Bowl 42.
Everyone and their grandmother was almost certain that Tom Brady would be earning his fourth ring and that the Patriots would finish off the year with an unblemished record of 19-0. But Eli Manning and the New York Giants had other plans.
Despite losing to New England 38-35 in Week 17, the Giants were at least confident that they had enough talent to hang with the Patriots and their historic offense. Remember, this is the year that Tom Brady threw 50 touchdowns and 8 interceptions. Randy Moss set a new mark for the most receiving TDs in a single season with 23.
But during the Super Bowl and really for the first time all season, the Pats O looked stifled and confused. They were only able to muster up 14 points in the game and came away anguished.
Rather than rewrite the history books as the first-ever "19-0" team, the Patriots would remember this one by having to re-watch David Tyree's "helmet catch" for years to come.
Keep in mind, this was the third consecutive time Tom Brady and the Pats had failed to cover as the favorite in the Super Bowl.
Result: Pats FAIL to Cover (and lose outright), Under
Super Bowl 46 – The Giants Upend the Patriots Once Again, 21-17
Date: February 5th, 2012
Closing Line: Patriots -3
Closing Total: 54
Result: Patriots 17, Giants 21
Different year but same result.
After a three-year hiatus of no Super Bowl appearances, the Pats were back to seek revenge on the Giants. Following the loss in Super Bowl 42, Brady missed the 2008 campaign due to left knee injury and failed to reach the big game either of the next two seasons.
When Tom finally arrived at Lucas Oil Stadium for Super Bowl 46, surely it was time to win his fourth championship and start cementing himself as the greatest quarterback to ever step foot on the gridiron.
But that Eli Manning guy stepped up once again and put that debate on a temporary hold.
Giants RB Ahmad Bradshaw found the end zone with just 57 ticks left on the clock, capping off an improbable 88-yard trip down the field that proved to be the game-winning drive. Just like the last time these two squared off in a Super Bowl, the Pats lost the game as a favorite, and the under hit with plenty to spare.
Is that just me, or is that four in a row where the Pats failed to cover as a favorite in the Super Bowl? Noticing a trend, anyone?
Result: Pats FAIL to Cover (and lose outright), Under
Super Bowl 49 – Pats Get Back to Winning Ways by Stopping Seattle in the Final Moments
Date: February 1st, 2015
Closing Line: Patriots PK
Closing Total: 47.5
Result: Patriots 28, Seahawks 24
In one of the greatest battles you'll ever see in a Super Bowl, Tom Brady added his third Super Bowl MVP Award and fourth Super Bowl trophy to his collection against the Seahawks in SB 49.
Seattle led 24-14 entering the final frame, and it was starting to look like Brady would be denied for the third straight time in the biggest game of them all. But that's when his heroics kicked in, and his greatness was on full display.
Ending the game with 328 passing yards and four touchdowns, Brady's 37 completions were a new Super Bowl record (that he would later break himself).
The praise received was well-deserved, but it was Malcolm Butler's unforgettable interception at the goal line that'll go down as one of the greatest plays in Super Bowl history.
Not only did the Pats win the game, but they covered the spread in a Super Bowl for the first time since 2002.
Super Bowl 51 – Tom Brady Leads the Patriots Past Atlanta in a Comeback for the Ages
Date: February 5th, 2017
Closing Line: Patriots -3
Closing Total: 58
Result: Patriots 34, Falcons 28
I could gloss over this one by simply telling you that the Pats covered and that the game went over the total, but I'd hate to shortchange you like that.
With the Patriots trailing 28-3 in the second half, Falcons bettors were rejoicing, and fans in Atlanta had already started their celebrations. What they failed to realize is that #12 on the opposite sidelines was planning on leading the most impressive comeback in Super Bowl history.
Rather than panic and feel like they were in over their heads, the Patriots players never wavered. They truly believed they were going to win the game, and it's mainly because of who they had playing quarterback.
This is what safety Duron Harmon stated postgame.
"When you have the greatest player ever on your team, you know anything is possible. We knew it, we just had to get the ball back to him."
Brady was a record-breaking machine that night, leaving absolutely no doubt as to who the greatest QB to ever play the game is.
43 completions
466 passing yards
4th Super Bowl MVP Award
5th Super Bowl victory (tied with Charles Haley)
The above achievements are all Super Bowl records. However, the one regarding the most passing yards in a single Super Bowl game would only last a year. That's because "Tom Terrific" was back at it again the following season.
Super Bowl 52 – Philadelphia Stuns New England in Super Bowl 52, 41-33
Date: February 4th, 2018
Closing Line: Patriots -4
Closing Total: 49
Result: Patriots 33, Eagles 41
A host of Super Bowl records were shattered in Super Bowl 52, as the Nick Foles-led Eagles stunned New England in Minneapolis to win the first SB in franchise history. Opening as a 4-point underdog, Doug Pederson and his group weren't given much of a chance to win the game, and it was basically a foregone conclusion that Brady would win ring #6.
And although Tom smashed his previous mark by throwing for a remarkable 505 yards, the Pats came up short in their quest for their sixth Super Bowl victory under the Belichick-Brady regime. The Pats lost the game, and many thought we'd never see Brady back in the big game again.
After all, he'd be turning 41 in the offseason, and Max Kellerman's "cliff theory" was certain to kick in. There was no way that Tom could continue to defy odds and beat Father Time in such a distinct and obvious manner. Or could he?
Result: Pats FAIL to Cover (and lose outright), Over
I now want to point out some facts from the eight Super Bowls that Brady has been a part of.
What Can We Learn to Help Us Plan for Super Bowl 53?
You'll notice that last time out against the Eagles, the Pats were unsuccessful on all fronts. Not only did they lose the game outright, but they failed to cover the spread in a Super Bowl game in which they were favored by more than a field goal.
If you go back and look at this list, you'll notice the Pats are 0-4 against the spread (ATS) when favored by more than three points. You'll also see that this was the third consecutive time that the total went over in a Super Bowl that New England was a part of.
So what does all this mean in terms of the 2019 Super Bowl? How should these past results affect us as we go about making our Super Bowl 53 picks?
Well, it tells us to be awfully wary about backing New England if this line were to somehow creep to over a field goal. I know it opened on some sites at Rams -1, but that price is since long gone.
Being that I've seen it anywhere from a "Pick-Em" to New England -2.5, it's unlikely we'll see the line move across the magic number of 3. But it's not outside the realm of possibilities.
We've seen an even split (4-4) between the game going under or over in Tom Brady's previous eight Super Bowl appearances, although revealing that the over has hit in the most recent three is perhaps something to glean insight from.
Given how high-powered each of these offenses is, I suspect "the over" will be a popular pick among the general public. And due to how much respect the bettors have for the deadly duo of Belichick and Brady, I imagine that early on, the money comes pouring in on New England.
In a matchup of who I believe are the two best-coached teams in football, saying I am "intrigued" to see how this one plays out would be a massive understatement.
I'm on pins and needles and can hardly wait.
Going Away
What Tom Brady continues to accomplish at 41 years old has elevated Tom beyond the status of just being the "Greatest of All Time."
He's in a class all by himself, and the margin between him and the rest of the field is just getting wider and wider with every accolade he adds to his resume.
But as extraordinary as Tom and the Patriots have been over the past 17 years, they aren't exactly invincible when it comes to the Super Bowl. They're 5-3 overall, but here's the part most of you will care about.
At 3-5 ATS, fading Brady in the Super Bowl has actually been profitable. And in the six Super Bowls where New England closed as a favorite, they've covered just once.