Hide Bonus Offers
| | | | | |
| --- | --- | --- | --- | --- |
| #1 | BetOnline Sports | 60% Up To $1,000 | Visit Site | BetOnline Sports |
| #2 | Bovada Sports | 50% Up To $250 | Visit Site | Bovada Sports |
| #3 | BetUS | 125% Up To $2,500 | Visit Site | BetUS |
| #4 | Everygame | 100% Up To $500 | Visit Site | Everygame |
| #5 | MyBookie | 100% Up To $1,000 | Visit Site | MyBookie |
Tips for Winning in NASCAR Daily Fantasy Sports
Daily fantasy sports are incredibly fun, and if you play your cards right, they can also be ridiculously profitable. Winning big isn't necessarily as easy as it often looks, however, so it's wise to gather useful tips and tools to give yourself an edge.
It's even more difficult to come away with big wins in NASCAR DFS, seeing as you have a small roster to fill with drivers, and NASCAR daily fantasy lineups tend to be so similar.
That, and one wrong pick can keep you from even cashing — let alone winning big.
Due to that, it makes sense to seek out all the NASCAR fantasy advice you can get your hands on. Thus, this post on tips for making money in NASCAR DFS was born.
Nothing is an exact science, but if you start your preparations off with these NASCAR DFS tips, you're sure to give yourself a better chance at winning.
Pick a Site to Play At
Or maybe I should say pick the "right" site to play at. When it comes to most daily fantasy sports, I tend to say DraftKings and FanDuel are at a draw.
For NASCAR DFS, though, it's DK all the way.
DK simply has better scoring, as you get more points for where your driver finishes, and on FD, you don't get anything for having the fastest lap.
DraftKings gives you more points in general for what drivers do, too, so if you draft the right way, you could benefit immensely compared to FanDuel.
The gap isn't wide, but DK is in the lead for me here. But whether or not you agree, going with one of the two DFS juggernauts makes good sense. They offer the most upside in terms of the amount of money you can make, and they're trustworthy.
My vote is for DraftKings, but the difference is arguably negligible.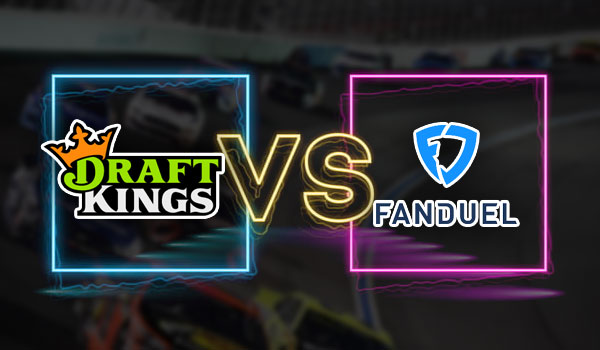 Understand How NASCAR DFS Scoring Works
Step one to taking down a NASCAR daily fantasy contest — or any DFS tourney — is to understand the scoring for the genre.
With NASCAR DFS, you're getting points in four different ways, and we'll take a look at what DraftKings has to offer.
Place Differential (+/- 1 point)
Fastest Laps (+0.5 points)
Laps Led (+0.25 points)
Finishing Position (4-46 points)
It's simple, until it's not. Where a driver starts is often just as important as where they end, while drivers who dominate races and do so for longer periods of time can accrue points that other drivers simply cannot.
The dream is to have all six of your drivers finish near the front of the pack (and one of them be the winner), but that's not all that realistic. In fact, the way the points shake out, somehow landing the top six drivers may not always necessarily equate to a win.
However, if you can get the winner, roster a couple drivers who are up front for much of the race, and nail the NASCAR DFS sleepers that make a big jump from the back, you'll have a great shot at chasing a big cash prize.
Your exact NASCAR DFS strategy is up to you. Just make sure you know how the scoring works.
Research NASCAR Event and Course History
A huge factor in how drivers can perform in any given event is their experience in that event, and more specifically their experience at specific tracks.
If this is a driver's first time in an event or at the track at hand, that could obviously go either way. And that isn't to say a driver can't defy his track history and perform in an opposite fashion than we're accustomed to seeing.
However, track and event history at least detail which drivers have won the race before, how they've run at a specific track, and if they could be building positive momentum in an event.
If Denny Hamlin has always finished top-10 and won three times at a race, he's logically a driver to target. On the other side, if a would-be sleeper play has never finished inside the top 30 in seven races at an event, he may not be the guy for you.
Course and event history isn't everything, but ignoring them completely is a major mistake in trying to win NASCAR DFS contests.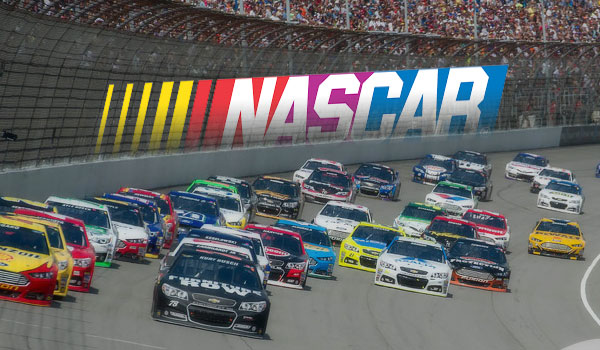 Consider Pole Position and Qualifying Times
Whether we can gain some insight from course/track history or not, we should have an opportunity to see how drivers might fare based on pole positions, practice runs, and qualifying times.
It goes without saying that the drivers who struggle immensely in these situations won't make it to the top of our driver pool, while the ones that excel probably should.
It'll be different for every race, but this information can be rather useful if we use it the right way ahead of the right event.
A great way to exploit this is to see how drivers fare in general when they have a favorable pole position or qualifying time. You can also apply this to general course history and see how often drivers who start up front come away with wins or strong finishes.
Roster Drivers That Are Actually Good
Bad drivers tend to start far back in races, and they don't gain a whole lot of ground.
There is merit in rolling the dice on one just to save salary and gain an edge when you look at place differential, but it can also create an instant hole in your roster.
Depending on the race, there can be very few "bad" drivers that we want to roll the dice on. That could mean operating with a more balanced roster construction, rather than trying to load up on the expensive studs.
More than anything, though, the goal has to be to roster as many drivers as you can that are actually good. Whether that be based on sheer talent or production, you want to roster quality drivers that are not likely to bury your team based on poor strategy.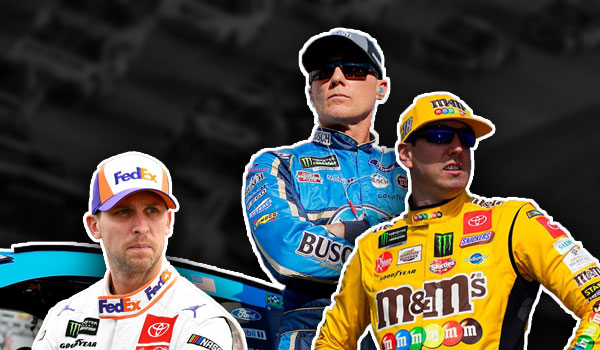 Factor in Place Differential
You don't need to win the race to get a good score. Most winning NASCAR DFS lineups will have the driver who finishes in first, but they also may have a couple of drivers who didn't exactly light the track on fire.
But when you start near the back of the line and finish 20 spots ahead of where you were, you're going to rack up some points for doing so.
I obviously touched on this when going over the DraftKings scoring, but it deserves a second look. The worst NASCAR drivers can still be very useful in NASCAR GPPs, as they can still accrue fantasy points just by finishing 10-15 spots ahead of where they start.
Right there, you're getting 10-15 fantasy points, and depending on the salary relief (as well as where they end up finishing), those NASCAR DFS sleepers could prove extremely helpful.
Scout Driver Performance and Recent Form
This list of NASCAR DFS tips is not a ranking, so don't take this as me suggesting driver scouting isn't important. It most certainly is, and it takes the notion of avoiding bad drivers to a whole new level.
If you have the time to really dive into each NASCAR race, you will, over time, get a really good feel as to how each driver approaches and produces in any individual event. That should also mean as the season goes on, you know where each driver stands, how they've been running, how competitive they've been, and how productive they've been.
Paying attention to wins, top-5 and top-10 finishes, lap times, fastest laps, laps led, pole position, and so much more can be crucial in piecing together the best NASCAR daily fantasy lineup possible.
Pay Attention to NASCAR Odds
Another thing everyone playing daily fantasy NASCAR needs to keep in mind is NASCAR betting odds.
The top NASCAR betting websites offer the latest lines and often give us a really good idea as to which drivers are favored to win, who the top contenders are, and which sleeper plays could be worth a look.
NASCAR odds need to be monitored, too, as the lines can move due to drivers bowing out or based on how drivers perform going into a major event.
On top of the odds, adhering to betting picks and predictions can also be extremely helpful in trying to put together a winning lineup.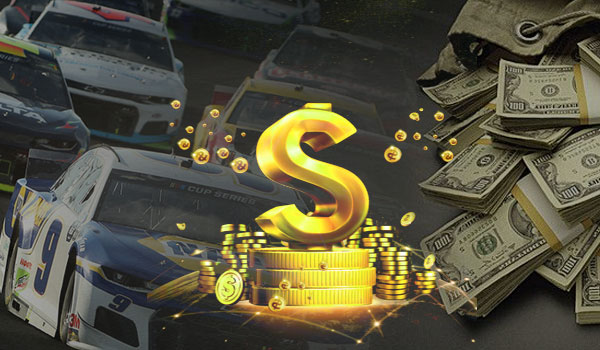 Be Contrarian
You want as many talented drivers as you can get your hands on, but sometimes, the optimal lineup is one that everybody knows about.
Differentiating your NASCAR DFS lineups can push you further up in the standings, and if you do it just right, it can get you to the top of a GPP.
The best and easiest way to do this is to simply play the ownership game.
This can mean fading the projected winner, eating salary that nobody else wants to eat (pay for an egregiously priced driver), or even rolling the dice with some low-owned options that others would be scared of.
You don't want to be contrarian just to be contrarian, but having the best roster often results in a tie up top.
Maybe that's the best we can hope for at times, but to get the biggest cash prizes and be there all by yourself, you have to entertain the idea of getting a little weird with your daily fantasy NASCAR lineups.
Use NASCAR Fantasy Tools
Another key tip when trying to pick a winning NASCAR DFS team is to realize you can be your own worst enemy.
Whether it's recency bias, driver bias, a lack of research, or something intangible, sometimes it really pays to get outside of your own head and soak up other information.
That's probably why you're reading this post right now, and that's kind of the point. If you're playing NASCAR DFS, you either follow NASCAR and have a good idea as to what you're doing, or you're just looking for another way to make some money playing daily fantasy sports.
Either way, you should at least listen to outside advice and make sure you have as much information at your disposal as possible. Sometimes it's not just about the touts, but more about fantasy tools that can make things a bit more efficient or point to options you'd usually never consider.
To help you with that, be sure to take a look at the following before betting on NASCAR DFS contests.
Lineup Optimizers
Driver Projections
Ownership Projections
Tout Picks
Betting Picks
DFS sites like FantasyLabs, RotoGrinders, FantasyCruncher, and so many others can offer all of this, and more.
The perfect roster isn't going to make itself. You need to have an idea as to what you're doing and then find a way to perfectly mesh it with the right fantasy experts, as well as the right fantasy tools.
Some combination of expert picks, betting advice, projections, and ownership will lead you down the right path, however.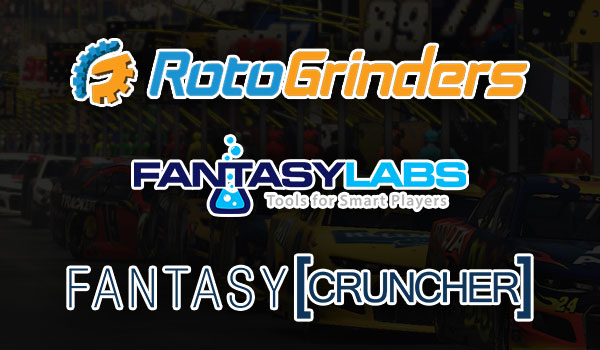 Summary
In summary, the process to building a winning NASCAR DFS lineup is actually not that complicated.
Check out the latest NASCAR odds going into an event, track driver production throughout the week leading into a race, and scout each driver before finalizing your NASCAR DFS picks.
You obviously need to keep odds, past performance, and site scoring in mind as well, but that's really the path to success when it comes to NASCAR DFS.
Making money in daily fantasy NASCAR still isn't easy, but the outline for doing so isn't that complex. If you can master the prep work and use the right fantasy tools, it may not be long before you're enjoying that big tourney win.