Tips for NBA DFS on Wednesday, May 12 (2021)

Russell Westbrook made history on Monday night, officially notching more triple-doubles than anyone in NBA history.
He might be making history tonight, too, as he comes in at an astonishing $12.4k in terms of salary.
Now, that is not the most expensive price tag for someone I've ever seen in NBA DFS (he was $13k+ in his OKC days), but I'm pretty sure that's the highest price I've seen this season.
So, on a six-game slate, do you roster a player that is this restrictive? And if you don't, can you still work your way to the top of tourneys without his (likely) 70-80 fantasy points?
My gut instinct is to not include him in my NBA DFS picks and try to build a roster sans Russ. Ideally, he is mega-owned and completely busts, or my team is so good that not having a stud that expensive still works out.
At any rate, it's onto Wednesday's daily fantasy basketball slate. Join me as I break down my favorite NBA DFS picks, sleepers, and top lineup for May 12th, 2021.
Best NBA DFS Picks for May 12th
Luka Doncic, PG, Mavericks ($10.8k)
Evan Fournier, SG, Celtics ($5.5k)
Bojan Bogdanovic, SF, Jazz ($6.9k)
James Johnson, PF, Pelicans ($5k)
John Collins, C, Hawks ($6.7k)
I'll definitely be considering ownership more than usual here. Is a $12.4k Russ going to be contrarian? If so, I may reverse my thinking here. But if everyone is paying for him, I have two good reasons to fade.
A third is an excellent pivot in Luka Doncic. Not only is Doncic capable of matching Russ on his best days, but he is also significantly cheaper and is in a smash spot against a bad Pelicans defense.
I never feel amazing when I play Evan Fournier but he feels like a core play at this price. If better value opens you can get off him, but he's pretty cheap given his expanded role with the absence of Jaylen Brown.
Fournier is going to be leaned on more than ever for Boston, so even though he is scoring dependent, he feels like a great value and a likely core play on this slate.
Another guy that needs to score a lot to do well, but has been doing plenty of it, is Bojan Bogdanovic. I am not as worried about his scoring dependency these days, as he's doing so much of it with Mike Conley and Donovan Mitchell on the shelf.
I mean, do you remember when this dude went off for 48 points?
Bogdanovic has a rock-solid workload right now and he'll be at home against a beatable Portland defense. Some may gravitate toward the hot hand (Jordan Clarkson), but given the role and upside he's displayed, Bojan stands out for me tonight.
The Pelicans should once again be a nice source of value on Wednesday. Zion Williamson remains out and Brandon Ingram is listed as doubtful.
Assuming both are still out, James Johnson looks like a strong value play. He's been starting and feels like a lock for about 30 minutes. The matchup with Dallas isn't amazing, but the price and role are good enough to take on a little risk.
The last guy to make the cut for Wednesday's NBA DFS picks is John Collins. Center is a loaded position, but if you can save money and get the production you are seeking, why not do it?
Clint Capela is appealing, but Collins has the same matchup, crushed the last time he faced the Wiz, and is far cheaper.
NBA DFS Sleepers for Wednesday
Raul Neto, PG, Wizards ($4.7k)
Khyri Thomas, SG, Rockets ($5.6k)
Naji Marshall, SF, Pelicans ($4.8k)
Alize Johnson, PF, Nets ($3.7k)
Dwight Powell, C, Mavericks ($4.4k)
Wednesday is not the best slate for daily fantasy basketball value picks. Most of the best NBA DFS sleepers have seen their prices go up, they're in bad spots, or their respective teams are getting healthy.
With that said, Neto still stands out with Bradley Beal still sidelined for Wednesday's rematch with the Hawks.
Neto looks like a good bet to get about 30 minutes and should have a little upside in this up-tempo setting.
Houston is really banged up and in theory should be another good spot for NBA DFS gamers to turn to for value. Most of their best options are priced up and even Khyri Thomas is now $5.6k.
I might go cheaper with D.J. Augustin here, but Thomas is on a roll, and the Rockets remain shorthanded. With 16+ real points in all three games he's played for Houston, a hot Thomas could be hard to ignore.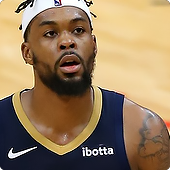 New Orleans should still offer solid value, and one fine option is Naji Marshall. With two key starters (and possibly a third) out for the Pels, Marshall is likely going to keep starting, and should be locked into about 30 minutes.
He crushed en route to 38 fantasy points in his last game and he could be needed again versus the Mavs tonight.
Alize Johnson could be quite the punt on Wednesday. This should be prefaced with the requirement of Blake Griffin resting, but hey, the Nets are on the second leg of a back-to-back set, so turning to some fresh legs may not be a bad idea.
If any of their main begs take the night off, keep an eye on Johnson, who is priced at the bare minimum on DraftKings, and has displayed nice upside in the past.
Someone that is simply rock solid that could help us out is Dwight Powell. He went off for 38 fantasy points in his last outing, but he's actually been reliable lately.
Powell has rediscovered his form of a couple of years ago, and he's churned out 30+ fantasy points in four of his last five contests.
It's anyone's guess if he can keep it up, but he's getting good run and the Pels are about as good as it gets in terms of a positive matchup.
Wednesday's Top NBA DFS Lineup
PG: Luka Doncic – Mavericks ($10.8k)
SG: Evan Fournier – Celtics ($5.5k)
SF: Naji Marshall – Pelicans ($4.8k)
PF: James Johnson – Pelicans ($5k)
C: Dwight Powell – Mavericks ($4.4k)
G: Raul Neto – Wizards ($4.7k)
F: Bojan Bogdanovic – Jazz ($6.9k)
UTIL: Kemba Walker – Celtics ($7.6k)
Paying for Russ feels gross tonight. Maybe it's necessary or maybe low ownership will just change my mind.
For now, though, I will drop down to Luka. He could crush against the Pels, and he literally popped off for 80 fantasy points the last time he faced them.
Hypothetically, if he did that again, it would not matter what Russ does. Unless someone had the perfect roster with both together, of course.
Either way, I like Luka as my stud, and right now Walker is a placeholder option. He could always rest, and if so, that'd open up even more value through Boston
He is a solid core play with Jaylen Brown sidelined, however. I will also turn to Fournier, and I'll stack up that Pels game (and hope the Wiz game isn't as good as I think it will be), via Johnson, Powell, and Marshall.
Neto is cheap exposure to that Wizards vs. Hawks game, but I think he's a fine try no matter what your take is. Personally, I do think the Wizards hang tight, and the game should be fire.
You can learn more about my stance on that game in Wednesday's NBA betting picks.
Bogdanovic is my other play here, and most will stay away due to the price. He has a good matchup and has been scoring very well, though, so I don't mind the risk.
Keep tabs on any extra news and adjust as needed. I won't blame you at all for paying up for Russ, but I plan on getting cute tonight if he's remotely chalky.