Tips for NBA DFS on Wednesday, June 2 (2021)

The 2021 NBA playoffs took another step towards round two yesterday, with the Brooklyn Nets dispatching the Boston Celtics.
That series ended at five games, and it's quite possible three more go the same route on Wednesday. There will likely be no Joel Embiid on this slate, but everyone else is in play with four intense games on the docket.
Let's see how you should play this in daily fantasy basketball tournaments, as I break down my favorite NBA DFS picks, sleepers, and top lineup for June 2nd.
Best NBA DFS Picks for June 2nd
Luka Doncic, PG, Mavericks ($10.8k)
Derrick Rose, SG, Knicks ($7.3k)
Kawhi Leonard, SF, Clippers ($9.6k)
Tobias Harris, PF, 76ers ($7.8k)
Julius Randle, C, Knicks ($9k)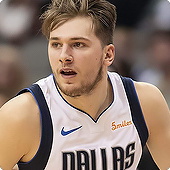 I think this slate may start with a battle between Russ and Luka. Which guy do you build around? I think it's as easy as getting $600 extra bucks to work with, and Doncic has just as much upside.
Both guys are triple-double threats, but Doncic has the bigger game against the Clippers, it's a softer individual matchup, and he's crushed in this series.
Ultimately, I'd probably let ownership do the talking, but at first glance, Doncic just feels like the better play. Going out with a bang isn't a bad call on this four-game slate, either.
Shooting guard has three good options above Derrick Rose and his price has spiked further. But are they that much better than him? Not when you look at his scoring, nor the run he's getting.
In a must-win spot at home, I think there is a decent chance Rose lays it all on the line here. I see a big game coming, win or lose, and compared to the other SG options, he stands out as the best value.
Small forward belongs to Kawhi. The guy has just been putting on a clinic in this series with Dallas. L.A. hasn't always been reliable, but he sure has been
Take a look at his four games so far in this series.
| | | | |
| --- | --- | --- | --- |
| Points | Rebounds | Assists | Fantasy Points |
| 29 | 10 | 3 | 55 |
| 36 | 8 | 3 | 56.5 |
| 41 | 6 | 4 | 59.5 |
| 26 | 10 | 5 | 56 |
As you can see, Leonard has brought it in every capacity so far, and it's been key to the Clippers coming back from an 0-2 hole.
I have the Clippers winning game five in Wednesday's NBA predictions, and I see no reason not to roll with Leonard as a late-game hammer on this slate in NBA DFS contests, either.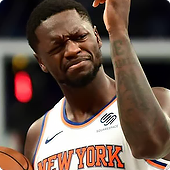 If Joel Embiid is out, you will want to look at some Philly guys. Ben Simmons is obviously on the table, but the big benefactor with Embiid out will likely be Tobias Harris.
All 76ers are in play, but when you look at his price and the team-high 28.6% usage rate with Embiid off the floor, he stands out.
I also like Julius Randle, largely because he's too cheap.
I know, I know, Randle has been awful this entire series. It's not a great matchup for him, as the Hawks have a lot of length to throw at him, and if he's not hitting shots from the perimeter, he could be in trouble.
There were signs of life (50 fantasy points) in his last game, though, and with everything on the line at home, I think there's a chance he comes up big on Wednesday.
NBA DFS Sleepers for Wednesday
Raul Neto, PG, Wizards ($3.3k)
Seth Curry, SG, 76ers ($4.8k)
De'Andre Hunter, SF, Hawks ($4.6k)
Nicolas Batum, PF, Clippers ($4.3k)
Maxi Kleber, C, Mavericks ($4.3k)
The value on this slate isn't amazing, but some could open up via the Wizards. Neto stands out, as he's already getting about 20 minutes per game, but he could play even more with Davis Bertans sidelined.
An MRI reveals a grade 2 calf strain for Wizards F Davis Bertans, source tells ESPN. He will need 4-to-6 weeks for a recovery. Washington is down another key player as they face elimination vs. Sixers in Game 5.

— Adrian Wojnarowski (@wojespn) June 1, 2021
That could force the Wiz to go a bit smaller, and if they do, Neto could see a nice little bump. I also don't mind Robin Lopez ($3.1k) as a punt, while other Wizards bigs like Rui Hachimura and Daniel Gafford also look appealing.
Philly is likely going to be without Embiid, as noted. That opens up some nice roles for some price 76ers options, but it also opens the door to some solid sleepers.
One is Seth Curry, who is a bit nicked up, but otherwise should be in for quite a few extra looks in the offense. Curry has had no issues scoring against Washington (14.9 points per game on 53% shooting across seven meetings), so a bigger workload looks good for him here.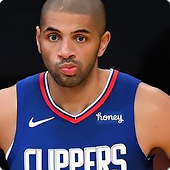 Hunter stands out as another solid value play. He's also a little banged up, but he's expected to play, and he's safely logged 28+ minutes in each of his last three games.
Of all the value plays, I may like Nicolas Batum the most. He popped off in his last game, drawing a start and logging 36 minutes en route to 28 fantasy points.
Batum is going to get a little extra burn, too, as Serge Ibaka is set to sit out a second straight game. Batum isn't always a reliable scorer, but he gets his hands in all of the stats, and could smash this price if he can hit some shots, as well.
Kleber is also a good play when you look at his minutes. He's been dealing with an Achilles issue, but it hasn't stopped him from playing 32+ minutes in every game in this series.
He was a no-show last game with foul trouble and zero makes from the field, but I doubt he will be that useless two contests in a row. Kleber could have a shot at 25-30 fantasy points here and looks like quality salary relief.
Wednesday's Top NBA DFS Lineup
PG: Luka Doncic – Mavericks ($10.8k)
SG: Seth Curry – 76ers ($4.8k)
SF: Nicolas Batum – Clippers ($4.3k)
PF: Maxi Kleber – Mavericks ($4.3k)
C: Rui Hachimura – Wizards ($4.8k)
G: Ben Simmons – 76ers ($8.1k)
F: Tobias Harris – 76ers ($7.8k)
Util: Royce O'Neale – Jazz ($5.1k)
I am starting this build off with my favorite stud; Doncic. It's probably between him and Russ, but with more to play for and the better matchup, Luka makes more sense.
He's also cheaper, and that helps me get the two Sixers studs, assuming Embiid is out. That trio of Doncic/Simmons/Harris may not be contrarian, but it still feels like the best way to start builds on this slate.
You can play the ownership game and get off Doncic or either Philly guy, but I like starting lineups off with that core.
Curry is nice, cheap exposure to the 76ers, while value guys like Kleber and Batum look good on paper. I hadn't touched much on Rui, but he absolutely smashed in his last game, and he's still too cheap.
With no Embiid down low, Rui and the other Wiz bigs could be interesting in this spot. I could also cram in Gafford, but I'll just use O'Neale, who isn't a high-usage guy, but gets loads of minutes.
Hopefully, my NBA DFS picks, sleepers, and top lineup for Wednesday serve you well. Thanks for stopping by, and good luck in your contests!