Hide Bonus Offers
| | | | | |
| --- | --- | --- | --- | --- |
| #1 | Bovada Sports | 50% Up To $250 | Visit Site | Bovada Sports |
| #2 | BetUS | 125% Up To $2,500 | Visit Site | BetUS |
| #3 | MyBookie | 100% Up To $1,000 | Visit Site | MyBookie |
| #4 | Everygame | 100% Up To $500 | Visit Site | Everygame |
| #5 | BetOnline Sports | 60% Up To $1,000 | Visit Site | BetOnline Sports |
8 Tips for Hosting a Great Super Bowl 56 Party – Food, Games, and More

Super Bowl Sunday is rapidly approaching. Hopefully, your favorite team is still in the running to play on the big day. Whether they are or not, however, you'll likely be celebrating with millions of other football fans.
The Super Bowl continues to be one of the biggest days of the year for sports. It certainly is a landmark day for food and beverage sales. People are tuned in on their television sets, and there's also plenty of betting on the Super Bowl.
Taking in the big game isn't quite what it once was, especially given our current times. You're still likely to consider throwing a Super Bowl party, though, so there should be a checklist to follow to make sure it's a blast.
Want to host a good Super Bowl 56 party? Consider these 8 helpful tips.
Have a Safe Environment for Everyone
Not everyone fears the global pandemic, but you shouldn't have guests cancel on your Super Bowl 56 party because they do.
Put everyone's mind at ease by taking a few precautions to ensure your home is safe for everyone to gather together in.
Here are a few things to consider.
Have some masks handy
Stock up on hand sanitizer
Space out seating
Advice anyone who is sick to stay home
Views on the pandemic differ, but most of this is common sense. If guests want to wear a mask, have some on hand. If they're worried about germs, have some hand sanitizer and space the seating out the best you can so everyone can enjoy the game without worrying about getting sick.
Speaking of which, if anyone is visibly sick or has been dealing with an illness, perhaps suggest they stay home.
It's still winter in a lot of the world, so beyond COVID-19, people can get regular colds, the flu, and other viruses.
Practicing safe habits and sanitization isn't a terrible idea and could keep your Super Bowl 2022 party from being a guest-less dud.
Make Sure the TV Is Good to Go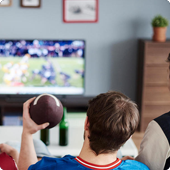 It probably goes without saying, but rule number one for hosting a great Super Bowl party is actually having something to show the game on.
You can't watch the Super Bowl without a working TV, so make sure you're not having any technical difficulties when it comes to how you plan on taking in the big game.
It also makes sense to have a big TV set to show the biggest NFL game of the year on. Of course, it would also be smart to have a backup plan in case something doesn't work as planned.

Top Tip
In fact, one great idea is to have multiple Super Bowl viewing rooms. The main room should have the largest TV and host the most guests, but additional rooms with decently sized televisions is a good way to play it safe.
Not everyone may want to necessarily cram into one room, anyways.
Depending on how big your house is, part of the viewing party could head to the basement, or there could even be a TV outside (for warmer weather).
Regardless of size and location – or how big/small your Super Bowl 56 viewing party is – just make sure the TV works and that you'll be able to show the game.
Other little details to consider.
Your cable package has the channel the game is on
The remotes are not lost and work properly
No other issues exist with the TV
This all sounds pretty self-explanatory, but it's kind of like dropping your kid off at school, but forgetting to pack their lunch.
You'd think that's the last thing you'd forget, but it happens.
Have a Main Course (That Most People Will Like)
This is another Super Bowl party tip that seems obvious, but I can't tell you how many times I have gone to a Super Bowl party that messed this up.
The two most popular snafus are the following.
The host doesn't serve a main course
They serve something not everyone likes
People want to hang out with you. They also want to watch the Super Bowl at your house. But they're also hungry, and they want to eat. If they don't get the latter, they just might leave, possibly after punching you in the face.
All jokes aside, if you're hosting a Super Bowl party, you should probably assume people are coming with empty stomachs.
Snacks and beverages (more on those in a bit) go without saying, but you need a main dish to fill people up. The Super Bowl is around dinner time for most, so think like you're feeding them their last meal of the night.
The three meals that stand out in terms of ease and broad appeal? Pizza, sliders, and sandwiches.
You can get creative from here, but who doesn't like pizza, burgers, and/or subs of some sort? The actual kind you serve is up to you, but it's worth noting that pizza ranks 6th in USA Today's 50 winning foods for your Super Bowl party.
Pizza is my top pick, just because most everyone likes it. You can cater to the vegans and vegetarians on your guest list, and the combinations can get as wild as you wish.
Of course, don't skimp on the snacks and beverages to take your Super Bowl 56 party over the top.
Stock Up on Food & Beverages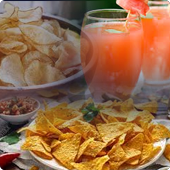 I touched on this slightly, but I'll devote an entire section to it; don't host a Super Bowl party without investing time and money into stocking your fridge and shelves.
Snacks and beverages are the lifeblood of any good Super Bowl viewing party. Heck, if done right, you can have loads of snacks, drinks, and appetizers that are so good that not having a main dish goes unnoticed.
Here's a breakdown of some popular items that should make your 2022 Super Bowl party wishlist when it comes to snacks and drinks.
| | | |
| --- | --- | --- |
| Snacks | Appetizers | Beverages |
| All the Dips | Chicken Wings | Beer (good variety) |
| Sausage and Cheese | Nachos | Soda (good variety) |
| Potato Salad & Coleslaw | Meatballs & Weenies | Water |
| Chips, Crackers & Pretzels | Mini Tacos | Cocktails |
| Pickles & Olives | Pigs in a Blanket | Smoothies |
The list is probably endless, so I am keeping things a little generic here. There are also some specific drinks and snacks that might not be attainable in your area.
If you want to go above and beyond – and happen to have the means to do so – consider hitting up the best cocktails to make at your Super Bowl party.
When making decisions on which snacks and beverages you should have at your Super Bowl party, also keep in mind some other variables.
Those include guest allergies, how many people will be going to your party, and specific guest taste.

Top Tip
In fact, for all of this, you could always make it easier on yourself by using a sign-up sheet for your guests to claim snacks, beverages, or appetizers they can bring to help out.
As long as you're promising the big game on a huge TV, a main dish, and good times, most won't balk at chipping in to make your Super Bowl 56 party as good as possible.
Don't Invite Everyone You Know
If I was making a list of things not to do for your Super Bowl 2022 party, this might top the list. I'm not going too deep into the negative side of things, but I still think this is important.
This goes with the whole "keeping up with the times" and realizing we're still working through a global pandemic, but it's more than that.
Maybe you have a massive house, and hosting a huge Super Bowl 56 party is easy for you. That could mean an endless guest list, and you're not worried in the least about how many people come over, or the money required to acquire all of the food, drinks, and ancillary items you'd need.
But maybe you do. That could beg you to keep a tighter list, and there are also some people out there who could simply ruin a party.
Unruly drunks, lingering rivalries, damaged relationships, and so much more can contribute to unnecessary distractions on a night where all anyone really wants to do is watch the Super Bowl.
Spruce Up the Joint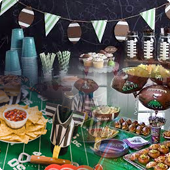 So far, you've got just about everything you need to host a good Super Bowl 56 viewing party. Your guests are fed, they have a drink in hand, and you opted not to invite Uncle Ron. Everyone thanks you for that.
Now, for the aesthetics. I'm sure your house is great, and you've planned a heck of a 2022 Super Bowl party. Even so, it could probably use a little sprucing.
This could really be anything, but giving your party a true Super Bowl theme could take things up a notch.
Decorations to spruce up the house are one option, while you could have Super Bowl or football themed plates, cups, serving dishes, and more.
Not sure what to do? That's what Pinterest is for. You can search high and low for the best Super Bowl 56 decorations, but hitting up Pinterest for that (and perhaps everything else) isn't a bad call.
The point? You're hosting a Super Bowl party. Have your house look like that's the case.
Play Super Bowl 56 Squares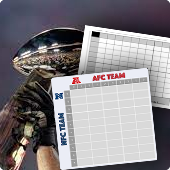 Betting on Super Bowl 56 could be a lot of fun and quite profitable. If you plan on doing so, or aren't even sure where to start, feel free to check out our expert Super Bowl betting tips to get the ball rolling.
While a great way to enhance the big game, you don't need to go online to make money while you stare at the TV on Super Bowl Sunday. You can also play with your friends in the undying classic, Super Bowl squares.
It's pretty easy, and you don't even need to know everything about the game or teams involved to get some skin in the game.
If you don't want to put it all together, you can also play Super Bowl squares online. Whatever you decide, we've got you covered with a Super Bowl squares tutorial below.
Bet on Super Bowl 56 Props
Another great way to enhance your Super Bowl 56 party is to include some prop betting. Most of that would have to be done online, and if you go that route, there are some fantastic sites to roll with.
For some expert advice on where to bet and how to proceed, check out this Super Bowl prop betting guide.
It's always possible you don't have the means to bet on Super Bowl props, or not everyone in your party wants to do it that way. You can still bet on Super Bowl 56 props, though!
You can use a list of Super Bowl props you find online, or create your own. You'd just figure out the details as far as what winners get when the game is over.
For ideas for actual props, consider the following.
Super Bowl Commercial Props
Super Bowl Halftime Show Prop Bets
Props for Celebrities and Analysts
Individual Player Super Bowl Props
Game and Team Props for the Super Bowl
These are undeniably the best, most popular ways to bet on props during the Super Bowl.
It's much easier (and more profitable) to bet at a sportsbook you trust, but printing off a Super Bowl prop bets sheet and playing at home during your party will work, too.
Hosting a Great Super Bowl Party in 2022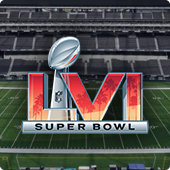 Did I miss something? Probably, but that's likely because there are so many tips for hosting a good Super Bowl party these days.
I honestly could write a post solely on food and beverages to serve at your 2022 Super Bowl party. I could write another dedicated to things not to do, general party etiquette, and so much more.
Hopefully, these Super Bowl 56 party tips deliver some of the basics, give you a few ideas you didn't already think about, and help you enhance your get together for the big game.
You can follow all these tips to a winning Super Bowl 56 party, and things could still go off the rails.
Unruly drunks and bitter rivalries could always sabotage the night, but I'm mostly talking about the Super Bowl turning into a blowout.
That is always a bummer, but you can still make your Super Bowl party an enjoyable one by injecting betting, good food, and some drinks into the night.
Whatever you do, I hope this breakdown of how to host a good Super Bowl 56 party treats you well. If you want to take things over the top this year – for yourself or your entire party – consider placing some bets at the best Super Bowl sportsbooks.
Just check out our detailed Super Bowl 2022 betting guide below before finalizing any wagers.
Betting Guide for the 2022 Super Bowl