Tips For Successful Live Betting Boxing Wagers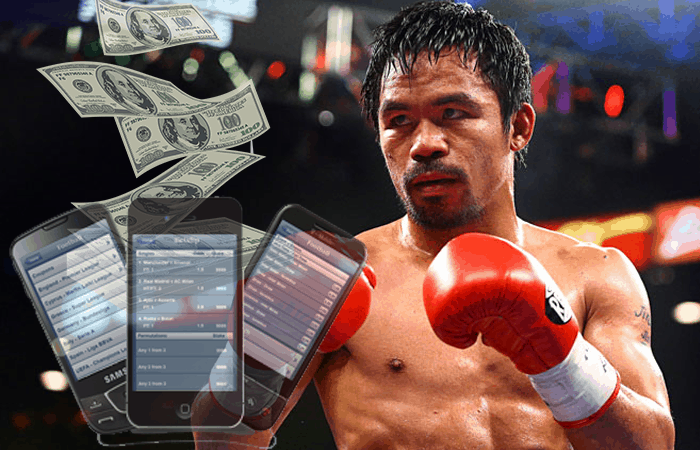 At the moment, live betting is the hottest trend in the world of sports gambling. The figures move as fast as the action, opening at the start of an event, as opposed to using odds that come days or weeks ahead of time.
What makes the money move so fast? To give you a clearer picture, OddsShark.com pointed out that the very wagers themselves depend on the game you are watching. In some sports, the odds adjust in relation to the amount of scoring in a game.
In football, there are live wagers such as:
"Will the current drive lead to a touchdown?"
These types of wagers and various prop bets allow for the money to add up independently of each other as opposed to parlay betting where if one bet in a series doesn't go your way, you lose the overall wager.
So, how might this new way of betting work in boxing and how can you make sure you come out ahead with a full wallet?
Basic and Advanced Strategies
According to OddsShark one trend (basic strategy) is to back a losing heavy favorite. For a myriad of reasons, maybe one team (in this case a fighter) is ahead. However, if they don't have the ability to swarm enough or don't possess a knockout shot, that favorite should be able to survive.
"Bettors backing the favorite may have had to lay -300 on the moneyline before the game started, but now you may be able to get that same team at +100 in live betting. Of course, this requires you to pay very close attention to the momentum of the game and determine if the team really has a chance to rally."
Just be warned that in team sports, this comeback can happen and the spread may still not get covered.
Other options include middling or hedging. Hedging is kind of like being a fair-weather fan. Let's say your original pick was Mayweather as the overall winner in a moneyline bet but McGregor is able to take his best shots and keep on coming. If you change your wager to McGregor, you've hedged your bet.
Hedging might be frowned upon in some circles. It has been described as not just low-risk but a guaranteed way to ensure you get a profit on a given bet.
Another avenue to pursue would be middling.
Breaking Down the Different Main Wager Types
Bet on Rounds (Over/Under)
As with anything else in gambling, "in-play/live" betting revolves around how much risk you are willing to take. Using the upcoming Mayweather-McGregor super-fight as an example, there is currently a bet open asking whether or not the fight ends in 60 seconds. This is a bet where the odds should adjust as the clock counts down. It is a bit risky because there will be such a limited window for this bet, it either happens or it doesn't.
Mayweather has the experience edge at 49-0-0. McGregor might be 0-0 in boxing, but he is 9-1 in the UFC and 21-3 overall. Even in his losses he has never been knocked out. Only one of McGregor's fights has ended in under a minute and Mayweather hasn't won a fight by KO/TKO since 2007. McGregor is also bigger than his opponent and has the longer reach. Even at 40 though, Mayweather should be able to eat up a ton of clock with his movement.
Either way, the chance that this fight goes longer than 60 seconds is fairly high (not a smart move). You want to be smart with your cash. With that in mind, it might be worth betting on the specific round the fight will end, something that will take more time.
There had been a bet speculating that the contest would end in about nine rounds. The fight is scheduled to be a full-length boxing bout of 12 rounds (36 minutes.)
Many boxers take about four rounds to really get going. At most, UFC main event fights and title fights are 25 minutes long. In his second fight with Nate Diaz, McGregor, went that distance but looked like he was starting to tire around the third frame.
Meeting somewhere in the middle (Mayweather winning in 5-6 rounds) would probably be a safe bet. In general, fights ending in mere seconds are rare.
Boxing also has round groupings so if you bet that the fight will end in Rounds 1-3 and it does not, you could possibly win your money back with another grouping, say Rounds 9-12. Even McGregor predicted a fourth round end and no one expects this fight to go the distance which could lead to some nice profits if it does.
Bet on Multiple Props to Win Big
As mentioned above, one benefit to live betting is having several wagers going at once. Some of them are required to play out, such as betting on the number of punches McGregor may or may not land (a prop bet). "Will McGregor throw a kick" is another popular prop at the moment as is McGregor throwing in the towel and so on.
Per the UFC-partnered FightMetric, LLC, McGregor has landed 5.82 significant (fight-altering) strikes per minute with an accuracy rate of 47 percent while taking 5.55 and having a defense rate of 57 percent.
Why bet on multiple props during the fight?
It's easier to bet on something like punch figures, something tied to stats, than it would be for someone to predict an exact winner. Prop bets allow you to bet on specific events happening within a fight but without necessarily getting the outcome right. Being successful on safer bets like a punch count will allow your winnings to build up over time.
Betting on the Knockout
If your sportsbook has live boxing betting (your overall victory pick is not required to be locked in before the fight) and you are betting on a knockout in the Mayweather-McGregor fight, bet on it happening later than you think. If possible, bet after you've had a chance to see McGregor's chin for a few rounds.
Even though it was a close call, his chin did hold up in the Nate Diaz rematch. A former UFC lightweight (155-pound) champion, and a noted boxer and former legitimate street fighter with allegedly around 100 street fights, managed to take him to the second round in a lopsided affair.
Because of the reach he had over Mayweather and Mayweather's style, when I think of "Money", I also think of the UFC's Joanna Jędrzejczyk. The Polish UFC women's strawweight 115-pounder uses a similar stick and move approach.
It's been said throughout this post that smaller (yet precise) strikes, like jabs that always seem to find a way to land, will accumulate and that's what it should take with McGregor. Thanks to his age and history of hand injuries, KOs may simply not come as easily for Mayweather anymore.
Refer back to hedging for a possible approach to the money line as the fight goes on.
In Conclusion: The Ultimate Goal of Live Betting
With live betting, you might not always be betting on the end of a game or bout, but you are essentially trying to catch lightning in a bottle by guessing as closely as possible when a momentum shift might occur.
How Will Wagers and Your Betting Stance Change?
In combat sports it all comes down to the conditioning of your fighter. Mayweather has been known to be more tentative over the years, evading his way to wins and putting opponents in a trance before exploding on them and letting his total striking figures add up.
As I said before, this fight should be expected to end anywhere from 25 to 30-minutes with McGregor possibly looking questionable 15 to 20 minutes in. If the contest doesn't end by then, McGregor still may not win the fight, in which case expect the odds to shift more favorably in his direction.
Essentially the odds (and your stance) may shift based on the answer to the question: "Can McGregor take Mayweather's punch even once?" The entire combat sports world will know the answer on August 26.
Mayweather (-550) vs. McGregor (+375) takes place at the T-Mobile Arena in Las Vegas, Nevada. The event will be broadcast live through Showtime Pay-Per-View and can be purchased for $99.95 for high-definition or $89.95 for standard definition.
The undercard for this event is unknown as of this writing (July 11) but it will be announced in the weeks to come.
The first press conference of the fight's media world tour (Los Angeles) has already taken place but the tour will make stops in Toronto, New York, and London.